IBM Planning Analytics End of Life – Really?
Posted on Friday 7th June 2019 10:33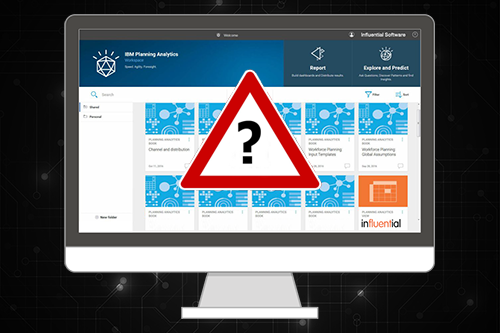 As long as there are human beings, we can be sure there'll be gossip—even in the rational world of business intelligence. The eye-catching (but nonetheless spurious) news about IBM Planning Analytics end of life is just the latest example. So before we scramble for alternatives, let's look at the facts from IBM.
IBM Planning Analytics has evolved over the years. Losing the TM1 label in 2016, the software continues to use TM1 as the underlying technology. IBM announced that standard support would end for the last "TM1" version, 10.2.2., with extended support continuing for three years under subscription and support (S&S) service extensions. This was designed to help customers migrate seamlessly to the newer version.
In brief, there is no intrigue or skulduggery here. As a long-time IBM Partner, the Influential Software team continues to provide expert services for IBM Planning Analytics, including advice on upgrades and migrations.
But in case you're still worried, let's put the nail in the coffin for this story about IBM Planning Analytics end of life.
Myth 1: End of support for IBM TM1 10.2.2 means end of life for IBM TM1.
In September 2017, IBM announced that as of September 30, 2019, it would end support for IBM TM1 10.2.2. IBM TM1 was rebranded to IBM Planning Analytics in 2016. But IBM has not discontinued use of the IBM TM1 technology. In fact, it is quite the opposite—IBM TM1 continues to power the analytical capabilities of IBM Planning Analytics. This robust, in-memory calculation engine can enable IBM Planning Analytics users to build sophisticated, multidimensional models for data analysis on virtually any combination of data hierarchies and dimensions. In summary, IBM Planning Analytics is simply the next generation of IBM TM1.
Myth 2: End of support for IBM TM1 10.2.2 means a costly migration to a new product, IBM Planning Analytics.
IBM has announced end of support for IBM TM1 10.2.2. However, as with all IBM TM1 releases, customers with current S&S entitlements can migrate to the latest version (now called IBM Planning Analytics) at no additional cost. Despite the name change, the process has remained the same—customers simply install and go, using their current model.
Similarly, as with all IBM TM1 releases, for customers who are unable to migrate or wish to remain on an older version, there are service extensions providing on-going support and critical defect fixes for up to three years beyond the end of support date, which is September 30, 2019.
Myth 3: My existing IBM TM1 models will not work if I migrate to IBM Planning Analytics.
Existing IBM TM1 models will continue to work when customers migrate to IBM Planning Analytics. Migration provides all of the capabilities of IBM TM1, plus all of the new solution's additional components, including IBM Planning Analytics Workspace, IBM Planning Analytics for Microsoft Excel, Hierarchies, and more. However, you are not required to adopt the new components for IBM Planning Analytics to function properly. Modeler licenses provide entitlements to IBM Planning Analytics Workspace, so users can test and explore the new capabilities before deploying broadly or pushing to a production environment.
Looking for a fast return on your IBM investment? Get started with IBM Partner Influential Software.
This post has been adapted from content by Influential Software partner IBM.