New Cognos Analytics Website
Influential Software is thrilled to announce our new Cognos Analytics website, the latest achievement in our long-standing partnership with IBM Cognos. From consultation to development, licence sales to configuration, and deployment to upgrades, our services work to maximise your returns from the new Cognos Analytics 11.1.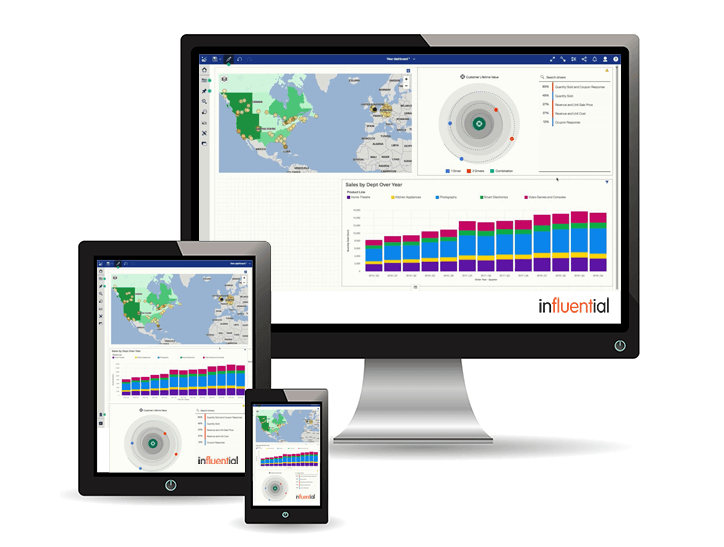 Why Cognos Analytics?
Our Cognos Analytics website promotes the next-generation features that have made the Cognos name. The latest release, Cognos Analytics 11.1, make a host of improvements with AI-assisted analytics. With the help of AI, your users can uncover, present, and share insights faster than ever before. That means a more agile enterprise, able to move from granular detail to game-changing decisions at the touch of a button.
Cognos Analytics Consulting
Having worked with Cognos solutions for over 25 years, Influential Software is the longest-standing Cognos consultancy in the UK.
Benefit from our free initial consultation service to gain a taste of what we can achieve together.
Thereafter, our expert consultants lead clients through a best-practice approach that includes current state analysis, infrastructure review, analytics roadmaps, project management, and ongoing assessment.
Most importantly, we always keep your value in sight. Our services will not be beaten on speed, price, or returns.
Cognos Analytics Upgrades
As a Cognos Partner with experience going back two decades, we are the ideal choice for clients wishing to upgrade earlier Cognos Analytics releases.
Our services ensure minimal downtime, data security, and a rapid move to the new Cognos release.
Cognos Analytics Licences
Find the most competitive prices on Cognos Analytics licences from Influential Software.
Our consultants are on hand to advise on the ideal configuration for your size, structure, and goals.
Many of our clients gain maximum value by combining Cognos Analytics licences into a cost-effective package with consulting and support services.
Cognos Analytics Cloud
Cognos Analytics on Cloud is an excellent option for businesses wanting full functionality without straining their IT resources.
Our technicians are on hand to plan cloud migrations, provide cloud licences, and advise on the best setup for all kinds of businesses.
Looking for Cognos Insights?
If you'd like to find out more about our Cognos Analytics services, feel free to visit our dedicated site.