Sage 200 Boomi integration
Our Boomi integration developer team designed a custom API to achieve the first ever Sage 200 Boomi integration with Salesforce and Advanced Cloud School.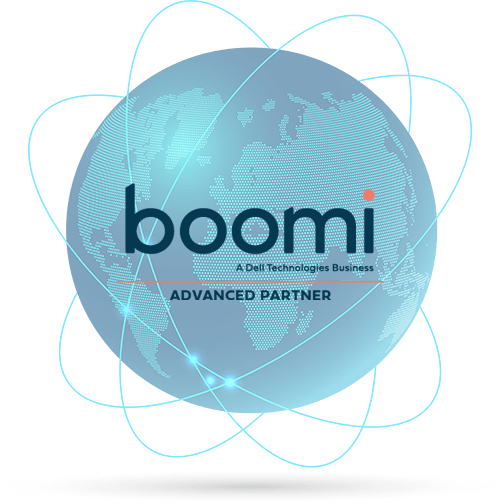 Technical brief
Building the first Sage 200 Boomi integration
Our client's goal was to connect Sage 200, Salesforce, and Advanced Cloud School using Boomi integration platform. We achieved this by creating a brand new Sage 200 Boomi connector, as well as using the Boomi Salesforce connector and the Cloud School API.




As a result, the client has automated data sync to reduce the workload of its sales, finance, and administrative teams.
Curious how we performed this Sage 200 Boomi integration project? See the full story below.
The context
No more manual data entry
The client, a group of UK independent schools, had the goal of eliminating manual data entry in its sales, finance, and administrative teams. It was clear to the client's technical team that a data integration solution was needed for three systems: Salesforce, Sage 200, and Advanced Cloud School.
Rather than a constant flow of data between the three applications, the client wanted each system to send data based on certain conditions.
First the sales team would enter a potential student's data into Salesforce. When a particular set of student data was complete, only then would Boomi sync that data with Cloud School and Sage. This would create or update the student information in Cloud School and raise a purchase order in Sage.
At this stage the finance team would collect the payment and add that data to Sage, and the administrative team would input details such as the name of each student's tutor into Cloud School. Once the data was complete, Boomi would push that information back into Salesforce. Thus Boomi would digitise and automate all the manual data entry that these three systems had required.
Convinced that Boomi was the most appropriate platform, the school looked for assistance from a Boomi Partner.
The plan
Digitise and automate with Boomi
Based on our extensive record of API integration services, the client opted to work with our Boomi integration developer team.
Our proposal was to create five sets of data transfer, as follows:
Salesforce to Sage 200
Sage 200 to Salesforce
Salesforce to Cloud School
Cloud School to Salesforce
Cloud School to Sage 200
For greater speed, we planned to achieve this with Boomi low-code integration tools and custom Java code where necessary. The Salesforce integration would be relatively straightforward, as we could use the pre-made Boomi Salesforce connector. For the Cloud School integration we would have to use the Boomi HTTP Connector and a RESTful API.
However, the real test of our skills came from the Sage 200 Boomi integration. There was no pre-existing Sage 200 Boomi connector and no Boomi documentation, which meant we had to effectively create a Boomi custom connector from scratch.
The execution
Custom Sage 200 Boomi integration
For the sake of efficiency we broke the project into two integrations: Salesforce with Cloud School and Salesforce with Sage 200. This enabled two members of our Boomi integration developer team to save time by working on the integrations simultaneously. For development and testing, we performed the Salesforce, Cloud School, and Sage 200 Boomi integration on our own cloud Boomi instance. Our developers worked in agile sprints throughout the project, keeping the client informed via regular show-and-tell sessions.
On the Cloud School side, we used Boomi to generate the access tokens that Cloud School requires as a security feature. This enabled us to take data from Salesforce and transform it into the right format before pushing it into Cloud School. Then we were able to achieve the connection from Cloud School back through Boomi to Salesforce, using the Boomi Salesforce connector.
At the same time our second Boomi integration developer was designing the Sage 200 Boomi integration. This required building an entirely custom RESTful API with the OAuth2 authorisation framework.
With all integrations completed, our developers carried out testing and then implemented the solution on the client's on-premise Boomi instance.
The result
New Sage 200 Boomi connector
As planned, the client received a fully automated data flow between their sales, finance, and administrative teams. Our decades of integration experience allowed us to overcome the technical challenges en route and provide the first Sage 200 Boomi connector.
Post-implementation, we gave the client a hand-over session with full details of the data flow. This enabled the client's technical staff to add additional integration steps via the low-code Boomi platform if needed. This future-proof and scalable platform was exactly what the business needed to drive its digital transformation further.
Overcome any integration challenge
This Sage 200 Boomi integration project is just one of the many innovative solutions we can deliver. If you're in need of custom API integration services, get in touch — we're always up to the challenge.