SAP Analytics Business Intelligence Statement of Direction Announced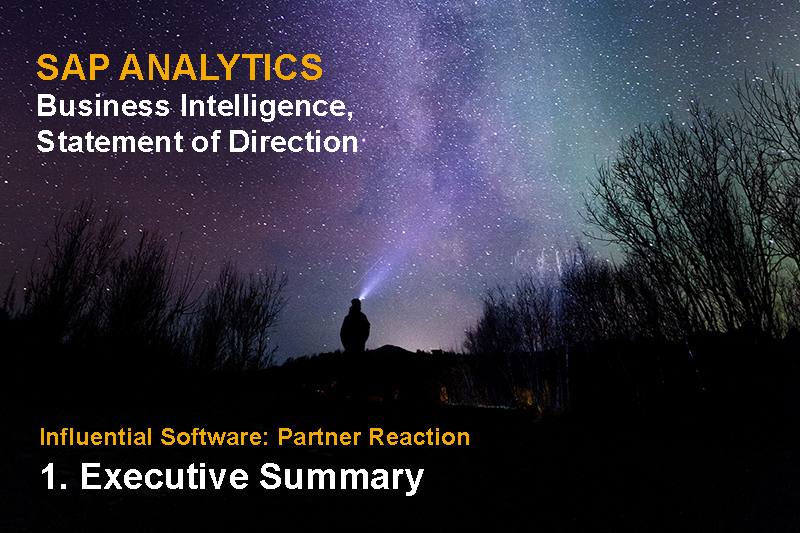 For some while there has been uncertainty surrounding the future of the SAP Analytics portfolio. Now SAP has addressed this by publishing the "SAP Analytics Business Intelligence Statement of Direction".
In this post, UK SAP Partner Influential Software looks at the Executive Summary from the report. There will be further posts to come.
The Executive Summary
To begin here's a complete breakdown of the Executive Summary within the SAP Analytics Business Intelligence, Statement of Direction report.
The 'future direction' for SAP Analytics
"The SAP Analytics portfolio includes SAP Business Objects BI Suite (including Analysis for Office), SAP Business Planning & Consolidation, as well as SAP Analytics Cloud. We provide solutions for a diverse set of customer environments including on-premise, cloud, mixed and embedded analytics deployments. This paper describes our future direction for our Business Intelligence customers."
Changing the way customers run their business
"SAP Analytics Cloud is our strategic direction and is changing the way our customers run their business to help them understand their data in context to make better and faster decisions. The integration of BI, planning and predictive analytics in a single engine allows for a smooth experience and lossless transitions from reporting to simulation to planning and back again, all augmented by machine learning. SAP Analytics Cloud gives everyone visibility on critical information by providing self-service analytics capabilities that extend to a wider audience than ever before, while delivering on the true needs for Analytics in the enterprise: scale, security, and corporate data connectivity."
Leveraging SAP's Cloud Suite
"Analytics without context has less value. As part of SAP's Intelligent Enterprise strategy SAP Analytics Cloud will be embedded in SAP's Cloud suite; not only can more users benefit from SAP Analytics Cloud, we also can better meet the precise requirements in each different domain."
Future-proofing SAP BusinessObjects
"As we define the future of SAP Analytics Cloud, we are committed to include a future for our existing SAP BusinessObjects customers. SAP pays great attention to BusinessObjects Suite and will continue to invest in the future of this product. The BOE maintenance extends until 2027 at a minimum, providing maintenance timelines among the longest in the industry."
Delivering major innovations pre-BI 4.3 release
"We are delivering major innovations in the coming year with the BI 4.3 release, and will continue to do so through continued maintenance. As more and more customers run both solutions side by side, we are proposing more interoperability and are working on defining tools and capabilities to help our customers who want to transition their workloads to the cloud."
A commitment to SAP Analytics customers?
Influential Software SAP Partnership and Sales Head Chris Nelson welcomes the announcement. In his opinion, it answers many of the questions SAP customers and partners have been raising about the future of the SAP Analytics portfolio.
"It's good to see this statement of direction from SAP. It clarifies some important points for our SAP Analytics customers and shows that SAP has listened to customer feedback in prioritising the areas to focus on.
"A lot depends on the detail which hasn't yet been released, but by addressing things like time handling and scheduling in SAP Analytics Cloud, confirming the maintenance schedules for on-premise customers, and looking at the licensing around the hybrid model, it is clear SAP is committed to delivering ongoing value to its BI customers to help drive their businesses forward."
The right time to buy SAP Analytics solutions?
Is your business considering any of the SAP Analytics solutions, but unsure how the proposals may affect your choices? Then simply talk to our Business Intelligence team. Our impartial experts will walk you through all your options.
SAP Analytics SoD: Find out more…
If you'd like to read the full SAP Business Intelligence statement of direction (SoD), the original can be found here.
There is also an accompanying FAQ document which provides answers to additional questions about the SAP Analytics BI Suite.