TM1 End of Life Arrives: Upgrade to IBM Planning Analytics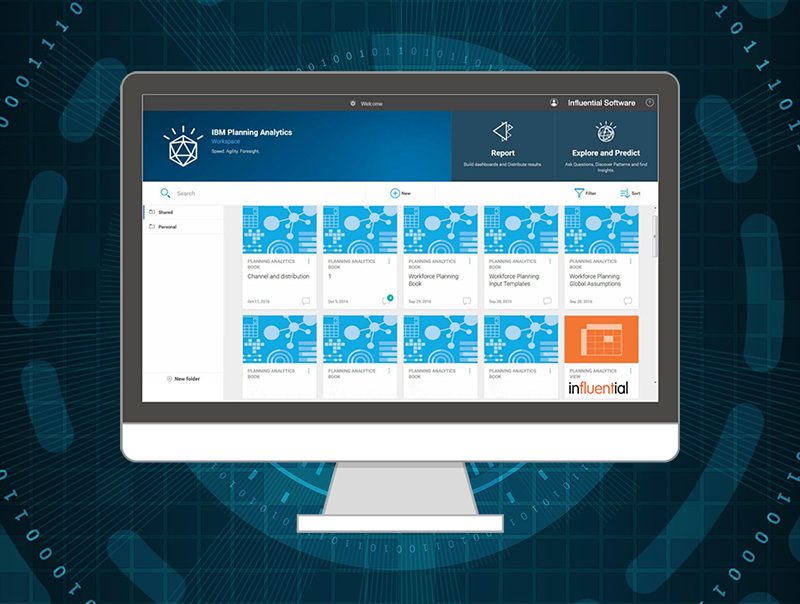 TM1 end of life is coming on 30 September. Besides the lack of IBM support, there are compelling positive reasons to upgrade to IBM Planning Analytics.
As the natural successor to TM1, IBM Planning Analytics combines modern features with a simple, familiar UI. The spreadsheet-based interface is powered by the multi-dimensional IBM TM1 engine. IBM has also made major improvements to enhance collaboration, server performance, and security.
Does your organisation want to ensure a timely, reliable, and tailored upgrade to IBM Planning Analytics? Having worked with Cognos and IBM solutions since 1993, Influential Software's experience in this area is unrivalled in the UK.
Top 3 Reasons to Upgrade to IBM Planning Analytics
As noted above, TM1 end of life isn't the only reason to upgrade to IBM Planning Analytics. Read on for the top four enhancements you'll find in latest IBM analytics solution.*
IBM Planning Analytics Workspace
Workspace is the customisable interface that is the new face of TM1. It supports reporting, analysis, and write-back, with an interactive viewer that makes it easy to navigate multi-dimensional cubes and share results with others. This interface has been praised by customers and analysts alike for its ease of use. And with more than 25 different images, charts, maps, and scorecards, Workspace lets you create compelling visualisations quickly. It's also mobile, so you can work with Workspace books at your convenience, on an iPad or other tablet devices.
IBM Planning Analytics for Microsoft Excel
The IBM Planning Analytics for Microsoft Excel add-on is the successor to IBM® Cognos Analysis for Microsoft Excel (CAFE). It gives you Excel access to the IBM® TM1 database with superior performance over wide-area networks. It lets you retain full Excel functionality and formatting when moving data between TM1 and Excel, and integrates smoothly with Workspace, sharing a common UX, Cube Viewer, and Set Editor.
New Hierarchies
The "hierarchies" capability in IBM Planning Analytics provides both technical advantages and business-user benefits. With hierarchies, you're not limited to the traditional definition of cubes. You have the flexibility to perform in-depth, granular analysis, exploring data by attributes such as customer, product, sales program, and more. You can model attributes and drill into them without having to create a new dimension or add elements (members) to the hierarchy. You can also see the intersections of several hierarchies within the same dimension, so you can drill down to find data points never before possible.
Getting Greatest Value from IBM Planning Analytics
IBM Planning Analytics is your enterprise's nerve centre. For the whole body to work together, you need it perfectly configured and aligned with your business. As a decades-long IBM Partner, Influential Software has the expertise to give the results you expect from Planning Analytics.
If you're interested in upgrading, why not speak to our IBM experts?
*This section has been adapted from content on our partner IBM's website.