FAQ
Answers to frequently asked questions
We receive many enquiries about our services, solutions, and the way we work. We've collated the most frequently asked questions on this page and explained clearly why you can trust in our expertise.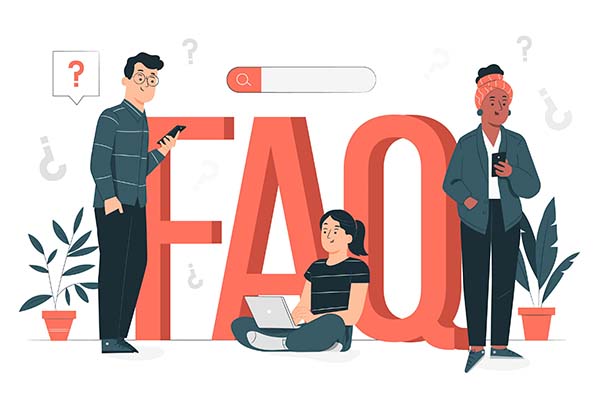 Top questions
Straightforward answers
Do you offer a free, no-obligation, initial consultation?
Yes! Depending on your requirement, we'd be happy to speak to you about your current systems and how to improve them, or how we can help you reach your business goals. Get in touch with us today!
Should I be familiar with the technical details to work with you?
There's no need for you to know every intricate part of your current IT systems, that's why we're the expert here to help you. As long as you have a clear goal in mind for what you want to achieve, we'll deliver the solution to get you there.
What information do you need from me to start work?
We'll need to know what systems you use/want to use, timelines, scope, and challenges you want to overcome. We'll plan out the solution in an easy-to-understand manner so you'll know what to expect.
Will you be able to increase the number of people in your team if necessary?
If you're looking to expand upon the project, or for any reason, want to reduce the intensity of development, we are flexible in scaling the project team size up or down as you wish.
What technologies and programming language do you utilise in your work?
We use a range of tools and software to deliver bespoke solutions including, but not limited to, SharePoint, Azure, Power BI, .NET, SAP, PHP, and more.
What methologies do you use in your work?
Our project delivery teams use Agile methodology to ensure clients are informed throughout the process at every step of the way. The team continuously and actively engage with the client to meet expectations and reduce hiccups.
Can you make changes to a product which other developers have already started?
Absolutely. If you're stuck with faulty, outdated, or incomplete systems, we can help with our project rescue service.
What is your customer geography and who are some of the clients you've worked with?
I'm using an old piece of software that needs to be updated. Can you modernise legacy apps?
Definitely! We specialise in helping clients to upgrade their systems and connect everything together to keep their operations running smoothly. Find out more here.
I have software development teams (either internal or other vendors). Do you work well with others?
We're happy to work alongside your internal teams or third parties to deliver the best solution to you. We can also provide skilled IT specialists for your project to boost your project outcomes.
Do you have any vacancies available?