SAP BusinessObjects 4.3 Features for Hybrid Deployment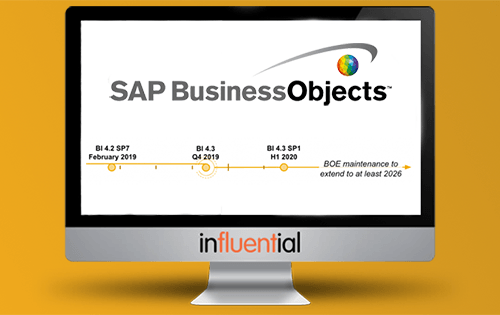 While cloud BI is gaining traction, the majority of enterprises want to retain their on-premise investments as well. The new SAP BusinessObjects 4.3 features, scheduled for Q2 2020, are set to meet this hybrid requirement.
For those whose main interest still lies in on-premise,
there's nothing to fear. SAP's ongoing investment into SAP BusinessObjects and
Web Intelligence (WebI) demonstrates this. Customers using version 4.2 will be
able to transition to 4.3 with a simple update. No migration is required.
The SAP BusinessObjects 4.3 features will facilitate this hybrid deployment by improving connectivity between on-premise and SAP Analytics Cloud (SAC). These developments take the following form:
Synchronisation of on-premise BusinessObjects users with SAC
An improved live connection between SAC and universes
Consumption from SAC Webi documents as a data source
Automatic report publishing through integration with SAP Analytics Hub
Details of the New Hybrid Structure
The key to version 4.3's hybrid structure is stronger
integration with SAP Analytics Cloud. This includes the following changes to
Live Universe Connector 3.0:
Increased performance, without moving on-premises data to
the cloud, when using SAP Analytics Cloud on top of BusinesObjects Universes
The option to apply data-level security
Support for SAP Analytics Cloud features – regardless of the data source – such as powerful queries and visualisations made with business terms
Better support of SAP Analytics Cloud capabilities, such as powerful queries and visualizations created using business terms, regardless of the data source
Streamlined User Management and SSO Configuration
Another new feature of this hybrid structure is the SAP
BusinessObjects Web Intelligence Data Model. With this capability you can both
reuse your existing Web Intelligence documents to build new information and consume Web Intelligence data in SAC.
Meanwhile, hybrid user management enables you to deliver System for Cross-domain Identity Management (SCIM) APIs. In this way you can easily onboard on-premise groups or individual users to the cloud. This also allows SAC users to access on-premise data, via the SAP Identify Provisioning Service.
At SAP, Change Is the Only Constant
As we have seen, SAP BusinessObjects 4.3 brings a host of improvements in response to customer demand. The BI landscape continues to evolve in terms of the technology, the skills required, and the business practices around it.
At Influential Software, we work to optimise SAP BI with a complete package of technical support, consultancy, and training. Get a free quote for your project by sending a short message to our BI team.