Your Options for SAP Business Objects End of Life: Xcelsius & Explorer
Posted on Friday 6th September 2019 3:32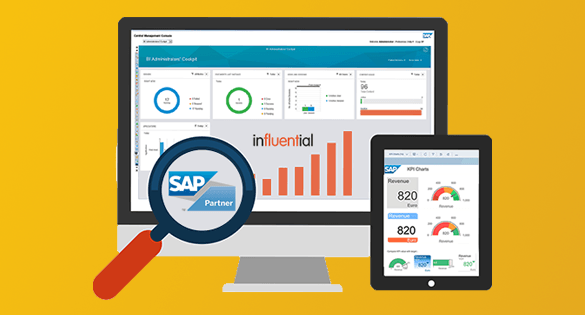 It seems only yesterday that Adobe announced end of life for Adobe Flash. In reality, that announcement was back in 2017. And there's now little more than a year before it comes into effect in December 2020. If you're using SAP BusinessObjects Explorer or Xcelsius, that also means the end of SAP support. So, what are your options for this SAP Business Objects end of life scenario?
Overcoming SAP Business Objects End of Life
SAP Analytics Cloud is the natural progression from SAP BusinessObjects. Capabilities include data visualisation, SMART data discovery, BI reporting, dashboarding and analytic application design (Analytics Designer) and leverages predictive analytics, machine learning, and natural language query.
What's more, you can keep the benefits of SAP BusinessObjects on-premise while extending into the cloud. The Hybrid capabilities of SAP Analytics Cloud give you access to real-time data. Meanwhile, sensitive data is secure behind your firewall with connectivity to SAP BusinessObjects universes. Other solutions with direct connectivity include SAP BW, SAP HANA, and SAP S/4 HANA, SAP S/4 HANA Cloud Platform, HANA Cloud Platform, and standard third-party databases.
Getting Best Value with SAP Analytics Cloud
But don't worry: SAP Business Objects end of life doesn't have to mean a full-scale move. SAP is helping SAP BusinessObjects customers move unused licences and maintenance to SAP Analytics Cloud. That way, you get the new solution while ensuring cost-effectiveness.
SAP BusinessObjects Explorer -> SAP Analytics Cloud Data Discovery
Providing a faceted view of your data, the SAP Analytics Cloud Data Discovery experience is similar to SAP BusinessObjects Explorer.
Advantages of SAP Analytics Cloud Data Discovery
Infospaces / Exploration – SAP Analytics Cloud provides ad-hoc capabilities out of the box with no significant configuration investment needed. It supports key capabilities for creating and exploring as well as charting capabilities. Updates can be scheduled and all stories based on the model will reflect the latest data. This will ensure minimal calls to back-end systems.
Data Sources – In addition to what Explorer supports today, SAC offers a host of other data connectivity options including (S/4HANA, BW/4HANA and other cloud sources) as well as Live connectivity to real-time data.
Live Data Connectivity – SAP Analytics Cloud provides direct (Live) connectivity to SAP BusinessObjects universes enabling the users to see the latest data without needing to replicate/schedule the data import, allowing data to remain behind your firewall.
Easy data exploration – SAP Analytics Cloud provides exploratory analysis enabling you to examine any dimension, slice, dice and embed – and utilize auto-charting configuration in your story.
Security – Security can be applied on Model level and hence is respected in all the stories. The need of personalization on individual info spaces can be eliminated.
Search – SAP Analytics Cloud supports a search by facet and global search at the level of the home page called "Search to Insight" allowing search for data without opening a story in SAP Analytics Cloud.
SAP BusinessObjects Dashboards / Xcelsius -> SAP Analytics Cloud Analytics Designer
Based on trusted data, SAP Analytics Cloud lets analysts produce dynamic visuals that reflect your business areas. Create custom dashboards with smart-functioning widgets. From static dashboards to custom applications, these widgets enable a host of visualisation and interaction.
Advantages of SAP Analytics Cloud Analytics Designer
Data Sources – Support for the data sources used with SAP BusinessObjects Xcelsius plus connections including SQL databases, SAP ERP, SAP S/4 HANA, SAP HANA, Odata, and a growing set of cloud data sources.
Charting and Maps – Supports the 21 chart types from SAP BusinessObjects Xcelsius and more powerful charts in a structured way (including standard charts) to conform with IBCS. Offers chart extensions with scripting capabilities to realize sophisticated requirements. Esri maps as base map supporting 12 frequent maps allowing multiple layers to be added on the top of the map. Scripting used to fulfill other custom map requirements.
"What-If" Analysis – Calculate measures using restricted measures in slider bar to manage variables or the ultimate What-if Analysis using Value Driver Tree (Planning License required), that can be added to stories for analysis and perform calculations on model data directly.
Trend Analyzer– Time Series Forecast is available using historical data to predict future values plus Automatic forecasting, Triple Exponential Smoothing, and Linear Regression.
Excel Modeling – Enhanced data wrangling process suggests smart transformations and automating repetitive workflows. Planning models can also be used as data sources in SAP Analysis for Microsoft Office (edition for SAP Analytics Cloud) allowing users to work in the Microsoft Excel environment and connect directly to SAP Analytics Cloud.
Dynamic Dashboards – Analytic Designer allows "show" and "hide" components for dynamic visibility, using APIs to script the behavior of widgets.
Still looking for answers about SAP Business Objects end of life?