Financial Services providers shouldn't suffer fines for employee malpractice
Governance, Risk and Compliance Solutions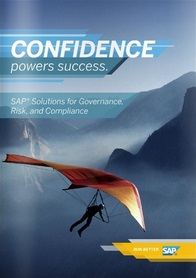 Beyond mandatory reports, easily create reports for on-demand insight. To read more, click here [Issuu, 12pp].
The recent ruling to fine six UK banks £2.6bn1 is arguably an unfair setback for those organisations as a whole, their bottom lines – and reputations; if the activity were unknown outside those close-knit circles of criminals.
How can companies' boards be aware of such activity?
Awareness of misdemeanours can come through reporting analytics, using a solution such as IBM Cognos Business Intelligence, with specific solutions available to ensure compliance to specific regulation, e.g. Solvency II.
To ensure conformity with regulations, SAP offer a suite of solutions around Governance, Risk, and Compliance (GRC); click here to learn more.
Insurers' bottom lines are also threatened from within by internal fraud, which has been increasing – along with the proportion committed by non-managers,2 while senior managers are responsible for fraud management programmes. Predictive Analytics technology identifies fraudulent activity within data so vast it would otherwise be impossible. To see how, click here
Learn how IBM Business Analytics solutions protect against the variety of insider threats; click here
To find out more about implementing a solution that can demonstrate the legality of your company's practices to senior managers as well as authorities, please contact us.
Endnotes
1. Regulators fine global banks $4.3 billion in currency investigation, 13.11.14, Reuters
2. "Almost 78% of fraud by individuals against UK organisations is committed by employees… Internal fraud made up more than a quarter of the £1.19bn of fraud losses recorded in cases brought before UK courts in 2008 (KPMG's annual Forensic Fraud Barometer)." Tackle internal fraud; 2009 Computer Weekly article.