Automation Sensation: How Automating Processes Can Help Your Business
The world is growing, fast. With it, businesses grow too: increasing customer bases, expanding internal teams and producing reams of new data every day. Enterprise success hinges on staying ahead, and Business Process Automation could be the answer.
What is Business Process Automation?
Through our work in software development, Influential gets asked this question all the time. The answer is simpler than you think.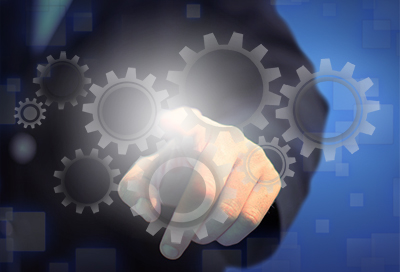 Is your office a-flurry with approval requests emails and filled with papers and post-its to track projects and tasks? Do you spend hours on spreadsheets and files, copying information by hand? Are you aware of bottlenecks, but can't identify or prove where they are?
These are the stressful symptoms of un-automated workflows. Tasks are completed manually, information is stored in physical files and processes are inefficient and un-trackable.
There is another way.
Business Process Automation (BPA) allows you to take tedious, redundant or complex tasks and process them hands-free, through the use of programmed software or systems. By handling processes automatically you use less time and money to get the same job done, streamlining operations and enhancing efficiency.
Why does my business need BPA?
There are lots of reasons why your business would benefit from BPA.
In this series of articles, Influential is going to take a closer look at the possibilities and advantages of BPA in the following areas:
Internal Communication & Processes
Customer Service & Management
Insights & Business Intelligence
However, to start with here are a few of the key, simple reasons why BPA is good for your business:
Processes happen faster

It sounds like stating the obvious, but in our fast-moving world, speed is key. Digital, automatic processes means productivity is no longer delayed by manual task processing, ignored in-trays, physical delivery times and 9-5 office hours.

Processes cost less

Streamlining processes with a single, digital system or solution means reducing requirements for multiple software licences. It also means saving money with IT staff time and paper/printing costs.

It boosts agility and efficiency

Web-services can be self-service oriented – e.g. information searches, ordering & bookings, etc.With tasks handling themselves, employees are free to focus on their areas of core expertise, with options of notifications & reminders of tasks due, and greater accountability.

It provides business insights

Digital processes means a paperless, instant-access information-trail that offers accurate data for business performance and evolution. This provides a foundation for Business Intelligence that manual processes do not: imagine trying to decipher business critical data from mountains of papers and endless, unintelligible spreadsheets – a daunting task.
It's Easier Than You Think
BPA may seem like a daunting prospect, but with the right team on your side it should be seamless and pain-free. With Influential, it is.
We can walk you through your requirements, recommend the best tools for the job and deliver a bespoke solution  tailored to your specific needs that will transform your enterprise. Our developers are experts in all the latest technologies, and our support team is ready to keep things running smoothly going forward.
Best of all, you can get the process started now with just the click of a button – so why wait?
In the Next Article:
In the next article we'll be looking at areas of internal communication and processes that can be revolutionised through automation.
Want to read the whole series?
Part 1: What is Business Process Automation?

For 25 years Influential Software has delivered quality business software & data solutions from within the UK. If you would like to talk to us about a business intelligence solution, software solution or any IT project you need to deliver successfully, please contact us.