How Outsourcing IT Can Help Your Business
Whether SME or FTSE-100, it's never too late to start outsourcing IT – but where to start? In this article we take a look at what areas of IT & technical support you can outsource and the benefits of doing so.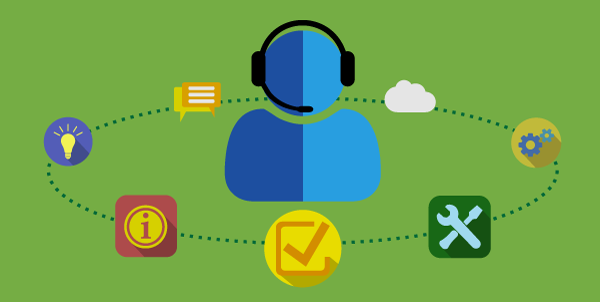 Your Business Needs IT Support. What Next?
You own a business, you've done your research and are well aware of the importance of IT support. So what next?
If your large company already has IT staff then you may decide that's enough. If you're an SME or startup that can't afford to hire IT personnel then you may decide to manage without.
In both scenarios, you're forgetting the potentially much better option: outsourcing IT support.
What are the Benefits of Outsourcing IT Support?
There's lots of discussion about the topic of outsourcing IT. Different businesses prioritise different reasons and benefits of doing so. Here are some of our top ones:
 Access to Latest Tech/ Expertise

– the most up-to-date technologies & specialists

IT Cost Savings

– no need to pay for extra tech, training or staff

Improved Business Focus

– internal teams are not distracted with IT support tasks

Flexibility

– IT Support when and how you need it, adapting to any changing requirements
What Can I Outsource?
So you've decided to outsource IT and technical support, but where do you begin? What parts of your business can even be outsourced? Here are some suggestions you might start with:
Software Support
Modern software is complex; if it goes wrong the fix can be tricky to figure out. Outsourced specialists trained in the latest tech can help with break-fixes, system configurations and troubleshooting, whether a bespoke application or licensed tool or platform.
Hardware Support
From troubleshooting and diagnosing hardware faults to installing new network printers, you need reliable technical support at hand – even if not 100% of the time.
Infrastructure Support
System efficiency is vital to success, so you'll want help on hand to ensure your IT infrastructure is on point and well cared for. This includes broadband and network connections, servers and even the cloud.
Backups & Recovery
Did you remember to hit save… on your whole system? IT support providers can conduct regular backups for you and assist in recovering your systems in an emergency.
Security & Penetration Testing
SMEs are frequent targets for cyber attack. Enhance your system security with ad-hoc penetration testing & secure server setups by trained experts.
Data Management
Are you producing more data than you know what to do with? Hand your data integration and database management to specialists who know exactly how to process and look after it.
System Maintenance
Better than a break-fix is preventing the break in the first place. Regular system maintenance by technicians trained in the latest tech ensures a smooth running business, avoiding disruption and downtime.
System Development
Your competitors don't just stand still and neither do you; you want things to run faster, better, stronger, smoother. Dedicated development teams work to optimise and enhance your business systems, allowing you to focus on the business itself.
When in Doubt – Ask Experts
If you're still unsure of what to do you can simply ask for help – yes, even this can be outsourced.
Experienced specialists like Influential can assess your business and offer advice about where to relieve pressure and strain on internal staff. You could even gain new avenues of business that limited resources had previously made inaccessible.
The first step is to ask. The sooner you get started, the sooner you can relax knowing that IT is taken care of, so you can focus on your work.
You May Also Be Interested In:
For 25 years Influential Software Services has delivered quality business software & data solutions from within the UK. If you would like to talk to us about a business intelligence solution, software solution or any IT project you need to deliver successfully, please contact us.