New Metalogix Website Launched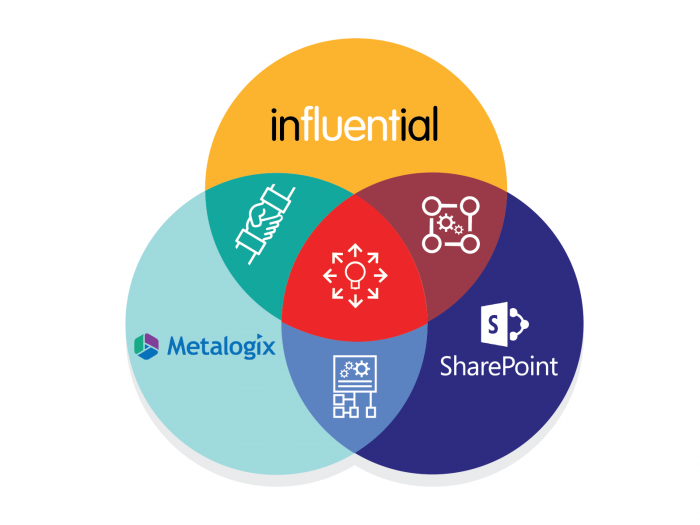 With our finger always on the pulse of digital transformation, Influential Software is using the new Metalogix website to promote our latest partnership.
Our clients can now benefit from our expertise in the ultimate set of solutions for Microsoft SharePoint, Office 365, and Exchange.
Influential Software's consulting services for Metalogix guarantee a targeted solution, at the lowest cost, with the maximum return. This partnership means you can move, manage, and protect your valuable content more effectively than ever before.
Our consultants and technical experts are on hand to assess and implement the full range of Metalogix solutions, including:
The Content Matrix tool provides for one-hop migrations and consolidations.
Essentials for Office 365 simplifies migrations from SharePoint, Box, Dropbox, Google Drive, personal drives, and file shares.
Archive Manager Files Edition automates archiving, management, and security capabilities, freeing your workforce from time-consuming tasks.
Archive Manager Exchange Edition has won countless People's Choice Awards for its effective search capabilities and automatic management.
Metalogix ControlPoint provides automation and control of permissions management, user activity, and sensitive content.
Metalogix Diagnostic Manager streamlines tasks such as troubleshooting server performance, SQL optimisation, network connectivity, and browser settings.
Metalogix SharePoint Backup promises as much as a 50-percent reduction in project times.
Metalogix RestorePoint accelerates your restore of corrupted, old, lost, or overwritten content.
Metalogix Sensitive Content Manager negates the false positive rates of other DLP systems by being specially designed for SharePoint.
Metalogix Expert is a SharePoint analysis tool that gives the insights you need to plan migration, optimise storage, and protect against security risks.
Content.ly connects your collaborative software so that all teams can speak to each other.
Metalogix Replicator synchronises SharePoint content internationally, allowing team-based collaboration even across limited bandwidths.
Metalogix StoragePoint is a Remote Blob Storage (RBS) solution that delivers cost-effective storage while maintaining performance.
Bespoke Metalogix Solutions
The range of solutions above – used individually or in combination – offer a wide degree of flexibility for all use cases. Our Metalogix partnership gives us the tools to identify and optimise these solutions to maximum effect.
Eager to learn more about our Metalogix services? Feel free to visit our dedicated site.