Microsoft Azure Website Launched
Posted on Wednesday 16th January 2019 2:58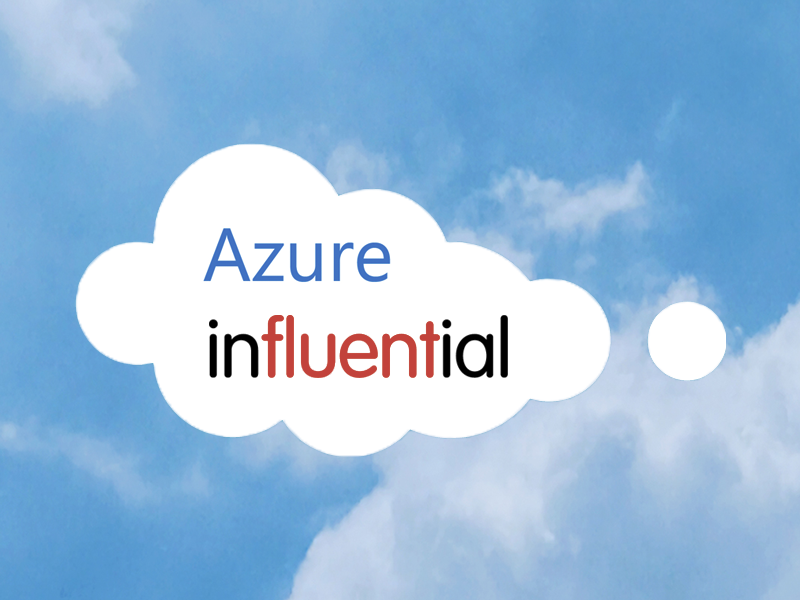 Widely accepted as the leading cloud for business applications and more, Microsoft Azure is playing a crucial role in the UK's digital transformation. At Influential Software, our clients have seen the short- and long-term benefits of expert help with Azure development, deployment, migration, integration, hosting, security, and support. Now the Azure team's work is reaching a wider audience through a new Microsoft Azure website.
Azure Development
Azure provides a platform for our developers to create cloud-native, easily scalable applications that drive your business faster. There's no need for costly infrastructure, and our team's agile approach to Azure development ensures an application that fits your exact needs.
Azure Deployment
A successful move to Azure cloud requires experienced assessment and planning. Our Azure deployment services follow a structured and reliable process that prevents any risk to your business. From initial consulting through planning and configuration, the Azure deployment team has your cloud covered.
Azure Integration
Azure makes it even easier for our team to integrate on-premises and cloud applications. From data to workflows, B2B to legacy software, there's no limit to Azure integration with built-in and custom connectors.
Azure Hosting
Based on Microsoft's global capability and renowned security, Azure is the world's most trusted cloud provider. Influential Software has provided Azure hosting services to major UK clients, with a complete package of consulting and support services to keep everything running perfectly.
Azure Migration
Whether moving from on-premises or another cloud provider, our Azure migration services use a tried and tested methodology. Following assessment of the applications, workloads, and processes you plan to migrate, our team can provide an expert view on the best migration tool for your purposes.
Azure Support
Our Azure support services are designed to reduce the strain on your IT resources while providing expert assistance when needed. The Azure support team guarantees uptime, protects data, and reduces costs with tailored service level agreements (SLA).
Interested in the business cloud? Feel free to explore our dedicated Azure site.
New Metalogix Website Launched
Posted on Thursday 30th August 2018 10:46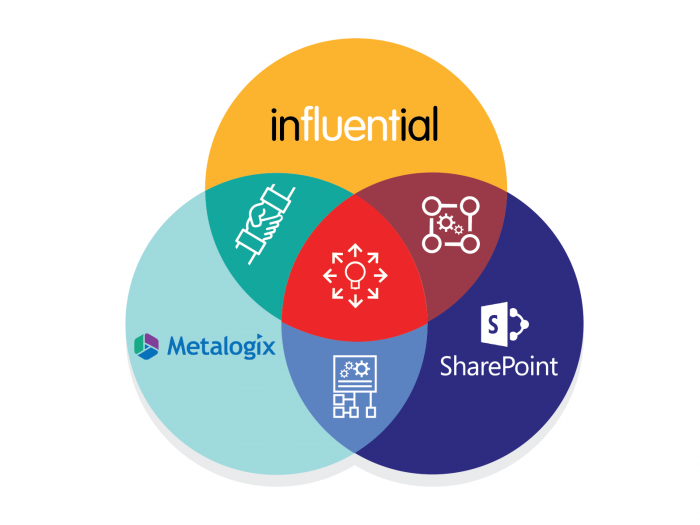 With our finger always on the pulse of digital transformation, Influential Software is using the new Metalogix website to promote our latest partnership.
Our clients can now benefit from our expertise in the ultimate set of solutions for Microsoft SharePoint, Office 365, and Exchange.
Influential Software's consulting services for Metalogix guarantee a targeted solution, at the lowest cost, with the maximum return. This partnership means you can move, manage, and protect your valuable content more effectively than ever before.
Our consultants and technical experts are on hand to assess and implement the full range of Metalogix solutions, including:
The Content Matrix tool provides for one-hop migrations and consolidations.
Essentials for Office 365 simplifies migrations from SharePoint, Box, Dropbox, Google Drive, personal drives, and file shares.
Archive Manager Files Edition automates archiving, management, and security capabilities, freeing your workforce from time-consuming tasks.
Archive Manager Exchange Edition has won countless People's Choice Awards for its effective search capabilities and automatic management.
Metalogix ControlPoint provides automation and control of permissions management, user activity, and sensitive content.
Metalogix Diagnostic Manager streamlines tasks such as troubleshooting server performance, SQL optimisation, network connectivity, and browser settings.
Metalogix SharePoint Backup promises as much as a 50-percent reduction in project times.
Metalogix RestorePoint accelerates your restore of corrupted, old, lost, or overwritten content.
Metalogix Sensitive Content Manager negates the false positive rates of other DLP systems by being specially designed for SharePoint.
Metalogix Expert is a SharePoint analysis tool that gives the insights you need to plan migration, optimise storage, and protect against security risks.
Content.ly connects your collaborative software so that all teams can speak to each other.
Metalogix Replicator synchronises SharePoint content internationally, allowing team-based collaboration even across limited bandwidths.
Metalogix StoragePoint is a Remote Blob Storage (RBS) solution that delivers cost-effective storage while maintaining performance.
Bespoke Metalogix Solutions
The range of solutions above – used individually or in combination – offer a wide degree of flexibility for all use cases. Our Metalogix partnership gives us the tools to identify and optimise these solutions to maximum effect.
Eager to learn more about our Metalogix services? Feel free to visit our dedicated site.
New SAP S/4HANA Cloud Website
Posted on Friday 13th July 2018 3:00
Influential Software has launched our S/4HANA Cloud website to promote our expanding SAP S4/HANA Cloud ERP services, bringing intelligent Cloud ERP BI to small and growing UK businesses.
Need SAP S/4HANA Cloud Services?
Look No Further
Ever expanding its services to beat the cutting edge, Influential Software is proud to announce a dedicated site for S/4HANA Cloud ERP services and solutions.
The newly launched www.s4hana-cloud-influential.com showcases our expertise in this rapidly developing area, from migration to the cloud and on-premise solutions.
Since SAP announced that it would discontinue support for SAP© ECC in 2025, the window for cloud-migration is growing narrower by the year. Many of our clients are waking up to the necessity of moving now rather than later. Our advice is, don't leave it too late!
The Latest and Greatest SAP Offering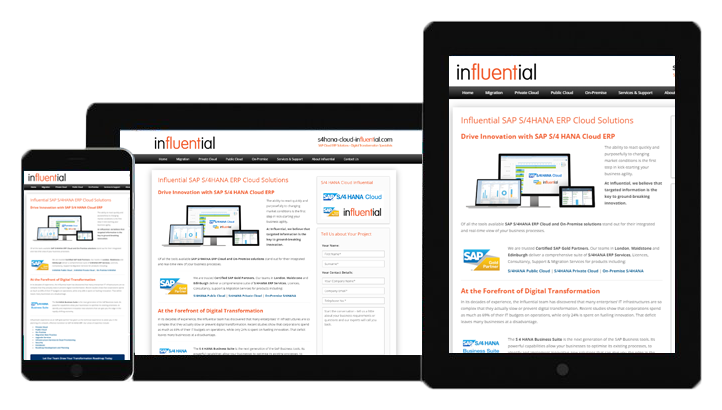 As a long-time SAP Gold Partner, Influential Software is expertly positioned to evaluate the latest SAP offerings in relation to your business needs. S/4HANA brings a host of benefits to businesses, connecting all your processes and providing live information and insights. More than just an upgrade, the power of HANA has given S/4 the freedom to totally rebuild its applications. Here are a few of the major advantages that arrived with SAP Business Suite 4:
use planning, execution, prediction, and simulation to study any kind of insight from any type of data across your business, all in real time
connect to social and business networks, devices, people, and the Internet of Things
gain the agility to transform your business processes and achieve new levels of efficiency
If these benefits seem like a manifesto for digital transformation, then that is no coincidence. SAP S4/HANA Cloud ERP is the face of the future in a world where IT is central to business success.
Last Call for the Transformation Express
For Influential Software, digital transformation is more than a buzzword. Today's customers demand services that are fast, personalised, and always available. The essence of digital transformation is finding the right IT infrastructure to meet that demand.
SAP's roadmap for 2025 and beyond is designed to simplify your infrastructure. They do this by focusing on one digital core, their SAP HANA in-memory database. A second big change is SAP's decision to go open-source with Linux. Our SAP team specialises in designing secure, high-performance, and highly available Linux data centres.
"To Cloud or Not to Cloud?"
"That is the migration," as Shakespeare may have written. In fact, there are many more than two options. From S4/HANA Private Cloud and SAP S/4HANA Public Cloud SaaS to On-Premise S/4HANA ERP and sub-categories within these, S/4HANA can adapt to a range of configurations to suit your business. Among these options, it can be a challenge for businesses to balance the factors of cost, connectivity, agility, and governance. Thankfully, SAP-certified S4 HANA Consultancy services are on hand to assess your requirements and define the best solution for you.
Visit the S/4HANA Cloud Website
If you would like to know more about our S/4HANA Cloud, please visit the S/4HANA Cloud website to find out more. Or if you are ready to speak directly with our SAP Gold Partner specialists about S/4HANA Cloud, Digital Transformation or Business Intelligence, click the button below – and let's get your business moving to the cloud!
Metalogix Partnership Brings New Microsoft Migration Solutions
Posted on Wednesday 21st February 2018 4:31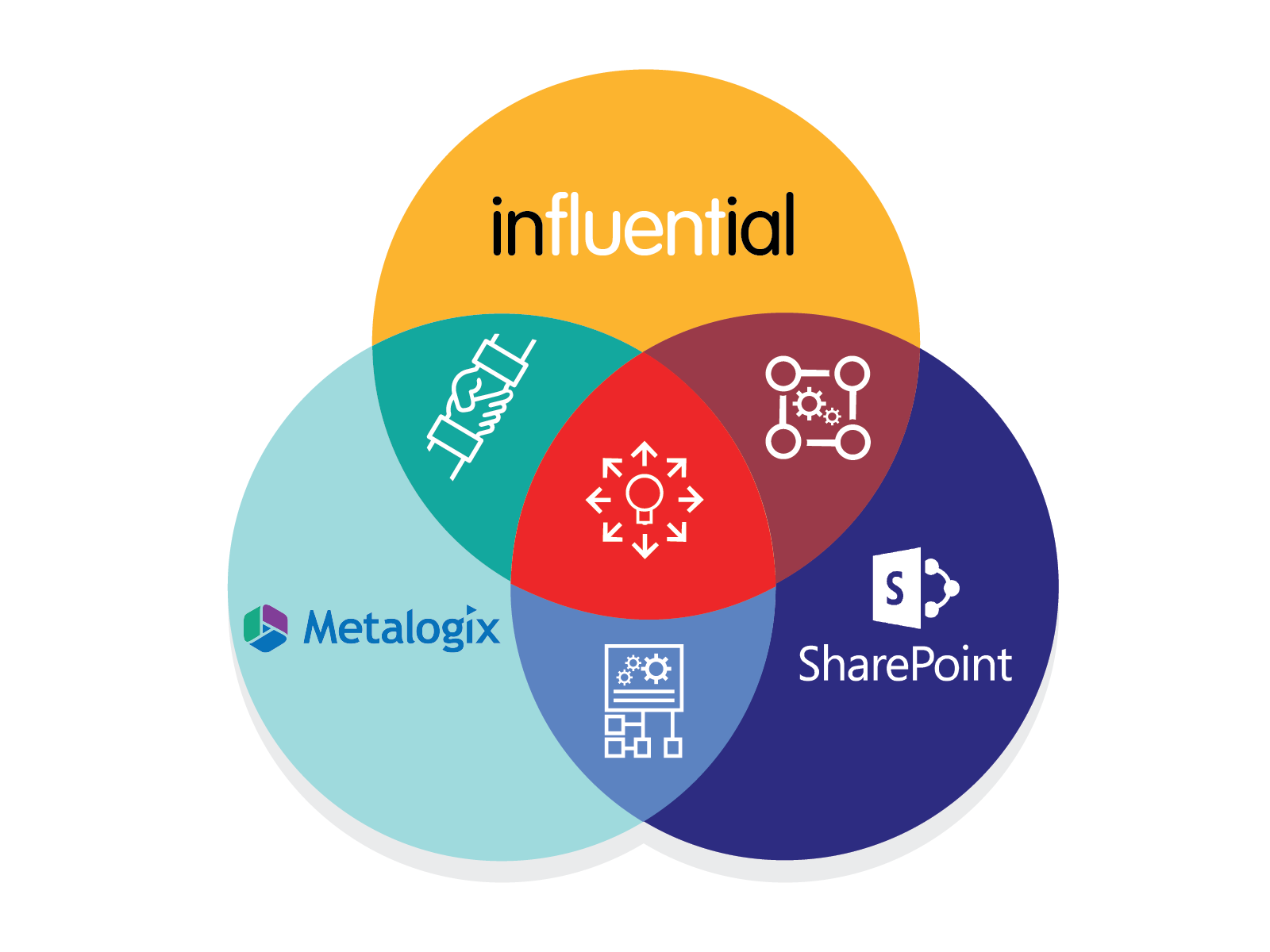 Influential are pleased to announce an exciting new partnership with Microsoft migration specialists Metalogix, further enhancing our Microsoft portfolio and ensuring our clients an array of cutting edge SharePoint and Office 365 solutions and expertise.
Metalogix: Move, Manage, and Protect SharePoint and Office 365
Metalogix solutions move, manage and protect content that lives within and around Microsoft SharePoint, Exchange and Office 365. This ensures your business has the freedom to collaborate and removes the risk of information loss. No matter what platform your business is using, on-premises or in the cloud.
Over the last 15 years Metalogix has grown into a global brand, recently bringing its solutions under the banner of Quest. From the start, Metalogix has defined not only the future of SharePoint and Office 365 management but also how organisations collaborate in complex environments. The company has learned a lot along the way, having seen first hand the struggles businesses have constantly moving content across collaborative environments, locally and in the cloud. How the battle between human resources, technical and business priorities, and even networking logistics, can push the limits of project management and delivery.
As a result Metalogix have focused on developing products and solutions that remove the need for deeper human interactions without compromise on speed. Influential-Metalogix solutions bring flexibility and scalability to project planning and delivery, enabling even a single administrator to accomplish more during migrations.
Scalable SharePoint Solutions
Microsoft SharePoint and Microsoft Office 365 have been a game changer when it comes to collaborative workspace environments. From company intranets to secure document management systems, on premise and in the cloud, they continue to be at the cutting edge of scalable enterprise solutions and have helped make Microsoft current world leaders in this field.
However, it's not always straightforward for Enterprises to fully leverage Microsoft products. It's here where trusted Microsoft partners, with vast industry knowledge and decades of experience, can ensure your business gets the full value. This is particularly true of SharePoint and Office 365 environments and migration.
As well as vast experience, Metalogix brings to Influential SharePoint clients their range of bespoke applications including:
Influential-Metalogix: Maximise Your Business Benefits
Influential and Metalogix are perfectly positioned to deliver the most comprehensive Microsoft Partner solutions. We can help your business deliver the results you expect, and that your business stakeholders and clients need.