A Look at the New AI Capabilities in Power BI
Posted on Tuesday 27th November 2018 10:20

New AI Capabilities for Power BI make AI Accessible for Everyone
Hot on the heels of the recent Power BI service and mobile update in Q3 this year, the Microsite team has rolled out new AI capabilities in Power BI.
Power BI makes it possible for all your employees to make better decisions based on data with beautiful reports and dashboards. And having worked with Microsoft for over two decades – and with Microsoft Power BI since its launch – the Influential Software team is always keen to share the latest features. This time, Microsoft has made a great leap forward with new AI capabilities in Power BI.
But first, why do we need AI in Power BI?
Microsoft AI for Enhancing Business Data
With the massive volumes of data generated today about every aspect of a business, finding insights from the data can be challenging. This is where AI can help. AI can aid in data exploration, comb through the data to automatically find patterns, help users understand what the data means, and predict future outcomes to help business drive results.
There are huge opportunities when workers across an organisation can leverage AI for improving business outcomes. But data scientists, who are crucial to deploying AI solutions, don't have the bandwidth to provide custom solutions to all users at an organisation. Businesses need ways to surface the valuable work of data scientists and empower more users to leverage AI in easy and intuitive ways.
Power BI has been a pioneer in applying AI through capabilities such as natural language, which enables users to get answers by asking questions in plain English, or Quick Insights, which automatically finds patterns in data.
Microsoft is taking a major step forward in bringing AI to business intelligence and announcing several new AI capabilities in Power BI.
users can now get capabilities such as image recognition and text analytics directly in Power BI
key driver analysis helps users understand what influences key business metrics
users can create machine learning models directly in Power BI using automated machine learning
users now have seamless integration of Azure Machine Learning within Power BI
All these new AI capabilities in Power BI – pioneered in Azure – require no code. This enables all Power BI users to discover hidden, actionable insights in their data and drive better business outcomes with easy-to-use AI.
Azure Cognitive Services Arrive in Power BI
Azure Cognitive Services are sophisticated pre-trained machine learning models that can extract insights from data. Microsoft is bringing Azure Cognitive Service capabilities into Power BI to provide powerful ways to extract information from a variety of sources like documents, images, and social media feeds. These algorithms can identify named entities such as organisations, people, and locations. They can recognise objects in images, detect language, identify key phrases, and determine positive or negative sentiment.
Imagine you're a business analyst for a hotel chain and want to evaluate what guests are saying in their online reviews. With Azure Cognitive Services in Power BI, you can easily analyse thousands of online reviews, understand what your guests are happy or unhappy about, and pinpoint areas of improvement.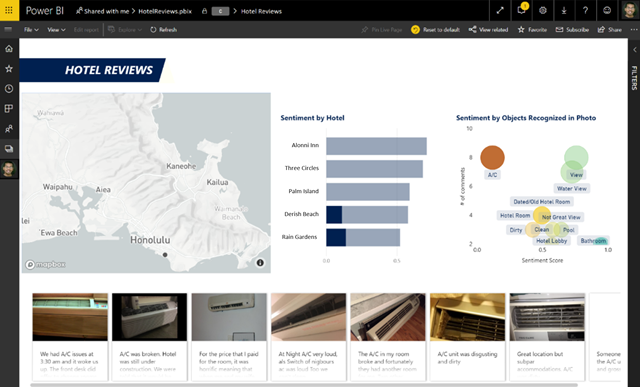 Power BI's New Key Driver Analysis Feature
Every organisation has metrics or key performance indicators that measure business success. How do businesses determine what impacts those KPIs? What causes these KPIs to go up, down, or stay the same? The most obvious business drivers are typically easy to spot, but it doesn't take long before things get complex. What drives business outcomes is often subtle and depends on any combination of circumstances.
Key driver analysis helps you understand what drives an outcome. It reasons over your data, ranks those things that matter, and surfaces those key drivers. For example, consider a student's plans to attend college as a KPI. There are different factors that impact whether kids plan to enroll in college. Key driver analysis automatically surfaces those things that matter the most. Below, you see that parental encouragement has significant positive impact on a student's plans.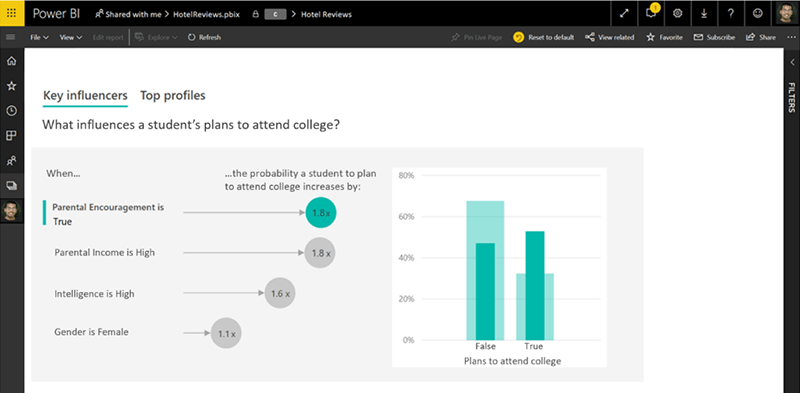 ---
Machine Learning Models: Build Your Own in Power BI
In Power BI, business analysts will now be able to build their own machine learning models without writing a single line of code. Microsoft is using the automated machine learning feature in Azure Machine Learning, but instead of targeting developers or data scientists, we've simplified it and made it broadly accessible for common use cases. This means that when an analyst builds a machine learning model in Power BI, it does all the heavy lifting by selecting the best algorithm and features with just a few clicks.
As an example, a business analyst could leverage the automated machine learning technology to quickly and easily build a model to predict how likely an open sales opportunity is to be won. This could help a sales manager prioritise which high value opportunities to focus on and how likely they are to meet their target.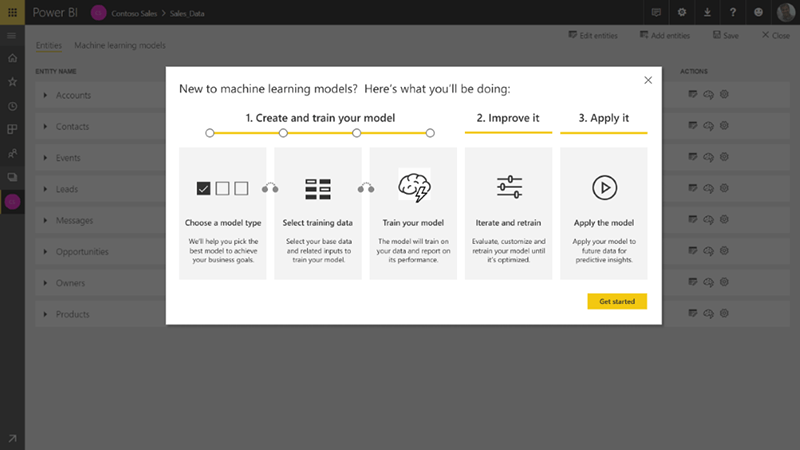 ---
Use Power BI to Integrate Your Azure Machine Learning Models
Advanced machine learning requires specialised data science tools. Azure Machine Learning is a platform where data scientists develop machine learning models to take on complex business challenges. Azure ML models built by data scientists can now be easily shared with business analysts. Power BI works behind the scenes to discover the models to which each user has access and automatically creates a point and click user interface to invoke them. This makes collaboration among business analysts and data scientists easier and faster than ever before.
---
Your Turn to Leverage the AI Capabilities in Power BI
Turn the complexities of business data to your advantage with your strategic BI partner – Influential Software.
Whether you are looking at Power BI On-Premise or Power BI Cloud solutions the experienced Influential team offer complete Power BI Support and Services.
Businesses across the UK, of all sectors and sizes, have benefited from our technical expertise and business experience.
Leverage Power BI, one of the technologies that are already creating massive value for early adopters.
This news has been adapted from online content by our partner, Microsoft.
Power BI Update Q3 2018: Service and Mobile
Posted on Saturday 25th August 2018 11:07
Microsoft Adds New Features and Functionality
Microsoft Power BI has seen important changes with the Power BI update July and August 2018. On the basis of user feedback, Power BI has been improved with new features for better functionality.
So what's new in Power BI?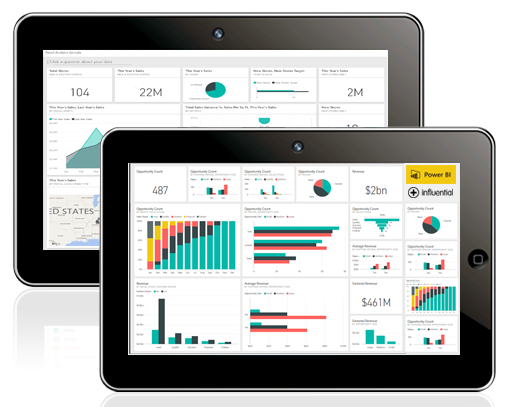 Power BI Features Update
As one of the leading BI consultancies in London, we at Influential Software are excited to promote the new features in Power BI. Recent months have brought extra functionality and user-friendly improvements to please mobile and service users.
The features of the Power BI update July and August 2018 include improvements in visuals, filters, data gateway, and multi-geo capabilities. Read on to browse the full details of the Power BI update July and August 2018.
Preview: Multi-Geo Support for Power BI Premium
July saw Microsoft announcing a public preview of Multi-Geo for Power BI Premium.
Multi-Geo enables Power BI administrators to deploy a Premium capacity to one of nine geo locations globally. In the current preview, your Power BI datasets and cached queries are stored in the region you choose for your capacity. Dataset credentials and Excel workbooks, along with other additional metadata, are stored in the geo associated with your Power BI tenant.
Power BI plans to migrate this functionality into the Multi-Geo capacities within the coming months.
APIs and PowerShell Cmdlets
IT administrators can now effectively govern their Power BI deployment with a new set of Admin APIs, along with a .NET SDK and a PowerShell module. These functions give administrators visibility into every aspect of their BI environments.
Persistent Filters on Custom Visuals
After the introduction of persistent filters in March, Microsoft has now introduced this for reports with custom visuals as well.
Visuals now supported with persistent filters are:
Chiclet slicer
Hierarchy slicer
Timeline slicer
Attribute slicer
Preview: New Workspaces Experience
The app workgroup preview shows that it will be easier to manage access to workspaces through security groups, distribution lists, and O365 groups.
These changes will empower large enterprises to easily manage their BI content at scale.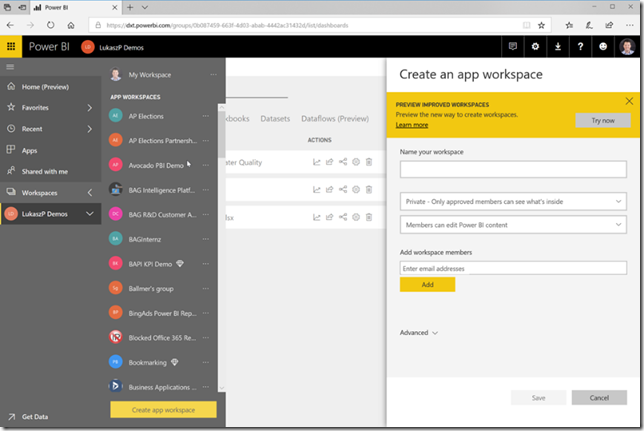 Custom Visuals API v1.1 and Older Deprecation
Microsoft announced that custom visual API version 1.1 and older will be deprecated from September 1, with support remaining for API 1.2 and later.
Power BI Report URL Filter Improvements
Users can now define more complex query string parameters with enhanced URL filtering capabilities on reports. This enables the creation of shortcuts to pre-filtered reports and also providing hyperlinks to consumers.
On-Premises Data Gateway July and August Update
The custom data connectors in the Enterprise gateway, announced in the July release, have continued to improve in the latest release of the on-premises data gateway.
Preview: Power BI Premium Capacity Monitoring
The Premium Capacity Monitoring app enables capacity administrators to monitor the health of premium capacities and spot any factors that might affect end users.
The app displays all dataset refreshes, dataset evictions, and queries in the capacity for the preceding seven days, alongside system metrics.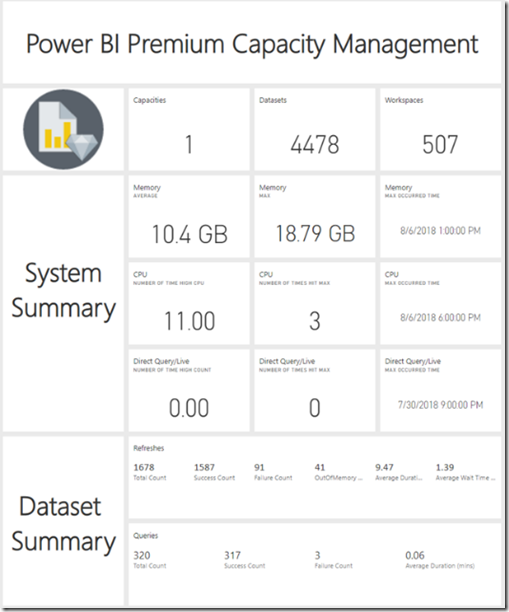 Single Sign-On in Power BI Mobile Windows App
With single sign-on (SSO), you can access all applications and resources through a single user account. You can now use your primary organisational account to sign in to your domain-joined devices and Power BI Service.
Phone Report Layout Editing in Power BI Service
You can now create phone report layout directly from Power BI Service. It's as simple as switching to edit mode and clicking the Mobile Layout option in the top bar.
Phone Drill-Through for Table and Matrix Visuals
Mobile users can access the drill actions with Table and Matrix support for tooltips.
Any Questions about Power BI Features?
For further details of the Power BI update, visit the Microsoft Power BI blog. Want to know more? Our dedicated Power BI team is on hand to answer any inquiries about features of the Power BI update July and August 2018, licensing, and business benefits.
New Power BI Services Website Launched
Posted on Tuesday 24th July 2018 11:05
Our Power BI Consultancy team is pleased to announce the launch of a new Power BI Services Website.
Thousands of clients, small and large, have transformed their businesses with Influential Software's BI services over the past 20 years. At the same time, we understand that business intelligence offerings are rapidly evolving, and work to ensure our clients stay ahead of the competition.
Power BI is an agile BI tool that provides SaaS insights for both growing business and enterprise teams. To ensure our clients get the very best ROI from Power BI, we provide consultancy and support services to ensure your teams and your business get the best out of the amazing Power BI toolset.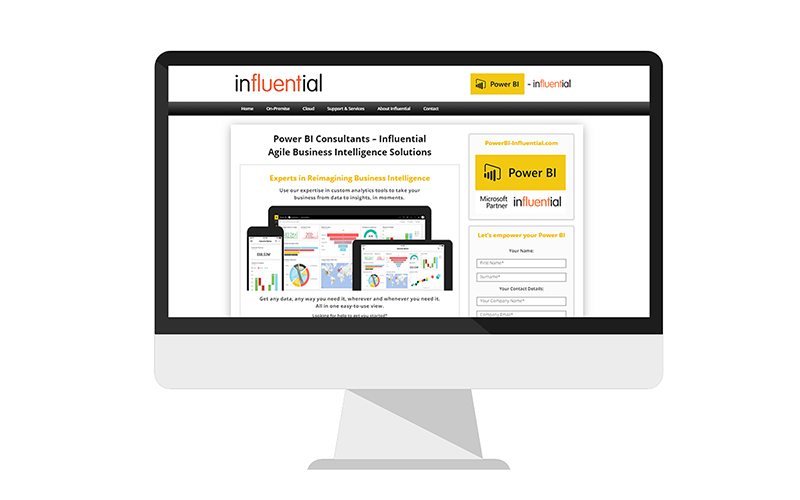 Are you ready to optimise your business? Find out how to leverage the ever-growing volumes of data that are crucial to keeping your market edge.
Influential Software's Power BI support and consultancy services are based on years of experience, and thousands of successful BI implementations. Our priority is maximising your system's suitability to your business processes, resulting in fewer man-hours and higher ROI.
Power BI software is a SaaS-based online service, first released in 2015. Businesses can use Power BI Desktop to create powerful connections, models, and reports for sharing on Power BI.
The service has persisted in the highly competitive BI market because of its flexibility and ability to work with a wide range of software. The Influential Software team is expertly qualified to design the optimum Power BI Services for you.
Eminently Integrated
One of the major benefits of Power BI is its wide connectivity. Businesses can consult us on the best use of Power BI with sources such as Excel, Azure, CSV, Web Pages, MySQL, Microsoft Dynamics CRM, Sharepoint Lists, Oracle, Salesforce, and MailChimp.
Cloud Connections, On-Premise Possibilities
While Power BI is primarily a cloud-based analytics service, on-premise options such as on-premise Power BI Report Server are available. Other on-premise solutions include the Data Management Gateway and Power BI Mobile Apps, meaning there is no one-size-fits-all solution.
Into the Azure
Connectivity with Azure cloud services such as Azure HDInsight, Azure Blob Storage, and Azure Table Storage make Power BI a powerful tool for refining data. Influential Software's accredited trainers and skilled implementation specialists are primed to assess your needs and provide effective solutions.
Power BI Services Website
You can visit our Power BI services website to find out a little more about Power BI options. Or, if you are looking for more agnostic Business Intelligence consultancy, advice or solutions, why not ask have a chat with our Business Intelligence team to find out what options would best suit your business.
What If IBM Cognos Analytics Could Answer Your Business Intelligence Questions?
Posted on Thursday 24th May 2018 12:30
Business Intelligence software is now essential for enterprises and growing businesses alike, but what if you are not getting the results you need? Before you despair, ask this: what if IBM Cognos Analytics could provide the inspiration needed to drive your business? It has centralised, easy-to-use Business Intelligence dashboards that cut through data quickly. This gives your business the ability to reflect and forecast, providing a basis for well-informed and confident decisions. So it seems we have an answer: IBM Cognos Analytics.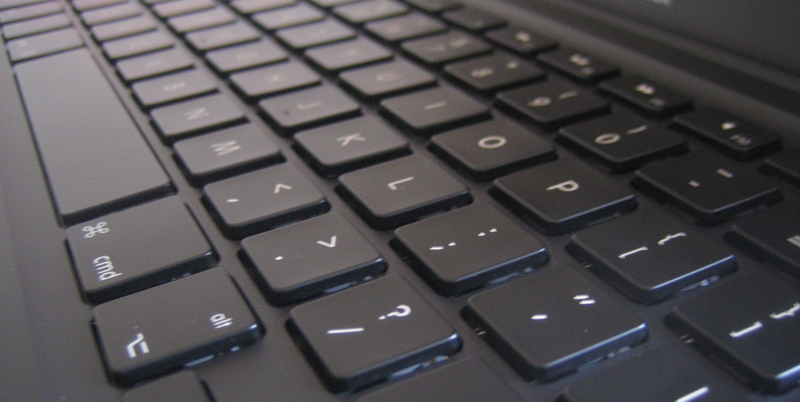 Business Intelligence software is now mandatory for organisations wanting to enjoy strategic and profitable growth. BI is the only way to support and sustain lean and agile operating systems.
However, company growth doesn't just come from better efficiency. Successful organisations have a vision. They also have the confidence to innovate and take well-planned risks. Does that mean business inspiration relies on the best data analytics tools as well?
BI and 'Out Of The Box' Thinking
IBM Cognos Analytics is a great launch pad for business discussions and thinking that includes a "What if…?" Businesses that thrive on innovation are constantly looking for new product or service ideas, as well as new markets to pursue. In that case, the last thing you need is an ocean of information to navigate – or a complicated piece of software with whistles and bells.
When inspiration is one of your driving business needs, having a centralised, easy-to-use business dashboard helps cut through data quickly. For example, you can use IBM Cognos to design and create your own intuitive BI dashboard. Configure it to provide the sort of autonomous and simple-to-access analytics that are your specific "food for thought".
Be warned though: not all BI offerings have this "self-service" flexibility and versatility.
Team Inspiration and Collaboration
Inspired and inspirational companies know the importance of unlocking the creativity and motivation of their team. Some of your potentially profitable "What if…?" leads may come from anywhere in your organisation. Your teams need a tool that is readily available to explore and share ideas. That's another reason why choosing the right BI system is crucial.
For example, IBM Cognos Analytics provides quick access to information via its drag and drop dashboard, that any user can navigate on any device. They can hop on for either enterprise-wide reporting or "dip in" to specific areas of interest or concern.
As it's web- or cloud-based, users can then report, share, and collaborate on their ideas instantly. So "What if" IBM Cognos Analytics could deliver this and more? You need never miss a good idea again!
For Data You Didn't Know You Needed
You can hit a brick wall in your innovation. Creativity can dry up. This is another time when data analytics can become your "new best friend". For example, IBM Cognos Analytics is particularly adept at drilling down into data and uncovering information your organisation may have previously missed. In fact, you could end up with insights you didn't even realise you needed!
Having access to these hidden depths and angles can make a big difference in well-informed and confident decisions. And for answering the question, "What if….?"
'What If' IBM Cognos Analytics Has the Answers You Need?
What if you contacted Influential Software to find out more about IBM Cognos Analytics? There's one way to find out.
Influential Software is an IBM UK Partner. We offer complete IBM Cognos Solutions: IBM Cognos Licence Sales, IBM Consultancy, and even Cognos Analytics support packages to suit.
The Predictive Powers of IBM® Planning Analytics
Posted on Monday 7th May 2018 9:00
IBM® Planning Analytics, the 2018 release of Cognos TM1, automates your planning, budgeting, forecasting and analysis processes into a single platform. Harness the predictive powers of IBM Planning Analytics and aligns your business cloud/on-premise/hybrid hosting strategies.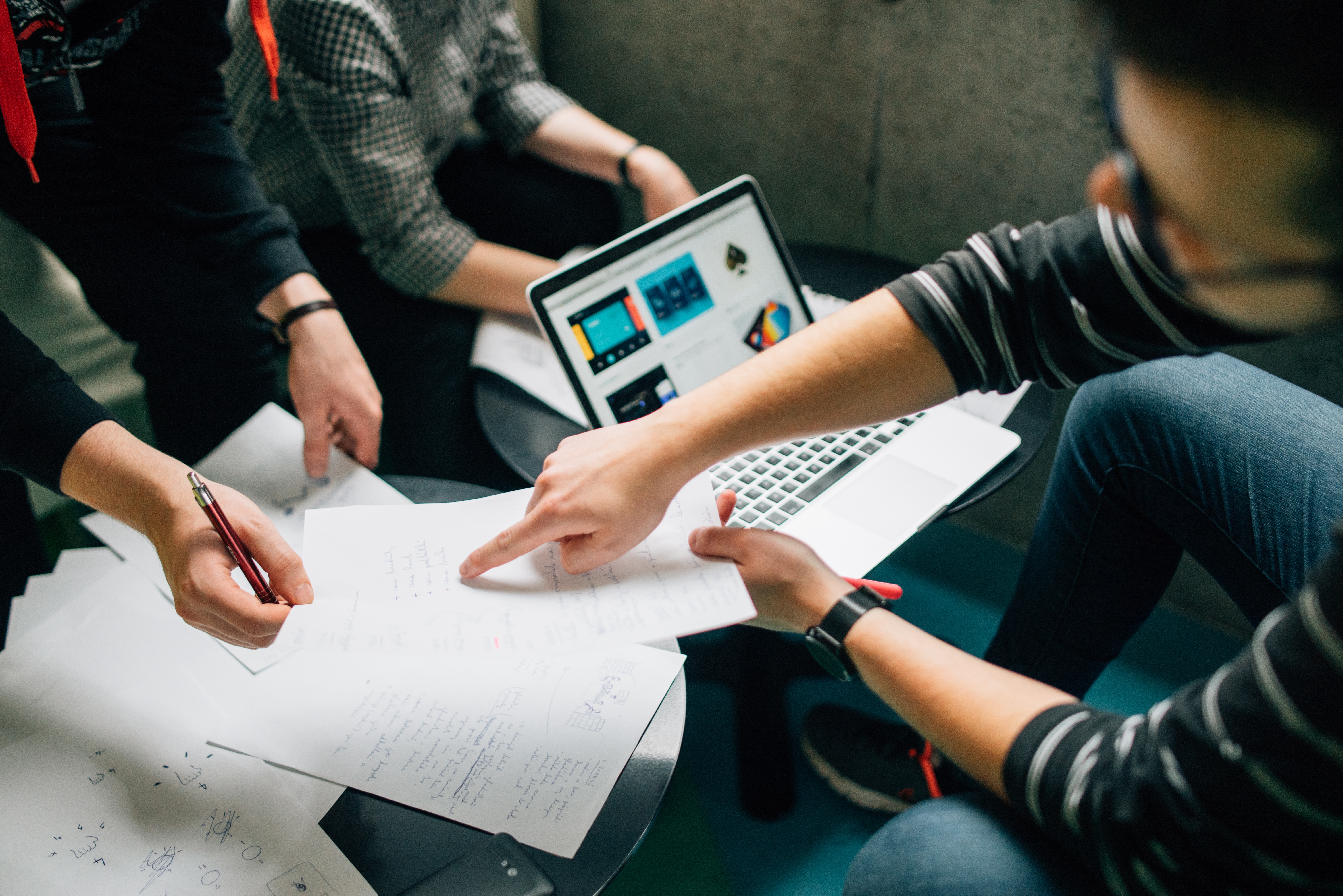 IBM® Planning Analytics can bring predictive powers to your organisation. Planning Analytics offers a comprehensive solution to formulating planning models and generating analytics from the results, constructed on a powerful analytical processing engine that is both in-memory and online.
The IBM Cognos TM1 enterprise planning platform is the foundation, and the planning tool is being used by a growing number of organisations around the world. Through its multidimensional technology, businesses can create complex models easily, and perform analyses of profitability to identify the customers, products and sales channels that are generating the most profit.
Spreadsheet Power
Since a large number of finance professionals work primarily with leading spreadsheet software, IBM® Planning Analytics is designed to have advanced spreadsheet functionality wherever it is necessary. You can take full advantage of the power of spreadsheet formatting and layouts with superb Wide Area Network performance. The latest Planning Analytics release can be deployed on-premise, and boasts the following advanced features:
Hierarchy capabilities that facilitate the modelling of specific attributes of hierarchies, enabling advanced granular analysis and simple administration and maintenance of any planning models you devise.
Improvements to the interactive analytics workspace, wherein you can design compelling visualisations and custom dashboards.
Predictive Power
IBM Planning Analytics enables you to take advantage of the data analysis and predictive powers and functionality of IBM Watson Analytics. With these powerful tools implemented in your planning process, you can generate automatic predictive insights from the software's analysis of internal and external information.
The first tools for planning and analysis did little more than automate processes that would otherwise be undertaken manually, but IBM Planning Analytics takes the process a few steps further than that. Through complex agile planning and exploratory analytics processes, you can actively drive your business forward in the way you want things to be done.
IBM Planning Analytics Flavours
And you have several options to choose from with IBM Planning Analytics:
Get the Predictive Powers of IBM Planning Analytics
Influential Software has been working for over 25 years with businesses of all sizes to create tailored software solutions that help to grow and increase profitability. Our passion is for technology, and our commitment is to quality, so we only deal with the best software solutions available on the market.
If you would like to know more about how IBM Planning Analytics could be implemented in your business, please feel free to contact us and we can arrange a consultation to discuss your needs and the power of the software we offer.
Why Bother Training Staff? How Can You Make It Effective?
Posted on Friday 10th February 2017 2:11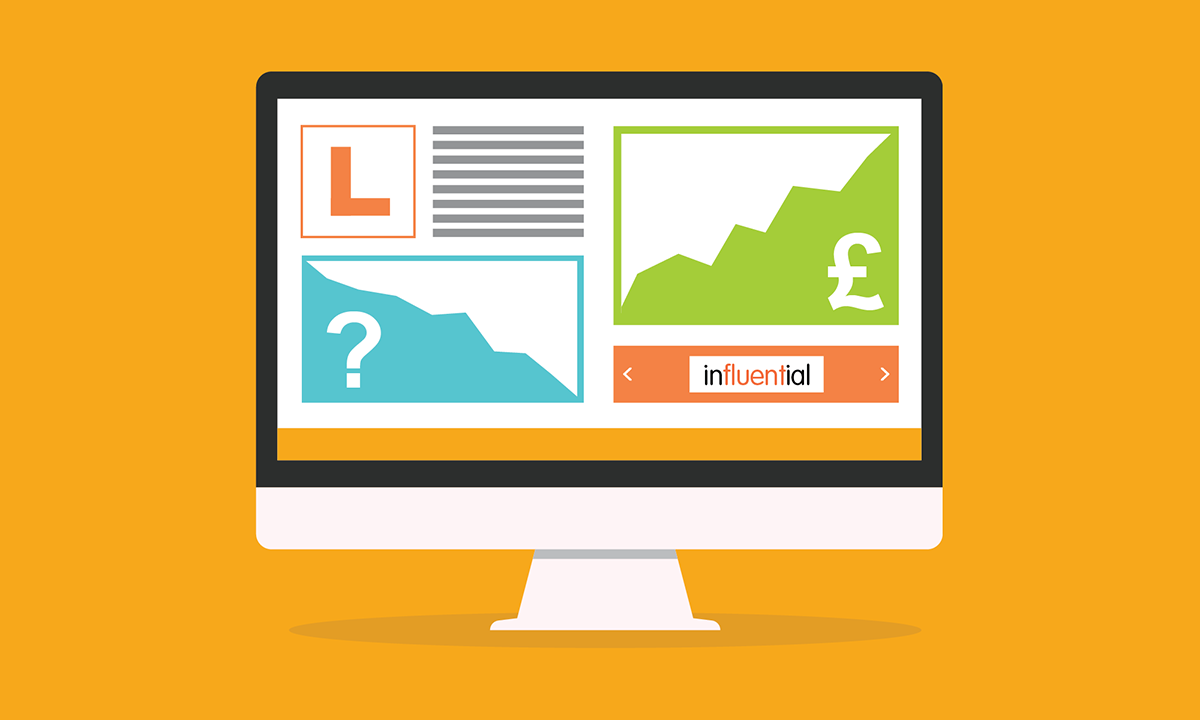 A huge number of organisations forget to factor in a training cost to their projects. There is an assumption that 'people will just pick it up', perhaps thinking this will save time and money. That may appear true on the monthly balance sheet, but over time your business can pay a far higher price.
Can The Lack Of Training Impact Business?
Consider this, would the world's number one golfer or tennis star go straight into an important competition or match with new clubs or a new style racket without having tried them out first and practised with them? I very much doubt it.
The performance will suffer, more mistakes are made. This will impact on the result.
It is the same in any business. Just giving your workforce the right tools to do the job won't magically provide the desired results unless they get the proper training to use them.
The bottom line is, training increases user adoption and improves performance.
If your business invests in new software, upgrades to a more recent version, or even brings in new staff, without training performance will suffer. If you want to both protect the investment and drive results, the most effective way to do that is through timely and efficient training.
What Are The Benefits Of Quality Training?
So, what are some of the main reasons behind training your staff?
Increased job satisfaction and morale among employees
Improved employee motivation and engagement
Enhanced efficiency in processes, resulting in financial gain
Improved capacity to adopt new technologies and methods
Greater innovation in strategies and products
Reduced employee turnover and absenteeism
Improved skills improve business quality: Results, services or products will improve.
Business Benefits Of Training Can Include:
Improved Bottom Line
Improving efficiency, productivity and profitability will ultimately improve the bottom line.
Improved Flexibility, Competitiveness and ability to Adapt
Just as the latest golf club or racket can give a player the edge, so can new business tools – but if they are not used properly the advantage is lost. Allowing teams to implement new technology correctly not only improves direct results, it increases take-up of new strategies and ideas. Improved ability to embrace new trends and technologies creates better business flexibility. without suffering from skill shortages
More opportunities for Business Growth
Better customer satisfaction
Better internal communication and leadership
Less waste and reduced need for external costs
When Do Staff Need Training?
New software purchases
Upgrading to newer versions of old software
Migrating Systems
New staff, staff changing teams or promotion to new roles
To "pilot", or test, the operation of a new system
When a performance appraisal indicates performance improvement is needed
As part of an overall professional development program
Succession planning, to help employees be eligible for organisational role change
Now we have in mind the benefits of training and when it may be needed, what is the best way to roll out your training plan?
Different Learning Styles
There are many different ways in which staff learn and we don't all learn quickly or well by sitting alone with a text book! To ensure staff get the right training to suit their needs, different learning models have been defined to help understand how they learn.
One popular model explains that the vast majority of people fit into 1 of 3 learning styles. These 3 styles are visual learners, audio learners and kinaesthetic learners.
Visual Learner
Uses visual objects such as graphs, charts, pictures and likes seeing information
Can read body language well and has a good perception of aesthetics
Able to memorise and recall various information
Tends to remember things that are written down
Learns better in lectures by watching
Audio Learner
Retains information through hearing and speaking
Often prefers to be told how to do things and then summarises the main points out loud
Notices different aspects of speaking
Kinaesthetic Learner
Likes to use the hands-on approach to learning new material
Would rather demonstrate how to do something rather than verbally explain it
Prefers group work more than others
It is important to ensure when looking for staff training that the course leader fully understands the material and topic, but is also agile in adapting and incorporating different teaching methods into the training to suit.
Targeted Training – Goals And Planning
Now we understand how people learn, the next issue to address is what do they need to know.
Good trainers always answer vital questions when putting a training plan together.
What are your training goals for this session?

New skills
New techniques for old skills
Better workplace behaviour

Who is being trained?

New employees
Seasoned employees
Upper management

What is your training budget?
How much time has been allocated for training within your organisation?
All of the above questions should be able to be answered after a detailed Training Needs Analysis has taken place (which we will be covering in our next Training Blog instalment)
Back To School? Rediscover The Classroom
In summary – Business Training for staff is often overlooked, either as a cost or time-saving. However training isn't just important to any company, it is vital.
The mid and long term business benefits of training drive down costs, boost efficiency and performance, which all improve the bottom line. Staff feel the benefit, engagement rises and turnover drops. Everyone wins.
Identifying the need for training is just the first step. Getting the right training is the real secret to success.
Choose A Training Company With Experience
Not only a breadth and depth knowledge of the course content but also a great ability to understanding the needs and requirements of your staff. It's why we ensure our course leaders have years of experience under their belts, both using the software and delivering sessions to groups of all sizes, abilities and needs.
Check The Course Has Positive User Feedback
It's one thing for a business having a great training sales pitch, but it's another to have proof. It is important to look for training providers that have positive feedback from actual course users.
Influential invite all those who train with us to provide feedback via CourseCheck. An independent 3rd party that allows verified course users to post reviews about the courses they take. So you can be sure that all the good feedback for Influential Training is genuine!
| | |
| --- | --- |
| | "Excellent course – well delivered." |
There are many delivery styles available to cater for the training needs of your organisation, but based on the learning styles that people have, there is only one that can meet them all in one go.
It's time to go back to school and rediscover the classroom!
What's New In SAP BusinessObjects Business Intelligence 4.2?
Posted on Thursday 4th August 2016 3:48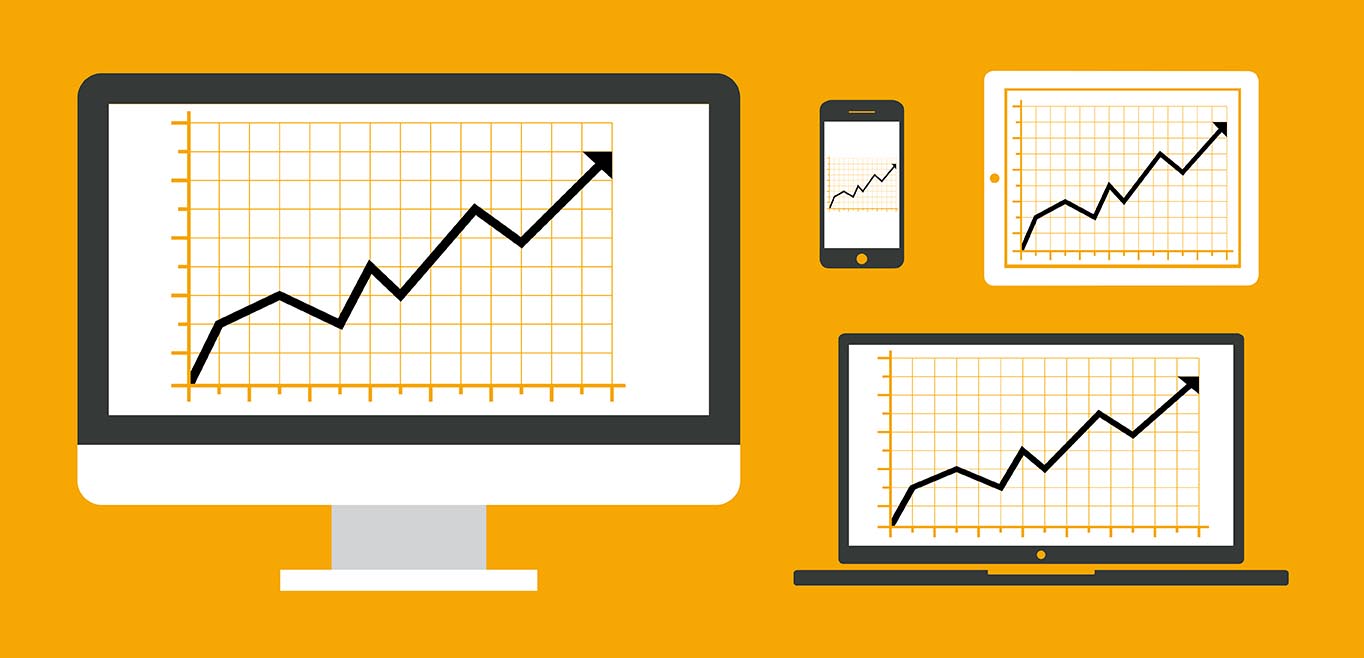 SAP released their latest version of SAP BusinessObjects Business Intelligence 4.2 earlier this year to a great reception from business users and IT teams alike. It's very likely you've heard about the release but have you properly considered how much of an impact upgrading to 4.2 could have on your business?
If you haven't already it's time to set your sights on this major release. In this article we explore what exactly has SAP improved and look at the killer features that make this the most accessible and user friendly BO version we have ever seen. We cover the key improvements, consider how this release will boost your 'analytical' organisation – and why you should consider upgrading right now.
Simply Empowered: SAP Business Intelligence
SAP has been at the forefront of BI software for many years. They understand that user needs evolve quickly and it is clear they have been listening to feedback. They know users want easy to use but ever faster and more capable BI. So it was no surprise that with BusinessObjects BI 4.2 they have delivered a stronger BI experience for all.
The driving force behind SAP's latest release theme was this: Simplify and Empower.
The aim: to make it easier for your business teams to understand business performance and to make your business faster and more agile.
Our experience so far has confirmed that BusinessObjects BI 4.2 certainly delivers. Using the new release feels far simpler and more intuitive than previous versions. This is achieved using a raft of new features, enhancements, more geospatial capabilities and now with capabilities to connect to SAP BW and SAP HANA. It is clear that SAP are true to their core guiding principle: to help customers RUN SIMPLE!
Running Intelligent Business, Simply
SAP's RUN SIMPLE principle actually makes a lot of sense, especially when applied to Business Intelligence. Taking a step back we can all see how, in practically every industry, the pace of technological change around us has become exponential. The ever growing mountain of data this creates leads to new challenges and opportunities. For some companies not set up to cope the gap between data and access, between IT departments and Business users has grown. But If your business is to compete (and ideally thrive) you need to access this data in a practical and useful way. Intelligent Business Analytics built within a solid landscape are now vital toolsets for organisations.
However, in the face of this data tidal wave, BI Analytics software has become ever more complex and unwieldy. Many solutions are now so IT Resource hungry and so convoluted that front end BI admin users rarely get the full benefits of these essential tools. All while the demand for better, more agile information grows.
SAP realised that if their users really were to use analytical insights as the foundation of their business, to empower business users, they must be made simpler.
The result: SAP BusinessObjects Business Intelligence 4.2.
3 Core Themes Key To Improvements
Beyond RUN SIMPLE, the particular recipe SAP chose to bake into the 4.2 release was centred upon 3 core ingredients:
 Simplify

Easier to use and manage, for BI Admins and IT.

Empower everyone with analytics, boost collaboration

Access in the cloud

One vendor Partner for all your analytics needs

 
Enhance

Improved capabilities and tools

New methods to access data and boost productivity

Integrate your current source systems

Reuse and expand platforms

 
 Innovate

Enhanced customisation

Reveal hidden opportunities and risks

Improved developer experience

Anticipate and plan future outcomes
Which Users Benefit From SAP BOBJ 4.2?
It's safe to say everyone who upgrades to the latest BusinessObjects version will benefit. There are however key users whose roles will be substantially improved, including:
 Business Users, Designers & Analysts
All BI users benefit from increased responsiveness, including those using:

SAP BusinessObjects Web Intelligence

SAP BusinessObjects Lumira

SAP Crystal Solutions

 
IT Administrators

Managing and optimising platform performance

Easier upgrades and installs

Reduced workload and costs

 
 Ecosystem & Development Partners

Those looking to extend the value and capabilities of the integrated BI platform

Help business drive better decision making across the organisation
Enhanced, Improved – Simple Wins
OK, so that's the overarching theory on how SAP are pushing to remain top of the BI market with BOBJ 4.2. What about the actual technical enhancements, the new features, and how do they benefit users? Well, where to start? There are extra mobile BI capabilities, better self-discovery tools and new geospatial capabilities. Then there are boosted cloud solutions, integration with the powerful in-memory platform HANA, and an all-round simplification of portfolio. All of these extra enhancements could put extra pressure on the BusinessObjects core – so that is what SAP focused upon first.
Improved Stability and Capability
SAP BusinessObjects has a solid history. In our internal tests the environment has proven reliable. It is clear BI4.2 is the culmination of core stability and capability improvements built upon several key innovations and incremental product advances we saw in BI4.1.
Main New Features in SAP BO 4.2
SAP BusinessObjects Business Intelligence platform 4.2 includes
Recycle Bin


When users deletes an item from the BOE system, it's now moved into the "Recycle Bin" and an administrator can recover the files. Items will be stored there only until the bin is emptied, which may have a time-limit or happen on set days – at which time the files are permanently deleted.

BI Commentary Service


A new CMC application that allows document users to collaborate, to comment on any of the data/statistics accessible in a given document.

Restful Web Services APIs for Publication


A whole raft of nifty new tools allow the management of:

Users and User groups

Publications, files and scheduling

Queries, Server and Jobs statistics, Content and Application usage, and more

BI Administrators' Cockpit


Another new CMC application. Administrators can collect basic data about the BI environment. You can also obtain information about Servers, Scheduled Jobs, Applications and Content Usage

Selectively retrieve objects from an LCMBIAR file


Selectively retrieve objects from an LCMBIAR file. This requires that the user has the introduction of 'Edit LCMBIAR' right. When you selectively retrieve objects from an LCMBIAR file, a new job with the selected objects is created.
SAP BusinessObjects Web Intelligence 4.2 includes
Element Sharing
Parallel Queries, Data Provider Refresh
Enabled BI Commentary Services
Geo Maps and Visual Extensions

Good looking and insightful dashboards can be created, using ESRI maps or google maps. Any map that has an URL can be now used to cross geospatial information and our own data

Direct Access to HANA

View HANA data without having to export it!


SAPs strategy is to avoid copying, or making data redundant – which is why 4.2 tools can connect with BW. For users already on HANA and S4HANA, there are now unique capabilities to connect.
SAP Crystal Reports for Enterprise 4.2 includes
BarCode and QR Code Support
Waterfall Charts
Vertical Alignment of Text
The Information Design Tool: 2 new enhancements
Other changes and improvements  include:
Further SAP Resources: Find Out More
What's New – SAP BusinessObjects Business Intelligence Suite Document Version: 4.2
A 22 page pdf (xKb) outlining key components of BI4.2
SAP BusinessObjects BI4.2 What's New L0 (pdf xKb)
A HIGH LEVEL presentation (35 pages) covering the key components and features of the BI4.2 release
SAP BusinessObjects BI4.2 What's New L2 (pdf xKb)
A DETAILED presentation going (147 pages) covering the components and features of the BI4.2 release
Video: SAP Business Objects BI: What's New in Release 4.2?
Extensive YouTube video posted by SAP BusinessObjects Analytics (59:24 ~ An hour long video)

---
Want to move your business forward with SAP BusinessObjects 4.2?
Start the conversation today…
For 25 years Influential Software has delivered quality business software & data solutions from within the UK.
Influential Software provide software solutions for any IT project you need to deliver successfully.
If you would like to talk to us about a Business Intelligence solution, SAP BusinessObjects BI 4.2 Licences, SAP BOBJ Consultant, SAP BOBJ Implementation or SAP BOBJ Training please contact us.Visit our London team in the world famous Searcys rooftop bar of our landmark 30 St Mary Axe (City) site or visit us at our Kent and Glasgow offices.