SAP Partner Managed Cloud Website Launched
Posted on Monday 20th August 2018 11:42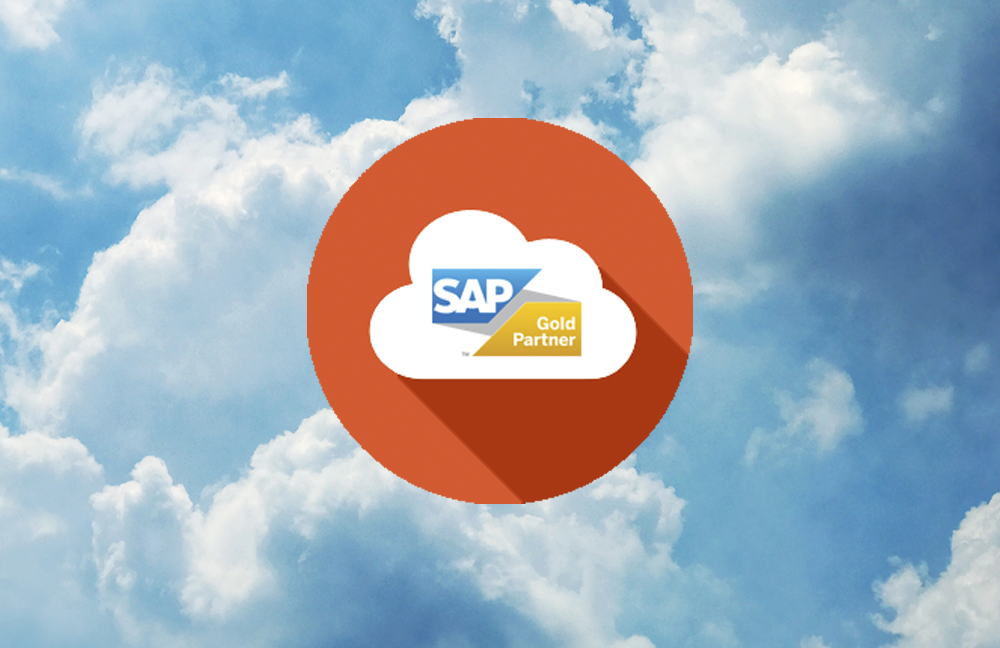 SAP Solutions: Now for SMEs!
For too long, SAP solutions have seemed out of reach for small and medium-sized businesses. As a long-term SAP partner with clients large and small, Influential Software is always working to lower the bar to entry. With the services promoted on our SAP Partner Managed Cloud website, SMEs can now access the best of SAP quickly and affordably.
Influential Software's partner managed cloud offers SAP applications such as SAP BusinessObjects, SAP Data Services, SAP Predictive Analytics, and SAP Business Planning and Consolidation.
Outstanding Maintenance Fees?
Our cloud migration service is particularly popular among businesses with outstanding SAP maintenance fees.
There's a good reason for that: moving to the managed cloud incurs no back-costs. In this way, businesses can keep their SAP solutions while avoiding back-dated spending.
Influential Software's Bespoke Cloud Services
Having implemented and supported cloud computing for over 10 years, Influential Software offers a total service package.
From consultation through design, to planning and migration, our cloud team is with you every step of the way.
Once the cloud is in place, our support team is constantly available to monitor capacity, bandwidth, maintenance, cyber threats, application support, usage, and adoption.
Our SAP Partner Managed Cloud Solutions
Our SAP Partner Managed Cloud website is your avenue to the best of SAP, without the high barrier to entry.
SAP solutions we provide in this cost-effective format include:
SAP BusinessObjects – empowers users to transform data into highly visual insights to share across the enterprise.
SAP Data Services – enables innovation by integrating, transforming, and improving your crucial data.
SAP Predictive Analytics – boosts competitiveness with predictive algorithms and machine learning.
SAP Business Planning and Consolidation – accelerates business planning, budgeting, forecasting, and consolidation.
Interested in finding out how SAP Partner Managed Cloud can benefit your business? Feel free to explore our dedicated site.
New BusinessObjects Consultancy Website
Posted on Thursday 5th July 2018 12:38
The list of household names on our SAP BusinessObjects clients list speaks for itself. And let's not forget our record with public sector organisations and SMEs. But still we aim to spread the benefits of BusinessObjects even further. To that end, Influential Software has launched a brand new BusinessObjects consultancy website.
The innovative power of this tool is far from over, and our SAP BusinessObjects consultancy site offers businesses the opportunity to catch it on the wing.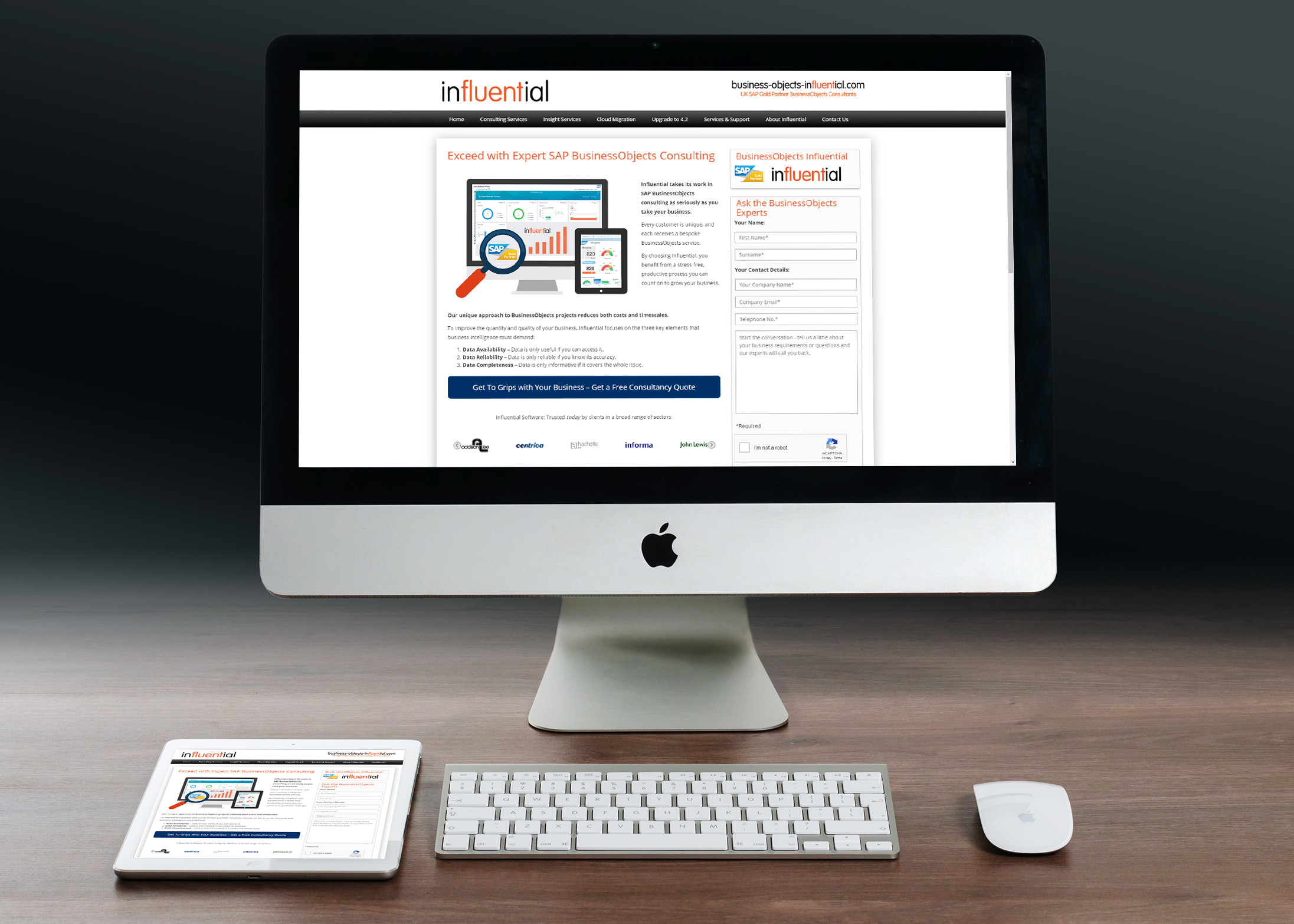 Keeping the Roadmap in Sight
At Influential Software, we know that clients know their businesses best. That's why the BusinessObjects consultancy team works closely with you to ensure that our roadmap matches your unique requirements. Once your trio of goals, initiatives, and key performance indicators have been defined, we move on to draw your personalised BO roadmap.
Leaders of the Migration
Our team has extensive experience of end-of-life migrations and moves from previous versions of BusinessObjects. Our sensitive approach stands apart from the one-size-fits-all model of BusinessObjects cloud migration. Whether you want to recreate legacy architecture in the cloud or build a semantic layer for easier user interaction, Influential Software has the knowledge to migrate your business to the cloud.
BusinessObjects Insights from the Insiders
However many dashboards and reports you have, they are just a means to an end: actionable, accurate insights.
That's why our team emphasises custom reports for each business, also training your teams to utilise the full capabilities of BusinessObjects. Find out how with our BusinessObjects insights services.
For Security, Support and Features: Upgrade to BusinessObjects 4.2
When considering a BusinessObjects upgrade, businesses should be certain that the provider is SAP-certified. Influential Software holds SAP's Partner Centre of Expertise (PCoE) Certification, as well as a long list of SAP consultancy, solutions, and support certificates.
Upgrading to BusinessObjects 4.2 means faster and more capable Business Intelligence. The result is smarter decisions and a healthier bottom line. While the release of BO 4.3 won't be launched until Q4 2019 at the earliest, SAP is providing regular service packs for Upgrading to BusinessObjects 4.2.
Licences for Enterprise and Small Businesses
Each business is unique, so why should you all have the same BusinessObjects licence? Influential Software is an experienced provider of licences for both large enterprises and SMEs. With our SAP Gold Partner status, you can rest assured that your licencing needs are in safe hands.
Ensure BusinessObjects ROI: Training to Win
From courses and workshops to manuals and certifications, Influential Software will provide whatever BusinessObjects training you require, wherever you need it. What's more, our training is significantly discounted from SAP's in-house courses.
BusinessObjects Consultancy Website
It's just the start for the SAP BusinessObjects consultancy team. Over the coming months, we'll be adding even more information about BusinessObjects and our SAP services. Look out for news of our ongoing success with testimonials and client case-studies.
What's New In SAP BusinessObjects Business Intelligence 4.2?
Posted on Thursday 4th August 2016 3:48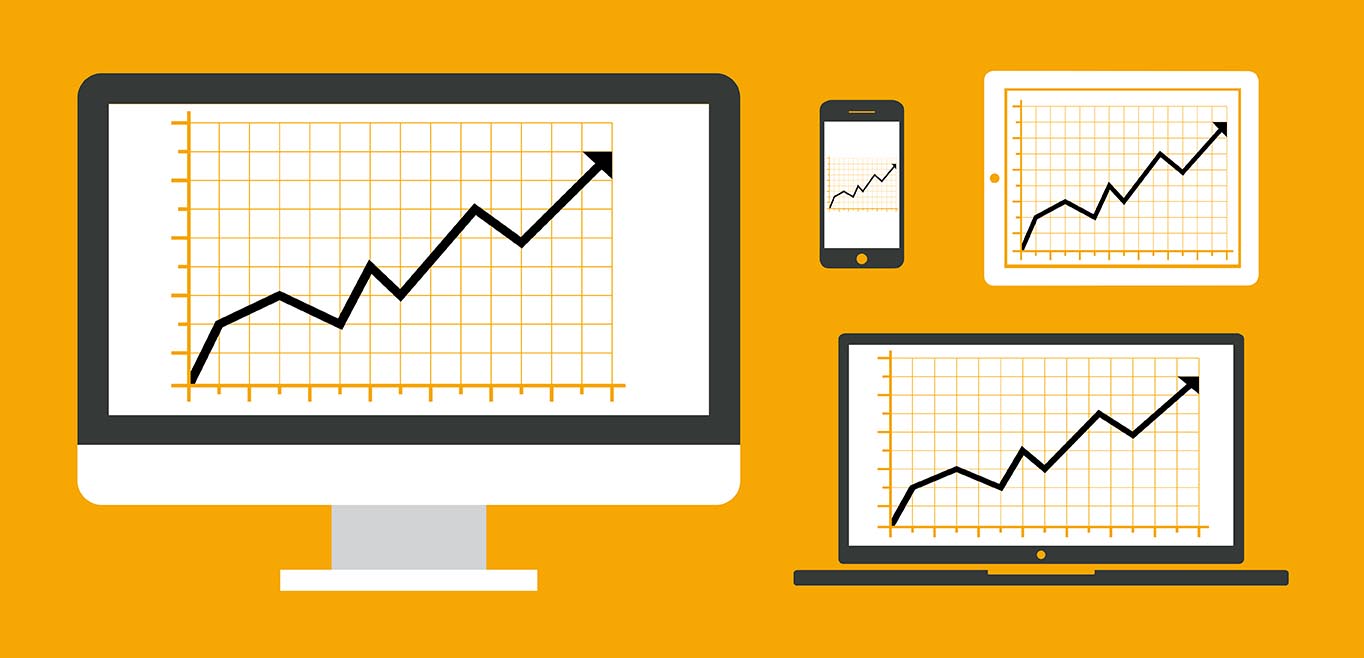 SAP released their latest version of SAP BusinessObjects Business Intelligence 4.2 earlier this year to a great reception from business users and IT teams alike. It's very likely you've heard about the release but have you properly considered how much of an impact upgrading to 4.2 could have on your business?
If you haven't already it's time to set your sights on this major release. In this article we explore what exactly has SAP improved and look at the killer features that make this the most accessible and user friendly BO version we have ever seen. We cover the key improvements, consider how this release will boost your 'analytical' organisation – and why you should consider upgrading right now.
Simply Empowered: SAP Business Intelligence
SAP has been at the forefront of BI software for many years. They understand that user needs evolve quickly and it is clear they have been listening to feedback. They know users want easy to use but ever faster and more capable BI. So it was no surprise that with BusinessObjects BI 4.2 they have delivered a stronger BI experience for all.
The driving force behind SAP's latest release theme was this: Simplify and Empower.
The aim: to make it easier for your business teams to understand business performance and to make your business faster and more agile.
Our experience so far has confirmed that BusinessObjects BI 4.2 certainly delivers. Using the new release feels far simpler and more intuitive than previous versions. This is achieved using a raft of new features, enhancements, more geospatial capabilities and now with capabilities to connect to SAP BW and SAP HANA. It is clear that SAP are true to their core guiding principle: to help customers RUN SIMPLE!
Running Intelligent Business, Simply
SAP's RUN SIMPLE principle actually makes a lot of sense, especially when applied to Business Intelligence. Taking a step back we can all see how, in practically every industry, the pace of technological change around us has become exponential. The ever growing mountain of data this creates leads to new challenges and opportunities. For some companies not set up to cope the gap between data and access, between IT departments and Business users has grown. But If your business is to compete (and ideally thrive) you need to access this data in a practical and useful way. Intelligent Business Analytics built within a solid landscape are now vital toolsets for organisations.
However, in the face of this data tidal wave, BI Analytics software has become ever more complex and unwieldy. Many solutions are now so IT Resource hungry and so convoluted that front end BI admin users rarely get the full benefits of these essential tools. All while the demand for better, more agile information grows.
SAP realised that if their users really were to use analytical insights as the foundation of their business, to empower business users, they must be made simpler.
The result: SAP BusinessObjects Business Intelligence 4.2.
3 Core Themes Key To Improvements
Beyond RUN SIMPLE, the particular recipe SAP chose to bake into the 4.2 release was centred upon 3 core ingredients:
 Simplify

Easier to use and manage, for BI Admins and IT.

Empower everyone with analytics, boost collaboration

Access in the cloud

One vendor Partner for all your analytics needs

 
Enhance

Improved capabilities and tools

New methods to access data and boost productivity

Integrate your current source systems

Reuse and expand platforms

 
 Innovate

Enhanced customisation

Reveal hidden opportunities and risks

Improved developer experience

Anticipate and plan future outcomes
Which Users Benefit From SAP BOBJ 4.2?
It's safe to say everyone who upgrades to the latest BusinessObjects version will benefit. There are however key users whose roles will be substantially improved, including:
 Business Users, Designers & Analysts
All BI users benefit from increased responsiveness, including those using:

SAP BusinessObjects Web Intelligence

SAP BusinessObjects Lumira

SAP Crystal Solutions

 
IT Administrators

Managing and optimising platform performance

Easier upgrades and installs

Reduced workload and costs

 
 Ecosystem & Development Partners

Those looking to extend the value and capabilities of the integrated BI platform

Help business drive better decision making across the organisation
Enhanced, Improved – Simple Wins
OK, so that's the overarching theory on how SAP are pushing to remain top of the BI market with BOBJ 4.2. What about the actual technical enhancements, the new features, and how do they benefit users? Well, where to start? There are extra mobile BI capabilities, better self-discovery tools and new geospatial capabilities. Then there are boosted cloud solutions, integration with the powerful in-memory platform HANA, and an all-round simplification of portfolio. All of these extra enhancements could put extra pressure on the BusinessObjects core – so that is what SAP focused upon first.
Improved Stability and Capability
SAP BusinessObjects has a solid history. In our internal tests the environment has proven reliable. It is clear BI4.2 is the culmination of core stability and capability improvements built upon several key innovations and incremental product advances we saw in BI4.1.
Main New Features in SAP BO 4.2
SAP BusinessObjects Business Intelligence platform 4.2 includes
Recycle Bin


When users deletes an item from the BOE system, it's now moved into the "Recycle Bin" and an administrator can recover the files. Items will be stored there only until the bin is emptied, which may have a time-limit or happen on set days – at which time the files are permanently deleted.

BI Commentary Service


A new CMC application that allows document users to collaborate, to comment on any of the data/statistics accessible in a given document.

Restful Web Services APIs for Publication


A whole raft of nifty new tools allow the management of:

Users and User groups

Publications, files and scheduling

Queries, Server and Jobs statistics, Content and Application usage, and more

BI Administrators' Cockpit


Another new CMC application. Administrators can collect basic data about the BI environment. You can also obtain information about Servers, Scheduled Jobs, Applications and Content Usage

Selectively retrieve objects from an LCMBIAR file


Selectively retrieve objects from an LCMBIAR file. This requires that the user has the introduction of 'Edit LCMBIAR' right. When you selectively retrieve objects from an LCMBIAR file, a new job with the selected objects is created.
SAP BusinessObjects Web Intelligence 4.2 includes
Element Sharing
Parallel Queries, Data Provider Refresh
Enabled BI Commentary Services
Geo Maps and Visual Extensions

Good looking and insightful dashboards can be created, using ESRI maps or google maps. Any map that has an URL can be now used to cross geospatial information and our own data

Direct Access to HANA

View HANA data without having to export it!


SAPs strategy is to avoid copying, or making data redundant – which is why 4.2 tools can connect with BW. For users already on HANA and S4HANA, there are now unique capabilities to connect.
SAP Crystal Reports for Enterprise 4.2 includes
BarCode and QR Code Support
Waterfall Charts
Vertical Alignment of Text
The Information Design Tool: 2 new enhancements
Other changes and improvements  include:
Further SAP Resources: Find Out More
What's New – SAP BusinessObjects Business Intelligence Suite Document Version: 4.2
A 22 page pdf (xKb) outlining key components of BI4.2
SAP BusinessObjects BI4.2 What's New L0 (pdf xKb)
A HIGH LEVEL presentation (35 pages) covering the key components and features of the BI4.2 release
SAP BusinessObjects BI4.2 What's New L2 (pdf xKb)
A DETAILED presentation going (147 pages) covering the components and features of the BI4.2 release
Video: SAP Business Objects BI: What's New in Release 4.2?
Extensive YouTube video posted by SAP BusinessObjects Analytics (59:24 ~ An hour long video)

---
Want to move your business forward with SAP BusinessObjects 4.2?
Start the conversation today…
For 25 years Influential Software has delivered quality business software & data solutions from within the UK.
Influential Software provide software solutions for any IT project you need to deliver successfully.
If you would like to talk to us about a Business Intelligence solution, SAP BusinessObjects BI 4.2 Licences, SAP BOBJ Consultant, SAP BOBJ Implementation or SAP BOBJ Training please contact us.Visit our London team in the world famous Searcys rooftop bar of our landmark 30 St Mary Axe (City) site or visit us at our Kent and Glasgow offices.