Microsoft Azure Website Launched
Posted on Wednesday 16th January 2019 2:58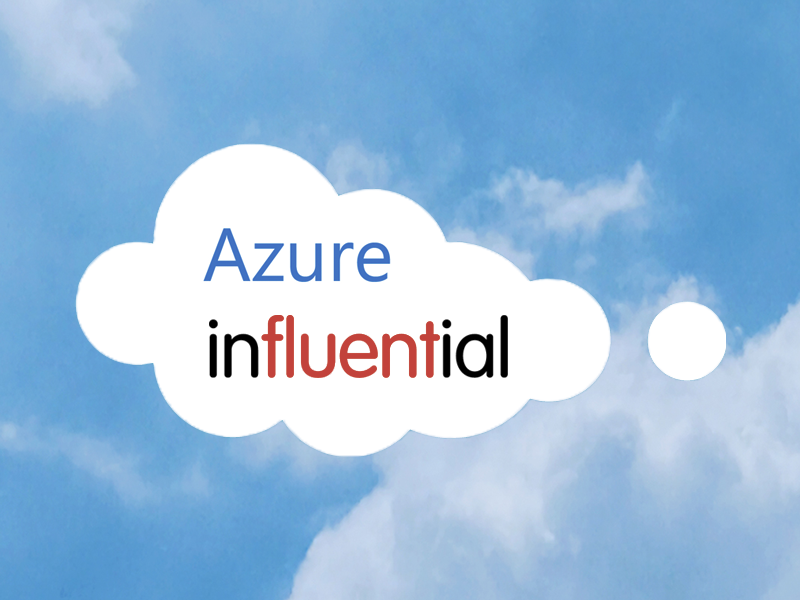 Widely accepted as the leading cloud for business applications and more, Microsoft Azure is playing a crucial role in the UK's digital transformation. At Influential Software, our clients have seen the short- and long-term benefits of expert help with Azure development, deployment, migration, integration, hosting, security, and support. Now the Azure team's work is reaching a wider audience through a new Microsoft Azure website.
Azure Development
Azure provides a platform for our developers to create cloud-native, easily scalable applications that drive your business faster. There's no need for costly infrastructure, and our team's agile approach to Azure development ensures an application that fits your exact needs.
Azure Deployment
A successful move to Azure cloud requires experienced assessment and planning. Our Azure deployment services follow a structured and reliable process that prevents any risk to your business. From initial consulting through planning and configuration, the Azure deployment team has your cloud covered.
Azure Integration
Azure makes it even easier for our team to integrate on-premises and cloud applications. From data to workflows, B2B to legacy software, there's no limit to Azure integration with built-in and custom connectors.
Azure Hosting
Based on Microsoft's global capability and renowned security, Azure is the world's most trusted cloud provider. Influential Software has provided Azure hosting services to major UK clients, with a complete package of consulting and support services to keep everything running perfectly.
Azure Migration
Whether moving from on-premises or another cloud provider, our Azure migration services use a tried and tested methodology. Following assessment of the applications, workloads, and processes you plan to migrate, our team can provide an expert view on the best migration tool for your purposes.
Azure Support
Our Azure support services are designed to reduce the strain on your IT resources while providing expert assistance when needed. The Azure support team guarantees uptime, protects data, and reduces costs with tailored service level agreements (SLA).
Interested in the business cloud? Feel free to explore our dedicated Azure site.
A Look at the New AI Capabilities in Power BI
Posted on Tuesday 27th November 2018 10:20

New AI Capabilities for Power BI make AI Accessible for Everyone
Hot on the heels of the recent Power BI service and mobile update in Q3 this year, the Microsite team has rolled out new AI capabilities in Power BI.
Power BI makes it possible for all your employees to make better decisions based on data with beautiful reports and dashboards. And having worked with Microsoft for over two decades – and with Microsoft Power BI since its launch – the Influential Software team is always keen to share the latest features. This time, Microsoft has made a great leap forward with new AI capabilities in Power BI.
But first, why do we need AI in Power BI?
Microsoft AI for Enhancing Business Data
With the massive volumes of data generated today about every aspect of a business, finding insights from the data can be challenging. This is where AI can help. AI can aid in data exploration, comb through the data to automatically find patterns, help users understand what the data means, and predict future outcomes to help business drive results.
There are huge opportunities when workers across an organisation can leverage AI for improving business outcomes. But data scientists, who are crucial to deploying AI solutions, don't have the bandwidth to provide custom solutions to all users at an organisation. Businesses need ways to surface the valuable work of data scientists and empower more users to leverage AI in easy and intuitive ways.
Power BI has been a pioneer in applying AI through capabilities such as natural language, which enables users to get answers by asking questions in plain English, or Quick Insights, which automatically finds patterns in data.
Microsoft is taking a major step forward in bringing AI to business intelligence and announcing several new AI capabilities in Power BI.
users can now get capabilities such as image recognition and text analytics directly in Power BI
key driver analysis helps users understand what influences key business metrics
users can create machine learning models directly in Power BI using automated machine learning
users now have seamless integration of Azure Machine Learning within Power BI
All these new AI capabilities in Power BI – pioneered in Azure – require no code. This enables all Power BI users to discover hidden, actionable insights in their data and drive better business outcomes with easy-to-use AI.
Azure Cognitive Services Arrive in Power BI
Azure Cognitive Services are sophisticated pre-trained machine learning models that can extract insights from data. Microsoft is bringing Azure Cognitive Service capabilities into Power BI to provide powerful ways to extract information from a variety of sources like documents, images, and social media feeds. These algorithms can identify named entities such as organisations, people, and locations. They can recognise objects in images, detect language, identify key phrases, and determine positive or negative sentiment.
Imagine you're a business analyst for a hotel chain and want to evaluate what guests are saying in their online reviews. With Azure Cognitive Services in Power BI, you can easily analyse thousands of online reviews, understand what your guests are happy or unhappy about, and pinpoint areas of improvement.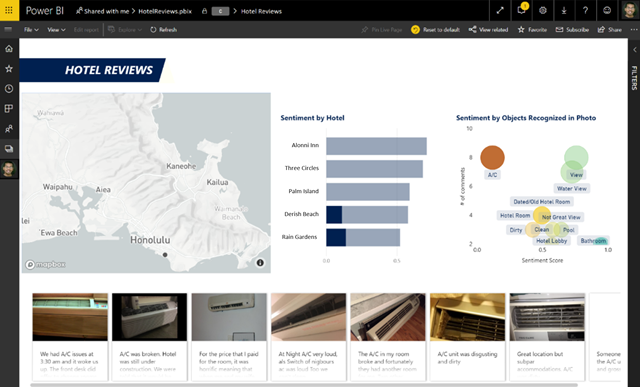 Power BI's New Key Driver Analysis Feature
Every organisation has metrics or key performance indicators that measure business success. How do businesses determine what impacts those KPIs? What causes these KPIs to go up, down, or stay the same? The most obvious business drivers are typically easy to spot, but it doesn't take long before things get complex. What drives business outcomes is often subtle and depends on any combination of circumstances.
Key driver analysis helps you understand what drives an outcome. It reasons over your data, ranks those things that matter, and surfaces those key drivers. For example, consider a student's plans to attend college as a KPI. There are different factors that impact whether kids plan to enroll in college. Key driver analysis automatically surfaces those things that matter the most. Below, you see that parental encouragement has significant positive impact on a student's plans.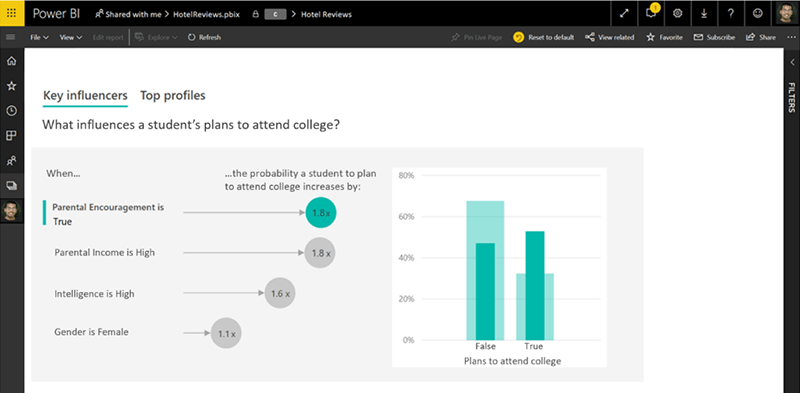 ---
Machine Learning Models: Build Your Own in Power BI
In Power BI, business analysts will now be able to build their own machine learning models without writing a single line of code. Microsoft is using the automated machine learning feature in Azure Machine Learning, but instead of targeting developers or data scientists, we've simplified it and made it broadly accessible for common use cases. This means that when an analyst builds a machine learning model in Power BI, it does all the heavy lifting by selecting the best algorithm and features with just a few clicks.
As an example, a business analyst could leverage the automated machine learning technology to quickly and easily build a model to predict how likely an open sales opportunity is to be won. This could help a sales manager prioritise which high value opportunities to focus on and how likely they are to meet their target.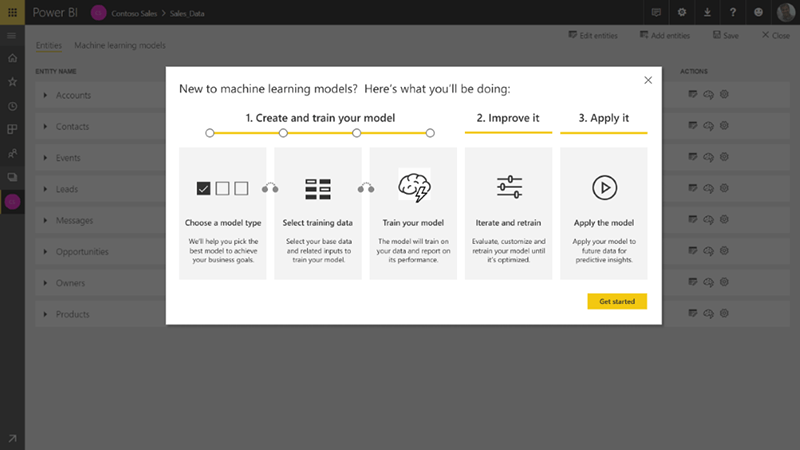 ---
Use Power BI to Integrate Your Azure Machine Learning Models
Advanced machine learning requires specialised data science tools. Azure Machine Learning is a platform where data scientists develop machine learning models to take on complex business challenges. Azure ML models built by data scientists can now be easily shared with business analysts. Power BI works behind the scenes to discover the models to which each user has access and automatically creates a point and click user interface to invoke them. This makes collaboration among business analysts and data scientists easier and faster than ever before.
---
Your Turn to Leverage the AI Capabilities in Power BI
Turn the complexities of business data to your advantage with your strategic BI partner – Influential Software.
Whether you are looking at Power BI On-Premise or Power BI Cloud solutions the experienced Influential team offer complete Power BI Support and Services.
Businesses across the UK, of all sectors and sizes, have benefited from our technical expertise and business experience.
Leverage Power BI, one of the technologies that are already creating massive value for early adopters.
This news has been adapted from online content by our partner, Microsoft.
Power BI Update Q3 2018: Service and Mobile
Posted on Saturday 25th August 2018 11:07
Microsoft Adds New Features and Functionality
Microsoft Power BI has seen important changes with the Power BI update July and August 2018. On the basis of user feedback, Power BI has been improved with new features for better functionality.
So what's new in Power BI?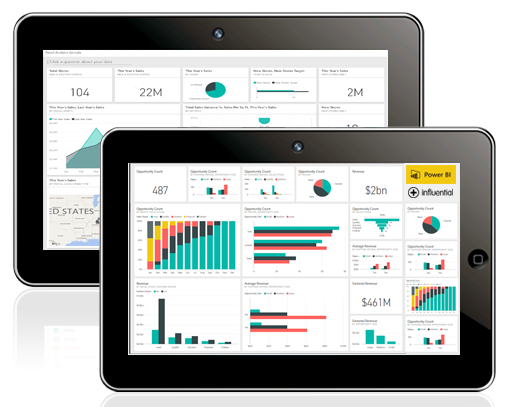 Power BI Features Update
As one of the leading BI consultancies in London, we at Influential Software are excited to promote the new features in Power BI. Recent months have brought extra functionality and user-friendly improvements to please mobile and service users.
The features of the Power BI update July and August 2018 include improvements in visuals, filters, data gateway, and multi-geo capabilities. Read on to browse the full details of the Power BI update July and August 2018.
Preview: Multi-Geo Support for Power BI Premium
July saw Microsoft announcing a public preview of Multi-Geo for Power BI Premium.
Multi-Geo enables Power BI administrators to deploy a Premium capacity to one of nine geo locations globally. In the current preview, your Power BI datasets and cached queries are stored in the region you choose for your capacity. Dataset credentials and Excel workbooks, along with other additional metadata, are stored in the geo associated with your Power BI tenant.
Power BI plans to migrate this functionality into the Multi-Geo capacities within the coming months.
APIs and PowerShell Cmdlets
IT administrators can now effectively govern their Power BI deployment with a new set of Admin APIs, along with a .NET SDK and a PowerShell module. These functions give administrators visibility into every aspect of their BI environments.
Persistent Filters on Custom Visuals
After the introduction of persistent filters in March, Microsoft has now introduced this for reports with custom visuals as well.
Visuals now supported with persistent filters are:
Chiclet slicer
Hierarchy slicer
Timeline slicer
Attribute slicer
Preview: New Workspaces Experience
The app workgroup preview shows that it will be easier to manage access to workspaces through security groups, distribution lists, and O365 groups.
These changes will empower large enterprises to easily manage their BI content at scale.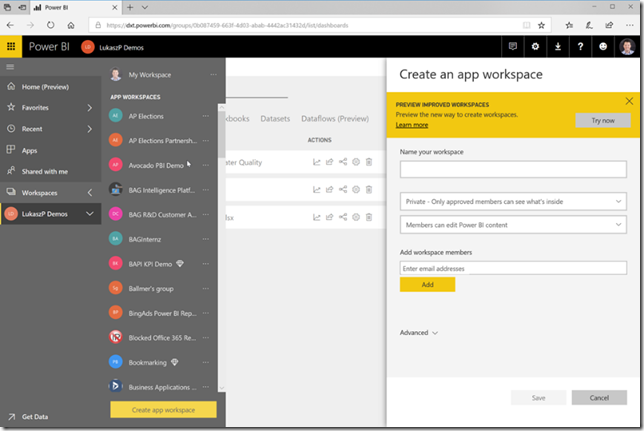 Custom Visuals API v1.1 and Older Deprecation
Microsoft announced that custom visual API version 1.1 and older will be deprecated from September 1, with support remaining for API 1.2 and later.
Power BI Report URL Filter Improvements
Users can now define more complex query string parameters with enhanced URL filtering capabilities on reports. This enables the creation of shortcuts to pre-filtered reports and also providing hyperlinks to consumers.
On-Premises Data Gateway July and August Update
The custom data connectors in the Enterprise gateway, announced in the July release, have continued to improve in the latest release of the on-premises data gateway.
Preview: Power BI Premium Capacity Monitoring
The Premium Capacity Monitoring app enables capacity administrators to monitor the health of premium capacities and spot any factors that might affect end users.
The app displays all dataset refreshes, dataset evictions, and queries in the capacity for the preceding seven days, alongside system metrics.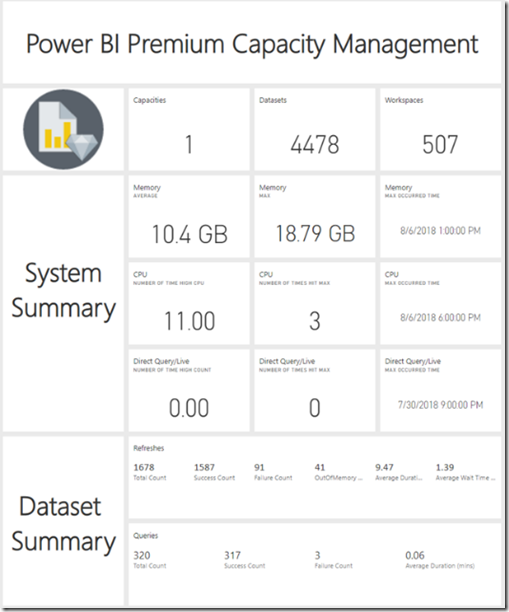 Single Sign-On in Power BI Mobile Windows App
With single sign-on (SSO), you can access all applications and resources through a single user account. You can now use your primary organisational account to sign in to your domain-joined devices and Power BI Service.
Phone Report Layout Editing in Power BI Service
You can now create phone report layout directly from Power BI Service. It's as simple as switching to edit mode and clicking the Mobile Layout option in the top bar.
Phone Drill-Through for Table and Matrix Visuals
Mobile users can access the drill actions with Table and Matrix support for tooltips.
Any Questions about Power BI Features?
For further details of the Power BI update, visit the Microsoft Power BI blog. Want to know more? Our dedicated Power BI team is on hand to answer any inquiries about features of the Power BI update July and August 2018, licensing, and business benefits.
New Power BI Services Website Launched
Posted on Tuesday 24th July 2018 11:05
Our Power BI Consultancy team is pleased to announce the launch of a new Power BI Services Website.
Thousands of clients, small and large, have transformed their businesses with Influential Software's BI services over the past 20 years. At the same time, we understand that business intelligence offerings are rapidly evolving, and work to ensure our clients stay ahead of the competition.
Power BI is an agile BI tool that provides SaaS insights for both growing business and enterprise teams. To ensure our clients get the very best ROI from Power BI, we provide consultancy and support services to ensure your teams and your business get the best out of the amazing Power BI toolset.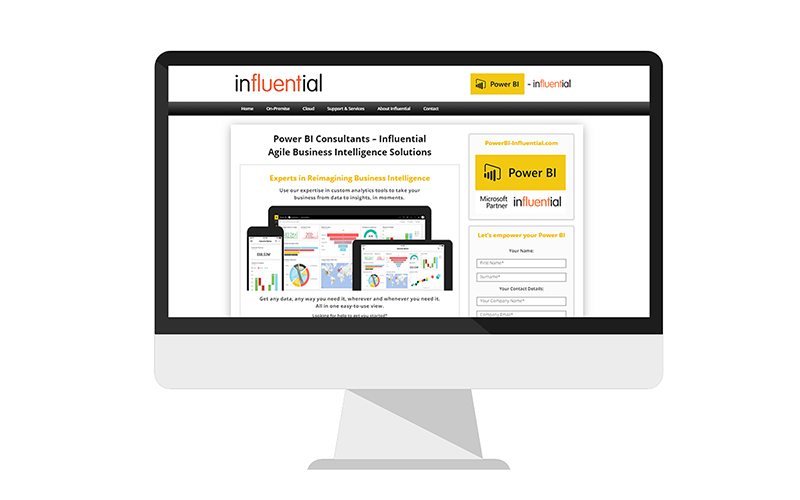 Are you ready to optimise your business? Find out how to leverage the ever-growing volumes of data that are crucial to keeping your market edge.
Influential Software's Power BI support and consultancy services are based on years of experience, and thousands of successful BI implementations. Our priority is maximising your system's suitability to your business processes, resulting in fewer man-hours and higher ROI.
Power BI software is a SaaS-based online service, first released in 2015. Businesses can use Power BI Desktop to create powerful connections, models, and reports for sharing on Power BI.
The service has persisted in the highly competitive BI market because of its flexibility and ability to work with a wide range of software. The Influential Software team is expertly qualified to design the optimum Power BI Services for you.
Eminently Integrated
One of the major benefits of Power BI is its wide connectivity. Businesses can consult us on the best use of Power BI with sources such as Excel, Azure, CSV, Web Pages, MySQL, Microsoft Dynamics CRM, Sharepoint Lists, Oracle, Salesforce, and MailChimp.
Cloud Connections, On-Premise Possibilities
While Power BI is primarily a cloud-based analytics service, on-premise options such as on-premise Power BI Report Server are available. Other on-premise solutions include the Data Management Gateway and Power BI Mobile Apps, meaning there is no one-size-fits-all solution.
Into the Azure
Connectivity with Azure cloud services such as Azure HDInsight, Azure Blob Storage, and Azure Table Storage make Power BI a powerful tool for refining data. Influential Software's accredited trainers and skilled implementation specialists are primed to assess your needs and provide effective solutions.
Power BI Services Website
You can visit our Power BI services website to find out a little more about Power BI options. Or, if you are looking for more agnostic Business Intelligence consultancy, advice or solutions, why not ask have a chat with our Business Intelligence team to find out what options would best suit your business.
Metalogix Partnership Brings New Microsoft Migration Solutions
Posted on Wednesday 21st February 2018 4:31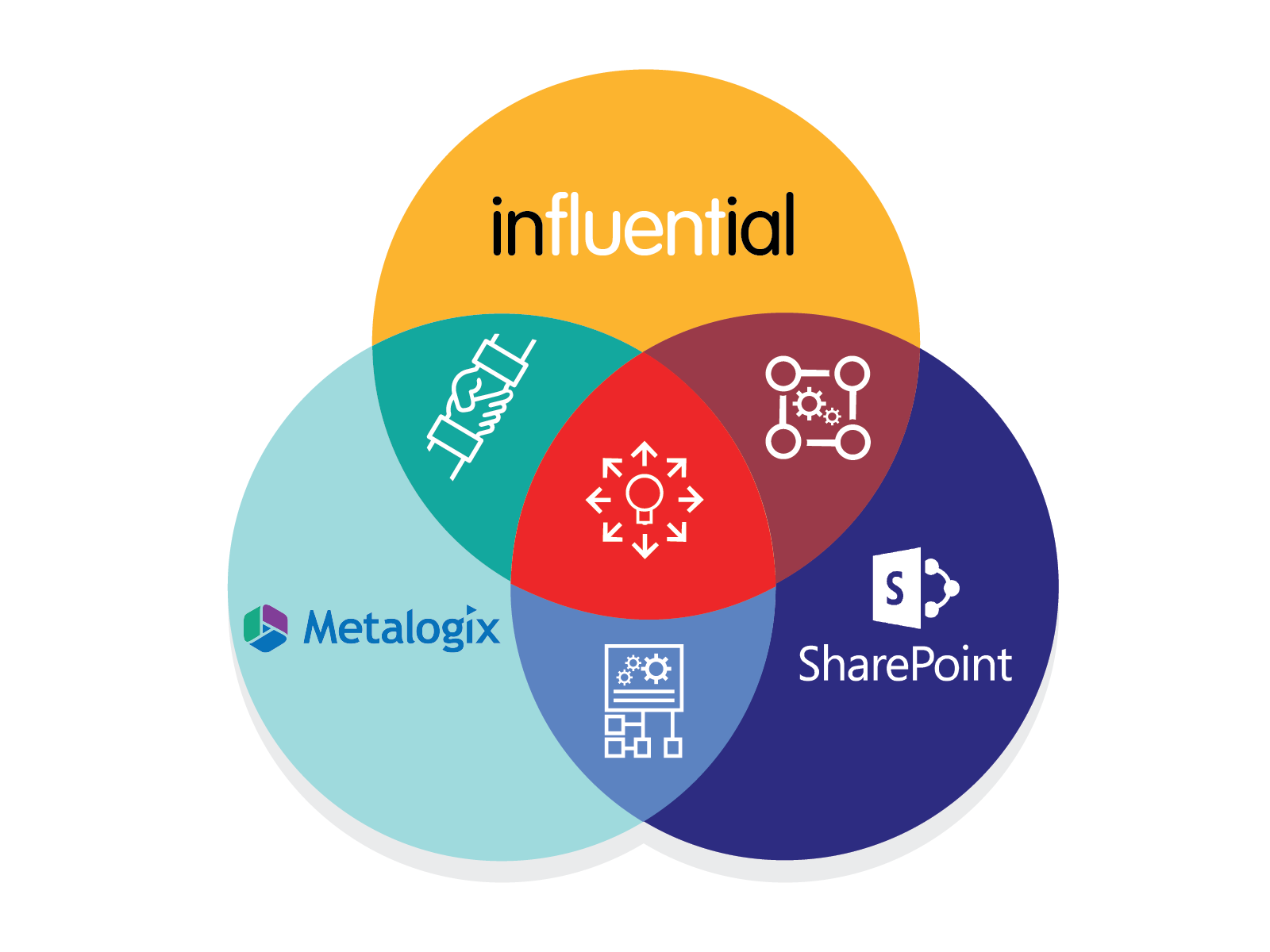 Influential are pleased to announce an exciting new partnership with Microsoft migration specialists Metalogix, further enhancing our Microsoft portfolio and ensuring our clients an array of cutting edge SharePoint and Office 365 solutions and expertise.
Metalogix: Move, Manage, and Protect SharePoint and Office 365
Metalogix solutions move, manage and protect content that lives within and around Microsoft SharePoint, Exchange and Office 365. This ensures your business has the freedom to collaborate and removes the risk of information loss. No matter what platform your business is using, on-premises or in the cloud.
Over the last 15 years Metalogix has grown into a global brand, recently bringing its solutions under the banner of Quest. From the start, Metalogix has defined not only the future of SharePoint and Office 365 management but also how organisations collaborate in complex environments. The company has learned a lot along the way, having seen first hand the struggles businesses have constantly moving content across collaborative environments, locally and in the cloud. How the battle between human resources, technical and business priorities, and even networking logistics, can push the limits of project management and delivery.
As a result Metalogix have focused on developing products and solutions that remove the need for deeper human interactions without compromise on speed. Influential-Metalogix solutions bring flexibility and scalability to project planning and delivery, enabling even a single administrator to accomplish more during migrations.
Scalable SharePoint Solutions
Microsoft SharePoint and Microsoft Office 365 have been a game changer when it comes to collaborative workspace environments. From company intranets to secure document management systems, on premise and in the cloud, they continue to be at the cutting edge of scalable enterprise solutions and have helped make Microsoft current world leaders in this field.
However, it's not always straightforward for Enterprises to fully leverage Microsoft products. It's here where trusted Microsoft partners, with vast industry knowledge and decades of experience, can ensure your business gets the full value. This is particularly true of SharePoint and Office 365 environments and migration.
As well as vast experience, Metalogix brings to Influential SharePoint clients their range of bespoke applications including:
Influential-Metalogix: Maximise Your Business Benefits
Influential and Metalogix are perfectly positioned to deliver the most comprehensive Microsoft Partner solutions. We can help your business deliver the results you expect, and that your business stakeholders and clients need.
SharePoint Case Study: How Global Insurer Boosted Efficiency
Posted on Thursday 17th March 2016 4:59
A newly published SharePoint Case Study looks at the successful Microsoft SharePoint 2013 project delivered for a leading global insurance company.
After a recent merger a major insurance company found itself using 6 different out of date paper based insurance systems. Recognising the limitations, security issues and inability to track KPI's of the workflow the company needed a cost-effective systems upgrade, and fast.
The Influential SharePoint development teams were able to deliver a bespoke software solution that successfully overcame the challenges the insurer was facing. Processes were modernised by building a digital task manager with the SharePoint 2013 platform.  All at a reasonable cost and within the tight 8 week time-scale.
Now the business has instant global document access, digital filing & processing with secure daily backups and a notification system for task due dates and deadlines. With tracking, monitoring with real time reporting efficiency has been enhanced and productivity boosted.
The system is flexible and configurable, the system is future-proofed and ready to roll out to the corporation's offices worldwide for 800+ users. Now the client is looking to expand the system further to include enquiries and incident reports, with a host of new tracking and reporting features.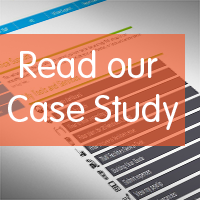 Download the SharePoint Case Study to read more:
Microsoft SharePoint 2013 Case Study: Bespoke Task Manager Workflow [pdf 222kb]
"Huge Efficiency Gains for Global Insurer After Switching to a Bespoke SharePoint Workflow by Influential Software"
Get in touch with Influential's specialist SharePoint consultants now to find out how your business can use Microsoft SharePoint to enhance efficiency and boost collaboration.
If you would like to talk to us about a business intelligence solution, software solution or any IT project you need to deliver successfully, please contact us. Visit us in the world famous Searcys rooftop bar of our landmark 30 St Mary Axe (City) site or at our Kent and Glasgow offices to discuss your needs.
Influential Software launches Microsoft SharePoint microsite
Posted on Friday 29th January 2016 5:16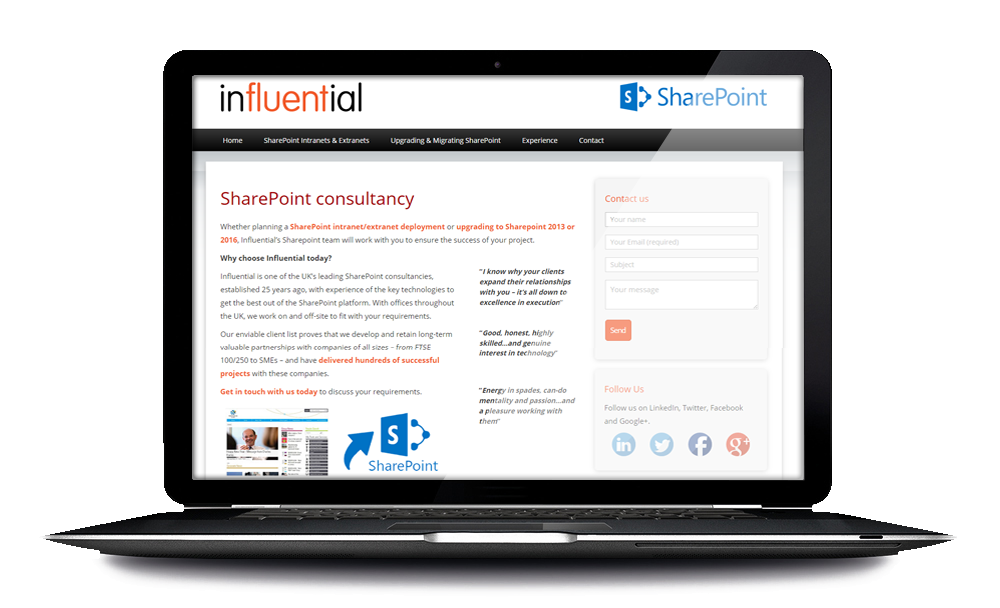 For anyone planning to implement or upgrade a Microsoft SharePoint intranet/extranet, Influential's SharePoint consultancy team is ready to help and you can now find the info about our services on
Influential's new SharePoint website – http://www.sharepoint-influential.com/.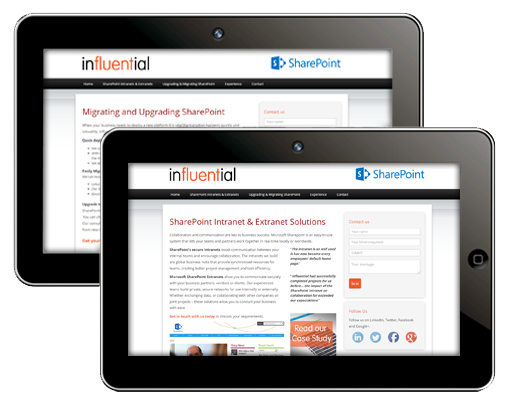 Read more about Microsoft SharePoint and the services Influential provides on the new website now:
www.sharepoint-influential.com
Our 25 years of experience in the software industry have given us all the tools needed to get the best out of the Microsoft SharePoint platform, and we're proud to be considered one of the leading SharePoint consultancies in the UK.
Good, honest, highly skilled… and genuine interest in technology
Microsoft SharePoint will improve communication and collaboration within your business and Influential will help you get there with ease. We can migrate to SharePoint from almost any platform seamlessly and have a wealth of experience upgrading from previous SharePoint versions.