New Power BI Services Website Launched
Posted on Tuesday 24th July 2018 11:05
Our Power BI Consultancy team is pleased to announce the launch of a new Power BI Services Website.
Thousands of clients, small and large, have transformed their businesses with Influential Software's BI services over the past 20 years. At the same time, we understand that business intelligence offerings are rapidly evolving, and work to ensure our clients stay ahead of the competition.
Power BI is an agile BI tool that provides SaaS insights for both growing business and enterprise teams. To ensure our clients get the very best ROI from Power BI, we provide consultancy and support services to ensure your teams and your business get the best out of the amazing Power BI toolset.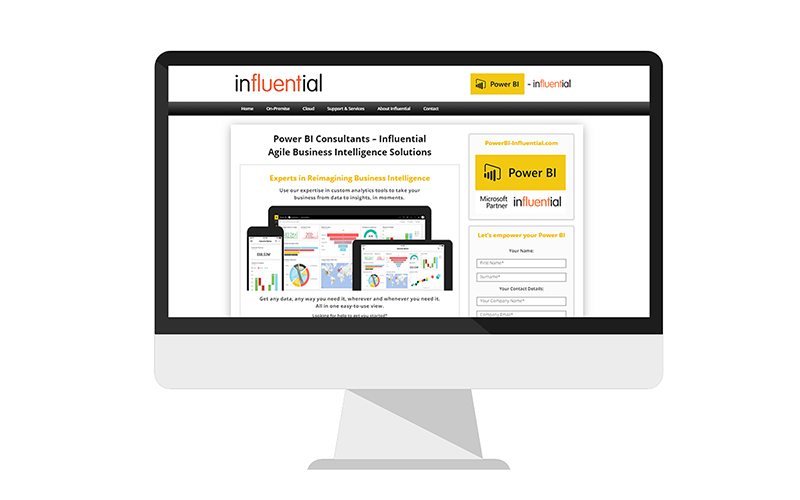 Are you ready to optimise your business? Find out how to leverage the ever-growing volumes of data that are crucial to keeping your market edge.
Influential Software's Power BI support and consultancy services are based on years of experience, and thousands of successful BI implementations. Our priority is maximising your system's suitability to your business processes, resulting in fewer man-hours and higher ROI.
Power BI software is a SaaS-based online service, first released in 2015. Businesses can use Power BI Desktop to create powerful connections, models, and reports for sharing on Power BI.
The service has persisted in the highly competitive BI market because of its flexibility and ability to work with a wide range of software. The Influential Software team is expertly qualified to design the optimum Power BI Services for you.
Eminently Integrated
One of the major benefits of Power BI is its wide connectivity. Businesses can consult us on the best use of Power BI with sources such as Excel, Azure, CSV, Web Pages, MySQL, Microsoft Dynamics CRM, Sharepoint Lists, Oracle, Salesforce, and MailChimp.
Cloud Connections, On-Premise Possibilities
While Power BI is primarily a cloud-based analytics service, on-premise options such as on-premise Power BI Report Server are available. Other on-premise solutions include the Data Management Gateway and Power BI Mobile Apps, meaning there is no one-size-fits-all solution.
Into the Azure
Connectivity with Azure cloud services such as Azure HDInsight, Azure Blob Storage, and Azure Table Storage make Power BI a powerful tool for refining data. Influential Software's accredited trainers and skilled implementation specialists are primed to assess your needs and provide effective solutions.
Power BI Services Website
You can visit our Power BI services website to find out a little more about Power BI options. Or, if you are looking for more agnostic Business Intelligence consultancy, advice or solutions, why not ask have a chat with our Business Intelligence team to find out what options would best suit your business.
New BusinessObjects Consultancy Website
Posted on Thursday 5th July 2018 12:38
The list of household names on our SAP BusinessObjects clients list speaks for itself. And let's not forget our record with public sector organisations and SMEs. But still we aim to spread the benefits of BusinessObjects even further. To that end, Influential Software has launched a brand new BusinessObjects consultancy website.
The innovative power of this tool is far from over, and our SAP BusinessObjects consultancy site offers businesses the opportunity to catch it on the wing.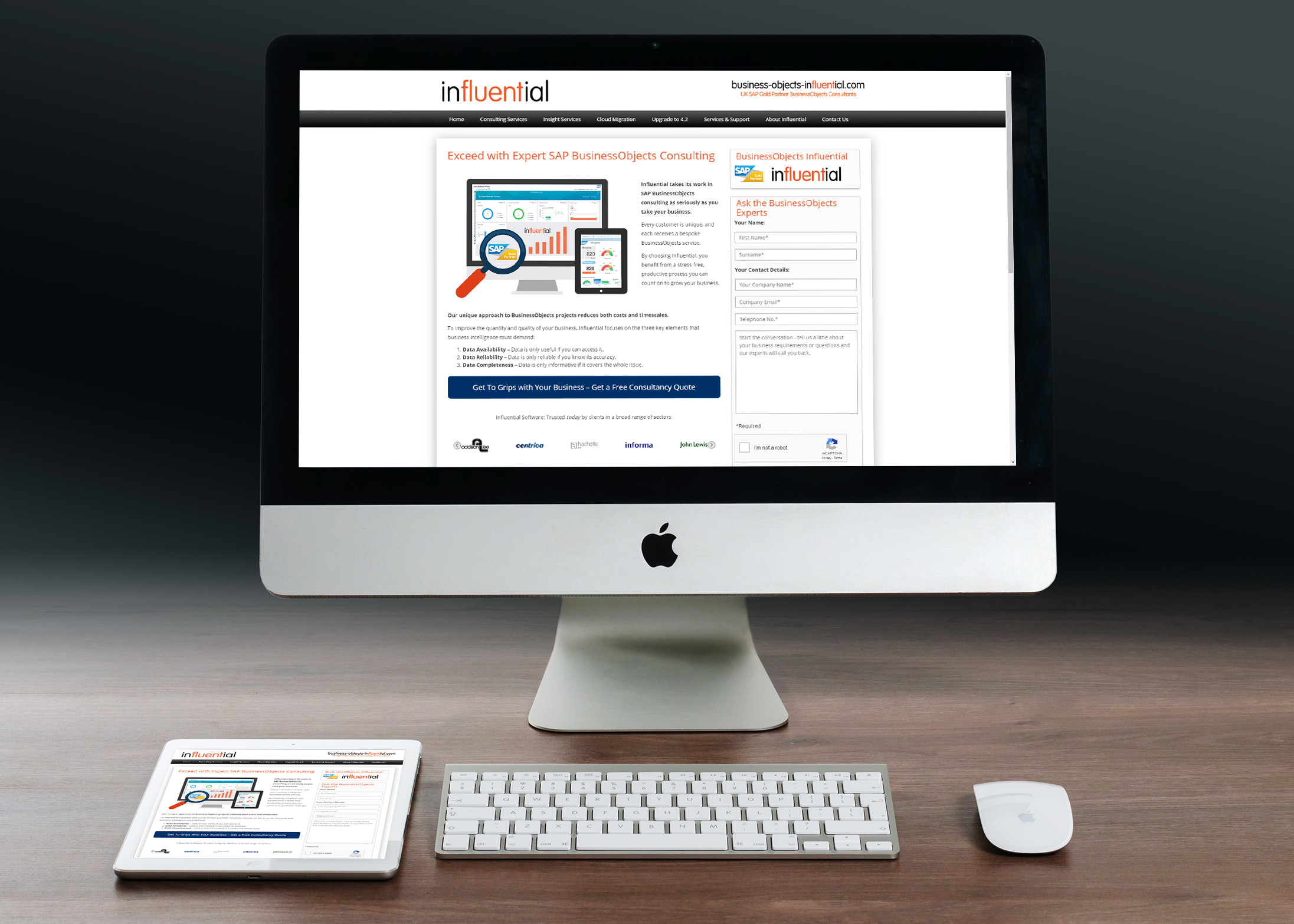 Keeping the Roadmap in Sight
At Influential Software, we know that clients know their businesses best. That's why the BusinessObjects consultancy team works closely with you to ensure that our roadmap matches your unique requirements. Once your trio of goals, initiatives, and key performance indicators have been defined, we move on to draw your personalised BO roadmap.
Leaders of the Migration
Our team has extensive experience of end-of-life migrations and moves from previous versions of BusinessObjects. Our sensitive approach stands apart from the one-size-fits-all model of BusinessObjects cloud migration. Whether you want to recreate legacy architecture in the cloud or build a semantic layer for easier user interaction, Influential Software has the knowledge to migrate your business to the cloud.
BusinessObjects Insights from the Insiders
However many dashboards and reports you have, they are just a means to an end: actionable, accurate insights.
That's why our team emphasises custom reports for each business, also training your teams to utilise the full capabilities of BusinessObjects. Find out how with our BusinessObjects insights services.
For Security, Support and Features: Upgrade to BusinessObjects 4.2
When considering a BusinessObjects upgrade, businesses should be certain that the provider is SAP-certified. Influential Software holds SAP's Partner Centre of Expertise (PCoE) Certification, as well as a long list of SAP consultancy, solutions, and support certificates.
Upgrading to BusinessObjects 4.2 means faster and more capable Business Intelligence. The result is smarter decisions and a healthier bottom line. While the release of BO 4.3 won't be launched until Q4 2019 at the earliest, SAP is providing regular service packs for Upgrading to BusinessObjects 4.2.
Licences for Enterprise and Small Businesses
Each business is unique, so why should you all have the same BusinessObjects licence? Influential Software is an experienced provider of licences for both large enterprises and SMEs. With our SAP Gold Partner status, you can rest assured that your licencing needs are in safe hands.
Ensure BusinessObjects ROI: Training to Win
From courses and workshops to manuals and certifications, Influential Software will provide whatever BusinessObjects training you require, wherever you need it. What's more, our training is significantly discounted from SAP's in-house courses.
BusinessObjects Consultancy Website
It's just the start for the SAP BusinessObjects consultancy team. Over the coming months, we'll be adding even more information about BusinessObjects and our SAP services. Look out for news of our ongoing success with testimonials and client case-studies.