New HULFT Transfer Website
Posted on Wednesday 29th August 2018 7:43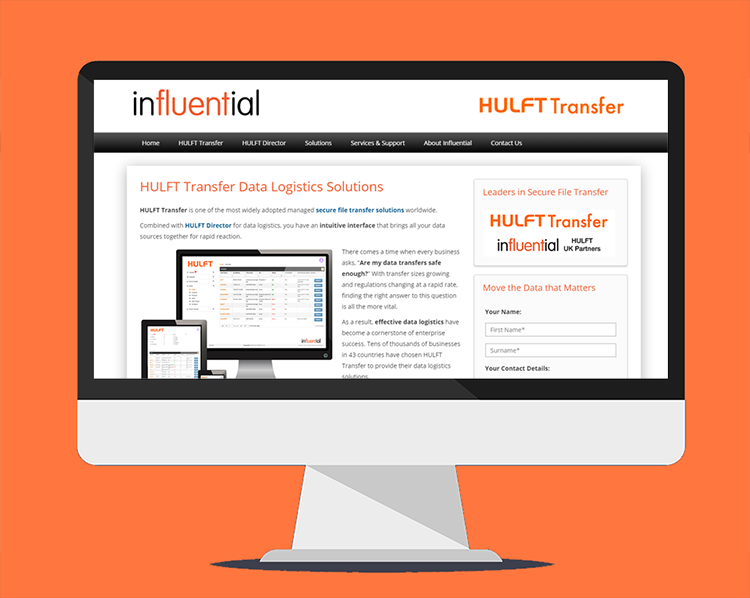 Data Logistics Services: HULFT Transfer Website
HULFT are transforming the data integration and data logistics market, providing Enterprise Data Management Solutions that secure, optimise, and future-proof your operations. Influential is promoting its latest partnership with our HULFT Transfer website.
Influential's new website introduces HULFT Transfer, one of the most widely adopted managed secure file transfer solutions worldwide. When coupled with HULFT Director you have an intuitive data logistics interface that brings all your data sources together for rapid reaction.
Secure Data Transfer Services
The data industry is currently valued at around $3 trillion, placing it in the top three globally after oil and banking. Consequently, safe and reliable data transfer services have become crucial to many businesses.
Ever in search of innovative solutions, Influential is proud to announce its latest partner: HULFT. Over 8,000 companies in 43 countries have chosen this managed file transfer technology.
Influential HULFT UK Partners
HULFT is a growing global force, with the third-largest global market share in data transfer technology.
Now entering the UK market, HULFT has teamed up with trusted data management and data integration experts Influential to deliver cutting-edge data logistics solutions to UK businesses. The expansive HULFT toolset enables Influential to continue extending our range of data management solutions. Combined with our extensive data consultancy services, our clients always have access to the very latest data software and services.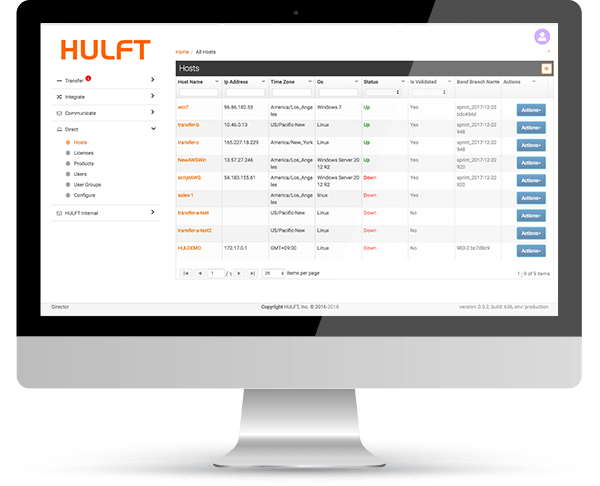 HULFT Transfer Data Logistics
For Influential, as well as thousands of companies worldwide, the advantages of HULFT are clear. With transfer times up to six times faster than FTP, top-level encryption and authentication, easy configuration and modification, and automated processes, HULFT Transfer is the next-generation solution for smart businesses.
By pairing these transfer capabilities with the HULFT Director data management platform, businesses achieve total, real-time visibility and remote control. Businesses in finance, healthcare, manufacturing, and beyond can testify to the results. The third pillar of this system is HULFT Integrate, designed to create a simplified synergy between all your data sources.
HULFT Transfer – UK Data Logistics Solutions
Check out the new HULFT Transfer Data Logistics Website for more information
New HULFT Integrate Website
Posted on
HULFT Integrate Website: Next-Generation Enterprise Data Architecture
One of the reasons so many clients choose Influential is our list of major partners: MuleSoft, IBM, and SAP, to name a few. Adding to this impressive portfolio, Influential is proud to announce its latest UK partnership with its HULFT Integrate website.
The range of HULFT offerings has taken the world by storm, with more than 8,000 companies using HULFT products across 43 countries. Find out why Influential recommends HULFT's integration solutions at our new website: www.hulft-integrate.com
Expanding Data Integration Services
As HULFT's UK partner, Influential provides a comprehensive set of services to businesses considering this data integration solution. Our data consulting services are tailored to the needs of each enterprise, beginning with a cost-effective and in-depth analysis of your requirements.
HULFT Integrate: Rewriting Integration Rules
HULFT Integrate promises simpler data workflows, reduced data prepping time, faster creation of data management apps, scalable adapters, and greater ease in meeting auditing and compliance requirements.
HULFT Integrate combines with HULFT Director to manage all data destinations through an intuitive interface.
Add HULFT Transfer to that single interface for swift, secure, and reliable data transfer capabilities.
Hulft Integrate has success stories in many sectors including finance, healthcare, and manufacturing. HULFT has proved its flexibility.
The Hulft Integrate Website will grow over the coming months – watch this space for the latest Influential-HULFT achievements.
New Power BI Services Website Launched
Posted on Tuesday 24th July 2018 11:05
Our Power BI Consultancy team is pleased to announce the launch of a new Power BI Services Website.
Thousands of clients, small and large, have transformed their businesses with Influential Software's BI services over the past 20 years. At the same time, we understand that business intelligence offerings are rapidly evolving, and work to ensure our clients stay ahead of the competition.
Power BI is an agile BI tool that provides SaaS insights for both growing business and enterprise teams. To ensure our clients get the very best ROI from Power BI, we provide consultancy and support services to ensure your teams and your business get the best out of the amazing Power BI toolset.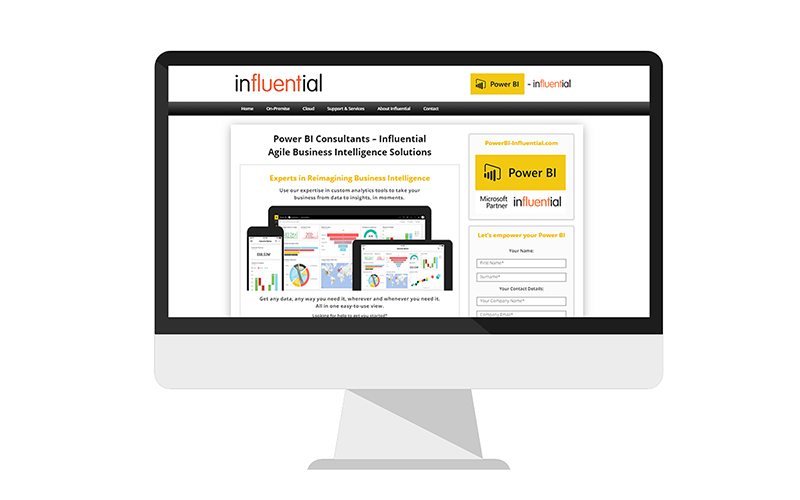 Are you ready to optimise your business? Find out how to leverage the ever-growing volumes of data that are crucial to keeping your market edge.
Influential Software's Power BI support and consultancy services are based on years of experience, and thousands of successful BI implementations. Our priority is maximising your system's suitability to your business processes, resulting in fewer man-hours and higher ROI.
Power BI software is a SaaS-based online service, first released in 2015. Businesses can use Power BI Desktop to create powerful connections, models, and reports for sharing on Power BI.
The service has persisted in the highly competitive BI market because of its flexibility and ability to work with a wide range of software. The Influential Software team is expertly qualified to design the optimum Power BI Services for you.
Eminently Integrated
One of the major benefits of Power BI is its wide connectivity. Businesses can consult us on the best use of Power BI with sources such as Excel, Azure, CSV, Web Pages, MySQL, Microsoft Dynamics CRM, Sharepoint Lists, Oracle, Salesforce, and MailChimp.
Cloud Connections, On-Premise Possibilities
While Power BI is primarily a cloud-based analytics service, on-premise options such as on-premise Power BI Report Server are available. Other on-premise solutions include the Data Management Gateway and Power BI Mobile Apps, meaning there is no one-size-fits-all solution.
Into the Azure
Connectivity with Azure cloud services such as Azure HDInsight, Azure Blob Storage, and Azure Table Storage make Power BI a powerful tool for refining data. Influential Software's accredited trainers and skilled implementation specialists are primed to assess your needs and provide effective solutions.
Power BI Services Website
You can visit our Power BI services website to find out a little more about Power BI options. Or, if you are looking for more agnostic Business Intelligence consultancy, advice or solutions, why not ask have a chat with our Business Intelligence team to find out what options would best suit your business.
Atlas Publishing Intelligence – New Data Management and BI Solution from Influential
Posted on Tuesday 10th May 2016 8:00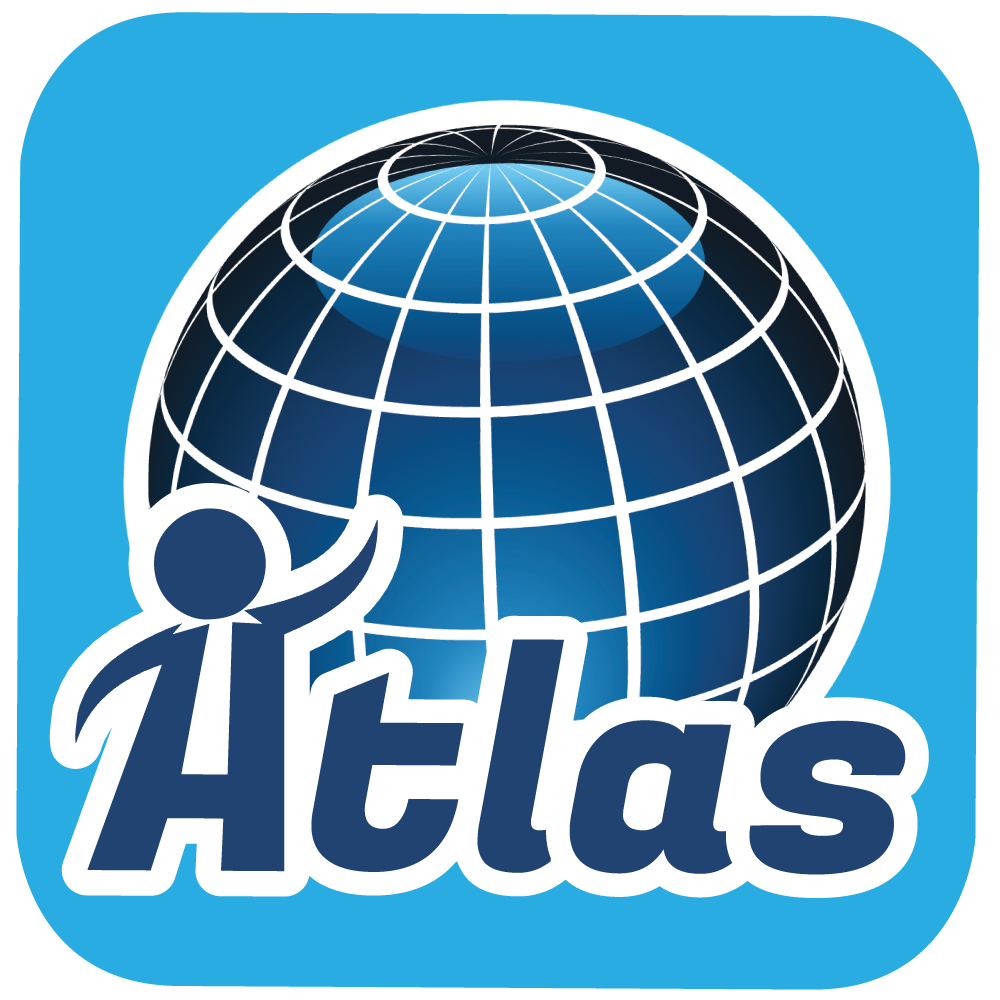 Atlas Publishing Intelligence Has Arrived
The Influential teams have reached an important milestone this week with the launch of our first original product: Atlas Publishing Intelligence – a low-cost, enterprise-grade data management and business intelligence solution.
What is Atlas Publishing Intelligence?
Atlas Publishing Intelligence (PI) is a modular platform designed for publishers to analyse business performance across both digital and print media, without the cost of a traditional reporting solution.
Users have a complete summary of business performance at a glance; via customisable dashboards, reports, enquiry tools and a library of widgets that dynamically link to your business data. Atlas modules handle data ingestion and transformation, user authorisation and Big Data storage. The results are accurate and fast and modelled according to the needs of Publishers.
What's Next for Atlas?
Atlas PI's first release went live on 03-05-2016, handling data and providing real solutions for one of our leading publishing clients. This is a significant milestone, but not the finish line for Atlas. There is a host of further development and features planned for the platform and a great wealth of information about the product still to come.
The Atlas PI vision and roadmap has yet to be communicated, so watch this space for the full product announcement soon and other updates from Influential throughout 2016.
Is Atlas PI Available for all Publishers?
Atlas PI is available and ready for publishers now, either as a full platform or as individual modules to integrate with other applications and systems.
The platform is subscription-based and designed so customers can implement quickly, with set up and configuration provided by Influential's team of experienced publishing sector consultants.
Other publishers are also trialling the software in Q2 2016 with plans for Q3 and Q4 implementations.
Want to Learn More?