Influential Partner HULFT Expands EU Services
Posted on Thursday 3rd January 2019 12:34
HULFT approached UK digital integration specialists Influential Software to become UK partners in Q3 2018 and have now announced they are building on their success as HULFT expands further into Europe.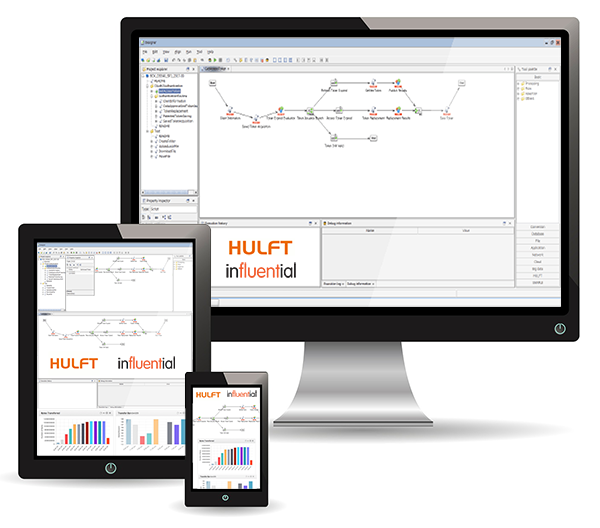 HULFT is a comprehensive data logistics platform that is quickly becoming the global leader in digital integration. So partnering with European market leaders such as Influential Software is just part of their global expansion strategy.
Influential Helping Partner HULFT Expand EU Services
Together, Hulft and Influential Software provide customers with both the strategic expertise and the unified platform they need. Helping businesses to overcome the most complex data integration challenges.

HULFT has decades of experience helping more than 10,000 customers transform their data, automate manual processes… To bridge the chasm between legacy systems and digital transformation… We're excited to bring our proven history of customer success across all industries into the European market.


Junichi Yamazaki, director of business development for EMEA, HULFT, Inc.
The Hulft-Influential Software partnership brings business cutting-edge digital integration tools and experience to UK businesses. Which is great news for our more than 100 active UK clients who can benefit from industry-leading technical and business processes with complete data integration solutions. That means even more of our clients will soon be able to deliver trusted data from sources across their organisation.
The HULFT data logistics platform includes:
Comprehensive, high-speed data integration architecture.
Securely compatible with all major data destinations through a simple, clean visual interface.
A next-generation file transfer solution.
Move large volume, high-frequency information quickly, securely, and reliably.
HULFT Director
A highly flexible, intuitive, web-based central management for all data workflows.
HULFT Director is fully scalable and adjustable to your organisation's needs.
Visit the Influential sites HUFLT-Integrate and HULFT-Transfer websites to find out more.
Find UK Data Integration and Data Transfer Solutions
Interested in HULFT products and services? Or looking for support and advice on integration projects? If so, talk to our team today.
New HULFT Transfer Website
Posted on Wednesday 29th August 2018 7:43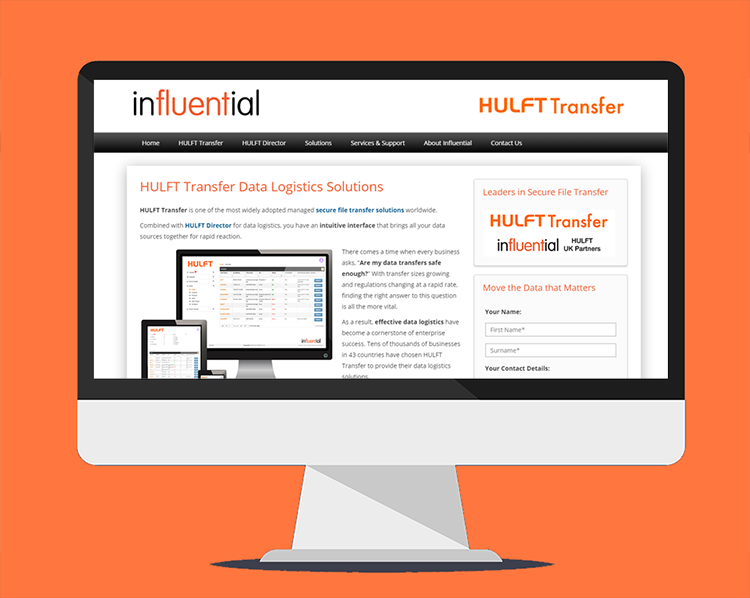 Data Logistics Services: HULFT Transfer Website
HULFT are transforming the data integration and data logistics market, providing Enterprise Data Management Solutions that secure, optimise, and future-proof your operations. Influential is promoting its latest partnership with our HULFT Transfer website.
Influential's new website introduces HULFT Transfer, one of the most widely adopted managed secure file transfer solutions worldwide. When coupled with HULFT Director you have an intuitive data logistics interface that brings all your data sources together for rapid reaction.
Secure Data Transfer Services
The data industry is currently valued at around $3 trillion, placing it in the top three globally after oil and banking. Consequently, safe and reliable data transfer services have become crucial to many businesses.
Ever in search of innovative solutions, Influential is proud to announce its latest partner: HULFT. Over 8,000 companies in 43 countries have chosen this managed file transfer technology.
Influential HULFT UK Partners
HULFT is a growing global force, with the third-largest global market share in data transfer technology.
Now entering the UK market, HULFT has teamed up with trusted data management and data integration experts Influential to deliver cutting-edge data logistics solutions to UK businesses. The expansive HULFT toolset enables Influential to continue extending our range of data management solutions. Combined with our extensive data consultancy services, our clients always have access to the very latest data software and services.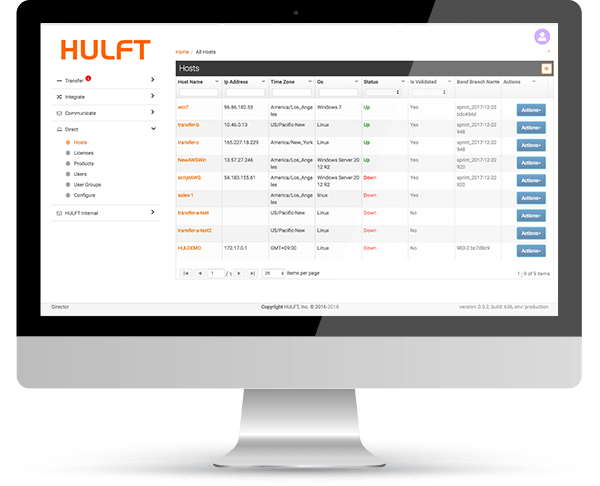 HULFT Transfer Data Logistics
For Influential, as well as thousands of companies worldwide, the advantages of HULFT are clear. With transfer times up to six times faster than FTP, top-level encryption and authentication, easy configuration and modification, and automated processes, HULFT Transfer is the next-generation solution for smart businesses.
By pairing these transfer capabilities with the HULFT Director data management platform, businesses achieve total, real-time visibility and remote control. Businesses in finance, healthcare, manufacturing, and beyond can testify to the results. The third pillar of this system is HULFT Integrate, designed to create a simplified synergy between all your data sources.
HULFT Transfer – UK Data Logistics Solutions
Check out the new HULFT Transfer Data Logistics Website for more information
New HULFT Integrate Website
Posted on
HULFT Integrate Website: Next-Generation Enterprise Data Architecture
One of the reasons so many clients choose Influential is our list of major partners: MuleSoft, IBM, and SAP, to name a few. Adding to this impressive portfolio, Influential is proud to announce its latest UK partnership with its HULFT Integrate website.
The range of HULFT offerings has taken the world by storm, with more than 8,000 companies using HULFT products across 43 countries. Find out why Influential recommends HULFT's integration solutions at our new website: www.hulft-integrate.com
Expanding Data Integration Services
As HULFT's UK partner, Influential provides a comprehensive set of services to businesses considering this data integration solution. Our data consulting services are tailored to the needs of each enterprise, beginning with a cost-effective and in-depth analysis of your requirements.
HULFT Integrate: Rewriting Integration Rules
HULFT Integrate promises simpler data workflows, reduced data prepping time, faster creation of data management apps, scalable adapters, and greater ease in meeting auditing and compliance requirements.
HULFT Integrate combines with HULFT Director to manage all data destinations through an intuitive interface.
Add HULFT Transfer to that single interface for swift, secure, and reliable data transfer capabilities.
Hulft Integrate has success stories in many sectors including finance, healthcare, and manufacturing. HULFT has proved its flexibility.
The Hulft Integrate Website will grow over the coming months – watch this space for the latest Influential-HULFT achievements.