New Adaptive Insights Website & Partnership
Influential Software proudly announces its new UK partnership with Adaptive Insights. To showcase our expanding CPM Financial Planning Solutions we have launched a new Adaptive Insights Website for Adaptive Insights Active Financial Planning in the Cloud.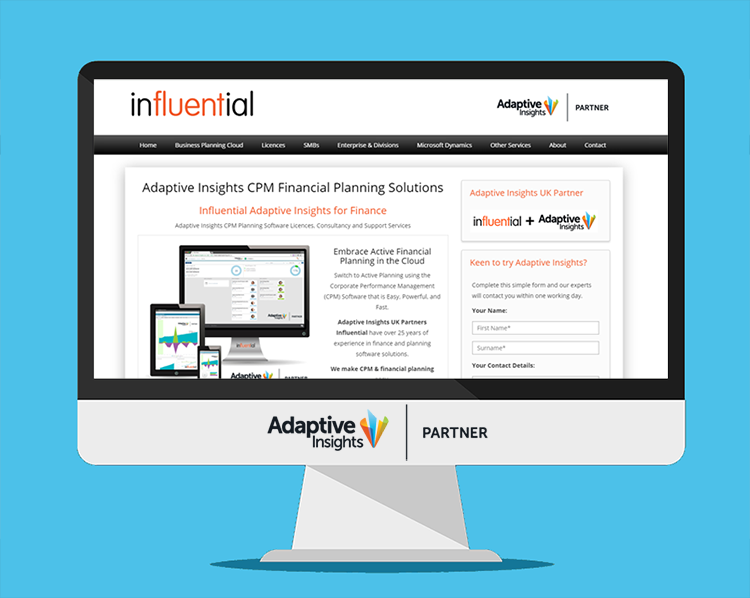 Adaptive Insights UK Partner Services
Adaptive Insights is at the head of a revolution called "active planning". That means financial planning in the cloud, with no disparate spreadsheets or overly complex planning cycles. As consultants, value-added resellers, and support providers, Influential Software is proud to add Adaptive Insights to its roster of cutting-edge partners.
Business Planning Cloud
This cloud-based corporate performance management (CPM) solution allows you to embrace an active financial planning process. Providing bespoke reporting, analysis, and trends, simplifying areas such as workforce management, revenue management, and profitability analysis.
Business Planning Cloud is financial planning software for your whole business.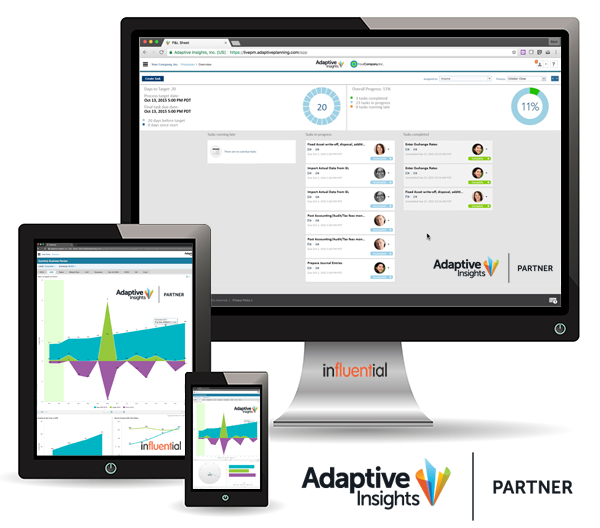 Cloud Planning for SMEs and Growing Business
By offering enterprise-grade features in a cost-effective package, Adaptive Insights has won many customers among SMEs. The solution's budgeting, modelling, analysis, and reporting capabilities that make businesses smarter and improve agility.
Planning made simple, with Adaptive Insights Small Business Cloud.
Innovative Solutions for Enterprises and Divisions
For larger businesses and their divisions, Influential Software uses Adaptive Insights to automate data transfer, removing human error and freeing teams for more productive tasks. We remove bottlenecks with an intelligent accounting approach to data extraction, manipulation, and calculations.
Our Adaptive Insights Enterprise Planning & Budgeting Solutions provide finance cloud solutions for large enterprise and teams.
Microsoft Dynamics End-of-Life Migration
As Microsoft Dynamics CRM 2011 reaches the end-of-life, businesses face a difficult choice: staying in a dead end or moving to Dynamics 365. Influential Software offers a third way, with Adaptive Insights. The Adaptive Insights planning and reporting tool for on-premise Dynamics GP, AX, and NAV offers a smooth transition while users plan their transition to Dynamics 365.
Overcome Microsoft Dynamics CRM 2011 end-of-life woes by migrating to Business Planning Cloud.
Explore the Adaptive Insights Website
Eager to learn more? Visit our Adaptive Insights website to find out more about our Business Planning Cloud solutions.
Or if you would like to hear directly from our planning teams – ask about our services today!