Influential Software at Adaptive Insights European Partner Rally 2018
Posted on Friday 26th October 2018 2:29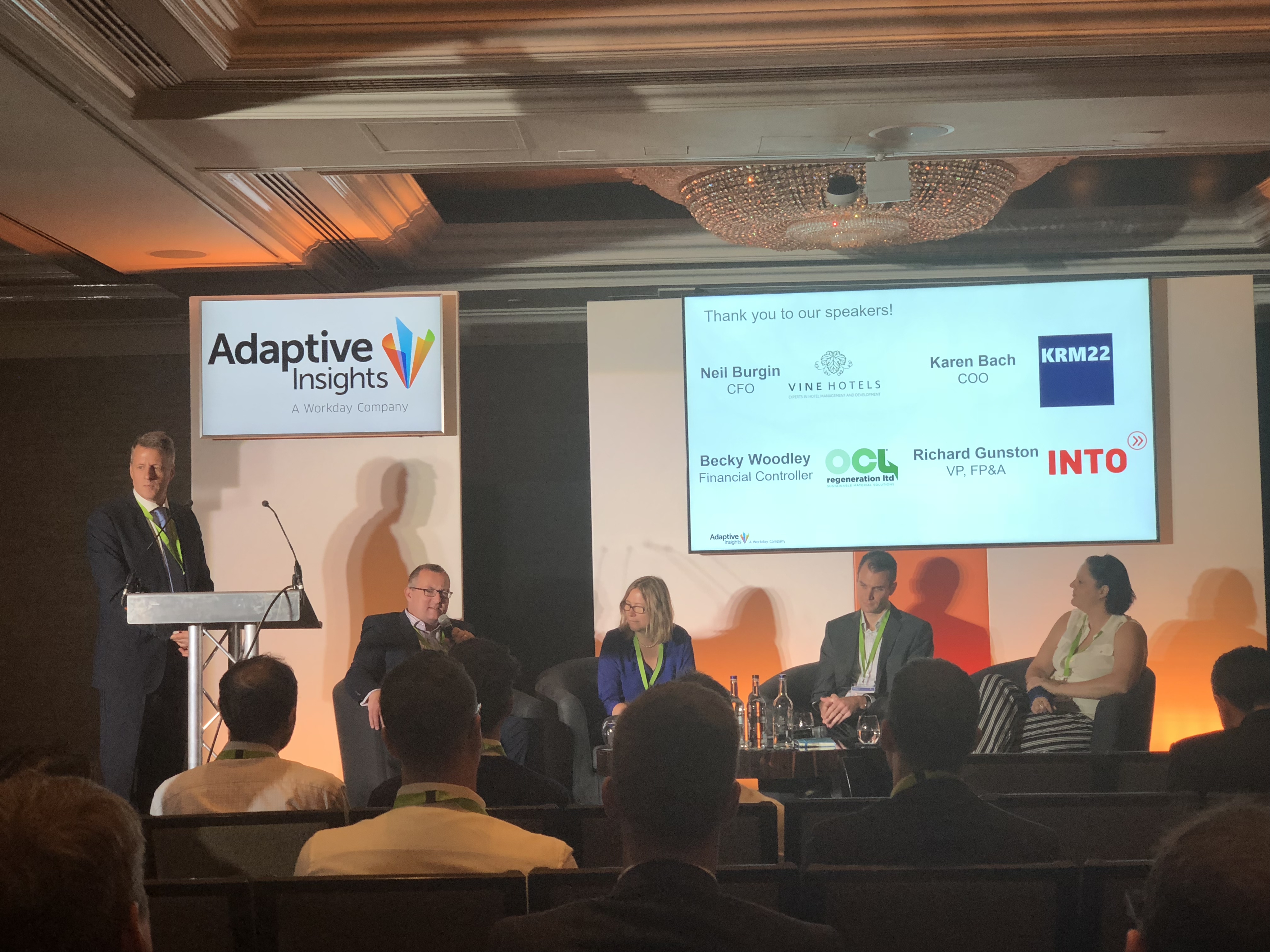 Influential Software for Active Financial Planning
The Influential Software team was excited to attend the Adaptive Insights European Partner Rally this month.
Having announced our UK partnership earlier this year, the team is spreading the word about Adaptive Insights' solutions for "active planning" in finance.
Adaptive Insights solutions are the latest element in our mission to help UK businesses gain efficiency, adopt an agile approach, and transform for the digital age.
Adaptive Insights Leading the Cloud
The event was also a chance to recap why Adaptive Insights is ranked a world leader for financial planning in the cloud.
Adaptive Insights has strong appeal for SMEs, thanks to its affordability, integrated analytics, ease of use, and independence from IT support.
Its no-limit what-if capabilities – without affecting performance – are a huge bonus compared with competing solutions.
Integrated reporting capability is another differentiator, with OfficeConnect allowing exports to Excel and Word for board reports.
A demonstration of the quick and easy variance reports for budgets and forecasts was the icing on the cake for customers at the Adaptive Insights European Partner Rally.

Adaptive Insights Beyond Finance
The Adaptive Insights European Partner Rally offered a sneak peek of new developments in the planning universe.
While the company made its name in financial planning, Adaptive Insights has since gained significant ground in operational planning as well.
After the recent release of the Sales Planning solution, our top-secret reports indicate that Adaptive Insights will soon be expanding even further outside of finance. Watch this space!
Plan Your Adaptive Insights Journey
As a final takeaway, the Adaptive Insights European Partner Rally reminded prospective and existing customers to take advantage of the Adaptive Insights Customer Journey site.
Visit the site to see the full potential of Adaptive Insights for your business, and then let it walk you through the implementation of your journey.
For more details of our Adaptive Insights consulting, licence sales, and technical services, why not visit our dedicated site?

Adaptive Insights for Workforce Planning Launched
Posted on Friday 5th October 2018 4:28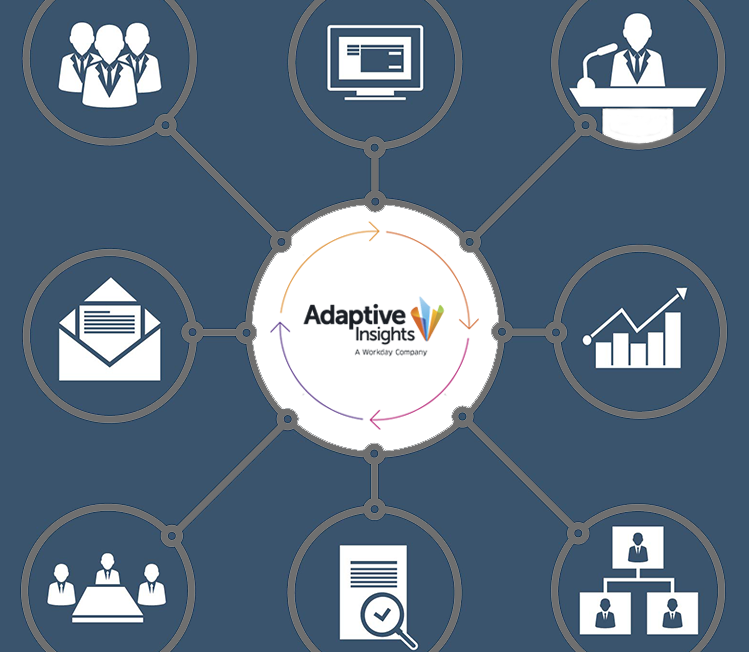 The Adaptive Insights "active planning" philosophy has entered a new phase with the announcement of Adaptive Insights for Workforce Planning. Within the Business Planning Cloud, this new solution brings dynamic and spreadsheet-free capabilities to the HR table.
Influential Software's services as an Adaptive Insights Partner and Solution Provider give us a unique insight into the latest capabilities. So let's take a look at how Adaptive Insights for Workforce Planning is helping businesses manage their people.
What Does Adaptive Insights for Workforce Planning Do?
Essentially, the new solution does for HR what Business Planning Cloud did for finance. That means fast what-if analyses, intuitive dashboards, integrated data from across enterprise solutions, simple tools to model different scenarios, and advanced warning of risks on the horizon.
With Adaptive Insights for Workforce Planning, business leaders can change one factor, such as future headcount, and see the global impact on other areas, such as payroll taxes or personnel allocations.
Or you can see what an organisation will look like after a merger or acquisition, running different scenarios to find the best model.
In all these scenarios you can drill down to see the impact on areas such as compensation, benefits, taxes, and relocation costs.
Adaptive Insights for Workforce Planning lets you model skills as well as roles. By comparing skills within departments, you can create better alignments in teams and spot gaps in your succession plans.
Benefits of Adaptive Insights for Workforce Planning
For many businesses, people are their greatest cost. Adaptive Insights for Workforce Planning allows businesses to make decisions based on accurate forecasts, using a range of variables to see all potential outcomes. That gives the invaluable advantage of being prepared, no matter the situation.
By connecting this solution to others, including HCM and ERP, businesses create true collaboration between people and finance. Suddenly, it's easy to adjust your current and future workforce to suit the corporate plan.
Influential Software & Adaptive Insights
Our decades of expertise in business intelligence, recruitment, and analytics makes Influential Software an ideal team for Adaptive Insights for Workforce Planning. Together, we are bringing the benefits of active planning to organisations of all sectors and sizes, across the UK.
Interested in Adaptive Insights solutions? Feel free to explore our dedicated site.
New Adaptive Insights Website & Partnership
Posted on Friday 31st August 2018 7:55
Influential Software proudly announces its new UK partnership with Adaptive Insights. To showcase our expanding CPM Financial Planning Solutions we have launched a new Adaptive Insights Website for Adaptive Insights Active Financial Planning in the Cloud.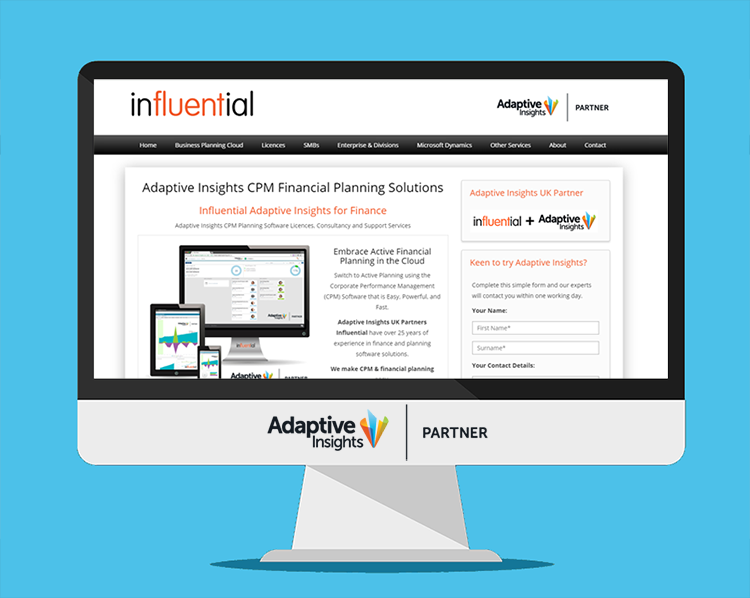 Adaptive Insights UK Partner Services
Adaptive Insights is at the head of a revolution called "active planning". That means financial planning in the cloud, with no disparate spreadsheets or overly complex planning cycles. As consultants, value-added resellers, and support providers, Influential Software is proud to add Adaptive Insights to its roster of cutting-edge partners.
Business Planning Cloud
This cloud-based corporate performance management (CPM) solution allows you to embrace an active financial planning process. Providing bespoke reporting, analysis, and trends, simplifying areas such as workforce management, revenue management, and profitability analysis.
Business Planning Cloud is financial planning software for your whole business.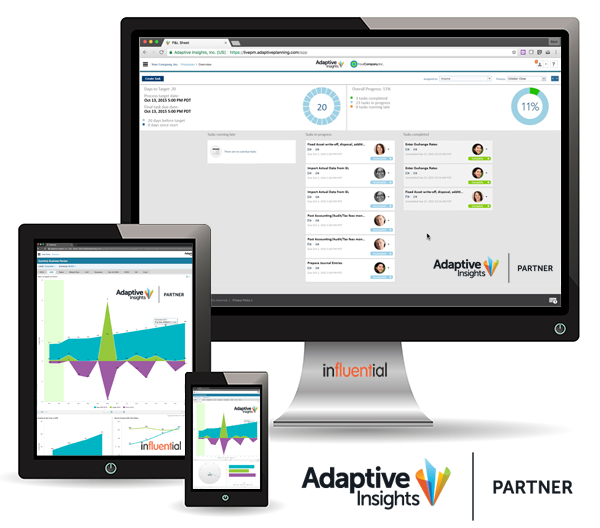 Cloud Planning for SMEs and Growing Business
By offering enterprise-grade features in a cost-effective package, Adaptive Insights has won many customers among SMEs. The solution's budgeting, modelling, analysis, and reporting capabilities that make businesses smarter and improve agility.
Planning made simple, with Adaptive Insights Small Business Cloud.
Innovative Solutions for Enterprises and Divisions
For larger businesses and their divisions, Influential Software uses Adaptive Insights to automate data transfer, removing human error and freeing teams for more productive tasks. We remove bottlenecks with an intelligent accounting approach to data extraction, manipulation, and calculations.
Our Adaptive Insights Enterprise Planning & Budgeting Solutions provide finance cloud solutions for large enterprise and teams.
Microsoft Dynamics End-of-Life Migration
As Microsoft Dynamics CRM 2011 reaches the end-of-life, businesses face a difficult choice: staying in a dead end or moving to Dynamics 365. Influential Software offers a third way, with Adaptive Insights. The Adaptive Insights planning and reporting tool for on-premise Dynamics GP, AX, and NAV offers a smooth transition while users plan their transition to Dynamics 365.
Overcome Microsoft Dynamics CRM 2011 end-of-life woes by migrating to Business Planning Cloud.
Explore the Adaptive Insights Website
Eager to learn more? Visit our Adaptive Insights website to find out more about our Business Planning Cloud solutions.
Or if you would like to hear directly from our planning teams – ask about our services today!