Breaking down manufacturing data silos
Global vacuum producers streamline operations through manufacturing systems integration
Influential Software helped this international client break down manufacturing data silos through systems integration, resulting in lower IT costs, higher customer satisfaction, and increased process efficiency.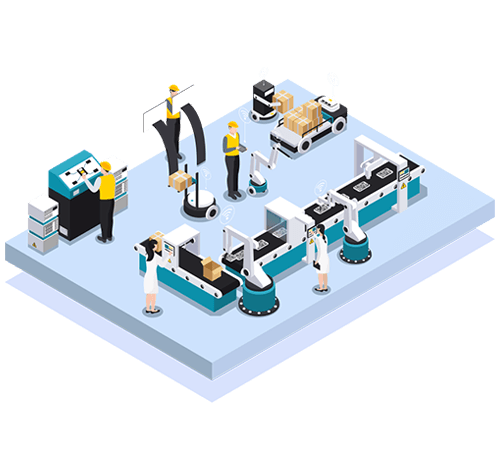 Executive brief
Empowering field workers with manufacturing data integration
Our client is a manufacturer and supplier of industrial vacuum and abatement technologies. The client's high-tech products are shipped to customers worldwide, from industries as varied as pharmaceuticals, technology, and food. With our systems integration expertise, the client was able to break down manufacturing data silos and realise:
accurate data for field teams
lower integration platform costs
Curious about how to improve manufacturing efficiency with data integration? See the full story below.

The challenge
Outdated stock data was hampering field workers
As our client knows, producing a wide range of complex industrial goods for clients worldwide is not a simple task. The communication between production and operations must be flawless if the business is to succeed. Being aware of this, the company was looking to improve manufacturing efficiency by integrating its disparate systems.
One major bottleneck lay between their back-office systems and the technicians raising work orders in the field. Their central ERP software was SAP ECC, hosted on-premises, while their field workers used a custom-made application to raise orders. As there was no data sync between these systems, the field workers had to manually input stock and equipment data before visiting customers. The drawbacks of this situation were:
increased risk of errors from manual entry
disorganisation between field teams and operations
less time to focus on customer service
The company's management knew that these issues were preventing field workers from providing the best service possible. They tasked the IT department with researching how to break down manufacturing data silos with minimum disruption to the business.
The solution
Using Azure to break down manufacturing data silos
The company had previously engaged our digital engineers to maintain, support, and develop their MuleSoft integrations. At this point the company was making a strategic shift away from MuleSoft in favour of Microsoft Azure. As Azure is one of our core specialisms, the company asked us to demonstrate that Azure could meet their requirements.
Our proposed solution was to integrate the on-premises SAP ECC with the web-based SQL Server application using Azure Logic Apps. These serverless applications allowed us to build automated workflows based on events or timers, between on-premises and the cloud.
After seeing the many low-code, best-practice, security-focused solutions we had developed with Azure in the past, the client was convinced. The low-code method also ensured that the client could adjust the integration with relatively little time and cost.
Our integration engineers designed and delivered the new integration solution in five days. At the same time we provided the IT department with consultancy on Azure resourcing, cost control, and continuous deployment mechanisms. When the manufacturing data integration solution was deployed, the client saw results immediately in terms of errors eliminated and hours saved.
The benefits
Low cost, high speed, strong ROI
Our manufacturing systems integration solution provided the desired data flow between the client's operations and field teams. While prioritising data and access security, we successfully connected their on-premises system to the cloud.
From a business perspective, the benefits of using Azure to break down manufacturing data silos were:
lower costs compared with the previous integration solution
the option to grow field operations with no strain on the back office
the ability to serve customers better with accurate information
reduced man hours spent on manual data transfer
As a result of our successful delivery, the client has chosen Influential Software as its integration partner of choice. We are currently further equipping the company with new automation and integration capabilities within the Azure ecosystem. A bespoke Internet of Things (IoT) system and an Azure API management layer are among our upcoming projects to further improve manufacturing efficiency with data integration.
Accelerate your manufacturing
This client is one of hundreds of organisations that have managed to break down manufacturing data silos with our expertise. To find out how manufacturing systems integration will help your business, visit our integration solutions page.