SAP ERP integration with warranty claims data
Manufacturer achieves timely reporting on warranty claims with our SAP ERP integration solutions
Influential Software used SAP ERP integration to empower a global manufacturer with more accurate financial forecasts based on timely warranty claims data.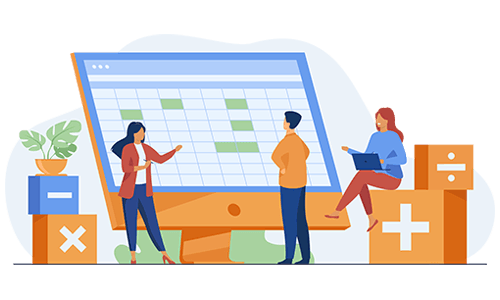 Executive brief
Uniting warranty and finance data with SAP ERP integration
Our client is a manufacturer with customers in Europe, Asia, and North America. Its industrial vacuum and abatement products are essential to companies in the energy, food, technology, and chemical sectors. With our SAP ERP integration expertise, the client connected its warranty claims management software to its finance team for the following benefits:
improved financial forecasting
faster response to repair claims
greater back-office efficiency
reduced risk of manual error
Wondering how the company achieved this with our ERP integration solutions? Read on to learn more.

The challenge
Siloed warranty data was hindering financial transparency
For a manufacturer of complex industrial goods, accurate and real-time information is critical to maintaining a competitive edge. For this reason, our client had identified systems integration as key to its business growth. At the time of this project, the client was working to identify inefficient processes that could be improved.
One such inefficiency lay between the client's ERP software and its Product Analysis & Reporting System (PARS). This system is effectively the company's warranty claims management software. By analysing signs of use, the system determines whether customers can have products repaired free of charge. If the product has been used in a way that violates the warranty agreement, then the customer will have to pay for the repair.
But while this warranty claims management software worked on its own, it had no built-in connection to the company's ERP software, SAP ECC. This disconnect meant that the client's finance teams had no reliable way of accessing warranty claims data.
In brief, the downsides of this unintegrated warranty claims management software were:
error-prone and time-consuming manual input of claims data
difficulty in producing accurate forecasts for warranty payouts
inability to respond quickly to reported product defects
Recognising these negative effects, the manufacturer decided that SAP ERP integration was needed to turn the situation around.
The solution
SAP ERP integration with warranty claims management software
Having worked with our systems integration team previously, the manufacturer approached us again to solve this SAP ERP integration challenge. We recommended building on the Azure-based integration platform that we had designed for the client at an earlier stage. This solution promised the best outcome in terms of cost, speed, and security.
We proposed to achieve the integration with Azure Logic Apps and Azure API Management Service. Firstly our integration engineers configured and deployed APIs to send the warranty claims data to the client's API management layer. Then we configured and developed Azure Logic Apps that connected this data to the client's SAP ERP software.
Our integration team comprised a principal architect, delivery lead, QA tester, account manager, and DevOps engineer. Working in development and test environments initially, we deployed the finished integration within nine man days. The new SAP ERP integration proved its value immediately in the form of faster and more accurate financial reports and forecasts.
The benefits
Turning today's data into tomorrow's growth
Through SAP ERP integration with its warranty claims management software, the finance team gained access to trusted real-time data. This enabled them to produce accurate financial reports and forecasts, giving the business a competitive edge.
To summarise, the business outcomes of this manufacturing data integration project were:
better ability to quantify and predict product repair expenditures
increased operational efficiency with automation of manual data input
greater customer satisfaction due to faster warranty claims handling
improved cash flow with accelerated charging for product repairs
The expertise we demonstrated in this and related projects has led us to become the client's integration partner of choice. Other projects we have delivered for this manufacturer include an integrated document retrieval system, Internet of Things (IoT) integration, and an automated invoice processing system. Each of these projects has helped the client cut costs, accelerate processes, improve service, and ultimately grow as a business.
Supercharge your business processes
Hundreds of clients have felt the benefits of our ERP integration solutions. From manufacturing to retail, public sector to education, our engineers bring cross-sector experience to your integration challenges. To find out more, visit our integration solutions page.