Golden record MDM solution for HR
Religious body reduces data risks and improves HR efficiency with golden record MDM solution
Influential Software used a golden record MDM portal to enable a religious institution to compile all its HR data into a single trusted source.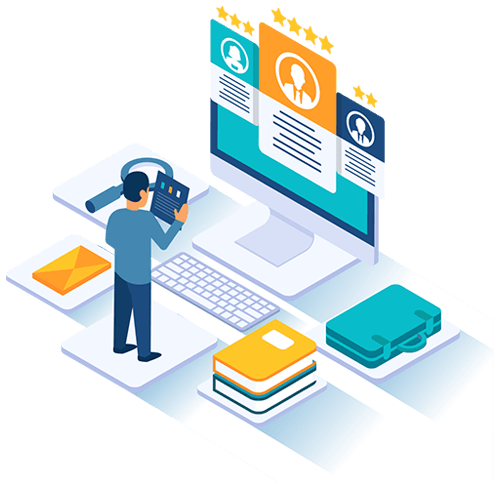 Executive brief
Building trust with a golden record MDM solution
Our client is a religious institution with a congregation of millions and a workforce of over 20,000. Through its services, schools, and charity work, the organisation plays an important role in communities across the country. We developed an HR data management portal to compile disparate personnel data into a single golden record set, with the following results:
less risk of data breaches
clear insight into HR data
ability to adopt cloud HR
Curious about how we achieved this with a golden record MDM portal? Read on to learn more.

The challenge
Lack of HR data integration created risk and inefficiency
Being an institution with millions of devotees and thousands of employees brings many responsibilities. First of all, the leadership must inspire trust among its congregation and its staff. Secondly, the organisation must remain economically viable. And finally, the organisation must find new ways of attracting and engaging its flock.
But to achieve these points, our client needed access to complete, accurate, and secure organisational data. This realisation led them on a quest to identify and integrate any IT systems that were hindering their modernisation.
One such area in need of integration was the organisation's personnel data. HR, payroll, pensions, and clergy records were held in three on-premise systems: ResourceLink, Civica UPM, and a proprietary staff database. Inconsistent data entry over the years meant that these records suffered from duplication and inaccuracy.
These disparate systems led to a waste of time and effort, as the HR team could not find all the information they needed in one place. There was also a high risk of error when manually transferring data between these three systems. And furthermore, the proliferation of software made it challenging to ensure data security.
To summarise, the downsides of these unintegrated HR systems were:
reputational and regulatory risk of insecure HR data
wasted time and effort of duplicate data across multiple systems
high cost of maintaining multiple on-premise systems
For the sake of the client's reputation and efficiency, it was clear that these systems required HR data integration.
The solution
Cleansing with a golden record MDM portal
Data analysis, cleansing, and de-duplication have been a key feature of many of our systems integration solutions. Some examples include the merging of global customer databases for publisher Elsevier, the de-duplication of royalties data for Hachette Publishing, and the creation of a unified GDPR application for NewDay Cards. Impressed by these relevant examples, the institution asked Influential Software to provide an HR data integration solution.
We used our experience of extract, transform, load (ETL) integration services to migrate the data into an HR data management portal. After migration, we used this portal to create a set of cleansed and de-duplicated data, known as a golden record. This now provided the organisation with a single set of standardised information for each member of staff, covering HR, payroll, and pensions.
Our team in this project comprised a chief architect, a lead consultant, and supporting software engineers. Working in agile sprints, we shared our progress with the client's stakeholders every two weeks. This allowed us to include any desired changes and overcome any unexpected obstacles with time to spare.
Taking fewer than 90 man-days, our systems integration team completed the project within the agreed timeframe. Using the HR golden record data we created, the client was in a good position to transfer its HR processes to a single piece of software.
The benefits
Paving the way for cloud-based HR
The outcome of this project was the consolidation of all HR data into a single trustworthy source. The client's HR team knew that all their HR, payroll, and pensions information was accurate and up-to-date. And going forward, the institution was now prepared to move its multiple HR applications to a single piece of software in the cloud. This planned step was a major improvement on maintaining multiple on-premise systems.
To summarise, the ongoing business benefits of this golden record MDM project were:
increased HR efficiency, as all the information was in one place
eliminated risk of error, thanks to trusted golden record data
the integrated data needed to adopt modern cloud-based HR software
This project demonstrated the value of systems integration to the client's leadership, adding impetus to its modernisation efforts. Based on this success, the client has engaged us to implement Boomi as a platform for future integrations.
Fuel your business with clean data
This organisation is one of hundreds that benefit from our HR data integration expertise. To find out more, visit our integration solutions page.