Microsoft Azure Website Launched
Posted on Wednesday 16th January 2019 2:58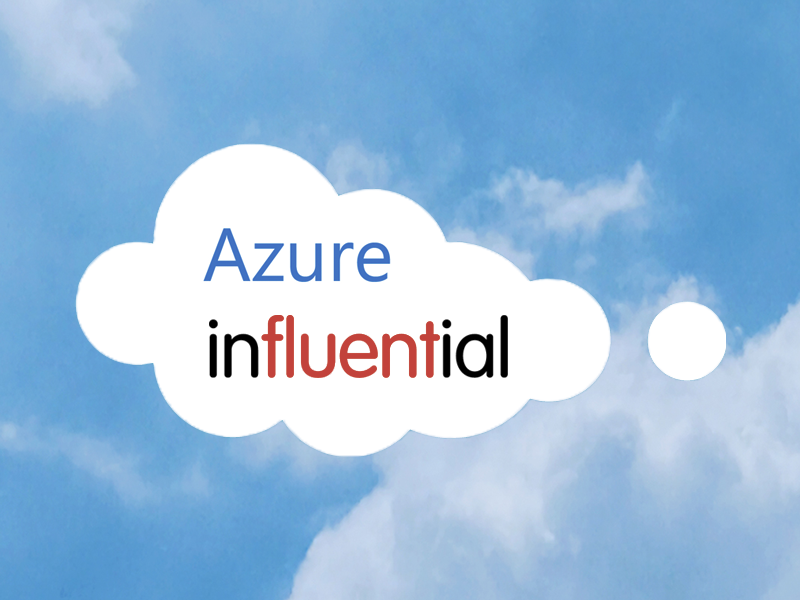 Widely accepted as the leading cloud for business applications and more, Microsoft Azure is playing a crucial role in the UK's digital transformation. At Influential Software, our clients have seen the short- and long-term benefits of expert help with Azure development, deployment, migration, integration, hosting, security, and support. Now the Azure team's work is reaching a wider audience through a new Microsoft Azure website.
Azure Development
Azure provides a platform for our developers to create cloud-native, easily scalable applications that drive your business faster. There's no need for costly infrastructure, and our team's agile approach to Azure development ensures an application that fits your exact needs.
Azure Deployment
A successful move to Azure cloud requires experienced assessment and planning. Our Azure deployment services follow a structured and reliable process that prevents any risk to your business. From initial consulting through planning and configuration, the Azure deployment team has your cloud covered.
Azure Integration
Azure makes it even easier for our team to integrate on-premises and cloud applications. From data to workflows, B2B to legacy software, there's no limit to Azure integration with built-in and custom connectors.
Azure Hosting
Based on Microsoft's global capability and renowned security, Azure is the world's most trusted cloud provider. Influential Software has provided Azure hosting services to major UK clients, with a complete package of consulting and support services to keep everything running perfectly.
Azure Migration
Whether moving from on-premises or another cloud provider, our Azure migration services use a tried and tested methodology. Following assessment of the applications, workloads, and processes you plan to migrate, our team can provide an expert view on the best migration tool for your purposes.
Azure Support
Our Azure support services are designed to reduce the strain on your IT resources while providing expert assistance when needed. The Azure support team guarantees uptime, protects data, and reduces costs with tailored service level agreements (SLA).
Interested in the business cloud? Feel free to explore our dedicated Azure site.
New Umbraco Services Website
Posted on Friday 4th January 2019 3:22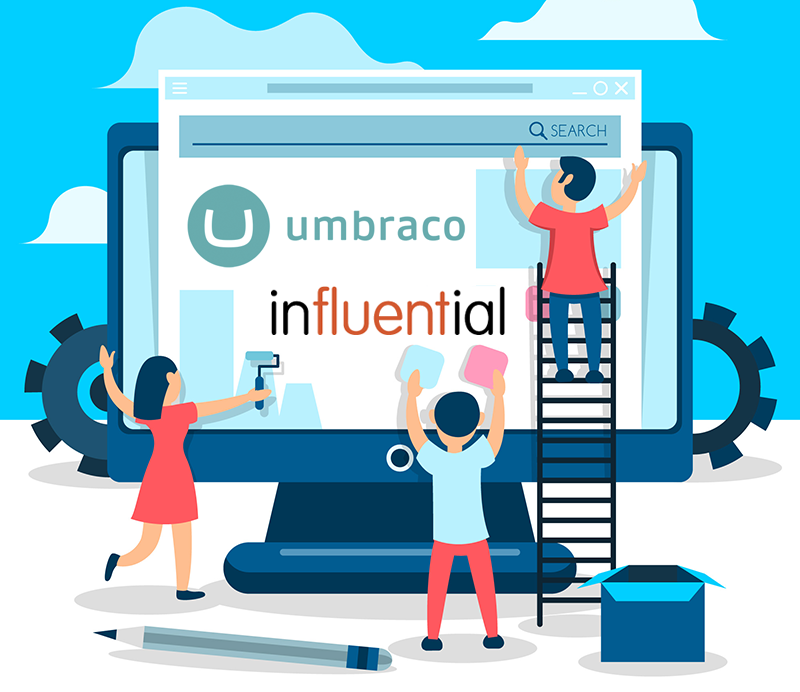 From small start-ups to Fortune 500 companies, over 500,000 businesses use the Umbraco CMS to power their websites. The reason is simple: Umbraco is the most scalable, intuitive, functional, fast, and secure CMS out there. Based on the Microsoft .NET language, Umbraco is also the natural tool for our .NET development team. And now UK clients can explore our full capabilities on a dedicated Umbraco services website.
Custom Umbraco Development
With over 10 years of experience in .NET development, our team has a deep understanding of the language behind Umbraco. That makes all the difference when creating a custom CMS or website design. By consulting users from the very start, our Umbraco developers ensure a CMS that makes your editors creative, productive, and happy. We all know that positive editors make for positive content!
From initial strategy and planning through design and build, our developers take an agile, personalised approach to each project. Team specialisms include responsive web design, custom CMS development, e-commerce solutions, Umbraco Forms, Umbraco Courier, and Umbraco Headless.
Integrate Umbraco with Anything
Whichever systems you want to use with your website, there's a way to integrate Umbraco. Besides our developer skills, the Influential Software team is also highly skilled in integration – as shown by our MuleSoft and Dell Boomi partnerships.
Umbraco allows us to create a seamless flow between your website and back office, marketing, payment, visual, and custom systems.
Umbraco Hosting and Umbraco Cloud
Choosing Umbraco hosting by a trusted third party in the UK means lower costs and fewer risks for your business. Alongside hosting, our support and maintenance packages will cover you against any eventuality.
Umbraco's own hosting, known as Umbraco Cloud, offers exclusive features and a stable, predictable platform. Our team can accelerate your migration to Umbraco Cloud, offer integration expertise, and give custom support.
Migrate Your CMS to Umbraco
Migrating to the latest version, Umbraco 7, brings a faster interface, stronger security, and simpler coding tools. And Umbraco 8 is just around the corner.
Using the latest automated tools, our team avoids the time, errors, and risks of manual migration. It's easy to migrate to Umbraco from any CMS, including Wix, Joomla, WordPress, or Drupal. We'll make sure your content keeps its styling, layout, SEO tags, metadata, attachments, and more.
Tailored Support and Maintenance
When your website is your face on the world, every second of uptime matters. Our Umbraco support team will find a custom service level agreement (SLA) to suit your business. We also offer Umbraco health checks that assess the quality and performance of your site.
Looking to boost your presence online? Ask our team to get started.
Influential Software 2018 Review & 2019 Predictions
Posted on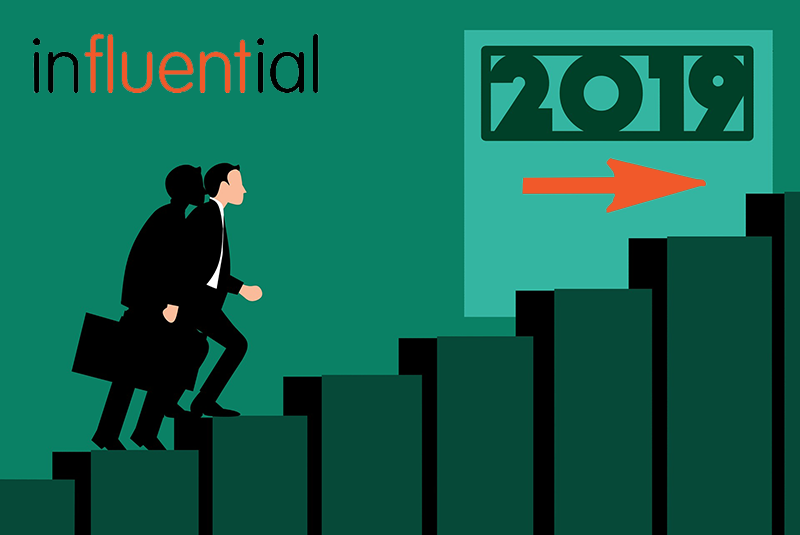 For the team at Influential Software, 2018 was a year of growth and change. Based on that positive record, what can we expect from the coming year? To get a better idea, let's take a look back with our 2018 review of digital transformation success.
2018 Review: Major Clients and New Partners
Influential Software attracted some top-drawer names in 2018. From Arsenal Football Club to Pret a Manger, City of London Police to Gatwick Airport, and Jobsite.co.uk to Deloitte, our digital services were very much in demand.
Having ridden the waves of IT for over 20 years, we know that agility is the key to success. That's why we're always aiming to diversify and consolidate our skills with new partnerships and services. In the integration realm, we partnered with Dell Boomi and HULFT last year. Our Adaptive Insights partnership enabled us to offer cutting-edge financial planning software. And by partnering with Metalogix we broadened our services for SharePoint and Office 365.
Overall, we saw that UK organisations know the value of digital and are keen to reap the benefits. Under pressure to transform quickly, businesses have also realised the need for expert help. Our success this year depended on forward-thinking IT and business leaders who trusted us to solve their digital challenges.
2019 Predictions: Digital Acceleration
Given that tech expanded 2.6 times faster than the rest of the UK economy in 2018, we strongly expect this trend to continue. And technology doesn't exist in isolation. Our clients approach us for real-world solutions that help them work faster and smarter than before. As long as businesses want to serve the digital generation – which is practically everyone these days – demand for digital transformation will increase.
More specifically, there are a few areas we expect to grow rapidly in 2019.
1. Tech Recruitment
While the tech economy is booming, there are dark clouds on the horizon. These represent a digital skills gap in the UK. Studies last year showed that 43 percent of UK adults did not have the basic digital skills needed for 63 percent of jobs. What's more, only 16 percent of executives say their teams have the skills necessary to deliver their digital strategies.
All of this means that tech recruitment and training are becoming crucial for UK businesses to thrive. Thankfully, Influential Software is meeting this need with a range of technical recruitment and training services. Alongside recruitment for business intelligence, development, and support, we also specialise in MuleSoft recruitment, MuleSoft training, and BusinessObjects training.
2. Systems Integration
We love useful new applications. Over the years, businesses will continue to acquire more and more of them. The sticking point appears when that business wants to see the big picture, and it's wrapped in layers of uncommunicative software. A good integration solution allows businesses to take on as many applications as they like, from any source, while keeping everything transparent and secure.
As the digital economy continues to expand, so will the need for integration. Having partnered with MuleSoft in 2016, we followed up with Dell Boomi and HULFT partnerships in 2018. These three partners give us huge flexibility in solving integration challenges large and small.
3. Website & CMS Development
Websites are the new storefronts. With the right design, they can do everything that a physical shop does – and then some. It's easy to see that website design and content management system (CMS) development will show strong growth in 2019.
Based on our development background in Microsoft .NET, we launched our Umbraco services site in 2018. On top of our long-standing work with Java and PHP, the Umbraco site showcases our skills with the world's most powerful web development tool.
∞ Unlimited Potential for Change
These 2019 predictions are only a snapshot of the likely trends. We could add that cloud computing, Internet of Things solutions, artificial intelligence, and machine learning are also set to grow in 2019. And with services for SAP Partner Managed Cloud, SAP Cloud Platform, and SAP Leonardo, our team is digitally ready for all outcomes.
Is your business looking to transform in 2019? Ask one of our experts how.
Influential Partner HULFT Expands EU Services
Posted on Thursday 3rd January 2019 12:34
HULFT approached UK digital integration specialists Influential Software to become UK partners in Q3 2018 and have now announced they are building on their success to further expand across Europe.
HULFT is a comprehensive data logistics platform that is quickly becoming the global leader in digital integration. Partnering with European market leaders such as Influential Software is just part of their global expansion strategy.
Together, Hulft and Influential Software provide customers with both the strategic expertise and the unified platform they need to overcome the most complex data integration challenges.

HULFT has decades of experience helping more than 10,000 customers transform their data, automate manual processes, and bridge the chasm between legacy systems and digital transformation… We're excited to bring our proven history of customer success across all industries into the European market.


Junichi Yamazaki, director of business development for EMEA, HULFT, Inc.
The Hulft-Influential Software partnership brings business cutting-edge digital integration tools and experience to UK businesses. That's great news for our more than 100 active UK clients, who can benefit from industry-leading technical and business processes with complete data integration solutions. Soon even more of our clients will be able to deliver trusted data from sources across their organisation.

The HULFT data logistics platform includes:
Comprehensive, high-speed data integration architecture.
Securely compatible with all major data destinations through a simple, clean visual interface.
A next-generation file transfer solution.
Moves large volume, high-frequency information quickly, securely, and reliably.
HULFT Director
A highly flexible, intuitive, web-based central management for all data workflows.
HULFT Director is fully scalable and adjustable to your organisation's needs.
Visit Influentials HUFLT-Integrate or HULFT-Transfer websites to find out more.
Find UK Data Integration and Data Transfer Solutions
Interested in HULFT products and services? Or looking for support and advice on integration projects? If so, talk to our team today.
Our New Clients in Q4, 2018
Posted on Tuesday 1st January 2019 11:18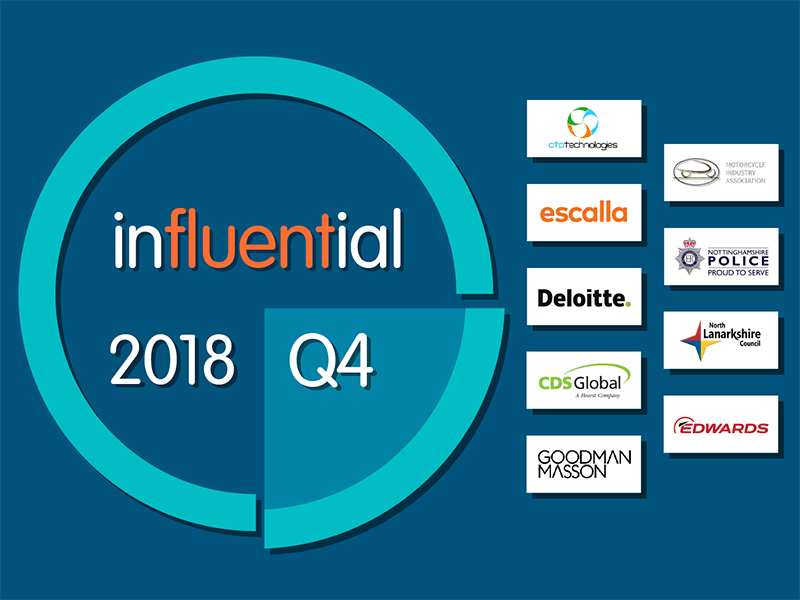 The last part of the year has seen even more UK clients transform their businesses with Influential Software. Our new clients in Q4, 2018 included local government, global manufacturing, a UK trade association, and a county police force.
Wrapping Q1, Q2, Q3, and Q4 into one festive package, we see that 34 new clients came to Influential Software in 2018. From energy to property, retail to finance, and government to education, our team has made a tangible difference to UK organisations this year.
Strategic partnerships with vendors such as Dell Boomi, Adaptive Insights, Metalogix, and HULFT have strengthened our skills this year. Clients have drawn on the full range of our services, including website development, integration, support, licence sales, consulting, migration, and training.
If you're considering the next step in your digital transformation, it's easy to find out what you can achieve with Influential Software.
Selected New Clients in Q4, 2018:
North Lanarkshire Council
CTO Technologies
escalla
Deloitte
Nottinghamshire Police
CDS Global
MotorCycle Industry Association
Goodman Masson
Edwards Vacuum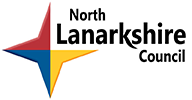 Client: North Lanarkshire Council
Sector: Public Sector
North Lanarkshire Council is a local council in southern Scotland, bordering the city of Glasgow. The county has an area of 470 kilometres squared, and had a population of 338,260 in 2015.
The council is responsible for management of all services in the local area, including housing, education, business, transport, health, and social care.
This client benefitted from Influential Software's expertise in all aspects of business intelligence, as well as our decades of experience with public sector clients.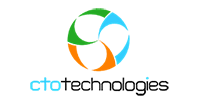 Client: CTO Technologies
Sector: IT
CTO Technologies is an IT services company based in South East England. The company's services include consulting, managed services, workspace virtualisation, cyber security, infrastructure services, and licence optimisation.
By choosing Influential Software to assist with a software project, CTO Technologies drew on the range of skills and technologies within our 80-strong team.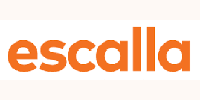 Client: escalla
Sector: IT
escalla is a UK-based provider of IT training, specialising in the skills of Office 365. The company's services include off-the-shelf e-learning and LMS hosting, training resources, legislative services, and systems integration.
When other IT companies come to Influential Software, it shows the value that our services hold in the sector.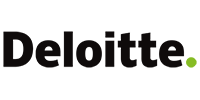 Client: Deloitte
Sector: IT
Deloitte is an international IT and consulting company, incorporating tens of thousands of professional in independent companies worldwide.
Deloitte provides for a wide range of sectors with auditing, consulting, financial advice, risk management, tax, and related services.
Deloitte sought out Influential Software's expertise to supplement its operations in the UK.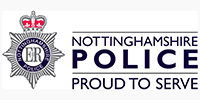 Client: Nottinghamshire Police
Sector: Public Sector
Nottinghamshire police is responsible for law enforcement in Nottinghamshire, an East Midlands county with a population of over 1 million.
Around 3,200 officers and staff work on the force, which covers an area of 2,160 square kilometres.
Having worked with a great variety of police and emergency services across the country, including City of London Police and Cleveland Fire Brigade, Influential Software was the natural choice for Nottinghamshire Police.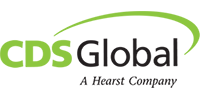 Client: CDS Global
Sector: IT
CDS Global is a provider of business process solutions across the customer lifecycle.
Services encompass customer service, data solutions, e-commerce, mailing, marketing, telemarketing, order management, payment, warehousing, and distribution.
CDS Global approached Influential Software for a bespoke project, trusting in the unmatched results that our clients have come to expect.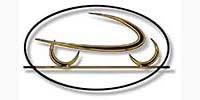 Client: Motorcycle Industry Association
Sector: Automotive
The Motorcycle Industry Association (MCIA) is a trade association representing around 85 percent of motorcycle suppliers in the UK.
The MCIA works with the UK government and related organisations to promote the interests of motorcycle manufacturers, importers, and suppliers of accessories and components.
Influential Software's track record with similarly large organisations drew the MCIA to our best-value services.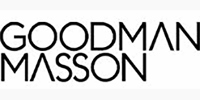 Client: Goodman Masson
Sector: Recruitment
Goodman Masson is a recruitment firm specialising in finance, technology, executive search, and recruitment process outsourcing (RPO). The company has offices in London, Dusseldorf, and New York.
Goodman Masson chose Influential Software's services to ensure a fast, targeted recruitment system for all its UK customers.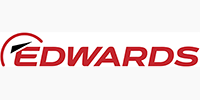 Client: Edwards Vacuum
Sector: Manufacturing
Edwards Vacuum is a developer and manufacturer of vacuum systems and abatement solutions, as well as providing related services.
These systems are used in the manufacturing of technologies such as semiconductors, LEDs, and solar cells, as well as within the steel, pharmaceutical, and chemical industries.
Influential Software's experience of connecting complex systems within the manufacturing industry and beyond was an important factor for Edwards Vacuum.
See You in 2019!
This year has been an excellent one for us and our clients. As a privately owned company based only in the UK, Influential Software strives to serve every customer with the utmost care and attention. 2018 has shown that our services are sorely needed if UK businesses aim to stay competitive. That trend is only going to grow in 2019 – so watch this space!
Have you made a New Year's resolution to transform your business? Ask us for advice today.
New SAP Leonardo Website
Posted on Monday 10th December 2018 3:56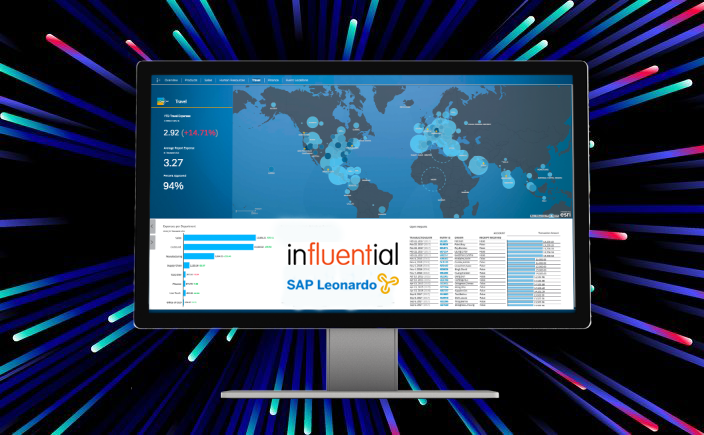 Digital transformation is about using technologies to connect employees, things, finances, data, and customers into an agile whole. SAP is enabling this change by bringing the key technologies into one platform, SAP Leonardo. As an SAP Gold Partner with decades of experience in these tools, Influential Software is in an ideal position to provide SAP Leonardo services. Now we're promoting these services via our new SAP Leonardo website.
Your Digital Consultants
SAP Leonardo is a box of flexible of tools. Like any tool, these technologies have the best effect in the hands of an expert. To help clients make the most of SAP Leonardo, our team can identify, select, customise, and implement the options that best suit their goals.
Digital transformation is an ongoing process, attempting to keep innovation and customer-centric practices at the heart of business. For that reason, many businesses are not aware of their true digital potential. Influential Software's consultants work with stakeholders to pinpoint the areas that are ripe for change, before guiding the business through the process itself.
Typical outcomes of our SAP Leonardo consultancy include increased customer satisfaction, optimised production, reduced wastage, higher process efficiency, boosted revenue, and access to new markets.
Machine Learning Solutions
SAP Leonardo platform supports machine learning tools for a host of revolutionary uses.
Use algorithms to design more effective processes, automate customer interactions, streamline payments, accelerate services, predict trends, and analyse marketing campaigns.
Blockchain Technology
Blockchain solutions offer a breakthrough in the speed and security of multi-party processes.
Prevent illegality, track goods and processes, automate actions based on your criteria, meet reporting requirements easily, and share documents in safety.
SAP Leonardo platform offers two blockchain technologies, SAP Cloud Platform Blockchain and SAP HANA Blockchain Service.
Internet of Things Connections
The SAP Leonardo IoT Bridge is a system connecting products, assets, fleets, infrastructure, markets, and people.
With applications from power grids to agriculture, or from driver safety to engine design, IoT is quickly showing its value for UK businesses.
Advanced and Insightful Analytics
SAP Leonardo's analytics solutions combine machine learning with predictive technology.
By understanding data on a deep, real-time basis, businesses can foresee the trends to come. This allows you to boost returns in marketing, sales, and production.
Big Data Services
Turning large volumes of data into actionable intelligence is a cornerstone of agile enterprise.
SAP Leonardo big data tools underpin your efforts in data-driven marketing, customer analysis, machine learning, and business analytics.
Data Intelligence Tools
Data is one of your most valuable commodities.
SAP Leonardo data intelligence can help you convert data into revenue with a Data-as-a-Service (DaaS) stream, embed it into your processes, turn it into insights that drive performance, or use it to create innovative new products.
When Technology Meets Technique
SAP Leonardo brings the technology. Influential Software brings the technique. Put the two together and you have a recipe for digital success.
If you're interested in finding out more, why not visit our dedicated site?
New Cognos Analytics Website
Posted on Monday 3rd December 2018 12:26
Influential Software is thrilled to announce our new Cognos Analytics website, the latest achievement in our long-standing partnership with IBM Cognos. From consultation to development, licence sales to configuration, and deployment to upgrades, our services work to maximise your returns from the new Cognos Analytics 11.1.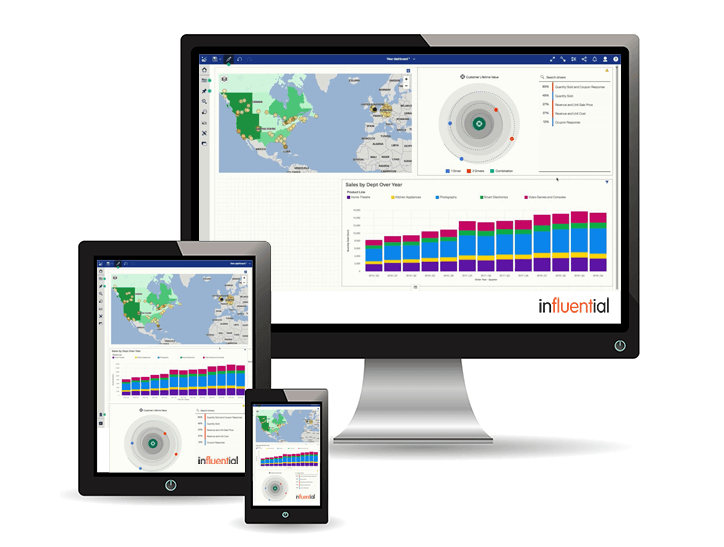 Why Cognos Analytics?
Our Cognos Analytics website promotes the next-generation features that have made the Cognos name. The latest release, Cognos Analytics 11.1, make a host of improvements with AI-assisted analytics. With the help of AI, your users can uncover, present, and share insights faster than ever before. That means a more agile enterprise, able to move from granular detail to game-changing decisions at the touch of a button.
Cognos Analytics Consulting
Having worked with Cognos solutions for over 25 years, Influential Software is the longest-standing Cognos consultancy in the UK.
Benefit from our free initial consultation service to gain a taste of what we can achieve together.
Thereafter, our expert consultants lead clients through a best-practice approach that includes current state analysis, infrastructure review, analytics roadmaps, project management, and ongoing assessment.
Most importantly, we always keep your value in sight. Our services will not be beaten on speed, price, or returns.
Cognos Analytics Upgrades
As a Cognos Partner with experience going back two decades, we are the ideal choice for clients wishing to upgrade earlier Cognos Analytics releases.
Our services ensure minimal downtime, data security, and a rapid move to the new Cognos release.
Cognos Analytics Licences
Find the most competitive prices on Cognos Analytics licences from Influential Software.
Our consultants are on hand to advise on the ideal configuration for your size, structure, and goals.
Many of our clients gain maximum value by combining Cognos Analytics licences into a cost-effective package with consulting and support services.
Cognos Analytics Cloud
Cognos Analytics on Cloud is an excellent option for businesses wanting full functionality without straining their IT resources.
Our technicians are on hand to plan cloud migrations, provide cloud licences, and advise on the best setup for all kinds of businesses.
Looking for Cognos Insights?
If you'd like to find out more about our Cognos Analytics services, feel free to visit our dedicated site.
New MuleSoft Training Website Launched
Posted on
Alongside our successful MuleSoft services, Influential Software is excited to announce a new MuleSoft training website. Clients can now draw on our MuleSoft Partner expertise to train in development, operations, integration, architecture, management, and administration. This training is an excellent investment for anyone wanting to tap into the growing demand for MuleSoft projects.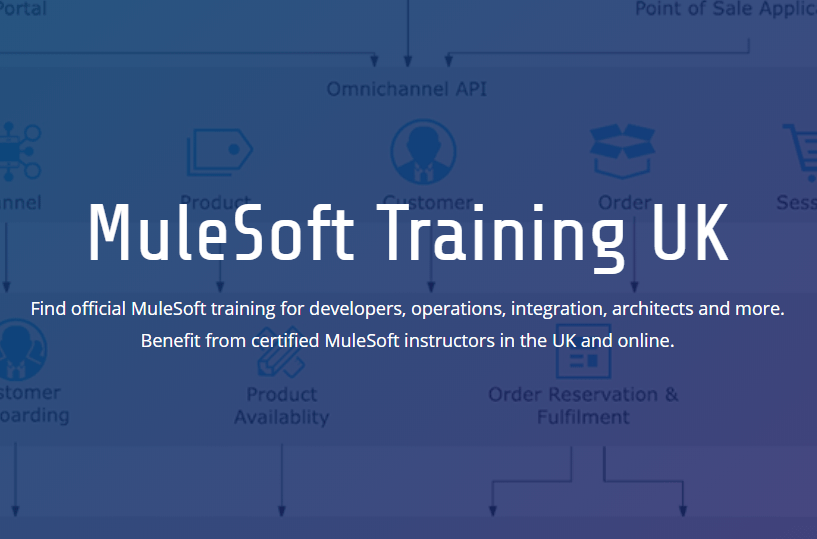 Why MuleSoft Training?
MuleSoft's ongoing innovations – including in Anypoint Platform October 2018 – show that they are still leading the pack for integration and APIs. And MuleSoft Summit London 2018 was the largest MuleSoft event ever, with 2,500 people in attendance. All in all, the buzz for MuleSoft is only getting louder. With official MuleSoft training, our clients can bring the magic of MuleSoft to their own enterprises and carry out transformative projects for others.
Influential Software MuleSoft Services
All our MuleSoft training is based on our team's real-life experience of MuleSoft projects.
We provide MuleSoft consulting, deployment, development, support, and recruitment services for clients across the UK.
Interested in our MuleSoft services? Visit our dedicated site to find out more.
A MuleSoft Training Website for All
Our MuleSoft training website is designed to cater for all paths, formats, and goals.
Choose from paths for six MuleSoft roles: developers, operations, systems integration partners, architects, managers, and admins.
Find classes for all levels, from beginners' introductions to development for complex projects.
Gain official MuleSoft certifications to attract clients and showcase your expertise.
Take instructor-led MuleSoft classes at six London locations, at a location of your choice, or online.
Buy a MuleSoft training subscription that entitles you to unlimited classes for one year.
Choose Your MuleSoft Training Path
MuleSoft Training for Developers: gain the skills for unit testing, deploying, monitoring, or troubleshooting integrations or APIs.
MuleSoft Training for IT Operations: learn to deploy, manage, do capacity planning, monitor, and troubleshoot integrations or APIs.
MuleSoft Training for Systems Integration: gain the skills for basic and complex projects with Anypoint Platform.
MuleSoft Training for Architects: train to design enterprise integration solutions, direct the emergence of an application network, and drive adoption of integration solutions.
MuleSoft Training for Managers: gain an overview of Anypoint Platform and how to succeed with an API-led strategy.
MuleSoft Training for Admins: learn to manage deployments, APIs, and implementations.
Ready for MuleSoft Training?
If you're eager to learn more about our modules and certifications, feel free to visit our dedicated MuleSoft training website.
A Look at the New AI Capabilities in Power BI
Posted on Tuesday 27th November 2018 10:20

New AI Capabilities for Power BI make AI Accessible for Everyone
Hot on the heels of the recent Power BI service and mobile update in Q3 this year, the Microsite team has rolled out new AI capabilities in Power BI.
Power BI makes it possible for all your employees to make better decisions based on data with beautiful reports and dashboards. And having worked with Microsoft for over two decades – and with Microsoft Power BI since its launch – the Influential Software team is always keen to share the latest features. This time, Microsoft has made a great leap forward with new AI capabilities in Power BI.
But first, why do we need AI in Power BI?
Microsoft AI for Enhancing Business Data
With the massive volumes of data generated today about every aspect of a business, finding insights from the data can be challenging. This is where AI can help. AI can aid in data exploration, comb through the data to automatically find patterns, help users understand what the data means, and predict future outcomes to help business drive results.
There are huge opportunities when workers across an organisation can leverage AI for improving business outcomes. But data scientists, who are crucial to deploying AI solutions, don't have the bandwidth to provide custom solutions to all users at an organisation. Businesses need ways to surface the valuable work of data scientists and empower more users to leverage AI in easy and intuitive ways.
Power BI has been a pioneer in applying AI through capabilities such as natural language, which enables users to get answers by asking questions in plain English, or Quick Insights, which automatically finds patterns in data.
Microsoft is taking a major step forward in bringing AI to business intelligence and announcing several new AI capabilities in Power BI.
users can now get capabilities such as image recognition and text analytics directly in Power BI
key driver analysis helps users understand what influences key business metrics
users can create machine learning models directly in Power BI using automated machine learning
users now have seamless integration of Azure Machine Learning within Power BI
All these new AI capabilities in Power BI – pioneered in Azure – require no code. This enables all Power BI users to discover hidden, actionable insights in their data and drive better business outcomes with easy-to-use AI.
Azure Cognitive Services Arrive in Power BI
Azure Cognitive Services are sophisticated pre-trained machine learning models that can extract insights from data. Microsoft is bringing Azure Cognitive Service capabilities into Power BI to provide powerful ways to extract information from a variety of sources like documents, images, and social media feeds. These algorithms can identify named entities such as organisations, people, and locations. They can recognise objects in images, detect language, identify key phrases, and determine positive or negative sentiment.
Imagine you're a business analyst for a hotel chain and want to evaluate what guests are saying in their online reviews. With Azure Cognitive Services in Power BI, you can easily analyse thousands of online reviews, understand what your guests are happy or unhappy about, and pinpoint areas of improvement.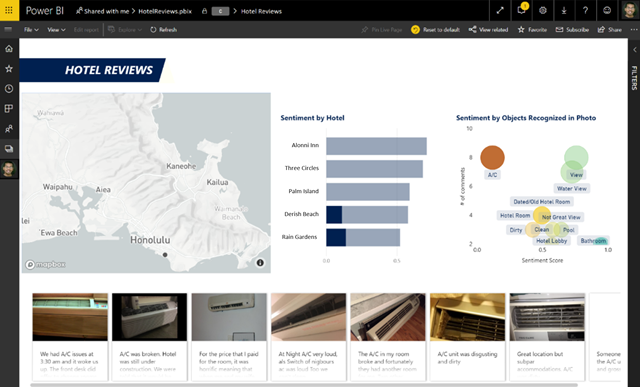 Power BI's New Key Driver Analysis Feature
Every organisation has metrics or key performance indicators that measure business success. How do businesses determine what impacts those KPIs? What causes these KPIs to go up, down, or stay the same? The most obvious business drivers are typically easy to spot, but it doesn't take long before things get complex. What drives business outcomes is often subtle and depends on any combination of circumstances.
Key driver analysis helps you understand what drives an outcome. It reasons over your data, ranks those things that matter, and surfaces those key drivers. For example, consider a student's plans to attend college as a KPI. There are different factors that impact whether kids plan to enroll in college. Key driver analysis automatically surfaces those things that matter the most. Below, you see that parental encouragement has significant positive impact on a student's plans.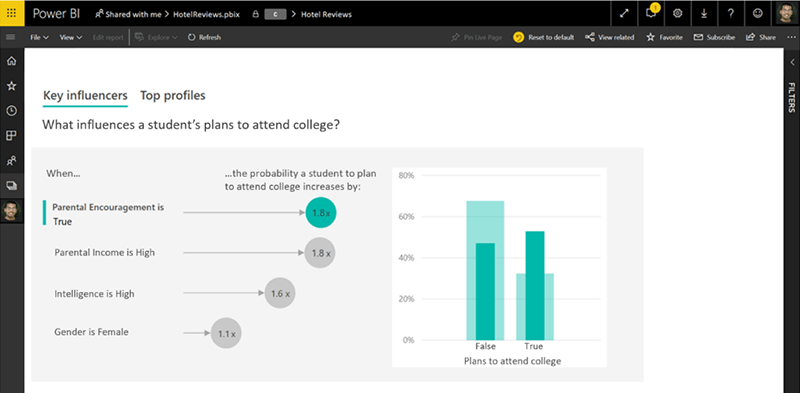 ---
Machine Learning Models: Build Your Own in Power BI
In Power BI, business analysts will now be able to build their own machine learning models without writing a single line of code. Microsoft is using the automated machine learning feature in Azure Machine Learning, but instead of targeting developers or data scientists, we've simplified it and made it broadly accessible for common use cases. This means that when an analyst builds a machine learning model in Power BI, it does all the heavy lifting by selecting the best algorithm and features with just a few clicks.
As an example, a business analyst could leverage the automated machine learning technology to quickly and easily build a model to predict how likely an open sales opportunity is to be won. This could help a sales manager prioritise which high value opportunities to focus on and how likely they are to meet their target.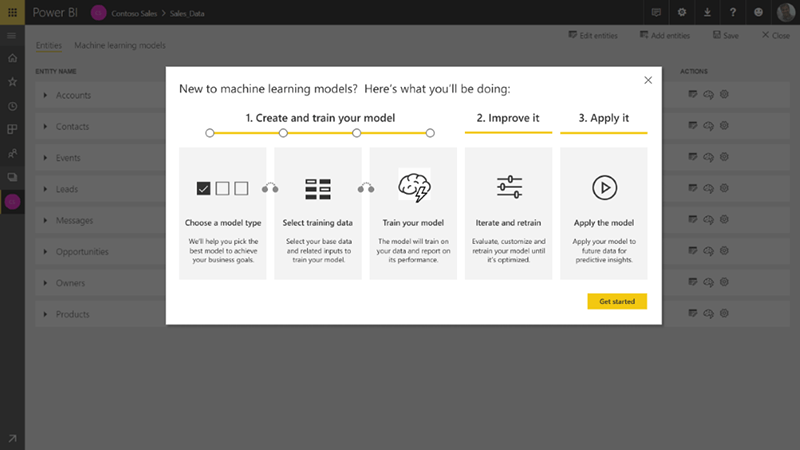 ---
Use Power BI to Integrate Your Azure Machine Learning Models
Advanced machine learning requires specialised data science tools. Azure Machine Learning is a platform where data scientists develop machine learning models to take on complex business challenges. Azure ML models built by data scientists can now be easily shared with business analysts. Power BI works behind the scenes to discover the models to which each user has access and automatically creates a point and click user interface to invoke them. This makes collaboration among business analysts and data scientists easier and faster than ever before.
---
Your Turn to Leverage the AI Capabilities in Power BI
Turn the complexities of business data to your advantage with your strategic BI partner – Influential Software.
Whether you are looking at Power BI On-Premise or Power BI Cloud solutions the experienced Influential team offer complete Power BI Support and Services.
Businesses across the UK, of all sectors and sizes, have benefited from our technical expertise and business experience.
Leverage Power BI, one of the technologies that are already creating massive value for early adopters.
This news has been adapted from online content by our partner, Microsoft.
New SAP Cloud Platform Website
Posted on Tuesday 20th November 2018 5:21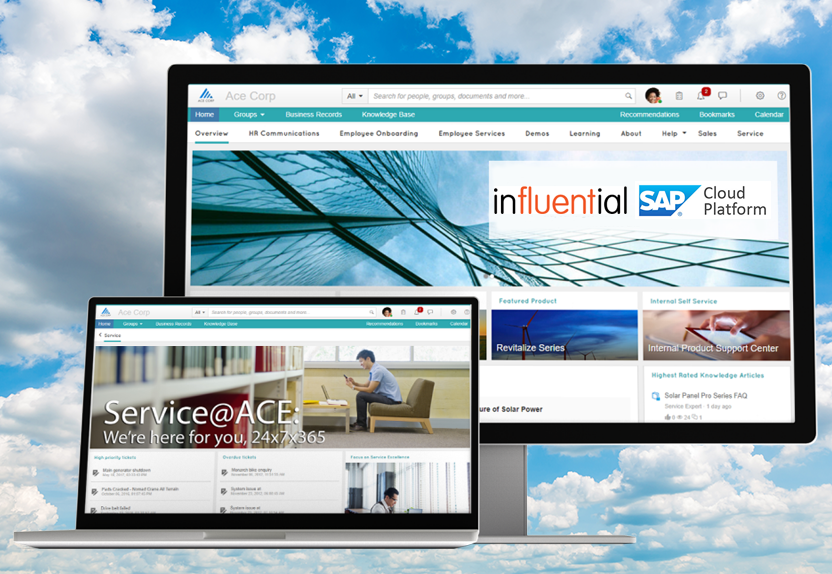 As numerous companies have shown, digital agility depends on the ability to create innovative applications quickly. The SAP Cloud Platform helps you do just that. With SAP in-memory capabilities and services, the platform allows businesses to build and extend applications in the cloud. As long-time cloud experts with SAP Gold Partner status, the Influential Software team is perfectly placed to provide services for SAP Cloud Platform. Our new SAP Cloud Platform website aims to promote these valuable services to customers in the UK.
Digital Transformation Services
Our developers have been creating innovative software for decades. Using SAP Cloud Platform, we can do this more quickly and affordably than ever. Combine technologies such as Internet of Things, streaming analytics, employee collaboration, and SAP Fiori. Find solutions that accelerate your digital transformation across departments, from production to distribution and management.
Cloud Integration Tools
SAP Cloud Platform hosts four integration services for differing purpose. Whether you need to  connect cloud apps with SAP and third-party apps, link cloud applications and on-premise systems, or store data on a SAP HANA instance, the platform has a tool for you.
Web and Mobile Development
As app development becomes more crucial to all kinds of business, new tools are emerging to help it happen. SAP Cloud Platform includes services for modular development and custom development to suit all business needs. Our development team can advise on which tool is best for your users.
Data and Document Management
Managing digital content is an unavoidable priority. SAP Document Service and SAP Document Center offer cloud capability for storage, management, and sharing of data and business documents.
SAP Cloud Platform Licences
SAP Cloud Platform comes in two licence models: a fixed subscription for certain services or a variable price for any services you want to use.
By combining licences with consultancy and support services, Influential Software offers the most cost-effective packages on SAP Cloud Platform licences.
Head in the Cloud, Feet on the Ground
SAP Cloud Platform provides the tools, while our team brings the technique. With SAP technology and our technique working together, we create the synergy needed to achieve your business aims.
Are you looking for SAP Cloud Platform services? Feel free to explore our dedicated site.