New Power BI Services Website Launches
Posted on Tuesday 24th July 2018 11:05
Our Power BI Consultancy team are pleased to announce the launch of a new Power BI Services Website.
Thousands of clients, small and large, have transformed their businesses with Influential's BI services over the past 20 years. At the same time, Influential understands that business intelligence offerings are rapidly evolving, and we work to ensure our clients stay ahead of the competition.
Power BI is an agile BI tool that provides SaaS insights, for both growing business and enterprise teams. To ensure our clients get the very best ROI from Power BI, we are offering consultancy and support services to ensure your teams, and your business gets the best from the amazing Power BI toolset.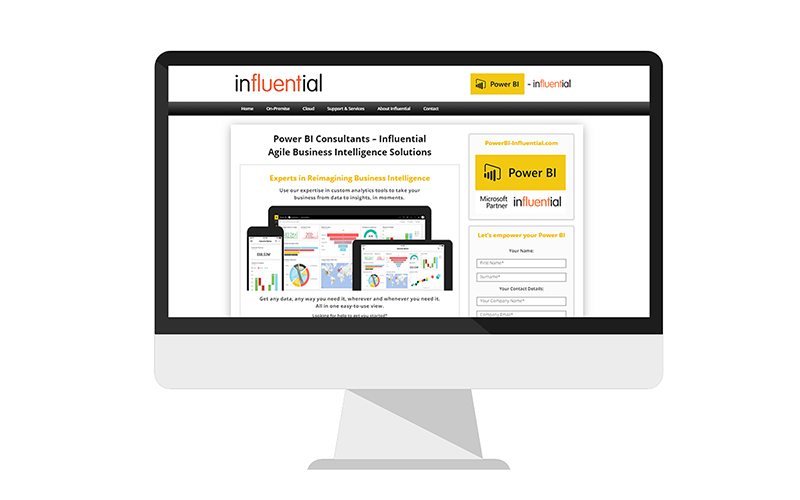 Are you ready to optimise your business? Are you looking to leverage the ever-growing volumes of data crucial to keeping your market edge?
Influential's Power BI support and consultancy services are based on years of experience, and thousands of successful BI implementations. Our priority is maximising your system's suitability to your business processes, resulting in fewer man-hours and higher ROI.
Power BI software is a SaaS-based online service, first released in 2015. Businesses can use Power BI Desktop to create powerful connections, models, and reports for sharing on Power BI.
The service has persisted in the highly competitive BI market because of its flexibility and ability to work with a wide range of software. The Influential team is expertly qualified to design the optimum Power BI Services for you.
Eminently Integrated
One of the major benefits of Power BI is its wide connectivity. Businesses can consult Influential on the best use of Power BI with sources such as Excel, Azure, CSV, Web Pages, MySQL, Microsoft Dynamics CRM, Sharepoint Lists, Oracle, Salesforce, and MailChimp.
Cloud Connections, On-Premise Possibilities
While Power BI is primarily a cloud-based analytics service, on-premise options such as on-premise Power BI Report Server are available. Other on-premise solutions include the Data Management Gateway and Power BI Mobile Apps, meaning there is no one-size-fits-all solution.
Into the Azure
Connectivity with Azure cloud services such as Azure HDInsight, Azure Blob Storage, and Azure Table Storage make Power BI a powerful tool for refining data. Influential's accredited trainers and skilled implementation specialists are primed to assess your needs and provide effective solutions.
Power BI Services Website
You can visit our Power BI services website to find out a little more about Power BI options. Or, if you are looking for more agnostic Business Intelligence consultancy, advice or solutions, why not ask have a chat with our Business Intelligence team to find out what options would best suit your business.
New SAP© S/4HANA Cloud Website
Posted on Friday 13th July 2018 3:00
Influential's S/4HANA Cloud Website launches to promote our expanding SAP© S4/HANA Cloud ERP services, bringing intelligent Cloud ERP BI to small and growing UK businesses.
Need SAP S/4HANA Cloud Services?
Look No Further
Ever expanding its services to match the cutting edge, Influential is proud to announce a dedicated site for S/4HANA Cloud ERP services and solutions.
The newly launched www.s4hana-cloud-influential.com showcases Influential's expertise in this rapidly developing area, from migration to the cloud and on-premise solutions.
Since SAP© announced that it would discontinue support for SAP© ECC in 2025, the window for cloud-migration is growing narrower by the year. Many of our clients are waking up to the necessity of moving now rather than later. Our advice is, don't leave it too late!
The Latest and Greatest SAP© Offering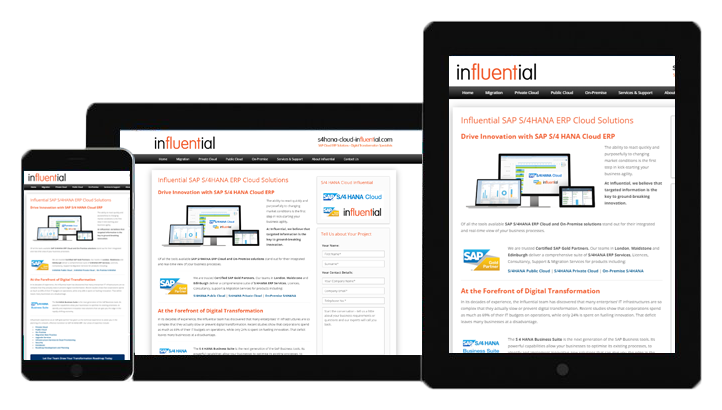 As a long-time SAP© Gold Partner, Influential is expertly positioned to evaluate the latest SAP© offerings in relation to your business needs. S/4HANA brings a host of benefits to businesses, connecting all your processes and providing live information and insights. More than just an upgrade, the power of HANA has given S/4 the freedom to totally rebuild its applications. Here are a few of the major advantages that arrived with SAP© Business Suite 4:
Use planning, execution, prediction, and simulation to study any kind of insight from any type of data across your business, all in real time
Connect to social and business networks, devices, people, and the Internet of Things
Gain the agility to transform your business processes and achieve new levels of efficiency
If these benefits seem like a manifesto for digital transformation, then that is no coincidence. SAP© S4/HANA Cloud ERP is the face of the future in a world where IT is central to business success.
Last Call for the Transformation Express
For Influential, digital transformation is more than a buzzword. Today's customers demand services that are fast, personalised, and always-available services. The essence of digital transformation is finding the right IT infrastructure to meet that demand.
SAP's roadmap for to 2025 and beyond is designed to simplify your infrastructure. They do this by focusing on one digital core, their SAP HANA in-memory database. A second big change is SAP's decision to go open-source with Linux. The Influential SAP team specialises in designing secure, high-performance, and highly available Linux data centres.
"To Cloud or Not to Cloud?"
"That is the migration," as Shakespeare may have written. In fact, there are many more than two options. From S4/HANA Private Cloud and SAP© S/4HANA Public Cloud SaaS to On-Premise S/4HANA ERP and sub-categories within these, S/4HANA can adapt to a range of configurations to suit your business. Among these options, it can be a challenge for businesses to balance the factors of cost, connectivity, agility, and governance. Thankfully, SAP-Certified S4 HANA Consultancy services are on hand to assess your requirements and define the best solution for you.
S/4HANA Cloud Website
If you would like to know more about our S/4HANA Cloud, please visit the S/4HANA Cloud website to find out more. Or if you are ready to speak directly with our SAP© Gold Partner specialists about S/4HANA Cloud, Digital Transformation or Business Intelligence, click the button below and complete the form – and let's get your business moving to the cloud!
Influential BusinessObjects Consultancy Website Launches
Posted on Thursday 5th July 2018 12:38
The list of household names on our SAP BusinessObjects clients list speaks for itself. And let's not forget our record with public sector organisations and SMEs. Yet we aim to spread the benefits of BusinessObjects even further. To that end, Influential has launched a brand-new BusinessObjects Consultancy Website: business-objects-influential.com.
The innovative power of this tool is far from over, and our BusinessObjects Consultation Website offers businesses the opportunity to catch it on the wing.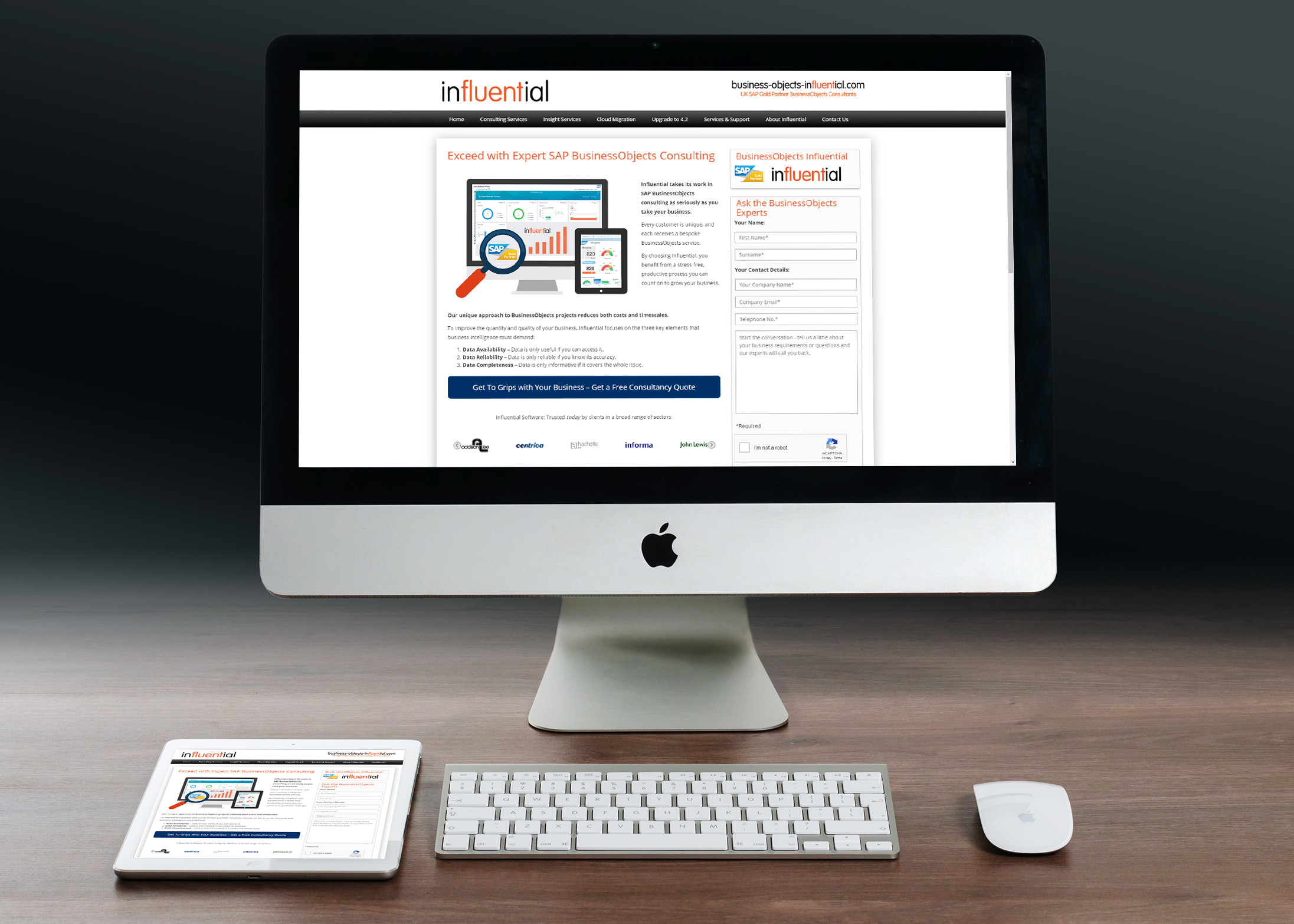 Keeping the Roadmap in Sight
At Influential, we know that clients know their business best. That's why the BusinessObjects Consultancy Team works closely with you to ensure that our roadmap matches each enterprise's unique requirements. Once your trio of goals, initiatives, and key performance indicators have been defined, we move on to draw your personalised BO roadmap.
Leaders of the Migration
Influential has extensive experience of both end-of-life migrations and moves from previous versions of BusinessObjects. Our sensitive approach stands apart from the one-size-fits-all model of BusinessObjects cloud migration. Whether you want to recreate legacy architecture in the cloud or build a semantic layer for easier user interaction, Influential has the knowledge to migrate your business to the cloud.
BusinessObjects Insights from the Insiders
However many dashboards and reports you have, they are just a means to an end: actionable, accurate insights.
That's why Influential emphasises custom reports for each business, also training your teams to utilise the full capabilities of every BusinessObjects. Find out how with our BusinessObjects Insights Services.
For Security, Support and Features: Upgrade to BusinessObjects 4.2
When considering a BusinessObjects upgrade, businesses should be certain that the provider is SAP-certified. Influential holds SAP's Partner Centre of Expertise (PCoE) Certification, among a long list of SAP consultancy, solutions, and support certificates. Upgrading to BusinessObjects 4.2 means faster and more capable Business Intelligence. The result is smarter decisions and a healthier bottom line. While the release of BO 4.3 won't be launched until Q4 2019 at the earliest, SAP is providing regular service packs for Upgrading to BusinessObjects 4.2.
Licences for Enterprise and Small Businesses
Each business is unique, so why should they have to choose the same BusinessObjects licence? Influential is an experienced provider of licences for both large enterprises and SMEs. With our SAP Gold Partner status, you can rest assured that your licencing needs are in safe hands.
Ensure BusinessObjects ROI: Training to Win
From courses and workshops to manuals and certifications, Influential will provide whatever BusinessObjects training you require, wherever you need it. What's more, our training is significantly discounted from SAP's in-house courses.
BusinessObjects Consultancy Website
It's just the start for the SAP BusinessObjects consultancy team. Over the coming months, we'll be adding even more information about BusinessObjects and our SAP services. Look out for news of our ongoing success with testimonials and client case-studies.
Mule 4 GA: MuleSoft Mule 4 and Studio 7 Webinar
Posted on Friday 20th April 2018 10:39
It's been an exciting start to the year for our partners MuleSoft, but it's not just the weather that is heating up as a flurry of releases and events unfold, including the Mule 4 GA.
For starters, MuleSoft has just released their long-awaited new versions of Mule 4 and Studio 7, marking a major evolution of the MuleSoft product range.
For those who are interested in what these new versions can bring to your business, you can now watch the webinar recording here: MuleSoft Mule 4 and Studio 7 Webinar – Mule 4 GA.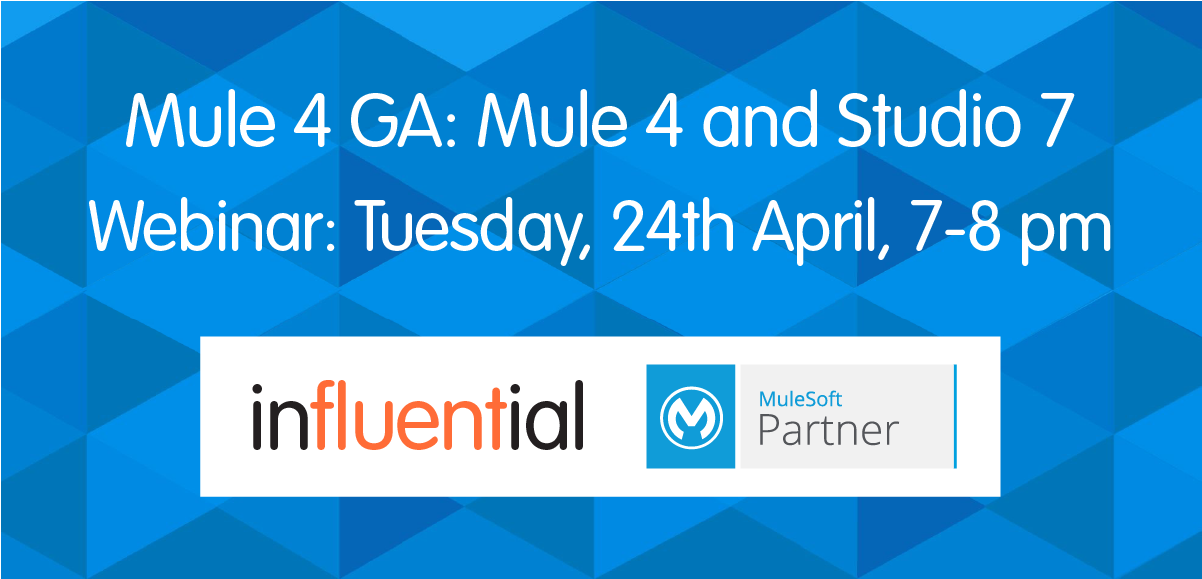 Accelerate the speed of development
---
Mule 4 GA Webinar Overview
Date:  Tuesday, April 24, 2018
Time: 10:00 to 11:00 PST (that's 7 – 8 pm UK BST)
Mule 4 GA: Accelerate the speed of development
MuleSoft is excited to announce the GA release of Mule 4 and Studio 7, a major evolution of the core runtime behind Anypoint Platform.
Mule 4 accelerates developer velocity by adding more power, higher speed, and greater simplicity into the famously small footprint of Mule, the industry's leading all-purpose engine for building application networks.
Join MuleSoft as they talk about the innovations, tips, and tricks to being successful with Mule 4 and Studio 7."
Attendees will learn:
How to start flows and integrations quickly with Mule 4 and Studio 7
How to use DataWeave
Design time error handling and try scopes
Mule SDK
Presented by:
Sanjna Verma, Product Marketing, MuleSoft
---
The MuleSoft Summit London is also fast approaching – check back with Influential and we'll bring you news and updates about the event soon!
Influential Software is an Official UK MuleSoft Partner providing API & Software Development Services, MuleSoft Licences, MuleSoft Consultancy and MuleSoft Recruitment Services.
Salesforce acquires MuleSoft
Posted on Wednesday 21st March 2018 10:00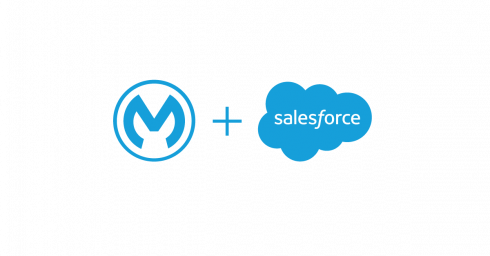 Salesforce have been rapidly expanding their business capabilities and reach recently, forming new strategic partnerships with the likes of IBM, Dropbox and Google to name but a few. However their latest move is clearly the most bold to date. Making the largest acquisition in its history, Salesforce have agreed buy MuleSoft in a deal valued at $6.5 billion (£4.59 billion).
 MuleSoft Press Release Announcing The Deal
MuleSoft released an official press release "Salesforce Signs Definitive Agreement to Acquire MuleSoft".
"MuleSoft provides one of the world's leading platforms for building application networks that connect enterprise apps, data and devices, across any cloud and on-premise.

MuleSoft will power the new Salesforce Integration Cloud, which will enable all enterprises to surface any data—regardless of where it resides—to drive deep and intelligent customer experiences throughout a personalized 1:1 journey.

More than 1,200 customers, including Coca-Cola, Barclays, Unilever and Mount Sinai, rely on MuleSoft to change and innovate faster, deliver differentiated customer experiences and increase operational efficiency."
It's great news for everyone here at Influential Software, UK MuleSoft Partners and long-time CRM Saleforce consultants. We think MuleSoft is a great fit for Salesforce. This deal is about integrating customer information across all channels, but particularly unlocking that information from legacy systems. It means more investment and yet more rapid development of the partner products and services we provide our customers.
Integrating Customer Information And Unlocking Legacy Systems
The acquisition comes a year after MuleSoft went public and spent the year increasing sales, with Q4 in 2017 seeing a 60% jump on the previous year during the same time period, as MuleSoft rapidly expands it's global reach. However, this deal is primarily about the functionality and capabilities MuleSoft will bring to Salesforce, rather than the potential revenue.
The core of this deal is about integrating customer information across all channels, more specifically unlocking that information from legacy systems.
"One of the consistent themes we hear from CEOs is a frustration, if you will, and a yearning to unlock data from legacy systems,"
Keith Block, Salesforce.com Inc. vice chairman, president and COO, is quoted by Light Reading [9] as saying on a conference call with financial analysts Tuesday afternoon discussing the acquisition.

"Data locked in their legacy systems is holding them back," Block said. By unlocking that data, "they will be able to make smarter, faster decisions," and provide highly differentiated, customized customer experiences. Unlocking that data is essential to digital transformation", he said.
Anypoint Platform: API's And Integration
MuleSoft offers a cloud service called Anypoint that allows developers to connect different apps together within an 'Application Network' connecting cloud, Internet of Things, mobile, on-premise and legacy systems. The Anypoint Platform allows enterprise integration and apps to work together and share data, in a simple to manage and endlessly scalable solution
"For example, healthcare providers need to be able to deliver personalized care by unlocking data stored in electronic medical records, ERP systems, cloud applications and proprietary systems. For financial services, nearly 90% of IT spending is now focused on compliance, maintenance and operations, leaving little room for innovation. And the US government has been working on modernizing its system for years. Unleashing data in legacy systems could be a significant opportunity for every industry". Block said.
The underlying drive for the acquisition is Customer Relationship Management and will mean the Anypoint Platform will be used for a new Salesforce Integration Cloud, although there are no official roadmaps published as yet. It is clear that MuleSoft will remain a vendor-neutral platform for information integration.
---
| Further Resources |
MuleSoft's Anypoint Platform | Business Integration with MuleSoft®  | Buy MuleSoft Licences
Influential Welcome New Clients in Q4, 2017
Posted on Wednesday 28th February 2018 3:44

Influential New Clients in Q4, 2017 – Digital Transformation and business agility
2017 closed strongly, bringing a host of new clients and projects. It continued the trend we found earlier in the year of more and more businesses waking up to opportunities that the uncertain UK economic climate is presenting. Allowing smaller, more agile businesses to align themselves to disrupt the competition and seize the initiative.
'Digital Transformation' is the buzzword all too often banded about, but digitally integrating business strategy and data it is key for growing companies not only to survive, but to make the leap to the next stage. Digital integration and digital transformation are the core of Influential's products and services. From Software Development and API management, through Business Intelligence and Analytics solutions, to our comprehensive (and award winning!) support and maintenance services, Influential are helping more and more businesses become agile, forward-looking businesses.
If your business needs to take the next step, contact Influential today.
New Clients in Q4, 2017, included:
Acteon Group Limited

Fixi

House of Fraser

Optimum Reports

Portsmouth City Council

Scottish Prison Service

Tower Hamlets Council
---
Sector: Engineering
Website: https://acteon.com/ 
Acteon is a world leader in subsea solutions and offshore engineering services. Their offerings are shaped around a deep understanding of their clients' businesses and they are a global partner for operators, contractors and drillers in four key areas of expert capabilities: Survey Monitoring and Data; Risers and Moorings; Seabed Foundation Technologies; Project Support Services. 
Acteon's ultimate aim is to define, shape and lead the subsea services market. The Acteon Group itself brings together services that are recognised as being leading services providers in their own right. All of these companies share knowledge and experience to the benefit Acteon clients – operators, contractors and drillers alike.
---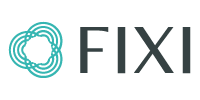 New Client:
Fixi
Sector: Finance
Website: https://www.fixi.com/
FIXI PLC is a brokerage house that provides foreign exchange, bullion, and OTC solutions.  
Based in London and founded in 2005, Fixi PLC offers electronic platforms to trade online and asset management solutions for individuals. Their clients are both professional and institutional.
---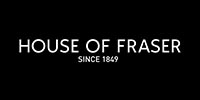 New Client:
House of Fraser
Sector: Retail
Website: https://www.houseoffraser.co.uk/
House of Fraser (fondly known by those who love them as 'HoF') have been on a mission to provide their clients desires for more than 150 years. Starting out from a humble Drapery Shop in Victorian Glasgow they have grown to be an strive to continue making history every day. Their goal is to be much more than just a house, to be a 'whole universe full of your favourite things'.
---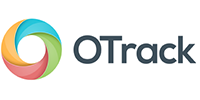 New Client:
Optimum Reports
Sector: Information Technology and Services
Website: http://www.optimumreports.co.uk/
Optimum Report work with businesses complex and daily reporting needs, working directly with business users to capture business exacting reporting requirements.
Optimum Report also develop reporting solutions such as OTrack, a unique tool for educational institutions which makes pupil assessment tracking a perfect fit for schools. OTrack allows an institution to compare and track pupils attainment and progress at the touch of a button.
---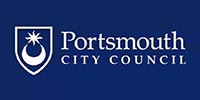 New Client:
Portsmouth City Council
Sector: Government
Website: www.portsmouth.gov.uk
Portsmouth City Council is the local authority of the city of Portsmouth, Hampshire.
As a unitary authority, Portsmouth City Council has the combined powers and functions of both a non-metropolitan county and district council. In charge of billing, such as collecting and business rates and tax, it also processes local planning applications, municipal services and  environmental health, as well as local education, libraries and social services.
---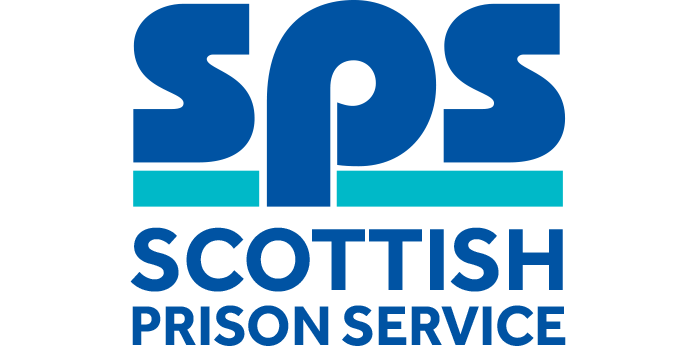 New Client:
Scottish Prison Service
Sector: Government
Website: www.sps.gov.uk
The Scottish Prison Service (SPS) was founded in 1993 and is an agency of, and funded by, the Scottish Government. It is a public service-led delivery agency whos core legal requirements are to deliver custodial and rehabilitation services for those sent to it by the courts. The SPS also delivers a range of operational services for the Scottish Government with the principal objective being to contribute to making Scotland Safer by Protecting the Public and Reducing Reoffending.
To deliver upon these objectives, the SPS agrees a service framework with each public sector prison and manages private sector providers of prisons and custodial services under contract arrangements. This includes 13 publicly managed prisons and 2 privately managed prisons.
For 25 years Influential Software has delivered quality business software & data solutions from within the UK. If you would like to talk to us about a business intelligence solution, software solution or any IT project you need to deliver successfully, please contact us.
Metalogix Partnership Brings New Microsoft Migration Solutions
Posted on Wednesday 21st February 2018 4:31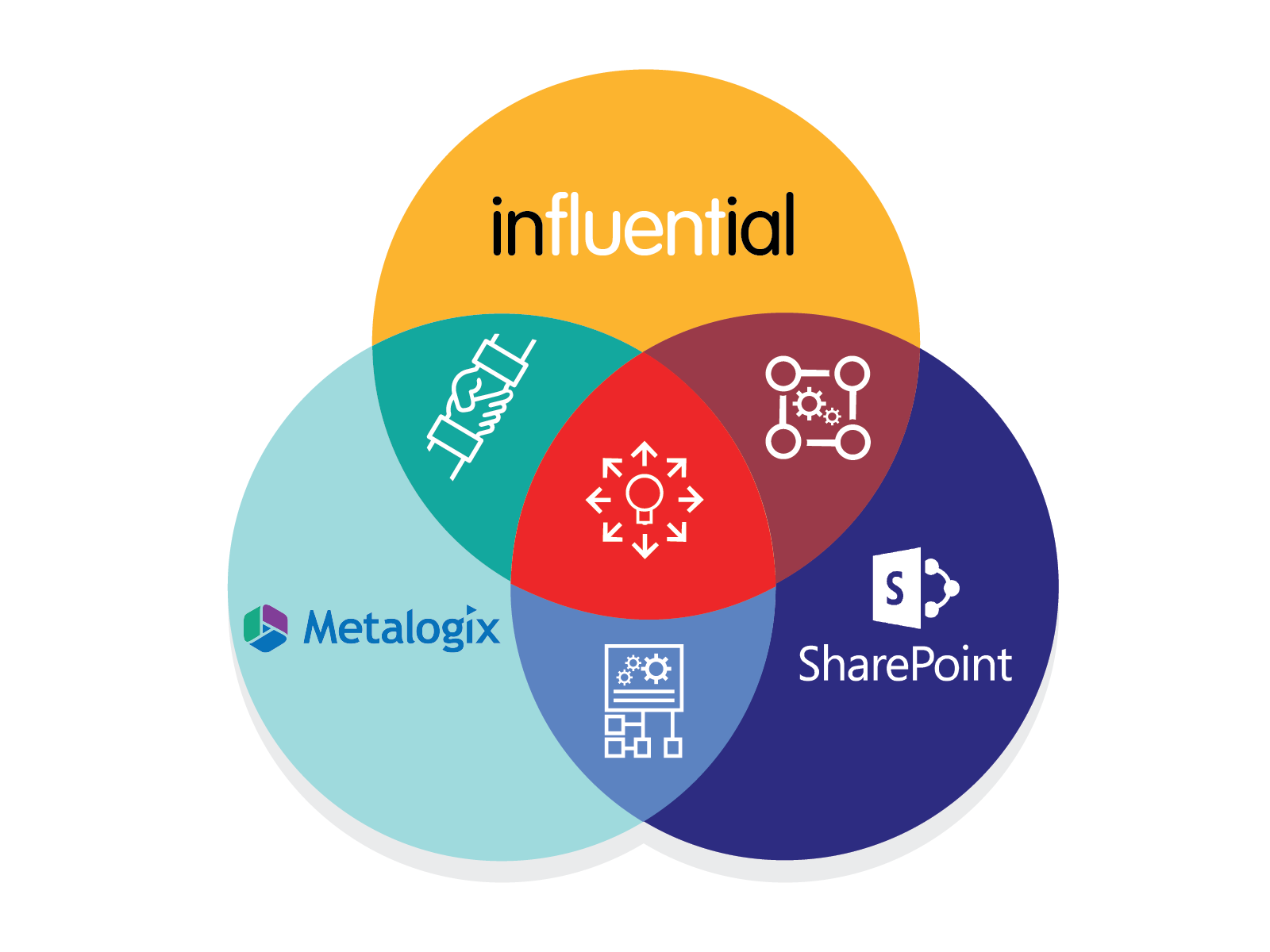 Influential are pleased to announce an exciting new partnership with Microsoft migration specialists Metalogix, further enhancing our Microsoft portfolio and ensuring our clients an array of cutting edge SharePoint and Office 365 solutions and expertise.
Metalogix: Move, Manage, and Protect SharePoint and Office 365
Metalogix solutions move, manage and protect content that lives within and around Microsoft SharePoint, Exchange and Office 365. This ensures your business has the freedom to collaborate and removes the risk of information loss. No matter what platform your business is using, on-premises or in the cloud.
Over the last 15 years Metalogix have grown into a global brand, defining not only the future of SharePoint and Office 365 management but how organisations collaborate in complex environments. They have learned a lot along the way, having seen first hand the struggles businesses have constantly moving content across collaborative environments, locally and in the cloud. How the battle between human resources, technical and business priorities, even networking logistics, can push the limits of project management and delivery.
As a result Metalogix have focused on developing products and solutions that remove the need for deeper human interactions without compromise on speed. Influential-Metalogix solutions bring flexibility and scalability to project planning and delivery, enabling even a single administrator to accomplish more during migrations.
Scalable SharePoint Solutions
Microsoft SharePoint and Microsoft Office 365 have been a game changer when it comes to collaborative workspace environments. From company intranets to secure document management systems, on premise and in the cloud, they continue to be at the cutting edge of scalable enterprise solutions and have helped make Microsoft current world leaders in this field.
However, it's not always straightforward for Enterprises to fully leverage Microsoft products. It's here where trusted Microsoft partners, with vast industry knowledge and decades of experience, can ensure your business gets the full value. This is particularly true of SharePoint and Office 365 environments and migration.
As well as vast experience, Metalogix bring to Influential SharePoint clients their range of bespoke applications including:
Influential-Metalogix: Maximise Your Business Benefits
Influential and Metalogix are perfectly positioned to deliver the most comprehensive Microsoft Partner solutions. We can help your business deliver the results you expect, and that your business stakeholders and clients need.
MuleSoft Meetup London – January 2018
Posted on Monday 15th January 2018 9:30
The New Year is well underway, so it's about time for another London MuleSoft Meetup!
Members of our Influential teams including MuleSoft Development and MuleSoft Recruitment will be in attendance at what is always a must-attend event for those working in the MuleSoft environment in London.
If you are working with MuleSoft technology, or your business is looking into adopting the tech, why not come along? It free to attend and is the perfect opportunity to engage with expert MuleSoft practitioners.
So please register to attend the event, enjoy great talks, free food and amazing demonstrations – and of course meet with our Mulesoft teams!
This month's hosts are Deloitte and the event takes place on Wednesday 24th January at 6:30 pm at WeWork, Waterhouse Square, 138 Holborn, EC1N 2SW.
Note: For those that signed up early, note that this is a change of address from the original venue!
Agenda for the evening:
Meetup 2018 Introduction
A few key highlights and points from our Meetup leaders
Innovation with the MuleSoft Platform
Deloitte will present (and also open the floor) with a few examples how well designed APIs and Integration Solutions have been delivered on the MuleSoft platform. We hope this topic also encourages future presentations with a "Show and Tell" theme, so don't miss the kick-off.
Drinks and Networking
And of course not forgetting Pizza, where you'll also have the chance to have a play with some new technologies Deloitte has in its office including a mind control Nerf Gun, Oculus VR goggles, IOT Nespresso machine and 3D printers!
Speakers will be Simon Bristow and Chi Cheung, from Deloitte Digital.
The event is organised by Rajesh Rajmangal, Co-Founder & Strategic Integration Architect from London Meetup Leaders Pace Integration

January 24th, 2018
6:30 pm

WeWork Waterhouse Square
Fusion Lab (Room 4003B), 4th Floor
3 Waterhouse Square, 138-142 Holborn,
London, EC1N 2SW
Influential Takes The Cake – Charity Christmas Bake Off
Posted on Friday 15th December 2017 12:59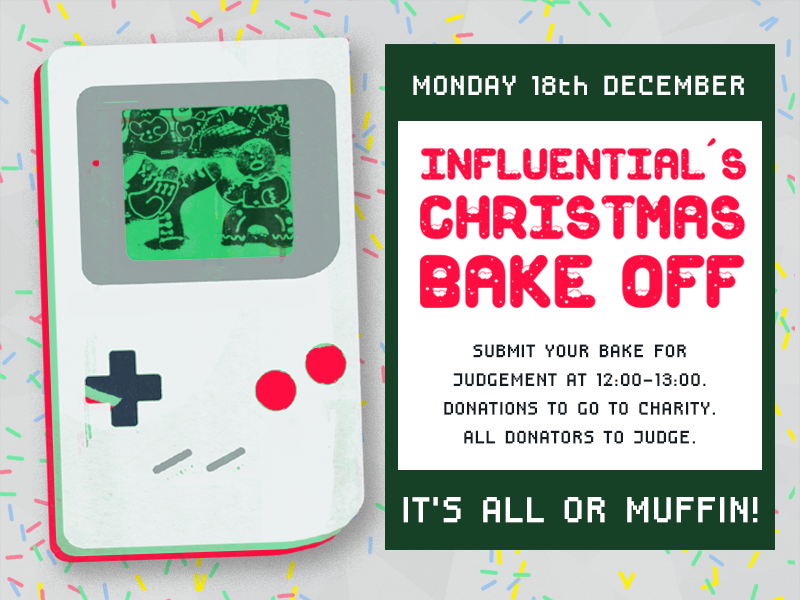 Once again the development teams at Influential's Maidstone HQ are creating quite a stir. Things are about to get a little tasty, as our monthly bun-fight gets a dusting of cheer for a Christmas Charity Bake Off.
On Monday the 18th the baking gloves are off as our coders become contestants, developers prepare to devour, and support teams show their sweet (and savoury) sides.
The competition begins at midday, where the spread of cakes, pies, biscuits and pastries brought in by our teams will be put to the taste test. Anyone wishing to be a judge or those who simply cannot pass up a tasty treat can then make a donation to sample the selection vote for their favourites.
Serving The Community
While there are always plenty of software development projects for our teams to get their teeth into, the monthly competition offers the chance to show their lighter, fluffier sides. It also helps raise awareness for local charities and events, and this month we are proudly supporting the Peggy Wood Foundation.
The charity was set up almost forty years ago to raise funding for life-saving equipment to treat cancer and leukaemia at our local Maidstone Hospital. The charity also raises funds from their shop on Mill Street, Maidstone, where they have been based for almost 30 years – and took the name of Peggy about ten years ago in tribute to Peggys decades of work and dedication to the cause.
We've no doubt our teams will rise to the challenge, but who will whisk away the Bake Off title and who will crumble? It's all or muffin!
Update: Mince Pies Are A Feast For The Eyes
This year the competition was hot and the plates were all soon emptied. As the dust settled and the crumbs were brushed off, it was time to reveal the Christmas Bake Off champion. Once again the crowd were wowed by the now veteran bake-off winner Dominick Rankin, whose festive, boozy mince pies were a feast for the eyes and many happy stomachs.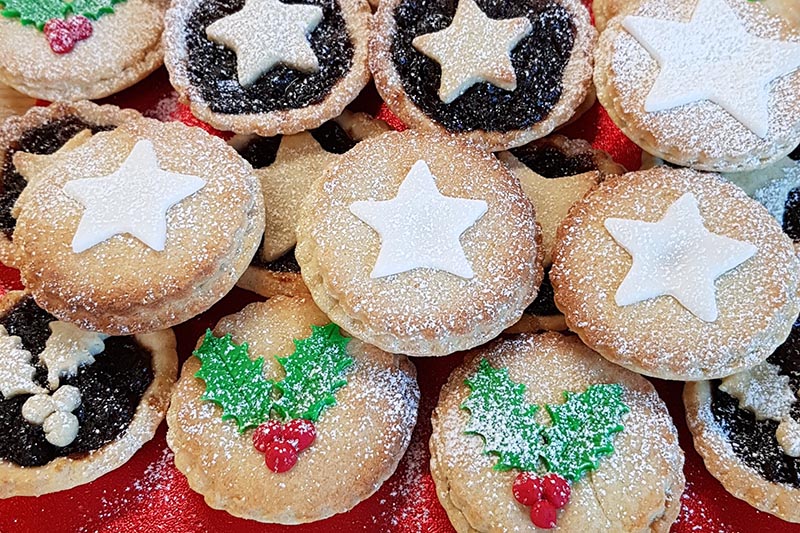 Q3 Review: New Names, New Sites, New Services
Posted on Monday 9th October 2017 9:00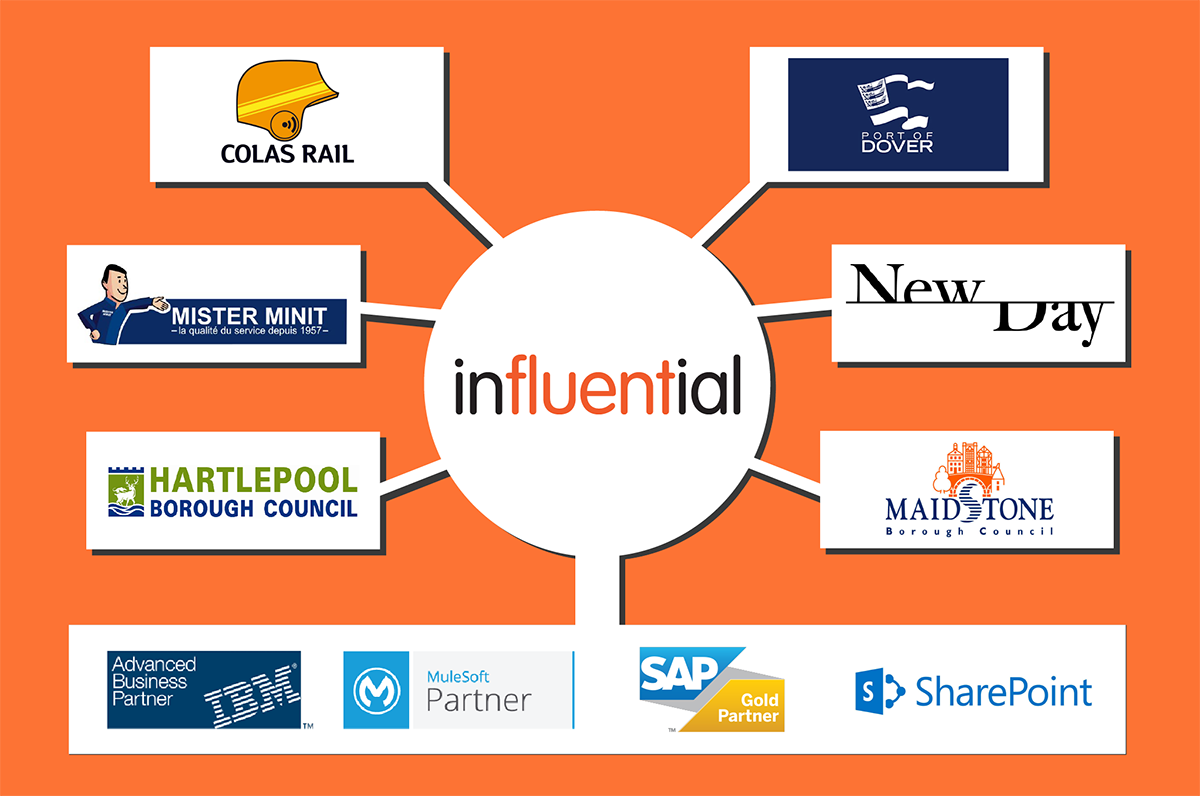 Businesses Embracing Digital Transformation
As the year progresses we find more and more businesses are starting to wake up to opportunities that the uncertain UK economic climate is presenting. The largest corporations are hesitating, which means smaller, more agile businesses are better placed to disrupt the competition and seize the initiative.
Digital Transformation is key for growing companies to make the leap to the next stage, and it's at the heart of everything Influential does. From Business Intelligence solutions to our best-practice Software Development teams, we are seeing an increase in the number of agile, forward-looking businesses engage with our specialist teams to help them move to the next level.
If your business needs to take the next step, contact Influential today.
365 Recruitment To Focus On MuleSoft
Our 365 Recruitment team is now dedicated to MuleSoft recruitment services, an area that has seen growing demand for skilled developers and engineers. As a certified MuleSoft Partners offering MuleSoft Licences, Services and Support the extra ability to provide our clients with MuleSoft experts further ensures MuleSoft projects hit the ground running.
As a result of the new direction, we've also re-launched 365 Recruitment website to focus purely on MuleSoft Recruitment services. We are also developing a MuleSoft community to support our clients, as well as job candidates.
BI And Analytics In The Cloud
As demand for SaaS (Software-as-a-Service) continues to grow the market and products are maturing. For SME's there are now real alternatives to on-premise analytics and business intelligence solutions. Now, powerful cloud-based business software offers better ROI for small teams looking to get the edge, through competitively priced and flexible subscriptions.
Influential SAP® Analytics Cloud new offers SME's to the ability to leap to cloud-based business analysis. SAP's latest software suite brings industry-leading Business Intelligence, Predictive Analytics and Planning capabilities to the cloud. Visit our SAP-Analytics-Cloud website for an overview
New BusinessObjects Training Workshops
To get the best ROI on software training staff is vital and this is particularly true for powerful Business Intelligence tools. To meet our clients increasing requirements for BusinessObjects skills our training team have introduced a series of new BusinessObjects workshops and private courses, with regular training offers available.
New Clients in Q3, 2017 include:
Colas Rail
Port of Dover
Mister Minit
NewDay

Hartlepool Borough Council

Maidstone Borough Council
---
Sector: Construction
Website: https://www.colasrail.co.uk/
The Colas Group is a world leader in road construction. Its railway division is a global and European leader of rail infrastructure services and supplies. Colas Rail are award-winning specialists having designed and constructed all forms of railways across Europe. In the UK Colas Rail combines the engineering skills of all the Colas Group's specialist businesses to provide total solutions in all aspects infrastructure for railways. Their solutions range from high-speed rail systems to light and urban rail.
---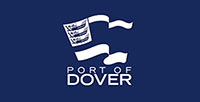 New Client:
Port of Dover
Sector: Transport/Shipping
Website: http://www.doverport.co.uk/
Port of Dover was originally established in 1606. It is a vital international gateway for the move of trade and passengers that has grown to become is Europe's busiest ferry port. The business administers and maintains the Port of Dover and its facilities.
A key requirement of the business is to develop resources to meet future demands. Influential are specialists in digital transformation and taking growing companies to the next level.
---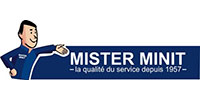 New Client:
Mister Minit
Sector: Retail
Website: https://misterminit.eu/en_be/
Mister Minit was founded in Belgium in 1957 as a shoe repair service to offer a rapid and efficient heel repair service. With over 60 years experience they repair over 4 million shoes each year, copy 6 million keys, and have over 1000 stores.
Mister Minit originally formed stiletto heels were the fashion and the Brussels cobblestones were damaging them by the thousands. As traditional cobblers couldn't cope with the demand, taking an average of ten days to get them repaired, Mister Minit found a niche in quick, quality repairs. As a forward-looking business, they ensure they keep ahead of trends and now offer services such as smartphone repairs.
---

New Client:
NewDay
Sector: Finance
Website: https://newday.co.uk/
New Day is a leading consumer finance providers and specialists in the UK credit card market. Their company ethos is that customers are at the heart of their Manifesto and the Manifesto is at the heart of their business strategy. It is key that their customers are not a short-term revenue opportunity but form a lifelong relationship. This ideology makes NewDay a perfect match for Influential.
---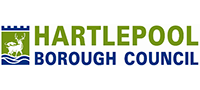 New Client:Hartlepool Borough Council
Sector: Government
Website: http://www.hartlepool.gov.uk
Hartlepool Borough Council is the local authority of the Borough of Hartlepool, a unitary authority of County Durham, north-east England serving over 90,000 residents.
---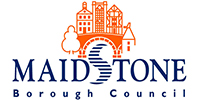 New Client:

Maidstone Borough Council
Sector: Government
Website: http://www.maidstone.gov.uk/
Maidstone Borough Council is a non-metropolitan local authority for the Borough of Maidstone in Kent, serving a population of over 166,000 residents.
For 25 years Influential Software has delivered quality business software & data solutions from within the UK. If you would like to talk to us about a business intelligence solution, software solution or any IT project you need to deliver successfully, please contact us.