Q4, 2016 Review: Influential's Net New Names
Posted on Tuesday 3rd January 2017 3:50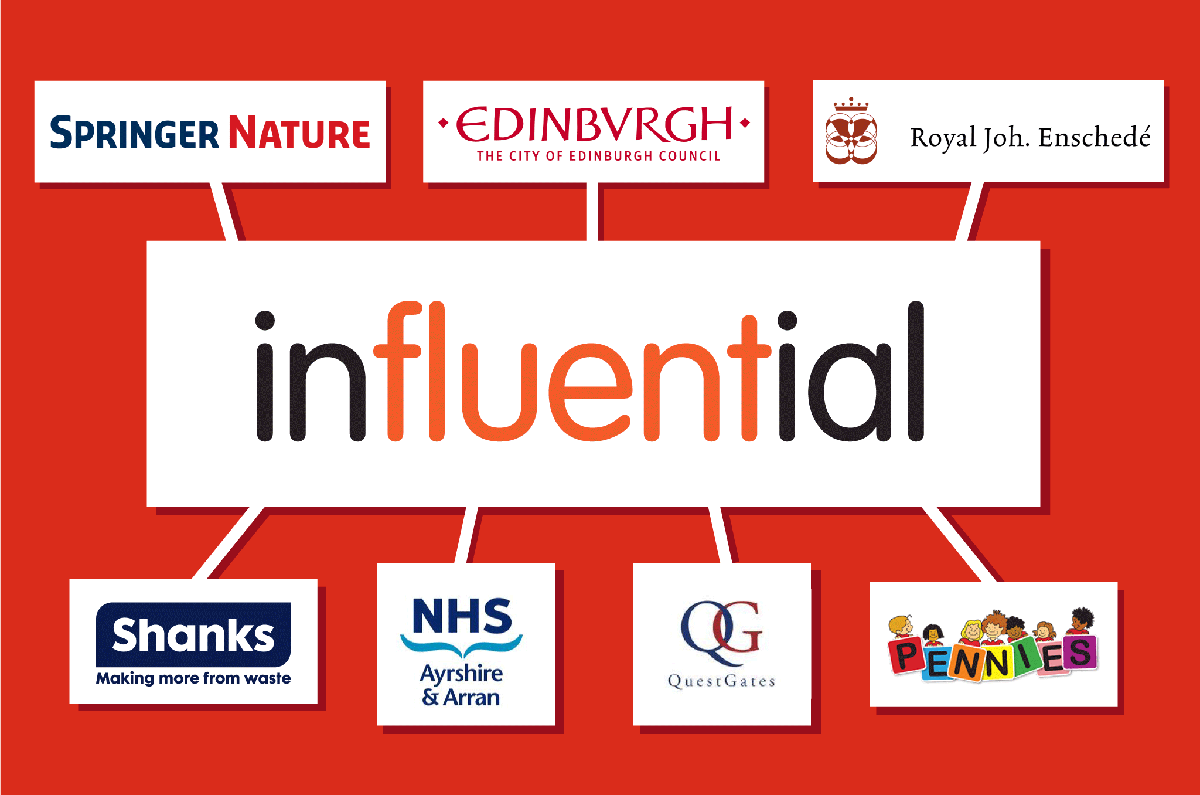 Springer Nature is a world-leading research, educational and professional publisher, committed to providing the best quality content. This is delivered through a range of innovative product and services for the research, education and professional communities.
Worldwide, the company brands support the important work of millions of people. From students and researchers to scientists and professionals Springer Nature helps people achieve their goals and ambitions.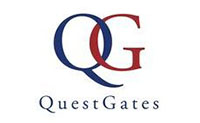 QuestGates are a leading specialist provider of claims solutions. Operating UK wide they have a global reach via a network of international partners. They deliver a bespoke range of claims related solutions to insurer, broker, captive and self-insured clients.
The business operates in areas where innovation and technical excellence really matter. They are technical experts with a commitment to achieving long-term success by putting the client first and strive only to employ the best staff in the sector. It also requires the cutting edge Business Intelligence tools and knowledge.
Edinburgh Council are one of the largest councils in the UK. Almost 17,000 staff providing high-quality services to nearly 500,000 people. Services cover all aspects of community life, as well as providing support for local businesses. Influential are helping train their experienced staff with the very latest Business Intelligence software.
Shanks Group is a leading international waste product business. With a vision to be "the most respected waste-to-product company" and the strategy of 'making more from waste' they meet the growing need to manage waste without damaging the environment. Their services cover commercial, hazardous and municipal markets. Their solutions work to reduce greenhouse gas emissions, recycle natural resources and limit fossil fuel dependency. Business Intelligence plays a key role in managing their extensive operations.
NHS Ayrshire and Arran is one NHS Scotland's fourteen regions. Staff members include several hundred general practitioners, dentists, pharmacies and other services. In total, there are almost 9,000 staff members covering both university and community hospitals. This provides vital health care services to around 400,000 people.Ensuring these services are run smoothly and efficiently is no mean feat. Business Intelligence is an essential tool in this process. Influential help ensure team members remain up-to-date with the very latest BI skillsets and knowledge.
Royal Joh. Enschedé is world renowned for stamps and banknotes, delivering accredited banknotes to over 70 countries. Among the oldest businesses in the Netherlands it started as a small book printing shop in 1703 and developed into a major company in Haarlem.
Driven by particular attention to detail and technical expertise, Joh. Enschedé is the specialist for special, secure, and highly trustworthy print work and related services. Influential are working with the team to supply their own very specialist software support.
Pennies is a family run company with over 25 years of experience in childcare. Based in the South East UK, there services include day nursery, kids clubs and nanny services. Their mission is to provide: "the very best in childcare, learning and fun". The Influential Software Development team are working with the dedicated Pennies team to deliver enhanced online services to support the key business.
For 25 years Influential Software has delivered quality business software & data solutions from within the UK. If you would like to talk to us about a business intelligence solution, software solution or any IT project you need to deliver successfully, please contact us.
The Mo Can Go as Movember Ends
Posted on Thursday 1st December 2016 12:30
"Mo-Bros & Mo-Sistas" worldwide are celebrating their fundraising efforts as Movember Ends, and the Influential team is no exception. With funds successfully raised and then matched by Influential, our Support Team participants are ready for a shave.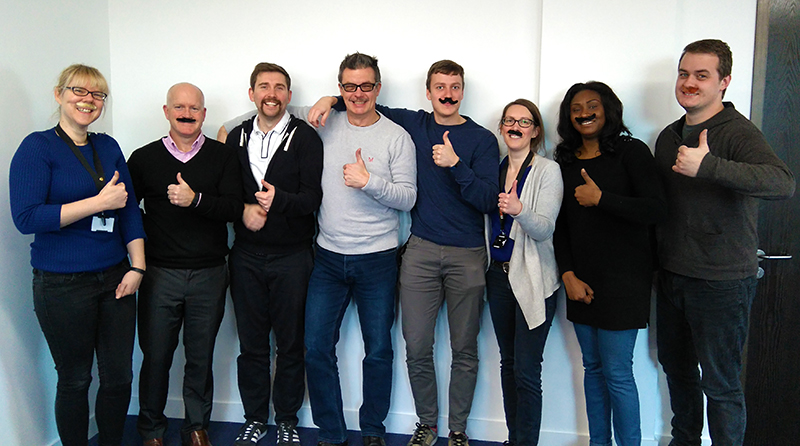 It's December 1st, which means that Movember has officially come to an end. Our participating support team members have been doing their part, growing and grooming their moustaches throughout the month, but shaving-day has finally arrived.
Movember's purpose is to raise awareness and donations to tackle men's health issues; the goal is to reduce the number of men dying prematurely by 25% by the year 2030. The movement has raised millions globally since its start in 2003, funding thousands of men's health projects worldwide.
"The last day of Movember has come, so it's off with my salt and pepper tash," said Richard Walls, Influential Head of Support and Movember Team Captain. "The Daves are glad to shed theirs too! It's been worth it though if it's raised awareness of men's health issues and raised cash for the Movember charities. Thanks to all of those who have donated and I'm proud of Influential Software Services Ltd for their pledge to match those donations. There's still time to donate so please don't be shy."
The amount raised as of November 30th was £252, but it's not too late to show your support and get your donations in. As promised at Movember's start, Influential has pledged to match our team's final donation number.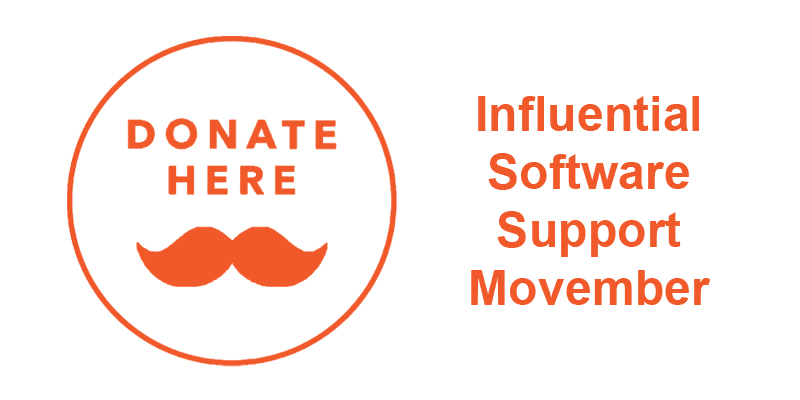 Influential and Supportive
Influential is about providing solutions – not necessarily just for our customers: we've a proud history of supporting our team members and local community. From investment in young local talent through our Apprenticeship programme, to our recent involvement in building a regional software development community; from in-office charity bake-offs, to company donations to various annually chosen charities – most recently, Macmillan and Phyllis Tuckwell Hospice.
Influential is always keen to hear of new projects and incentives in our local community that we can get involved with. If you have a project that we might want to hear about then don't hesitate to get in touch.
Big Data Revolution: Influential review Big Data LDN 2016
Posted on Monday 28th November 2016 2:30
A Big Data Revolution took place in London this November, at the Big Data LDN event. Influential teams were delighted to attend and engage in discussions and demonstrations of the latest technologies from leading industry providers.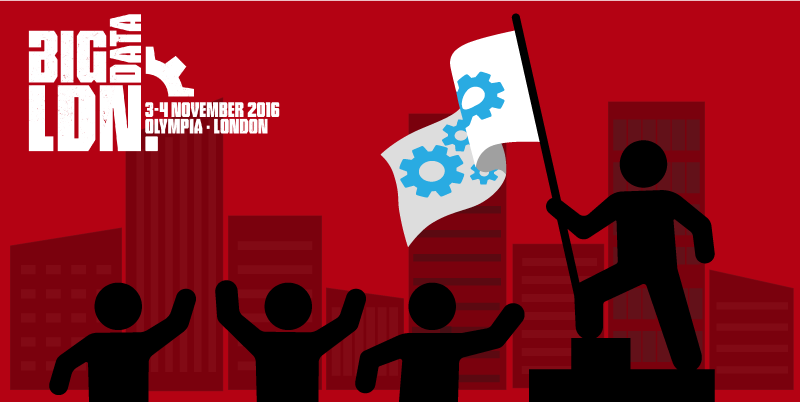 Big Data, Revolutionised
This month the Influential Java Team joined the 'big data revolution' at Big Data LDN  (London), a two-day event about Big Data, Analytics, and building Data-Driven Enterprises. Our developers attended talks from industry leaders, heard positive case studies from global corporations and were able to view technical demonstrations of all the latest products in action.
Two greatly discussed subjects at the event were Data Visualisation and Data Analytics: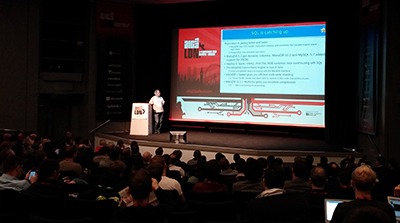 Data Visualisation – a key part of our business, our developers were keen to attend the talks about data visualisation from companies like Microsoft, with their product: Power BI. Visualising your data is vital to understanding it. At Influential we know this very well and work with a variety of tools to deliver this feature to our clients, including SAP Lumira and Dynistics . We have even developed our own BI platform, ATLAS Publishing Intelligence.
For our developers, the event talks confirmed the importance of presenting data in an effective manner. Java team member Todd commented that the event effectively "demonstrated a writer or analyst's responsibility to choose the right data to display."
Data Analytics – the Big Data LDN Exhibition provided the chance for our team to discuss data analytics with representatives from IBM. As Advanced Business Partners, Influential developers are always interested to view demonstrations of the latest Cognos  product versions and functionality. Data analytics and reporting are core to the Business Intelligence and software development work we do, so demonstrations and talks such as these are invaluable.
Be Part Of the Big Data Revolution!
At Influential we're passionate about technology and we pride ourselves on continuous innovation and exploration of the latest tools and platforms available. The Big Data LDN event topics were all in line with our ethos of keeping on the cutting edge as a business, offering insights and examples of the range of technologies that we can offer our customers.
"We got a lot out of the day," said our Head of Development, Pete Halloran. "The talks were full of great insights and I was delighted to meet with the Microsoft BI speaker after his talk, to understand the potential of the product for our clients."
Technology does not stand still, so nor do we. We're committed to doing our part to maintain expertise and knowledge of the best tools and platforms available, and ensuring our teams keep up-to-date with their specialist skillsets is a top priority at Influential. This, combined with a critical understanding of the challenges that our clients face, makes us expertly equipped to provide the best solutions possible.
Find out what solutions we can deliver for your business.
Related
Influential Welcome New Head of Training – Simon Jackson
Posted on Thursday 3rd November 2016 8:28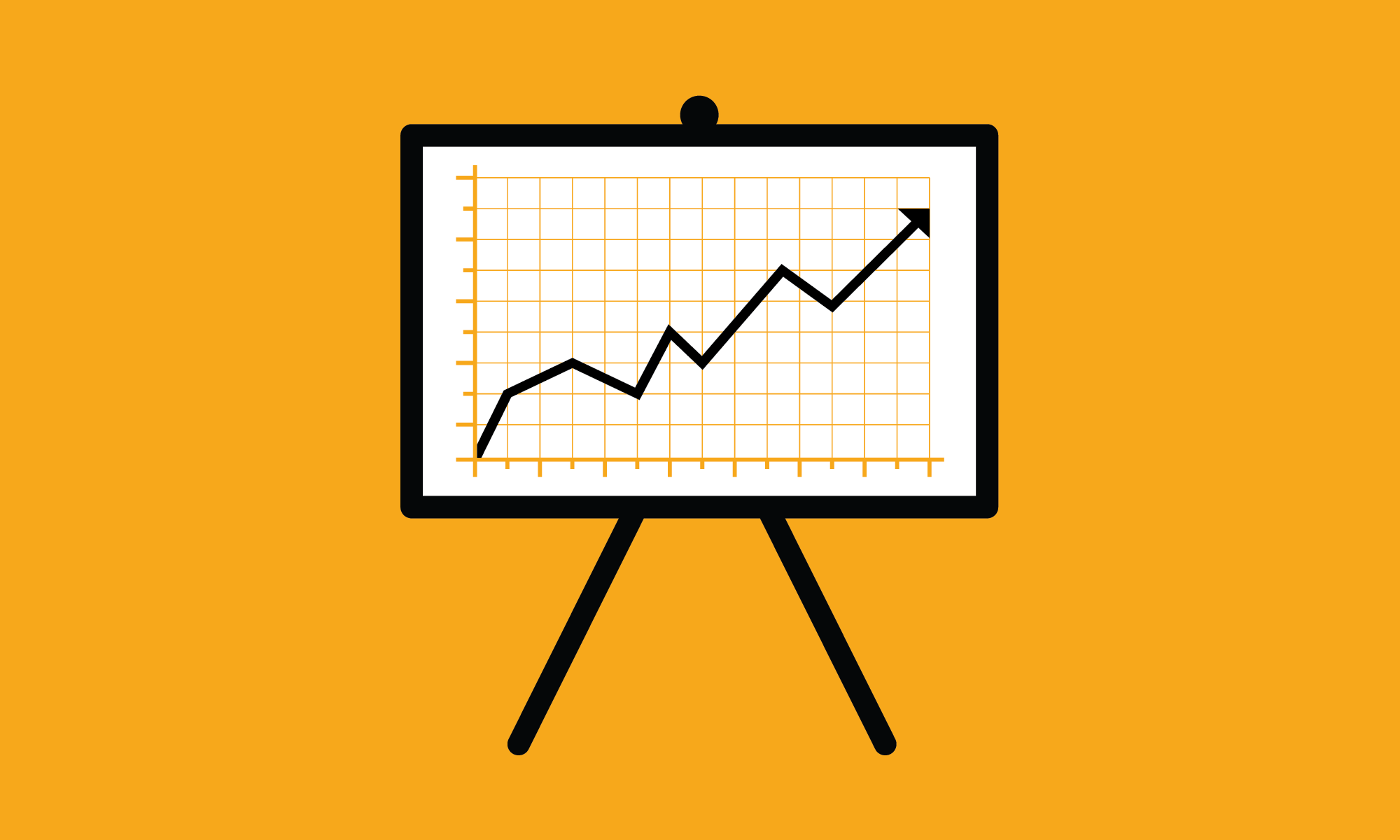 We would like to offer a very warm welcome, this rather chilly November, to our new Head of Training Simon Jackson.
Andy Richardson, Chief Exec at Influential, says "Simon has over 15 years of training delivery experience, most recently as Head of Training at another large international SAP Partner. Bringing someone of Simon's extensive training and BI experience into our already highly accomplished SAP Business Objects team is a huge achievement and allows us to grow and service our client base even better into 2017. We approach next year therefore with great excitement in the SAP Business Objects space".
As well as years leading training, Simon also has a solid background in Business Intelligence and IT. After graduating in Business Computing Simon spent 18 years in IT, from testing and development to pre-sales and sales.
Business Intelligence has been his specialist area for 17 years, with a strong focus on SAP BusinessObjects. Starting with the original version 4 (in 1999!) he's grown his knowledge and training delivery styles with the toolset.
Are you looking for help with the latest version of SAP Business Objects? Do you have new employees needing to learn the basics? Do you need training tailored to your own data? Are you expanding into using the other tools within the toolset and require help on those? Whatever SAP BusinessObjects training your team needs Influential Training team can deliver the service that suits your business.
Special SAP BusinessObjects Training Offer
To celebrate Simon's arrival we are offering a limited time discount. Order SAP Business Objects training courses before the end of 2016 with delivery before the end of February 2017 – the more you order the higher the discount.
See our SAP BusinessObjects Training Offers Page for further details
| | | | | | |
| --- | --- | --- | --- | --- | --- |
| Number of Days | Price | RRP | Discount | | Day rate |
| 1 | £1,500 | £1,500 | 0 | | £1,500 |
| 2 | £2,850 | £3,000 | 5% | | £1,425 |
| 3 | £4,050 | £4,500 | 10% | | £1,350 |
| 4 | £5,150 | £6,000 | 14% | | £1,288 |
| 5 | £6,100 | £7,500 | 19% | | £1,220 |
| 6 | £6,800 | £9,000 | 24% | | £1,133 |
| 7 | £7,500 | £10,500 | 29% | | £1,071 |
| 8 | £7,950 | £12,000 | 34% | | £994 |
| 9 | £8,250 | £13,500 | 39% | | £917 |
| 10 | £8,500 | £15,000 | 43% | | £850 |
What Next? New BO and Tech Training Courses – Coming Soon
Simon's arrival enables Influential Training courses to further expand their reach and depth. With brand new courses in core SAP BusinessObjects Tech, courses will soon launch for training in our other areas of expertise. Watch this space!
Influential Support Movember
Posted on Tuesday 1st November 2016 3:30
The Influential teams are doing their part for charity once again – this time by participating in the annual men's health awareness movement 'Movember'.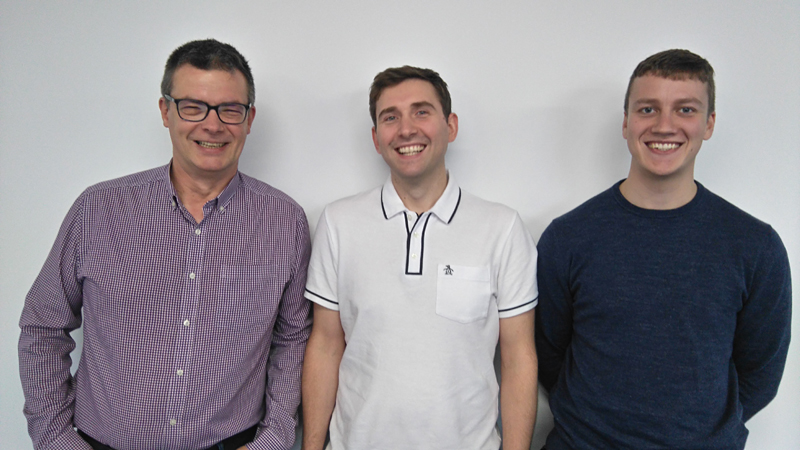 (Above: Our Support Team cleanly shaven on Day 1)
The rules are simple: those participating will be cleanly shaven from November 1st and for the duration of the month will grow and groom a moustache as a symbol for awareness of men's health issues. Participants gain further support for the cause through sponsorship by friends and family, all of which goes to the funding of educational programs and men's health projects.
Influential team members have taken part in the movement in previous years and are excited to support the charity once again. This year Richard Walls, David Avery and David Hailwood of the Influential Support Team are taking part, with sponsorship already being pledged by colleagues throughout the company.
Influential For Men's Health
The mission of Movember is to tackle men's health on a global scale, all year round addressing some of the biggest health issues faced by men: prostate cancer, testicular cancer, and mental health and suicide prevention.
The charity finds and funds innovative research that impacts locally and globally, having funded more than 1,200 men's health projects worldwide in the past 3 years. By 2030 they will reduce the number of men dying prematurely by 25%.
The impact of this work is of particular importance to our participating team, some of whom have family members directly affected by men's health issues. Independent of government funding, the money raised through Movember sponsorships is critical to achieving these goals.
To support our teams to the fullest in this endeavour, Influential Software will match the personal donations raised by our teams.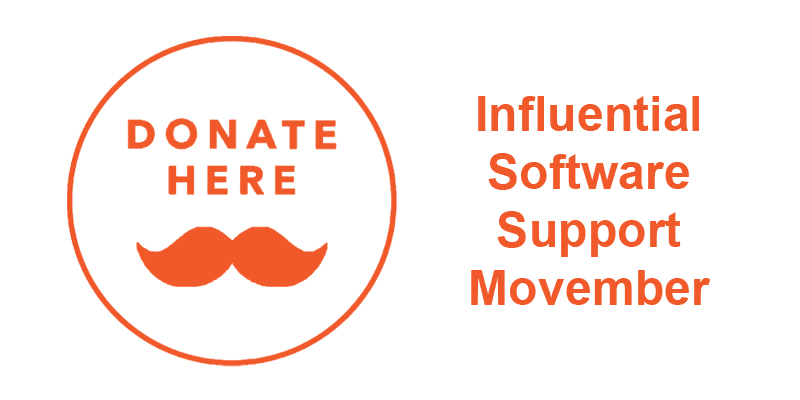 Influential Joins the Data Revolution at Big Data LDN 2016
Posted on Monday 31st October 2016 2:30
The Influential Java Team is gearing up to attend the inaugural Big Data LDN (London) event this week; a brand new 2-day conference and exhibition for the discussion and showcase of the tools and processes for building dynamic, data-driven enterprises.

This week marks an important event on the Influential calendar: It's the inaugural Big Data LDN event. Members of the Influential Java Development  team are registered to attend, excited by the enticing range of speakers and topics scheduled for the two-day event.
At Influential, Big Data is a key component in countless development and Business Intelligence projects, and our teams are keen to hear the latest from the suppliers of leading Big Data tools and services.
What is Big Data LDN?
Big Data LDN (London) is a new two-day conference and exhibition focused on Big Data and Analytics, and how to build dynamic data-driven enterprises.
The aim of the event is to provide practical, actionable insights on delivering business value in an increasingly data-driven world – a mission Influential understands very well.
A "stellar" line-up of speakers has been promised including 80+ engineering gurus, open-source visionaries and real-world pioneers – all of whom are ready to deliver their "cutting-edge" practical advice to the eager delegates. The conference and seminar programme will offer strategic guidance and actionable technical insights. The goal? To enable confidence and deliver expertise for delegates when tackling Big Data projects.
The Big Data LDN Exhibition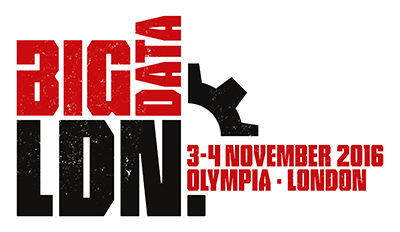 The perfect complement to the seminar programme, the Big Data LDN exhibition will bring over 70 leading Big Data and Analytics vendors and service providers together under one roof. Such a range of experts and service from around the world promises to be a fantastic showcase of the tools and solutions available to those looking to become a Data-Driven Enterprise.
Our developers can't wait to engage with the hands-on product demos and technology test-drives; top-grade technology from blue-chip companies and "hot" new start-ups. Part of our continued drive to innovate and provide enterprise-enhancing data solutions, Big Data LDN is a vital event to attend – and a shoo-in addition to next year's calendar as well.
The message of Big Data LDN is that "Change is coming". Here at Influential we completely agree and are ready to embrace it, arms open. #BigDataRevolution
Need Help With Your Data-Driven Enterprise?
For 25 years Influential Software has delivered quality business software & data solutions from within the UK. If you would like to talk to us about a business intelligence solution, software solution or any IT project you need to deliver successfully, please contact us.
MuleSoft® Partner Enablement Day 2016
Posted on Friday 28th October 2016 10:30
Influential teams took their MuleSoft expertise to the next level at the October 2016 MuleSoft Partner Enablement Day, London. Official Partners attended from far and wide to hear MuleSoft's vision for Anypoint, API-led connectivity and Application Networks, and to learn first-hand how to leverage the technology to the max.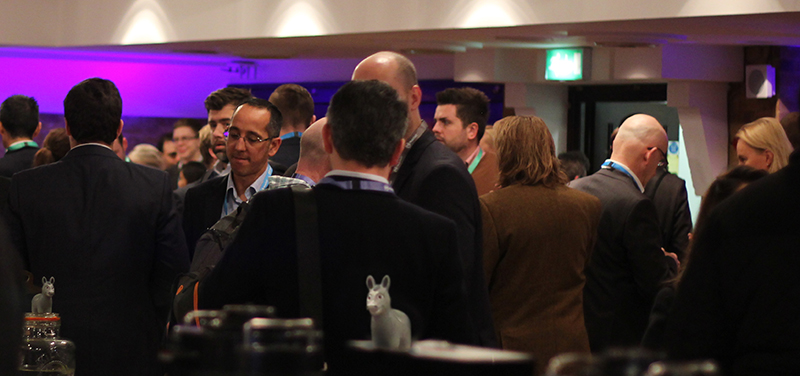 Last week Influential attended the MuleSoft Summit, a day open to any and all interested in learning about Digital transformation, API-led connectivity and how MuleSoft is driving innovation with the Anypoint Platform.
The day-long event was followed by a second: an enablement day tailored specifically for those in the MuleSoft partner program. As excited new additions to this program, the Influential teams were keen to take up the chance to enhance our knowledge of MuleSoft's technologies and projects.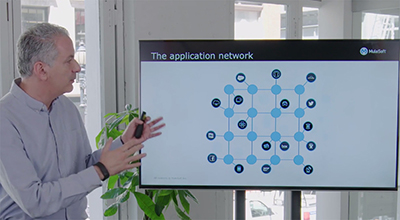 The continued growth of APIs in enterprise technology is a pattern reflected in the vision for the future that MuleSoft delivered at the event, with API-led connectivity the key to their proposed Application Network (left; MuleSoft CTO Uri Sarid presents the Application Network).
At Influential we're passionate about technology and dedicated to exploring the best ways to help our customers. Understanding the power of API-led connectivity and Application Networks is a vital component in maximising results and driving innovation for our MuleSoft projects.

We value our commitments to partners and clients. Attending events like this Enablement Day is the ideal opportunity to work closely with our partners to understand the software to the fullest, and to fully leverage the transformative impact to business that we can offer.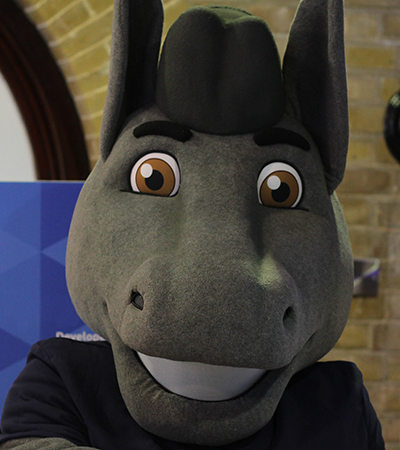 Want to learn more about the Anypoint Platform™ and our MuleSoft Partnership?
For 25 years Influential Software has delivered quality business software & data solutions from within the UK. If you would like to talk to us about a business intelligence solution, software solution or any IT project you need to deliver successfully, please contact us.
An Influential Day at the MuleSoft® Summit 2016
Posted on Wednesday 26th October 2016 4:00
As Official MuleSoft partners, Influential was excited to attend the MuleSoft Summit in London last week. An event driven by the innovation of technology and business, the day offered a fantastic insight into the power of MuleSoft's work and their vision for the future…

(Above: Keynote Speaker Mark Dao, Chief Product Officer (CPO), MuleSoft)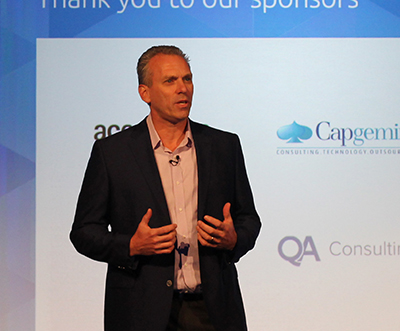 It's October 19th, 2016 at The Chiswell Street Brewery London and the air is filled with the murmurs of anticipation. Several of Influential's team members are among the 500 eager business partners and customers that watch the house lights dim. The music starts, the stage lights up; The MuleSoft Summit has begun.
Enter stage left; Greg Schott, MuleSoft CEO (pictured right). He welcomes everyone to the event and expresses his excitement that today we have the chance to learn and engage with their vision.
Engaging Digital Transformation
MuleSoft is one of the fastest-growing technology companies in the world. As such, we were sure that the MuleSoft Summit would be a day full of exciting innovation and stories of their powerful technology in action – it did not disappoint.
We stand at the start of a new phase of technological transformation and MuleSoft is among those ready to welcome it with both hands. The Summit was an excellent opportunity to learn about and engage with their vision.
The day's message was the need for digital transformation; how enterprises can no longer afford to ignore the rapid changes in technologies, or the heavy demand on IT to keep up. The Anypoint Platform™, built on API-led connectivity plays a crucial part in building the 'Application Network' that MuleSoft believes is the solution to the IT delivery gap.
Key members of the MuleSoft team including the CEO, CTO, CPO (Chief Product Officer) & others took their turns on stage, offering insights into the future of the enterprise landscape and the part that MuleSoft has to play. The day also included a first-hand testimonial about the impact of MuleSoft technology on business by Dixons Carphone Group CIO, Simon Post.
MuleSoft: Driving Innovation
The day was a resounding success, for both customers new to the platform and for members of the partnership program that we are thrilled to be part of.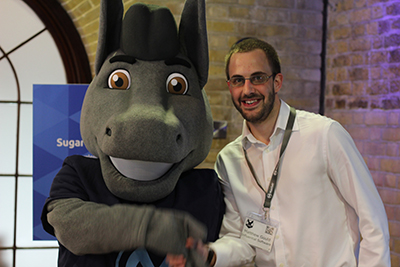 Beyond the main keynote speeches, MuleSoft delivered something for everyone by running specialist 'tracks'. Business seminars were run for those looking to leverage MuleSoft and understand how the AnyPoint platform can drive core business practises and success.
Breakout sessions for 'Developer' and 'Advanced Developer' covered everything from beginner-level design and build of MuleSoft applications to applied microservice architecture and managing API lifecycles.
Our Architecture specialists were treated to a track addressing the challenges of both enterprise and solution architecture, with sessions about microservices, the Application Network and the role of architects in IT's new operating model.
It was exciting to see so many other partners and prospective businesses there, all of them – like us – keen to tackle the digital transformation challenge head-on.
Want to learn more about MuleSoft's Anypoint Platform?
For 25 years Influential Software has delivered quality business software & data solutions from within the UK. If you would like to talk to us about a business intelligence solution, software solution or any IT project you need to deliver successfully, please contact us.

MuleSoft Summit London 2016 – October 19th
Posted on Monday 3rd October 2016 1:51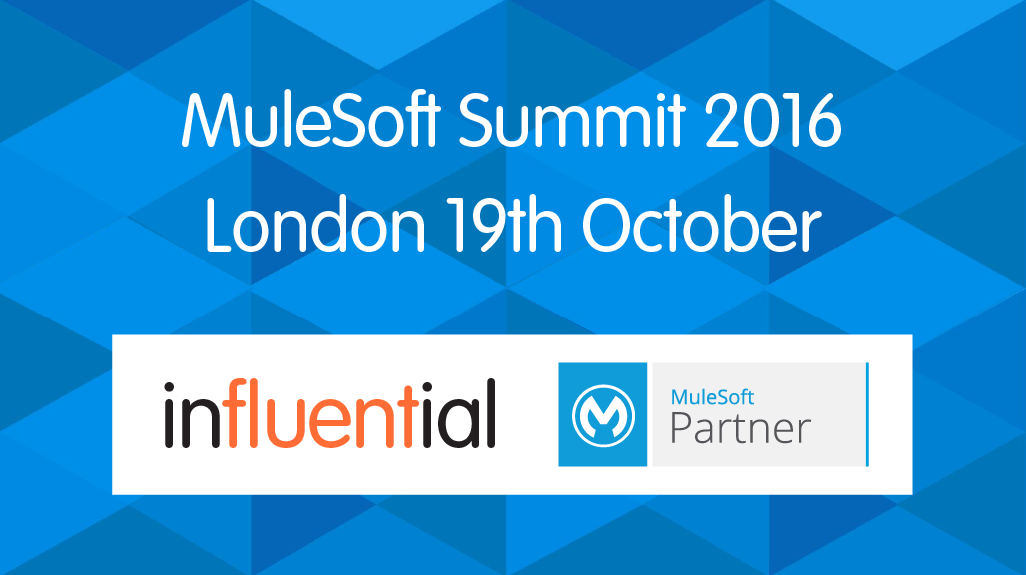 The MuleSoft Summit London 2016 is almost upon us. It is the perfect opportunity for your business and IT teams to talk directly with MuleSoft experts, to find out how the MuleSoft Application Platform works and how it can digitally transform your business.
Connect anything. Change everything.
Business needs are changing. Ever more complex networks connect all your company's data, applications, and devices. API-led connectivity has become IT's secret weapon – it streamlines networks. Allowing your business to innovate faster, create better customer experiences, and outpace your competition.
Driving Digital Transformation.
As Official MuleSoft Partners we are pleased to invite you to attend the Summit on October 19th and talk with our team directly. Learn first-hand how MuleSoft customers have leveraged the Anypoint Platform. Discover how your business can deliver engaging customer, partner and employee experiences like never before.
Register for the MuleSoft Summit London 2016
Register now for a full day of innovation and best practices including:
Sessions from MuleSoft executives: Learn how customers enable business transformation by partnering with MuleSoft
Talk topic tracks including Business, Developer, New Partner and Architect
MuleSoft Customer sessions: focusing on digital transformation within their businesses and the utilisation of the MuleSoft Anypoint Platform
MuleSoft's Sponsor Expo
Demo's and information booths
Exclusive – MuleSoft Happy Hour

October 19th, 2016
08:00 – 17:00

The Brewery

52 Chiswell Street,
London, EC1Y 4SD
Q3 2016 Brings Official MuleSoft Partnership & New Clients
Posted on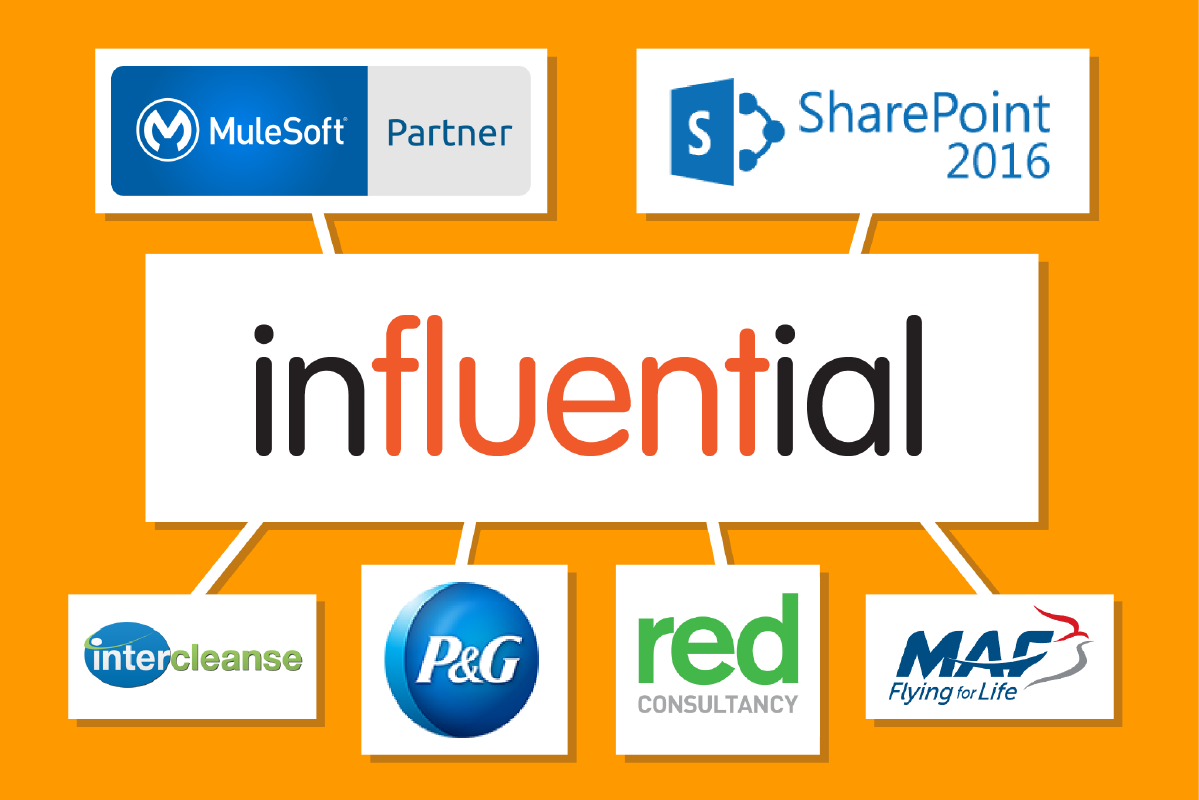 Influentials' Q3, 2016, in review
While many businesses slow down for the summer, be it for staff on holidays or year-long projects being mid-cycle, Q3 has been as busy as ever for Influential.
A big announcement in Q3 was the unveiling of Influential as official MuleSoft Partners. As well as our teams undergoing intensive training, we also launched a dedicated MuleSoft website and our teams now working directly with MuleSoft on upcoming projects.
We were also pleased to see a healthy collection of new clients join us along with a wide spread of new and exciting projects across all of our technology specialisms.
As Influential continues to grow, so have our staff numbers. With key members joining teams across the company we've also said goodbye to a few Apprentices from the 2015 Apprenticeship intake. As we prepare to take on new interns, we took the chance to look back at the 12 months the Apprentices worked alongside our Software Development teams.
Official MuleSoft Partners 

It's now official – Influential are fully certified MuleSoft Partners!
Our Software Development, Sales and Marketing departments are working directly with the MuleSoft teams, driving digital transformations to businesses with application networks.
The Software Development team are no strangers to MuleSoft technology, having years of experience working with MuleSoft ESB. Q2 saw the launch of our Atlas Publishing Intelligence platform, a customisable reporting solution built upon the open source MuleSoft ESB framework.
To find out more, why not come along and talk to the Influential team at the MuleSoft Summit London – hurry, it's on Wednesday 19th of October! Or check out the Influential-Mulesoft website for more information on the MuleSoft Anypoint Platform.
New Projects and New Clients
All our teams have been busy with new projects in Q3, but perhaps one of the most in-demand technologies we have seen is  Microsoft SharePoint (our SharePoint website launched in Q2 this year). The SharePoint team projects have included SharePoint Upgrades and Migration, but also delivering bespoke SharePoint training to clients on-premise.
A host of new projects launched in Q3 this year. Many of these were for new clients, ranging from London-based businesses and UK charities through to global corporations, who we all know through well-known household brands.
We are already seeing successful results from these projects and we are already keen to drive their businesses further. It is important for any business to cultivate excellent client relationships. This has always a core focus for Influential. As a result, we have successfully continued to work with a several of our clients for over 20 years.

P&G – also know as Procter & Gamble Co. – are home to a huge range of well known, very popular household brands. Founded in the US in the 1800's by William Procter from the UK, and James Gamble from Ireland, the company has continued to grow into what is today one of the few truly global consumer goods companies.While made up of many individual brands, each serving customers in different ways, P&G ensure all their brands focus on making the people's lives easier, "making your day better—in small but meaningful ways".
P&G also take leadership seriously. So as well as improving the moments in consumers daily lives, they also see it as their our opportunity and responsibility to improve the communities in which they live and work and the lives of their employees. Influential are proud to have worked on internal projects with such teams.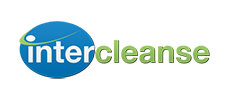 Intercleanse offers a huge range of commercial and contract cleaning services to businesses. As well as providing every type of general cleaning services range you may expect, the business includes a raft of specialist divisions headed by experienced directors. Teams include professional vehicle cleaning, kitchen deep-clean, builders and shop-fitting cleans, and pest control. There is also a specialist clean-up services team for crime and trauma scenes and the business is an active member of the National Academy of Crime Scene Cleaners.
Based moments away from Gatwick Airport, Intercleanse has been growing since they began trading in 2001. Founded by members with vast experience in the cleaning sector the business works closely with its sister company which supplies a full range of specialist cleaning equipment and materials. The business is committed to delivering to the highest standards of cleanliness and hygiene at all times. It also invests in its staff, who receive ongoing training and assessment to maintain the exacting standards of Intercleanse.
As Intercleanse continue to grow so too have their IT requirements. Influential are working closely with Interserve to provide extensive IT Support and Software Development.
Red (Red Consultancy) is a highly creative, multi-specialist Public Relations agency. Their core strengths lie in creativity and keen consumer focus, talking to audiences in a real and engaging manner. Maintaining excellent client relationships is a source of pride for Red, who as a result have had a number of clients working with them for over 10 years.
Since foundation in 1994, Red have won over 50 campaign awards for their work with some of the world's leading brands and companies. They are a subsidiary of Huntsworth, an international communications and public relations group operating from 62 principal offices in 29 countries providing services to c.1,870 clients.
Red has specialities in various markets, including corporate, healthcare, technology and digital services. Influential are proud to be work with Red to help expand the skill-sets and expertise they offer.
The Mission Aviation Fellowship (MAF) is a Christian mission organisation that helps vulnerable people in hard-to-reach places all over the world. In fact, a MAF plane takes off or lands every three minutes in remote locations, delivering vital aid to those who need it most.For millions of people living in jungles, mountains, even swamps, getting medical and educational help would be impossible without the help of charities like MAF. Their pilots and personnel deliver relief workers, doctors, pastors, school books, food, medicines – everything that can only be safely and speedily delivered by air. A truly amazing service.Influential are proud to be working with the UK branch of MAF to help improve their information management systems.
For 25 years Influential Software has delivered quality business software & data solutions from within the UK. If you would like to talk to us about a business intelligence solution, software solution or any IT project you need to deliver successfully, please contact us.