A brief SAP Analytics Cloud overview
Modern companies are inundated with large quantities of business data with a need to categorise, analyse, and report to make the right business decisions. The challenge is even more complex when considering that data arrives from different sources that aren't connected together. There is increasing difficulty in finding a suitable tool that can handle this mass of data that is intuitive and user-friendly for all staff.
This is why SAP Analytics Cloud was created. It serves as the all-in-one tool to bring together planning, predictive analysis, and business intelligence functions. With an easy-to-use interface, IT departments, decisions makers, and end users are able to navigate and use functionalities without difficulty.
The main functions of SAP Analytics Cloud include:
Create BI reports and present them in customisable dashboards
Predictive planning models and functionalities
Connection to cloud and on-prem systems in hybrid scenarios
Analytics Design tool for individual app development
Digital Boardroom, interactive working with stories via various displays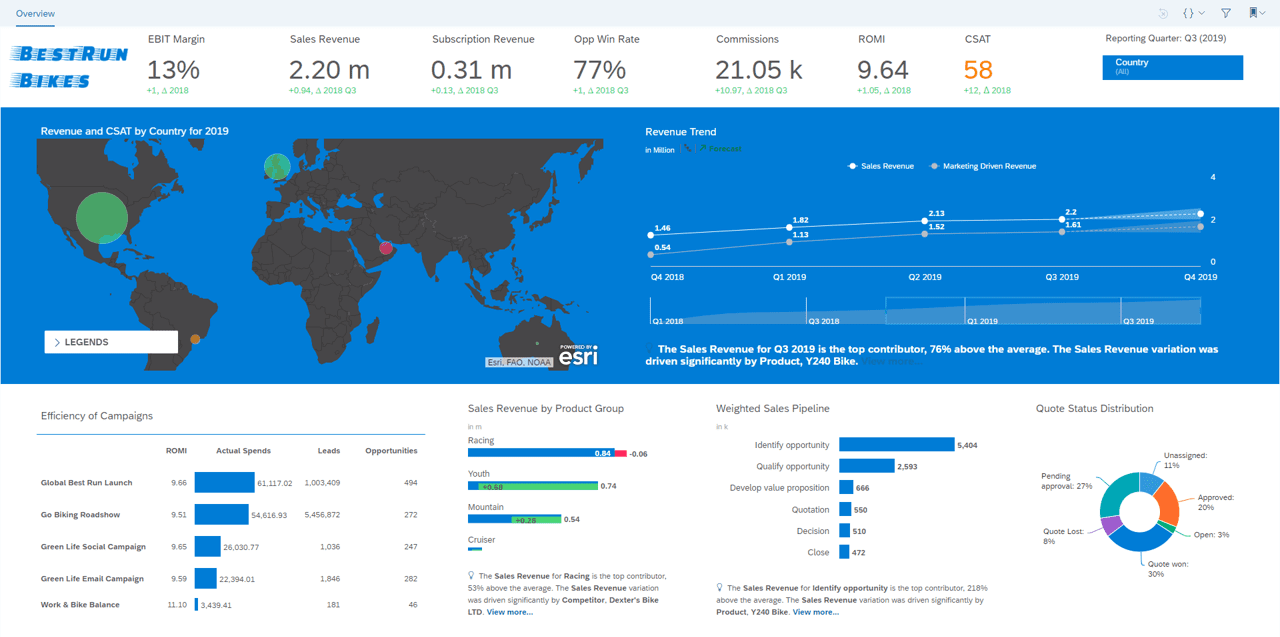 App connection and interactions
Analytics Cloud is part of HANA Cloud Services, which includes SAP Data Warehouse Cloud and SAP HANA Cloud. Data Warehouse Cloud combines data from on-prem and cloud system in a cloud data warehouse. HANA Cloud is a cloud-native database for managing and operating high-performance applications. Depending on your company network, these can connect together using either Cloud Connector or SAC Agent.
Importantly, SAP Analytics Cloud is a component of other SAP applications such as SAP SuccessFactors, SAP Ariba, and SAP S/4HANA Cloud. SAC can act as the central planning instance to bring together data sources and provide comprehensive planning. In addition, SAC includes an Excel add-in for users of Microsoft Office to perform ad-hoc analyses without prior knowledge of SAC.
Forecasting and planning calendar
SAC's Predictive Engine technology allows users to define forecast scenarios with classification models, time series, and regression models.
Naturally, due to the nature of business planning, there will be several key contributors and end users producing and viewing the analyses. SAC has a planning calendar which can be used to organise and monitor every step of planning. General tasks, data lock tasks, and tasks based on characteristics can be set as task types. In the case of having contributors with varying degrees of responsibilities, a multipart structure can be set for creator, agent, and approver roles.