Bridging the IT Delivery Gap
Technology is changing and the space between demand and delivery – the IT Delivery Gap – is only going to get bigger. What impact will the gap have on businesses and what can be done to bridge it?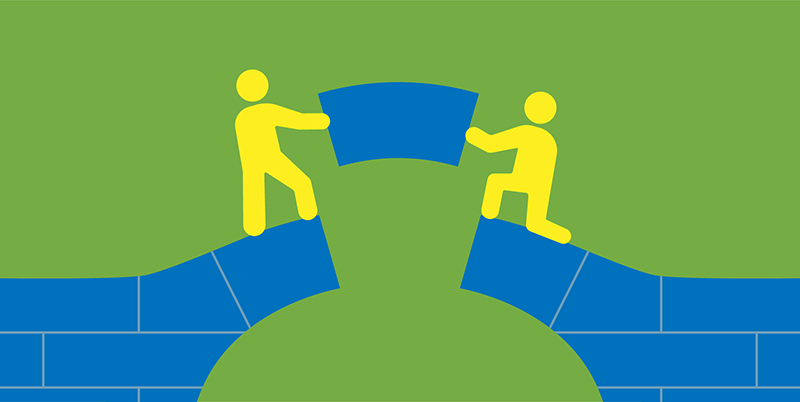 What is the IT Delivery Gap?
It's no secret that the world is changing. New technologies are emerging rapidly, such as IoT, Mobile, Big Data Analytics, SaaS and Cloud adoption – all evolving at an exponential rate.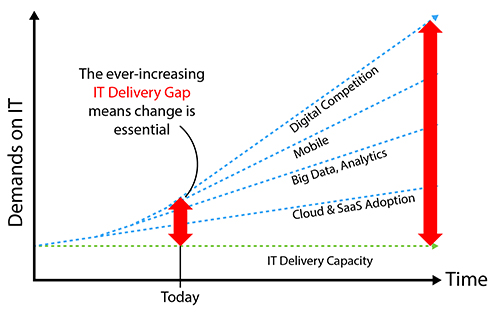 New applications add to data production, and require more connections and integration. As Businesses attempt to leverage this new technology, to meet customer and partner expectations, the pressure falls on internal IT teams to deliver results, fast.
The space between the demand and the delivery capacity is called the IT Delivery Gap. Unless IT budgets and resources grow at the same rate as the demand, IT simply cannot bridge the gap.
The traditional operating model is a project-based approach where IT projects are standalone and each new application is built from scratch. This operational model offers limited room for growth, with IT delivery capacity remaining unchanged. Meanwhile technologies continue to evolve and expand and the demands on IT increase.
We're in a new age of industrial revolution and the future of the traditional model is inevitable: the IT Delivery Gap will grow and businesses will be unable to meet demands.
What are the solutions?
Increase the Pressure
A knee-jerk reaction to is to try increasing output to meet demand without any change to IT resources; the old, budget-driven 'do more with less' approach that can do more harm than good. Higher pressure on IT delivery may have the opposite effect than desired, compromising quality of work and reducing morale, which may negatively impact productivity.
Improve the Resources?
Some companies can afford to increase the IT budget, adding staff and enhancing tools, a stop-gap solution that can be costly if not applied carefully. It can increase output in the short term, but IT budgets aren't limitless. Expansion of resources will reach maximum capacity and the IT Delivery Gap will just keep growing.
It also doesn't fix the problem of the connectivity mess as new standalone applications are built and point-to-point connected to everything else. The typical reaction to prevent breaking to this fragile system is to freeze development and innovation – a one-way ticket to ultimate business failure.
Future-Proof Solutions: Change the Approach
Digital Transformation is essential and involves more than just 'going paperless'. It calls for a change of the operational model, the role of IT and the culture of digital system development. The key is to create systems built for change; to innovate rather than reinvent.
Experts such as MuleSoft believe that API-Led Connectivity is the answer. APIs are reusable, sharable assets that speed up development and allow frictionless connectivity to other systems – the basis of an 'Application Network'.
Reusing assets transforms the time and resources required to deliver IT projects and creates plug-and-play ability for fast, easy connectivity to anything, anywhere. User-friendly interfaces like the Anypoint Platform allow anyone to build and manage these APIs and connections, relieving pressure from IT teams and enabling self-service.
Are you ready to transform your enterprise?It's clear that the IT Delivery Gap is a growing concern for businesses and that change needs to happen fast. What's unclear is who will adapt to meet the demands and who won't. At Influential we're already helping businesses to forge their plans for digital transformation and close the IT Delivery Gap for good.
Related: