Key cloud adoption trends
Organisations are increasingly having to adapt to changing technological, economic and industry challenges. Modern businesses focus on reducing business costs and complexity, as well as increased agility and innovation.
Modernising workloads by moving them to the cloud is a significant digital transformation and one that provides security and flexibility. In addition, cloud infrastructure and capabilities allow companies to work efficiently and provide the best service to their customers. Microsoft surveyed 1200 IT decision makers to reveal several key cloud adoption trends.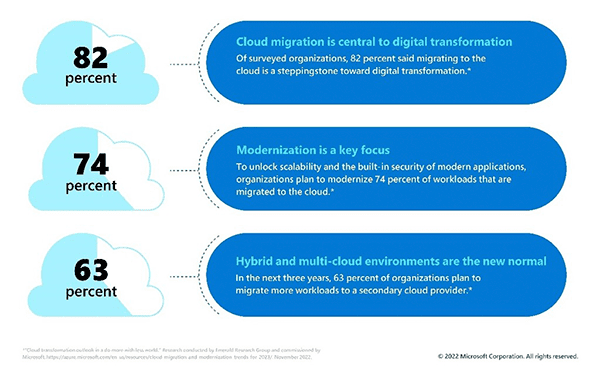 Cloud adoption planning
More than half (62 percent) of companies have a migration and modernisation strategy that they are following. Their key priorities are reducing business costs, future-proofing business strategy, and driving revenue up.
Subsequently, Microsoft expects ROI considerations to be the main driving factor behind cloud initiatives for implementation – either optimising existing cloud workloads or migrating additional workloads.
It's expected that companies will be looking to move over to the cloud in the near future. Of the surveyed companies, those with more than half of their workloads in the cloud will rise from 27 percent to 47 percent over the next 18 months. Microsoft also saw that organisations with a cloud migration and modernisation strategy are 58 percent more likely to be 'cloud-only' three years from now.
Modernisation is key to digital transformation
Migrating to the cloud is a stepping stone towards digital transformation, 82 percent of companies agreed. Modernisation involves changing existing applications and workloads to take advantage of cloud-native technologies. Based on the survey, 74 percent of migrated workloads are already candidates for modernisation, which would speed up the product innovation cycle and personalise end-user experiences.
Hybrid and multi-cloud interoperability and integration
As companies embrace multi-cloud plans, cross-cloud management and interoperability is highly valued from their cloud provider. Companies enjoy the investment flexibility and cloud capabilities as 71 percent continue implementing a hybrid or multi-cloud strategy.
With challenges such as multi-cloud integration, legacy backend integration and refactoring existing applications, support from a dedicated migration/modernisation team ranked highest on customer wish lists. Post-migration support, access to engineering resources, and help with technical training were also highly valued.