Windows Server Datacenter: Azure Edition is a version of Windows Server that is optimised to run on Azure. Microsoft has a handy comparison guide which lists the key differences. Importantly, it has several features that are exclusive to Azure users only. The current version has received several important updates recently. Plus, there are even more updates planned for 2023.
Windows Server Azure Edition receives updates from Microsoft faster as it runs in the cloud. Microsoft has promised a new release every year. This is delivered through Windows Update, rather than as a new OS to which you would have to upgrade your VMs. Customers can expect these releases to roll out in the fall season of each year.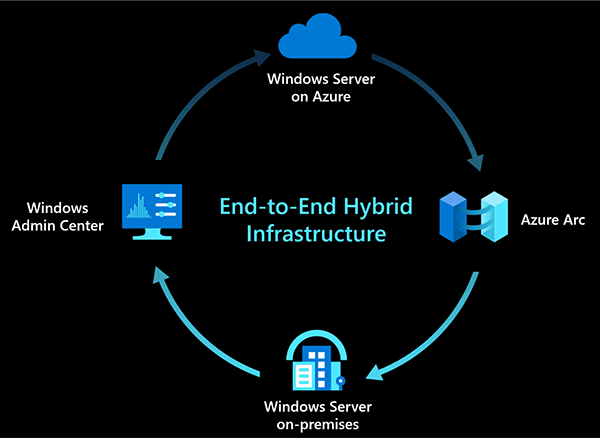 Windows Server Azure Edition: New features
Access to Azure networking features
Azure Edition virtual machines that use Core or Desktop experience GUI can take advantage of some Azure networking features such as SMB over QUIC. This new feature allows users to ensure their cloud file shares are as secure as they would be on their own networks.
SMB over QUIC works on Azure Stack HCI as well as in Azure, which means moving away from VPNs to support remote workers on Windows 11, Windows Server 2022 or third-party clients on other platforms.
Hotpatching
Microsoft hotpatches Azure servers, which means they don't have to be shut down and rebooted. This means less time waiting, and servers don't stop responding on the network during updates. Using Azure Automanage, users can apply security patches to Azure Edition VMs without rebooting.
Preview images not necessary
As mentioned earlier, Azure Edition updates come through Windows Update so users don't need a preview image for the next release.
Upcoming 2023 changes
Expanded certificate-based security
From Q2 2023, users can add additional client certificates to secure SMB over QUIC. Currently, SMB over QUIC already uses certificates on the file server that the SMB client must trust. This update will allow users to require clients to deploy a certificate as well before they can connect. As a result, this will increase security for the process.
Hotpatching access
Hotpatching is currently available for VMs using the Azure Edition Core image but this is set to be available for hotpatching VMs with Desktop experience. Therefore, users can expect to no longer require rebooting for monthly security updates. Though VMs will have to restart a few times each year to get a new baseline with a cumulative update, Microsoft estimates this could bring down annual reboots to just four.
SMB compression
At the moment, documentation on SMB compression setup in Storage Replica is scarce. Soon, users will be able to use the Windows Admin center GUI to configure in the same way you can turn on SMB compression for regular file shares.