New Dell Boomi Website Launched
Posted on Wednesday 1st August 2018 12:16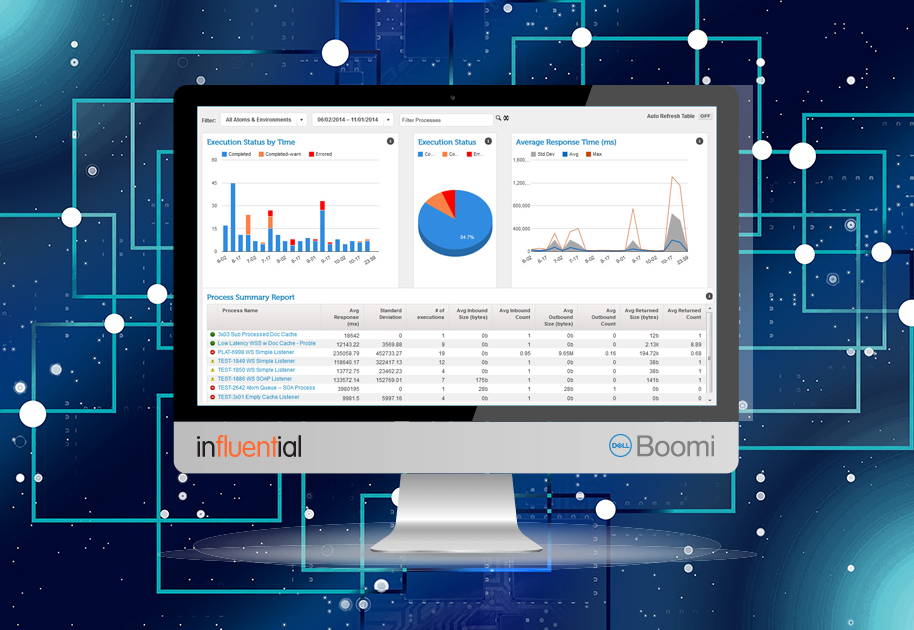 As leading digital transformation consultants, Influential Software knows that integration is key to enterprise agility. That's why we're promoting our latest partnership through our Dell Boomi website.
The interconnected Dell Boomi solutions solve the challenges of unconnected applications, reliance on IT support, low app performance, and lack of accessible information. The Dell Boomi platform consists of a central integration hub, Integrate, and four solutions that businesses can connect at will: Mediate, Hub, Exchange, and Flow.
By adding Dell Boomi to our list of cutting-edge partners, Influential Software is staying ahead of the integration curve. Clients can now benefit from our services in consultation, licence configuration, implementation, delivery, and support.
Next-Generation Integration Platform
The Integrate solution is the core of the Dell Boomi platform, bringing all your applications together in the cloud. Businesses can connect to over 1500 unique APIs using a combination of application connectors and technology connectors.
Modern APIs
The Mediate solution controls API management and design, allowing you to secure and scale APIs across your business. By facilitating third-party API access, Mediate extends your business reach.
Data Quality
The Hub solution ensures data quality across your enterprise, reducing data management difficulties. Enjoy agile data mastering, lower total ownership costs, and higher efficiency. Use master data management to provide a single version of the truth across your organisation.
EDI Management
The Exchange solution simplifies communication with your trading partners with modern partner ecosystem management. Build, deploy, and manage both your traditional EDI and newer Web services.
Workflow Development
The Flow solution empowers you to build customer journeys with low-code development. Get faster process times, increased connectivity, and greater understanding of end-to-end processes with workflow automation.
Eager to know how we can transform your business with Dell Boomi? Feel free to visit our Boomi site.