Futuristic Fun at Influential Games Night
Posted on Friday 15th March 2019 3:31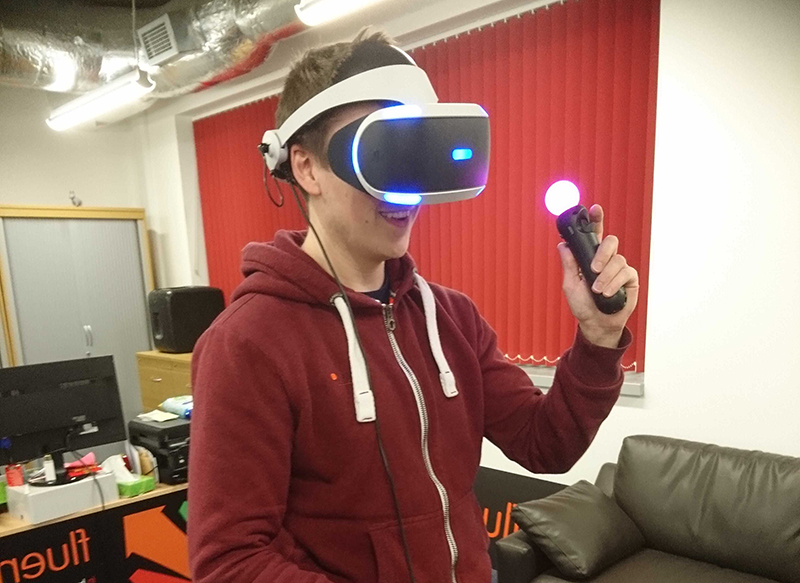 The video game industry is booming, with more than half of young people playing every day. And for many in the software industry, games are more than recreation – they were their first source of inspiration.
Yes, games are often the "gateway drug" leading to the world of IT. So it's no surprise that Influential Software hosts a regular games night!
Teams and Themes
Each month's games night showcases a different page in gaming history. And to make it more fun, we've come up with our own challenges and competitions.
Recent nights have included:
Super Mario 64 Night – each player has one minute to get as far as they can before passing the controller to their teammate. The team that collects the most Power Stars wins.
VR Games Night – using the latest gaming technology, we've learned kung-fu fighting in Superhot VR and immersed ourselves in pod racing with WipeOut Omega Collection VR.
Head-to-Head Super Nintendo Night – in this challenge of teamwork and skill, the player has to face away from the screen while his teammates guide him on. This lends itself to the classic platform game Prince of Persia.
Making a Difference at Charity Night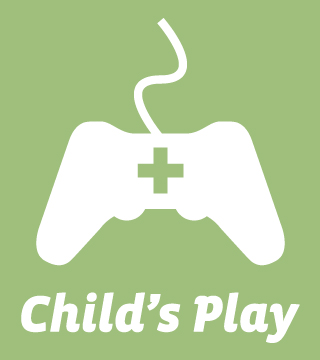 It isn't all fun and games either. Our regular charity games nights encourage players to donate to good causes, with Influential Software matching whatever staff give. Most recently our team donated to Child's Play, a group using games to lighten the lives of hospitalised children.
Up Your Game: Join Influential Software
Our games nights are run by enthusiastic staff at our office in Maidstone, Kent. Influential Software actively supports our teams to organise events that help make their workplace enjoyable. That approach is one of the reasons we can attract IT talent from across the UK and the world.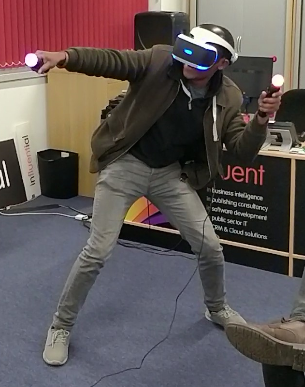 Interested in joining our team? Drop us a line!
Influential Women Closing the IT Gender Gap
Posted on Friday 8th March 2019 10:15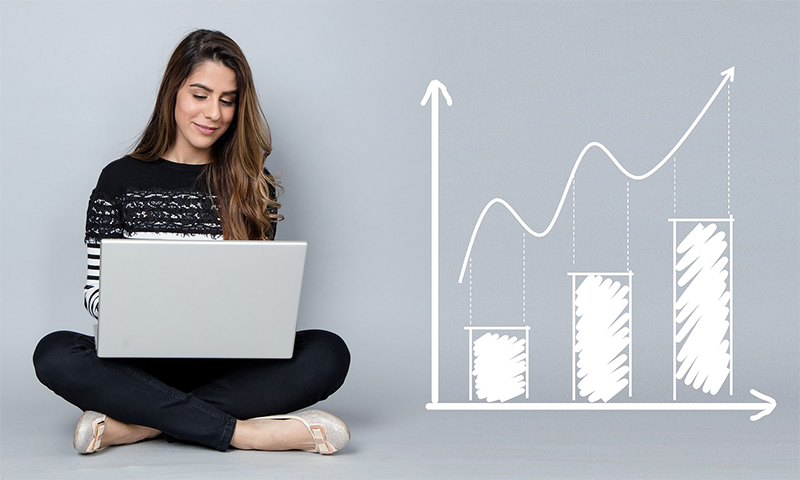 Firstly, Influential Software wishes the world a very positive International Women's Day! At the same time, it would be wrong for us to ignore "the elephant in the RAM" – our code name for the notable gender gap in IT. In fact, it's estimated that women fill only 17 percent of UK tech roles today.
At Influential Software, we have always encouraged more women to join us and the IT industry at large. And though we're currently above average at 20 percent, it's our target to have 25 percent women by 2020.
That's why we've decided to highlight some of our brilliant women and share their view from inside the tech industry.
The Many Roads to Tech
Debbie Cooley, portfolio manager at Influential Software, is an example of how promoting science to young women has a real impact.
"When I was 16 I took part in a Women in Physics weekend at the University of Sussex. I was still studying my Physics GCSE, so it was exciting to be taken to the labs and allowed to use the university's equipment," says Debbie. "The point of the course was to bring more females into physics, and I did go on to take physics at A level." Later in life, she held tech roles within the publishing industry before bringing her skills to Influential Software.
Meanwhile, QA analyst Imesha Chelvakumar and support consultant Sandeep Aujlah took more traditional paths, taking tech-related master's degrees and then joining Influential Software.
Software developer Julia Malysheva made her decision even earlier. "When I was a young girl, I had a choice after school about what to do next. It could have been teaching, accounting, or trying something new and amazing – IT, which was a completely new industry with a lot of exciting opportunities. I chose an adventure." Excellent choice!
Championing Diversity at Influential Software
Sadly, some women see a brighter career in industries where women are already in the lead. But Influential Software shows this doesn't have to be the case.
Sandeep says, "The working environment at Influential is incredibly supportive to all, and as one of the few women in the office I've never felt excluded. Additionally I feel that I get the same training and work opportunities as my male colleagues."
Imesha agrees, "Influential Software is a friendly, encouraging, and supportive environment, which has made my first experience in the tech industry very exciting. There's always positive communication with the teams, and that encourages me to confidently make suggestions."
Developing Women's Role in IT
Yet the question remains, what can be done to address the gender gap?
Noting the few women on her degree, Sandeep says, "I think more emphasis could be placed on efforts to attract younger women, such as those still at school, to tech careers. We could give them access to female mentors who already work in IT, or offer experience of the work they could do in a future career."
Imesha also suggests that inviting successful women in the IT industry to talk at schools and universities could be effective.
All four women expressed a lack of high-profile role models in tech and IT. However, this isn't necessarily because women aren't achieving in these areas. As Sandeep explains, "Having worked and studied in various fields of STEM, I've seen women who have risen to prominent positions in their respective disciplines. This has been inspiring as a real-life example of how women can progress and build successful and rewarding careers in their chosen scientific fields."
So it seems the media are lagging behind the reality of women in tech. On the other hand, we should celebrate positive examples such as the Google Doodle for March 7.
Another cause for optimism could be the growing importance of IT in female-dominated industries such as publishing. As Debbie's path shows, such industries can be a stepping stone for women to gain valuable IT experience. And as all industries grasp the transformational value of tech, that trend is only set to increase.
Interested in a career in IT? We're always looking for talented people.
06/15 New Apprenticeship Scheme for Influential Software
Posted on Wednesday 24th June 2015 2:23
New Apprenticeship Scheme launching for Influential Software

Influential Software are proud to announce that it has signed up to the UK's National Apprenticeship Service with a stated aim to fill the following positions by the end of the summer:
5 Software Development Apprentices
1 Support Technician Apprentice
1 Business Administration Apprentice
All the apprentices will be housed in our new 4,000 sq ft Maidstone office in Kent within 3 months
Benefiting the UK Economy
Research by Centre for Economics and Business Research (Cebr) has found that Apprenticeships contribute £34 billion per year to the UK economy, and that "for every £1 that is spent on apprenticeships, the national economy gains £21".
Apprenticeships boost productivity by enabling firms to grow their skills base. They also promote social responsibility and shows a commitment to the local community by developing the workforce of the future.
The benefits of apprenticeships are clear – they make a vital contribution to the economy, boost business productivity and give people the skills they need to get on in the world of work.
~ Business Secretary Vince Cable
Are you looking for an exciting opportunity?
We are looking for young, enthusiastic talent that are keen to begin their career in the exciting and rewarding Software Development and Business Intelligence industry.
You will be directly exposed to the business community and can form close personal relationships with industry professionals, witness the inner workings of the business, and make valuable contacts. An apprenticeship means direct, hands-on training, a chance to hone the skills and tricks needed to become experts.
All our apprentices will get the opportunity to:
work with experienced staff
learn job-specific skills
study for a work-based qualification during the working week
All roles will be based in our new Maidstone office in Kent within 3 months and are to be filled by September 2015
Interested? Get in touch for more information
If you are interested in becoming an Apprentice with Influential Software then please contact us today for more information, or simply send us an email.