Microsoft Azure Website Launched
Posted on Wednesday 16th January 2019 2:58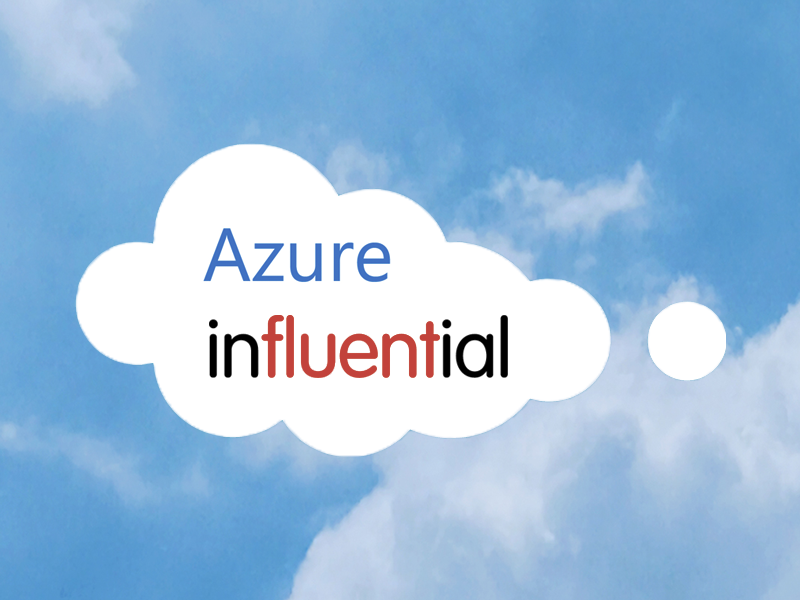 Widely accepted as the leading cloud for business applications and more, Microsoft Azure is playing a crucial role in the UK's digital transformation. At Influential Software, our clients have seen the short- and long-term benefits of expert help with Azure development, deployment, migration, integration, hosting, security, and support. Now the Azure team's work is reaching a wider audience through a new Microsoft Azure website.
Azure Development
Azure provides a platform for our developers to create cloud-native, easily scalable applications that drive your business faster. There's no need for costly infrastructure, and our team's agile approach to Azure development ensures an application that fits your exact needs.
Azure Deployment
A successful move to Azure cloud requires experienced assessment and planning. Our Azure deployment services follow a structured and reliable process that prevents any risk to your business. From initial consulting through planning and configuration, the Azure deployment team has your cloud covered.
Azure Integration
Azure makes it even easier for our team to integrate on-premises and cloud applications. From data to workflows, B2B to legacy software, there's no limit to Azure integration with built-in and custom connectors.
Azure Hosting
Based on Microsoft's global capability and renowned security, Azure is the world's most trusted cloud provider. Influential Software has provided Azure hosting services to major UK clients, with a complete package of consulting and support services to keep everything running perfectly.
Azure Migration
Whether moving from on-premises or another cloud provider, our Azure migration services use a tried and tested methodology. Following assessment of the applications, workloads, and processes you plan to migrate, our team can provide an expert view on the best migration tool for your purposes.
Azure Support
Our Azure support services are designed to reduce the strain on your IT resources while providing expert assistance when needed. The Azure support team guarantees uptime, protects data, and reduces costs with tailored service level agreements (SLA).
Interested in the business cloud? Feel free to explore our dedicated Azure site.
New Umbraco Services Website
Posted on Friday 4th January 2019 3:22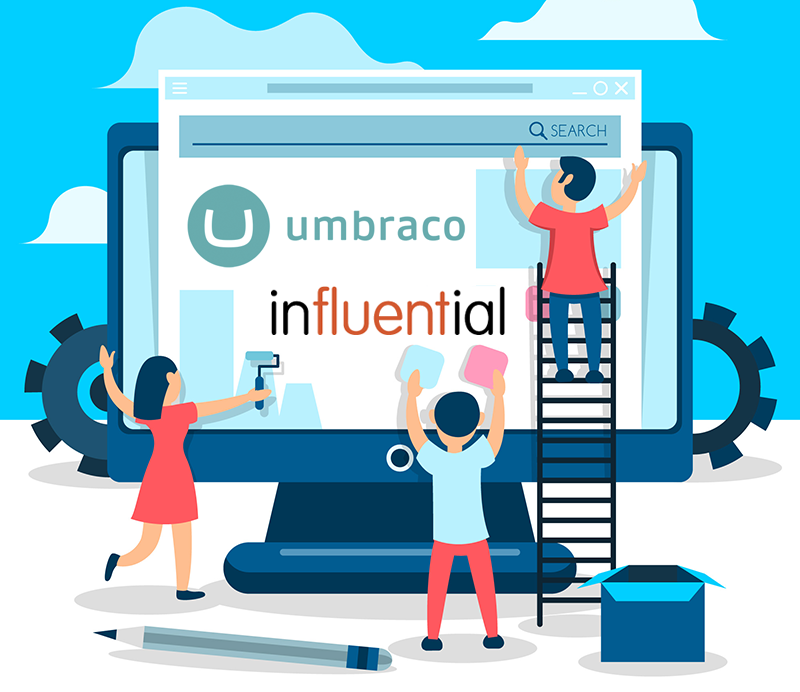 From small start-ups to Fortune 500 companies, over 500,000 businesses use the Umbraco CMS to power their websites. The reason is simple: Umbraco is the most scalable, intuitive, functional, fast, and secure CMS out there. Based on the Microsoft .NET language, Umbraco is also the natural tool for our .NET development team. And now UK clients can explore our full capabilities on a dedicated Umbraco services website.
Custom Umbraco Development
With over 10 years of experience in .NET development, our team has a deep understanding of the language behind Umbraco. That makes all the difference when creating a custom CMS or website design. By consulting users from the very start, our Umbraco developers ensure a CMS that makes your editors creative, productive, and happy. We all know that positive editors make for positive content!
From initial strategy and planning through design and build, our developers take an agile, personalised approach to each project. Team specialisms include responsive web design, custom CMS development, e-commerce solutions, Umbraco Forms, Umbraco Courier, and Umbraco Headless.
Integrate Umbraco with Anything
Whichever systems you want to use with your website, there's a way to integrate Umbraco. Besides our developer skills, the Influential Software team is also highly skilled in integration – as shown by our MuleSoft and Dell Boomi partnerships.
Umbraco allows us to create a seamless flow between your website and back office, marketing, payment, visual, and custom systems.
Umbraco Hosting and Umbraco Cloud
Choosing Umbraco hosting by a trusted third party in the UK means lower costs and fewer risks for your business. Alongside hosting, our support and maintenance packages will cover you against any eventuality.
Umbraco's own hosting, known as Umbraco Cloud, offers exclusive features and a stable, predictable platform. Our team can accelerate your migration to Umbraco Cloud, offer integration expertise, and give custom support.
Migrate Your CMS to Umbraco
Migrating to the latest version, Umbraco 7, brings a faster interface, stronger security, and simpler coding tools. And Umbraco 8 is just around the corner.
Using the latest automated tools, our team avoids the time, errors, and risks of manual migration. It's easy to migrate to Umbraco from any CMS, including Wix, Joomla, WordPress, or Drupal. We'll make sure your content keeps its styling, layout, SEO tags, metadata, attachments, and more.
Tailored Support and Maintenance
When your website is your face on the world, every second of uptime matters. Our Umbraco support team will find a custom service level agreement (SLA) to suit your business. We also offer Umbraco health checks that assess the quality and performance of your site.
Looking to boost your presence online? Ask our team to get started.
Influential Software 2018 Review & 2019 Predictions
Posted on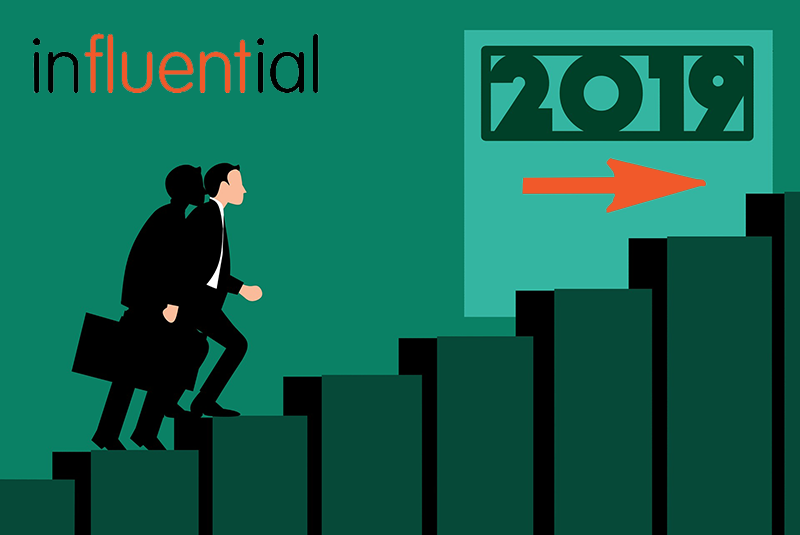 For the team at Influential Software, 2018 was a year of growth and change. Based on that positive record, what can we expect from the coming year? To get a better idea, let's take a look back with our 2018 review of digital transformation success.
2018 Review: Major Clients and New Partners
Influential Software attracted some top-drawer names in 2018. From Arsenal Football Club to Pret a Manger, City of London Police to Gatwick Airport, and Jobsite.co.uk to Deloitte, our digital services were very much in demand.
Having ridden the waves of IT for over 20 years, we know that agility is the key to success. That's why we're always aiming to diversify and consolidate our skills with new partnerships and services. In the integration realm, we partnered with Dell Boomi and HULFT last year. Our Adaptive Insights partnership enabled us to offer cutting-edge financial planning software. And by partnering with Metalogix we broadened our services for SharePoint and Office 365.
Overall, we saw that UK organisations know the value of digital and are keen to reap the benefits. Under pressure to transform quickly, businesses have also realised the need for expert help. Our success this year depended on forward-thinking IT and business leaders who trusted us to solve their digital challenges.
2019 Predictions: Digital Acceleration
Given that tech expanded 2.6 times faster than the rest of the UK economy in 2018, we strongly expect this trend to continue. And technology doesn't exist in isolation. Our clients approach us for real-world solutions that help them work faster and smarter than before. As long as businesses want to serve the digital generation – which is practically everyone these days – demand for digital transformation will increase.
More specifically, there are a few areas we expect to grow rapidly in 2019.
1. Tech Recruitment
While the tech economy is booming, there are dark clouds on the horizon. These represent a digital skills gap in the UK. Studies last year showed that 43 percent of UK adults did not have the basic digital skills needed for 63 percent of jobs. What's more, only 16 percent of executives say their teams have the skills necessary to deliver their digital strategies.
All of this means that tech recruitment and training are becoming crucial for UK businesses to thrive. Thankfully, Influential Software is meeting this need with a range of technical recruitment and training services. Alongside recruitment for business intelligence, development, and support, we also specialise in MuleSoft recruitment, MuleSoft training, and BusinessObjects training.
2. Systems Integration
We love useful new applications. Over the years, businesses will continue to acquire more and more of them. The sticking point appears when that business wants to see the big picture, and it's wrapped in layers of uncommunicative software. A good integration solution allows businesses to take on as many applications as they like, from any source, while keeping everything transparent and secure.
As the digital economy continues to expand, so will the need for integration. Having partnered with MuleSoft in 2016, we followed up with Dell Boomi and HULFT partnerships in 2018. These three partners give us huge flexibility in solving integration challenges large and small.
3. Website & CMS Development
Websites are the new storefronts. With the right design, they can do everything that a physical shop does – and then some. It's easy to see that website design and content management system (CMS) development will show strong growth in 2019.
Based on our development background in Microsoft .NET, we launched our Umbraco services site in 2018. On top of our long-standing work with Java and PHP, the Umbraco site showcases our skills with the world's most powerful web development tool.
∞ Unlimited Potential for Change
These 2019 predictions are only a snapshot of the likely trends. We could add that cloud computing, Internet of Things solutions, artificial intelligence, and machine learning are also set to grow in 2019. And with services for SAP Partner Managed Cloud, SAP Cloud Platform, and SAP Leonardo, our team is digitally ready for all outcomes.
Is your business looking to transform in 2019? Ask one of our experts how.
PHP Development Website Launched
Posted on Friday 20th July 2018 2:41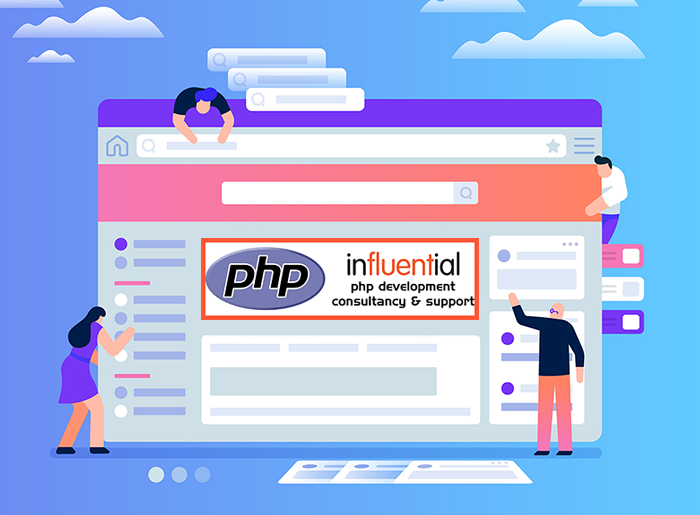 In a drive to bring this popular language to even more UK businesses, Influential Software has launched a new PHP development site.
With around 80 percent of all websites built on this programming language, PHP is a highly valuable tool for our clients.
Influential Software formed its PHP team over 10 years ago. Since then, clients of all sizes and sectors – from SMEs to large enterprises and public-sector organisations – have benefitted from our bespoke development.
Our new PHP development website site throws a spotlight on this crucial area of web development, along with its many benefits and applications.
Why PHP Development?
PHP web development is behind some of the biggest sites around, including Wikipedia, Flickr, and Tumblr. Facebook started out on standard PHP before moving to a separate PHP framework for its own platform and app development needs.
Mature frameworks maintained by an active community are one of the reasons for PHP's success. These frameworks can be used to create industry-specific and general-purpose applications.
Another widespread use of PHP is in Content Management Systems (CMS). WordPress, the world's most popular CMS, is built using PHP tools.
The Influential Software PHP Team
As well as PHP frameworks such as Laravel, Symfony, and Zend, our team also performs CMS integration with TYPO3, WordPress, and Drupal.
Through code-level customisation of existing tools, we ensure that our bespoke CMS projects align content and presentation to your particular specifications.
For cloud-based implementations, our team builds and configures the virtual servers, software, and services required to create a balanced and scalable architecture for Amazon Web Services (AWS), IBM SoftLayer, and Microsoft Azure.
PHP Mobile Services
PHP remains one of the most powerful languages for mobile app development. This is partly thanks to its ability to embed directly into HTML, integrate with AJAX and Callback, and interface easily with Apache and MySQL.
Our PHP mobile development team designs every project with state-of-the-art user interfaces, scalable systems, and capability for user impressions on the app base.
PHP Software Development
Our bespoke CMS designs include the most popular platforms, such as WordPress, Joomla, and Drupal.
Industries from e-commerce to financial services and non-profits have benefited from our custom CMS services. By focusing on speed and intensive data exchange capabilities, we offer real-time solutions for your content.
Keen to see how our services can benefit your business? Feel free to visit our dedicated PHP development website.
New .NET Development Website
Posted on Friday 29th June 2018 12:45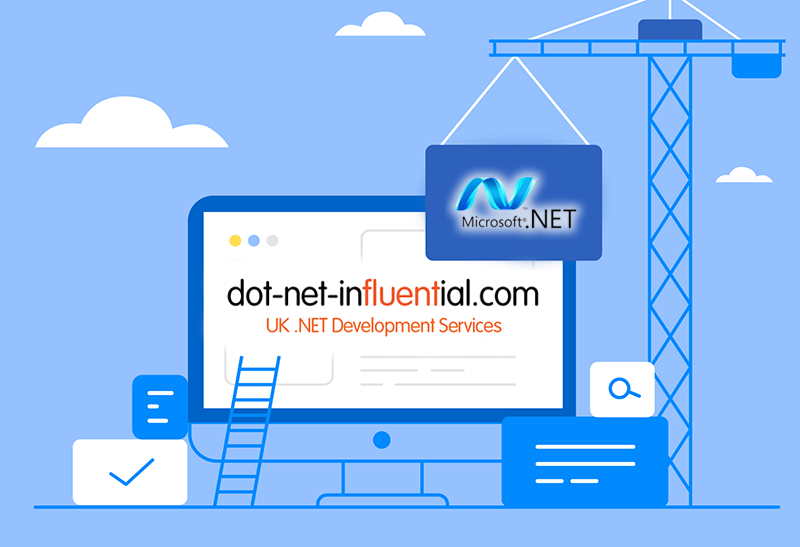 We've all heard the phrase, "There's an app for that." The fact that we find apps everywhere shows their importance in today's economy. And for modern businesses, the ability to make applications quickly has become a major driver of digital transformation. As a team with decades of development know-how, Influential Software is proud to present our services on a new .NET development website.
Why .NET Development?
Whether increasing productivity or empowering field workers, boosting intelligence or enabling new services, applications are key. And of course, the aim is to innovate as efficiently as possible. That's why many businesses prefer .NET development. Its ease of use, simple maintenance, security, scalability, and compatibility all make this the most popular framework worldwide.
.NET Application Development
Drawing on 25 years of success, our .NET development team has experience of web, mobile, desktop, gaming, machine learning, AI, and Internet of Things projects. Our capabilities include cross-platform .NET apps as well as apps for your choice of OS. Clients both large and small benefit from our fast, affordable .NET application development.
.NET Website Development
The versatile ASP.NET framework is the world's most popular web development popular tool. From e-commerce sites, online banking, web portals, online learning, searchable databases, business intranets, our .NET website development team can realise all kinds of business goals.
We choose the ASP.Net framework as a secure, robust tool with a wide library and great compatibility. That means our clients' ASP.NET websites continue to bring long-term returns.
Services and Support for .NET
.NET development itself is only one stage in our clients' ongoing transformation. The digital landscape is always fluid, meaning new challenges appear and new solutions are needed. Recognising this, we have .NET services to cover the whole cycle. Pre-development, our consultants can identify business needs and opportunities that are ripe for .NET applications. Post-development, we offer bespoke support and training to ensure long-term returns.
Agile Tools, Expert Technique
The .NET framework provides the tools. Influential Software brings the technique. Put the two together and you have a recipe for effective applications.
If you're interested in finding out more, why not visit our dedicated site?