Search results
The days of one-size-fits-all suites are behind us, and flexible integration is on the rise. But what kind of results can you expect from a cutting-edge iPaaS like Dell Boomi? To answer that query, we took a look at the Dell Boomi benefits.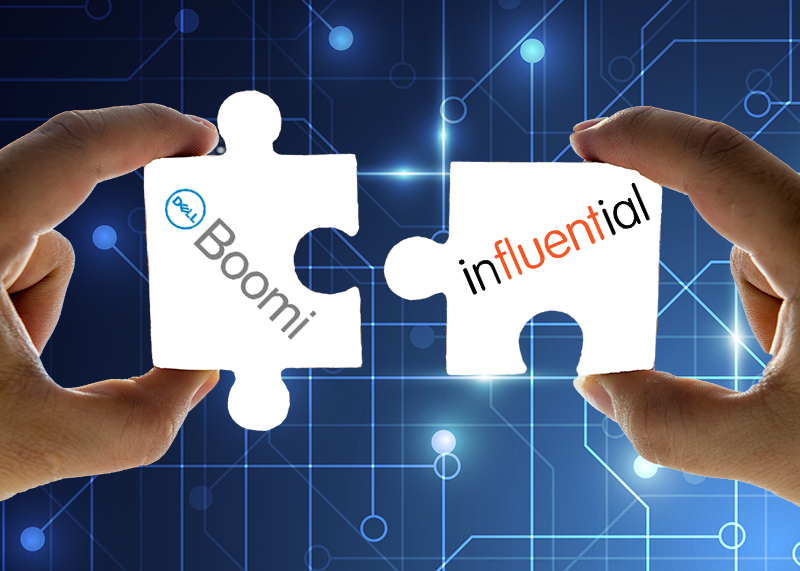 For many years, enterprises were stuck with ERP suites. Instead of making a best-in-breed collage to suit their real needs, they had to choose one package or another.
As the cost of ERP implementation increases, more and more enterprises are seeking alternatives. The most compelling of these are the integration platforms as a service (iPaaS).
With an iPaaS such as Dell Boomi, businesses of all sizes can connect any mix of software as a service (SaaS) applications with on-premise systems – so they get only the best for their business goals.
But the Dell Boomi benefits don't stop there. At Influential Software, we care about sustainable results.
The Business Case for iPaaS
If ERP is starting to look like the expensive and ineffective option, then consider the Dell Boomi benefits:
It scales quickly and cost-efficiently to your company's needs and growth
It reduces integration risks with crowdsourcing
It facilitates data sharing across applications and organisations with business process automation
So is Dell Boomi the right option for your business?
When in Doubt, Ask a Boomi Expert
A successful integration has long-term benefits for businesses – while an unsuccessful one can cause chaos. That's why vendors choose to sell their products through experienced partners such as Influential Software. As a Dell Boomi Partner with 25 years in the industry, we have some of the best-qualified consultants in the UK.
And read on for the full picture of Dell Boomi benefits.
Quick and Easy iPaaS Scaling
Growth is good. An effective iPaaS offers quick adjustment of functionality, scaling up and down as you need.
Forget the expense of onboarding and maintaining all that hardware and software. There's none of that with the Dell Boomi iPaaS!
Fine, but let's say I want to add subscription billing and human capital management application to Salesforce Sales Cloud and another cloud-based ERP application. Yes, you can do that too: just plug in a pre-made Dell Boomi enterprise connector or application connector.
Key benefit: save time and cost of growth.
Boomi Crowdsourcing for the Win
Crowdsourcing is the art of learning from other people's victories (and mistakes). Dell Boomi is unique in offering crowdsourced best practice features. These appear in three features:
Boomi Suggest: anonymously indexes data mappings across all platform users – so 90 percent of data mappings you need to create are already mapped and presented as options.
Boomi Assure: allows crowdsourced regression testing – so you know platform updates won't break your integration processes
Boomi Resolve: uses crowdsourced contributions to suggest resolutions for common error messages. It even learns, becoming more helpful as more issues arise.
Key benefit: reduce integration risks and resolve obstacles fast.
Integration Automation, Zero Complication
Struggling with redundant applications, or sharing data across line-of-business applications to systems that are only used at HQ?
You can automate that with a scalable iPaaS like Dell Boomi AtomSphere.
A smart business has one eye on the future. For many, that means MDM or API management. The Dell Boomi iPaaS is one component of a multi-purpose PaaS solution, meaning you can pick up other functionalities whenever they're needed, with no need for another platform, vendor, or interface.
Key benefit: automate processes and future-proof your integrations.
It's Great to Integrate
So let's put the key Dell Boomi benefits we've seen together:
increase speed of implementations
get better value on growth
mitigate integration risks
automate processes
future-proof your integrations
All in all, a well-functioning iPaaS such as Dell Boomi galvanises communication, intelligence, and productivity across your enterprise. The end result: profitability!
If these sound like benefits you want to have, get in touch with the Dell Boomi Partner team at Influential Software.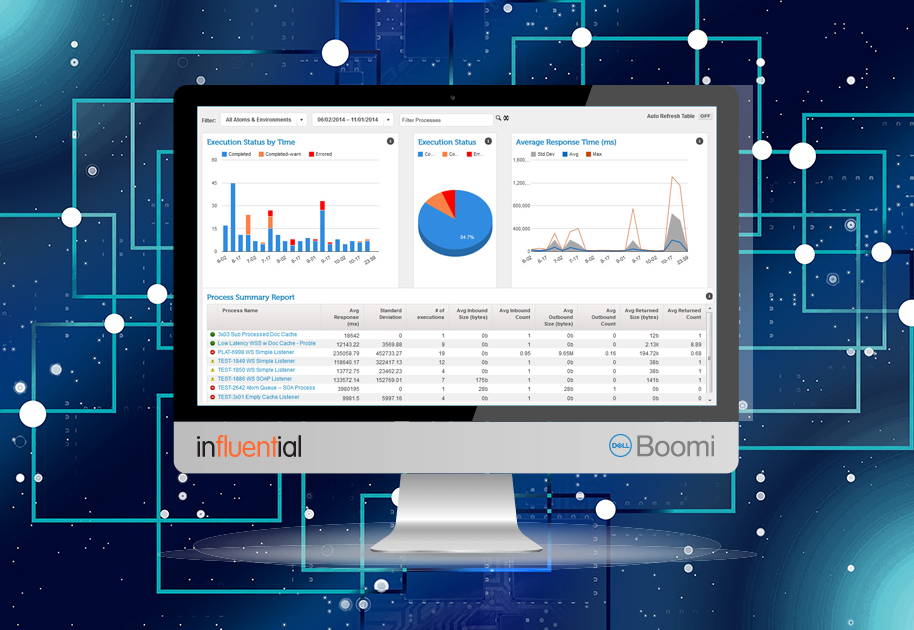 As leading digital transformation consultants, Influential Software knows that integration is key to enterprise agility. That's why we're promoting our latest partnership through our Dell Boomi website.
The interconnected Dell Boomi solutions solve the challenges of unconnected applications, reliance on IT support, low app performance, and lack of accessible information. The Dell Boomi platform consists of a central integration hub, Integrate, and four solutions that businesses can connect at will: Mediate, Hub, Exchange, and Flow.
By adding Dell Boomi to our list of cutting-edge partners, Influential Software is staying ahead of the integration curve. Clients can now benefit from our services in consultation, licence configuration, implementation, delivery, and support.
Next-Generation Integration Platform
The Integrate solution is the core of the Dell Boomi platform, bringing all your applications together in the cloud. Businesses can connect to over 1500 unique APIs using a combination of application connectors and technology connectors.
Modern APIs
The Mediate solution controls API management and design, allowing you to secure and scale APIs across your business. By facilitating third-party API access, Mediate extends your business reach.
Data Quality
The Hub solution ensures data quality across your enterprise, reducing data management difficulties. Enjoy agile data mastering, lower total ownership costs, and higher efficiency. Use master data management to provide a single version of the truth across your organisation.
EDI Management
The Exchange solution simplifies communication with your trading partners with modern partner ecosystem management. Build, deploy, and manage both your traditional EDI and newer Web services.
Workflow Development
The Flow solution empowers you to build customer journeys with low-code development. Get faster process times, increased connectivity, and greater understanding of end-to-end processes with workflow automation.
Eager to know how we can transform your business with Dell Boomi? Feel free to visit our Boomi site.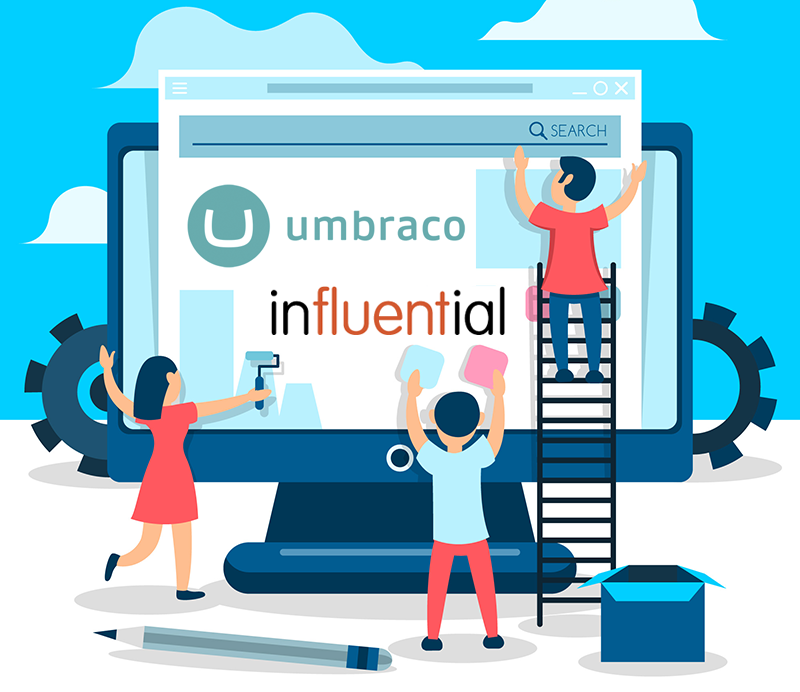 From small start-ups to Fortune 500 companies, over 500,000 businesses use the Umbraco CMS to power their websites. The reason is simple: Umbraco is the most scalable, intuitive, functional, fast, and secure CMS out there. Based on the Microsoft .NET language, Umbraco is also the natural tool for our .NET development team. And now UK clients can explore our full capabilities on a dedicated Umbraco services website.
Custom Umbraco Development
With over 10 years of experience in .NET development, our team has a deep understanding of the language behind Umbraco. That makes all the difference when creating a custom CMS or website design. By consulting users from the very start, our Umbraco developers ensure a CMS that makes your editors creative, productive, and happy. We all know that positive editors make for positive content!
From initial strategy and planning through design and build, our developers take an agile, personalised approach to each project. Team specialisms include responsive web design, custom CMS development, e-commerce solutions, Umbraco Forms, Umbraco Courier, and Umbraco Headless.
Integrate Umbraco with Anything
Whichever systems you want to use with your website, there's a way to integrate Umbraco. Besides our developer skills, the Influential Software team is also highly skilled in integration – as shown by our MuleSoft and Dell Boomi partnerships.
Umbraco allows us to create a seamless flow between your website and back office, marketing, payment, visual, and custom systems.
Umbraco Hosting and Umbraco Cloud
Choosing Umbraco hosting by a trusted third party in the UK means lower costs and fewer risks for your business. Alongside hosting, our support and maintenance packages will cover you against any eventuality.
Umbraco's own hosting, known as Umbraco Cloud, offers exclusive features and a stable, predictable platform. Our team can accelerate your migration to Umbraco Cloud, offer integration expertise, and give custom support.
Migrate Your CMS to Umbraco
Migrating to the latest version, Umbraco 7, brings a faster interface, stronger security, and simpler coding tools. And Umbraco 8 is just around the corner.
Using the latest automated tools, our team avoids the time, errors, and risks of manual migration. It's easy to migrate to Umbraco from any CMS, including Wix, Joomla, WordPress, or Drupal. We'll make sure your content keeps its styling, layout, SEO tags, metadata, attachments, and more.
Tailored Support and Maintenance
When your website is your face on the world, every second of uptime matters. Our Umbraco support team will find a custom service level agreement (SLA) to suit your business. We also offer Umbraco health checks that assess the quality and performance of your site.
Looking to boost your presence online? Ask our team to get started.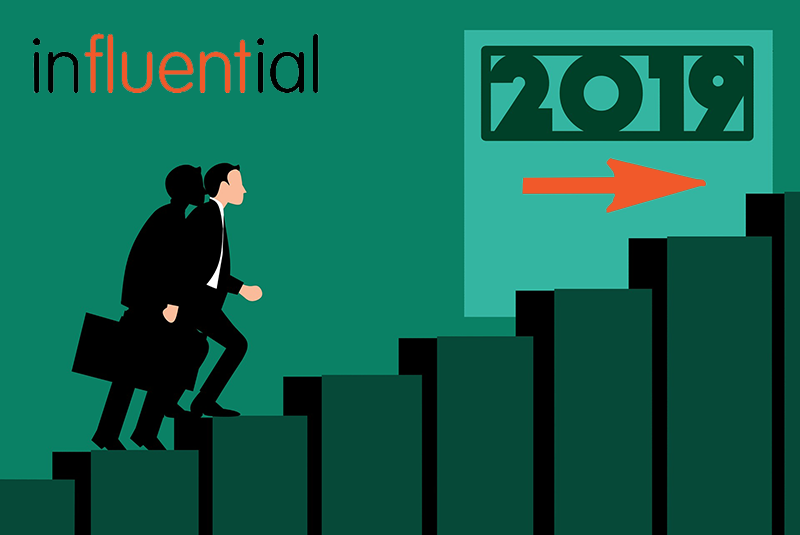 For the team at Influential Software, 2018 was a year of growth and change. Based on that positive record, what can we expect from the coming year? To get a better idea, let's take a look back with our 2018 review of digital transformation success.
2018 Review: Major Clients and New Partners
Influential Software attracted some top-drawer names in 2018. From Arsenal Football Club to Pret a Manger, City of London Police to Gatwick Airport, and Jobsite.co.uk to Deloitte, our digital services were very much in demand.
Having ridden the waves of IT for over 20 years, we know that agility is the key to success. That's why we're always aiming to diversify and consolidate our skills with new partnerships and services. In the integration realm, we partnered with Dell Boomi and HULFT last year. Our Adaptive Insights partnership enabled us to offer cutting-edge financial planning software. And by partnering with Metalogix we broadened our services for SharePoint and Office 365.
Overall, we saw that UK organisations know the value of digital and are keen to reap the benefits. Under pressure to transform quickly, businesses have also realised the need for expert help. Our success this year depended on forward-thinking IT and business leaders who trusted us to solve their digital challenges.
2019 Predictions: Digital Acceleration
Given that tech expanded 2.6 times faster than the rest of the UK economy in 2018, we strongly expect this trend to continue. And technology doesn't exist in isolation. Our clients approach us for real-world solutions that help them work faster and smarter than before. As long as businesses want to serve the digital generation – which is practically everyone these days – demand for digital transformation will increase.
More specifically, there are a few areas we expect to grow rapidly in 2019.
1. Tech Recruitment
While the tech economy is booming, there are dark clouds on the horizon. These represent a digital skills gap in the UK. Studies last year showed that 43 percent of UK adults did not have the basic digital skills needed for 63 percent of jobs. What's more, only 16 percent of executives say their teams have the skills necessary to deliver their digital strategies.
All of this means that tech recruitment and training are becoming crucial for UK businesses to thrive. Thankfully, Influential Software is meeting this need with a range of technical recruitment and training services. Alongside recruitment for business intelligence, development, and support, we also specialise in MuleSoft recruitment, MuleSoft training, and BusinessObjects training.
2. Systems Integration
We love useful new applications. Over the years, businesses will continue to acquire more and more of them. The sticking point appears when that business wants to see the big picture, and it's wrapped in layers of uncommunicative software. A good integration solution allows businesses to take on as many applications as they like, from any source, while keeping everything transparent and secure.
As the digital economy continues to expand, so will the need for integration. Having partnered with MuleSoft in 2016, we followed up with Dell Boomi and HULFT partnerships in 2018. These three partners give us huge flexibility in solving integration challenges large and small.
3. Website & CMS Development
Websites are the new storefronts. With the right design, they can do everything that a physical shop does – and then some. It's easy to see that website design and content management system (CMS) development will show strong growth in 2019.
Based on our development background in Microsoft .NET, we launched our Umbraco services site in 2018. On top of our long-standing work with Java and PHP, the Umbraco site showcases our skills with the world's most powerful web development tool.
∞ Unlimited Potential for Change
These 2019 predictions are only a snapshot of the likely trends. We could add that cloud computing, Internet of Things solutions, artificial intelligence, and machine learning are also set to grow in 2019. And with services for SAP Partner Managed Cloud, SAP Cloud Platform, and SAP Leonardo, our team is digitally ready for all outcomes.
Is your business looking to transform in 2019? Ask one of our experts how.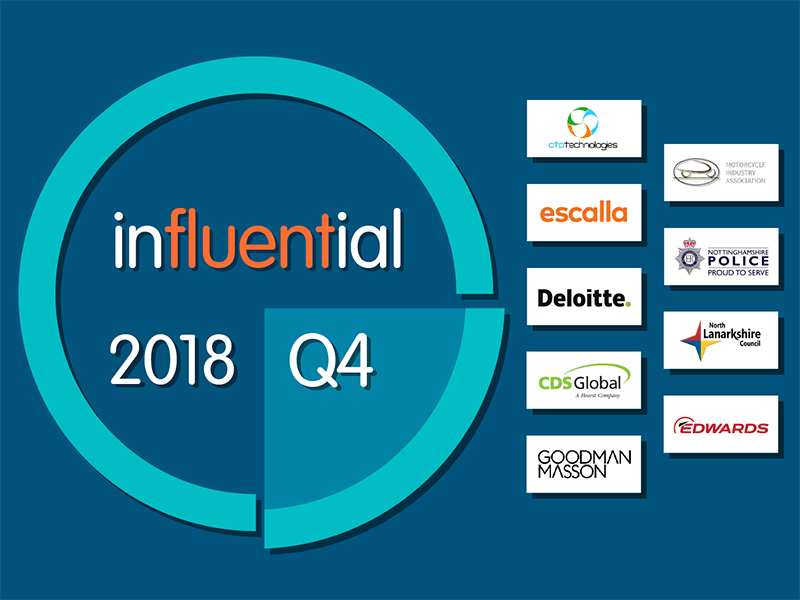 The last part of the year has seen even more UK clients transform their businesses with Influential Software. Our new clients in Q4, 2018 included local government, global manufacturing, a UK trade association, and a county police force.
Wrapping Q1, Q2, Q3, and Q4 into one festive package, we see that 34 new clients came to Influential Software in 2018. From energy to property, retail to finance, and government to education, our team has made a tangible difference to UK organisations this year.
Strategic partnerships with vendors such as Dell Boomi, Adaptive Insights, Metalogix, and HULFT have strengthened our skills this year. Clients have drawn on the full range of our services, including website development, integration, support, licence sales, consulting, migration, and training.
If you're considering the next step in your digital transformation, it's easy to find out what you can achieve with Influential Software.
Selected New Clients in Q4, 2018:
North Lanarkshire Council
CTO Technologies
escalla
Deloitte
Nottinghamshire Police
CDS Global
MotorCycle Industry Association
Goodman Masson
Edwards Vacuum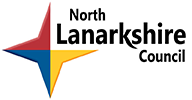 Client: North Lanarkshire Council
Sector: Public Sector
North Lanarkshire Council is a local council in southern Scotland, bordering the city of Glasgow. The county has an area of 470 kilometres squared, and had a population of 338,260 in 2015.
The council is responsible for management of all services in the local area, including housing, education, business, transport, health, and social care.
This client benefitted from Influential Software's expertise in all aspects of business intelligence, as well as our decades of experience with public sector clients.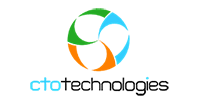 Client: CTO Technologies
Sector: IT
CTO Technologies is an IT services company based in South East England. The company's services include consulting, managed services, workspace virtualisation, cyber security, infrastructure services, and licence optimisation.
By choosing Influential Software to assist with a software project, CTO Technologies drew on the range of skills and technologies within our 80-strong team.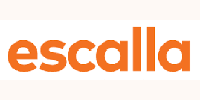 Client: escalla
Sector: IT
escalla is a UK-based provider of IT training, specialising in the skills of Office 365. The company's services include off-the-shelf e-learning and LMS hosting, training resources, legislative services, and systems integration.
When other IT companies come to Influential Software, it shows the value that our services hold in the sector.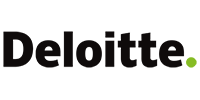 Client: Deloitte
Sector: IT
Deloitte is an international IT and consulting company, incorporating tens of thousands of professional in independent companies worldwide.
Deloitte provides for a wide range of sectors with auditing, consulting, financial advice, risk management, tax, and related services.
Deloitte sought out Influential Software's expertise to supplement its operations in the UK.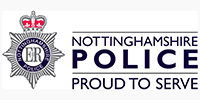 Client: Nottinghamshire Police
Sector: Public Sector
Nottinghamshire police is responsible for law enforcement in Nottinghamshire, an East Midlands county with a population of over 1 million.
Around 3,200 officers and staff work on the force, which covers an area of 2,160 square kilometres.
Having worked with a great variety of police and emergency services across the country, including City of London Police and Cleveland Fire Brigade, Influential Software was the natural choice for Nottinghamshire Police.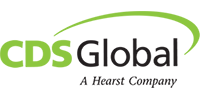 Client: CDS Global
Sector: IT
CDS Global is a provider of business process solutions across the customer lifecycle.
Services encompass customer service, data solutions, e-commerce, mailing, marketing, telemarketing, order management, payment, warehousing, and distribution.
CDS Global approached Influential Software for a bespoke project, trusting in the unmatched results that our clients have come to expect.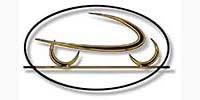 Client: Motorcycle Industry Association
Sector: Automotive
The Motorcycle Industry Association (MCIA) is a trade association representing around 85 percent of motorcycle suppliers in the UK.
The MCIA works with the UK government and related organisations to promote the interests of motorcycle manufacturers, importers, and suppliers of accessories and components.
Influential Software's track record with similarly large organisations drew the MCIA to our best-value services.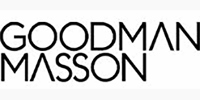 Client: Goodman Masson
Sector: Recruitment
Goodman Masson is a recruitment firm specialising in finance, technology, executive search, and recruitment process outsourcing (RPO). The company has offices in London, Dusseldorf, and New York.
Goodman Masson chose Influential Software's services to ensure a fast, targeted recruitment system for all its UK customers.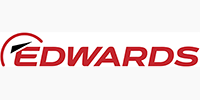 Client: Edwards Vacuum
Sector: Manufacturing
Edwards Vacuum is a developer and manufacturer of vacuum systems and abatement solutions, as well as providing related services.
These systems are used in the manufacturing of technologies such as semiconductors, LEDs, and solar cells, as well as within the steel, pharmaceutical, and chemical industries.
Influential Software's experience of connecting complex systems within the manufacturing industry and beyond was an important factor for Edwards Vacuum.
See You in 2019!
This year has been an excellent one for us and our clients. As a privately owned company based only in the UK, Influential Software strives to serve every customer with the utmost care and attention. 2018 has shown that our services are sorely needed if UK businesses aim to stay competitive. That trend is only going to grow in 2019 – so watch this space!
Have you made a New Year's resolution to transform your business? Ask us for advice today.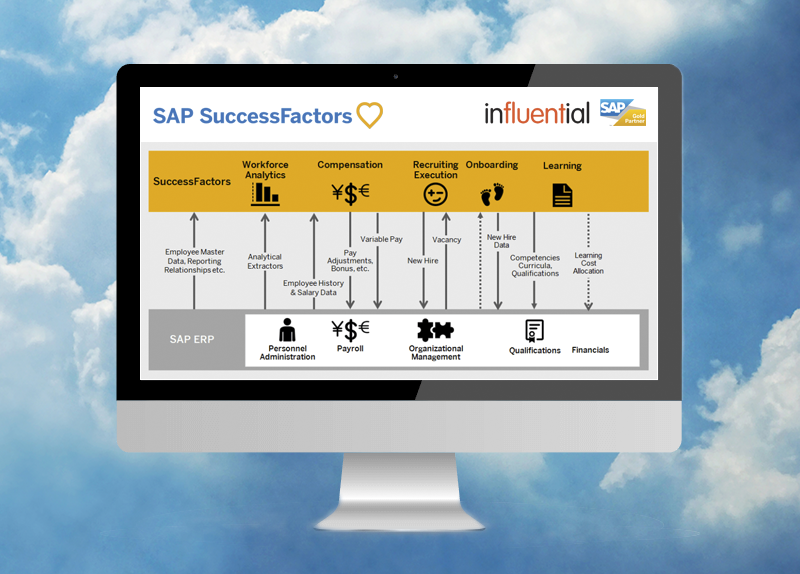 Businesses live and thrive on their people. That means that as generations change, businesses have to change with them. Creating a fast, smooth, and engaging experience is what modern employees have come to expect. At the same time, businesses are increasingly turning to the cloud for the most agile and cost-effective software. At the meeting point of these two trends is SAP SuccessFactors – a cloud solution for the modern workforce. So what are the most compelling reasons to move to SAP SuccessFactors?
The Millennial Factor
Over half of your workforce will be millennials by 2020. These youngsters have grown up with flexible working, digital collaboration, and slick user experiences as the norm. Making the move to SAP SuccessFactors brings your HR into line with those expectations. You can encourage employee learning and development wherever they are, while removing the delays and paperwork that turn them off.
OpEx Model
Cloud solutions are perfect for when budgets are tight. The monthly subscription model of SAP SuccessFactors is a powerful argument for small to medium sized businesses. On top of that, the modular SAP SuccessFactors licences mean you can add any functions as and when you need them.
Maintenance Not Required
As an SAP-hosted solution, customers don't need to think about maintenance. Administration is also simple, as many functions can be learned from free training videos on the SAP SuccessFactors Community site.
Mobility Included
SAP SuccessFactors includes a mobile platform as standard, unlike many on-premises solutions. Your HR team can work with recruiting, to-do list management, and performance and goal management on the go.
Integration as Standard
The preconfigured options in SAP SuccessFactors offer fast integration with other SAP solutions and many non-SAP providers in payroll, benefits, time and attendance, and document management.
For more complex SAP SuccessFactors integrations, Influential Software's clients benefit from our partnerships with Dell Boomi and MuleSoft.
Stable and Upgradable
SAP SuccessFactors receives upgrades four times a year, ensuring you always have the latest innovations. For customers who want to upgrade in their own time, we can assess your needs and perform targeted mini-implementations.
User Friendly
The user interface of SAP SuccessFactors is a huge improvement over on-premises HR solutions. This means you can keep your HR team just as happy as the workforce they're serving.
Refresh Your Processes
Like any HR solution, SAP SuccessFactors is only a tool. It's up to each business to define its HR strategy before implementing it with the best software. Making the move to SAP SuccessFactors is a great chance to review your current HR strategy and air fresh ideas.
SAP SuccessFactors & Influential Software
Getting the most out of these benefits is a matter of experience and expertise. As an SAP Gold Partner with 25 years of success in the software domain, Influential Software provides the SAP SuccessFactors services to make your move a breeze. Our partnerships with leading integration providers Dell Boomi and MuleSoft also ensures that HR is perfectly aligned with all your systems.
Interested in learning more about SAP SuccessFactors? Feel free to visit our dedicated website.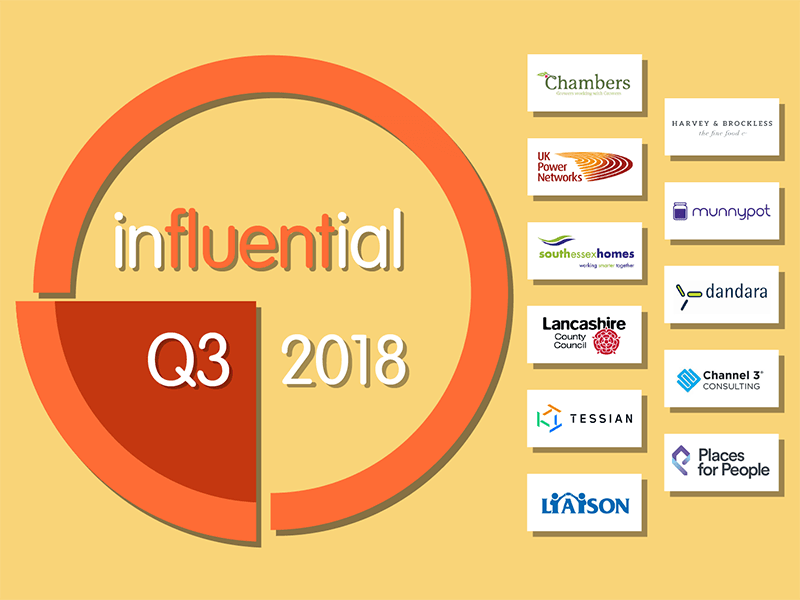 Building on a good start in Q1 and hot on the heels of our gains in Q2, Influential Software has created countless value across UK industries with our new clients in Q3, 2018.
From government to energy, financial services to property, and IT to food and beverages, our team has carried out a range of transformative projects this quarter.
Organisations have seen the clear advantage of Influential Software for website development, support, licence sales, consulting, migration, training, and business intelligence services.
If you're considering the next step in your digital transformation, it's easy to find out what you can achieve with Influential Software.
Selected New Clients in Q3, 2018:
WB Chambers Farms
South Essex Homes
UK Power Networks
Lancashire County Council
Harvey and Brockless
Munnypot
Dandara Group
Channel 3 Consulting
Tessian
Places for People Group
Liaison
---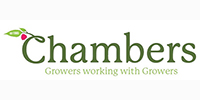 Client: WB Chambers Farms
Sector: Agriculture
WB Chambers is a privately owned farming business based in Southeast England. The company has 350 hectares of production area across 14 locations in Kent.
WB Chambers farms produce crops including raspberries, blackberries, blackcurrants, redcurrants, cherries, gooseberries, strawberries, blueberries, and rhubarb.
Influential Software's long and successful history in business intelligence drew WB Chambers to engage our services.
---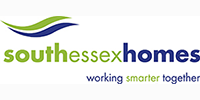 Client: South Essex Homes
Sector: Not-for-profit
South Essex Homes is a not-for-profit company that provides housing services on behalf of Southend-on-Sea Borough Council.
The company works to bring all housing in the area up to the Decent Homes Standard and improve satisfaction levels among residents.
Influential Software's strong record with public sector organisations convinced South Essex Homes to draw on our deep business intelligence expertise.
---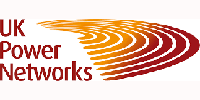 Client: UK Power Networks
Sector: Energy
UK Power Networks owns and maintains electricity cables and lines across an area of 29,000 square kilometres, across London, the South East, and the East of England. The company ensures the smooth running of the electrical grid, upgrading power equipment and preventing and addressing issues such as power cuts.
---

Influential Software expanded its range of strategic partnerships this quarter by becoming an Adaptive Insights Partner and Solution Provider.
Our clients can now access cutting-edge financial planning software with the benefit of our consulting and technical expertise.
If you're interested in Adaptive Insights solutions, why not visit our dedicated site?
---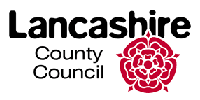 Client: Lancashire County Council
Sector: Government
Lancashire County Council is the local authority for Lancashire, a non-metropolitan county in Northwest England.
The council provides services for a population of 1.4 million, including care services, employment, education, healthcare, transport, and recreation.
Influential Software's long-standing success with public sector organisations was a factor in the council's decision to engage our software experts.
---

Client: Harvey and Brockless
Sector: Food & beverage
Harvey and Brockless is a producer and distributor of specialty foods, supplying restaurants, bars, food manufacturers, and farm shops.
The company specialises in cheese, with the largest collection of British farmhouse cheeses in the UK. Other ranges include Mediterranean deli products, British cured meats, and the company's own sauces and dips.
---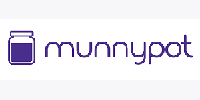 Client: Munnypot
Sector: Financial services
Munnypot is a personalised investment advice service. The company uses robo-advisers to provide automated, algorithm-driven advice. Customers decide on a goal, such as buying a new house, and receive tailored recommendations.
Munnypot was named Most Innovative Robo Advice/Guidance Proposition Award and Best Website – DFM/WM at Investment Week's Investment Marketing and Innovation Awards 2018.
---

New Partnership in Q3, 2018: HULFT
Influential Software added HULFT to its list of partners this quarter, launching sites for HULFT Integrate and HULFT Transfer.
Our HULFT capabilities are another way of creating the fast, integrated, error-free, secure and efficient businesses that the UK needs.
---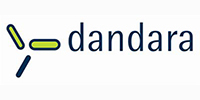 Client: Dandara Group
Sector: Property
Dandara Group is one of the UK's largest independent property development companies, with over 10,000 customers.
Dandara covers all aspects of property development, from land buying to planning, designing, building, and sales.
---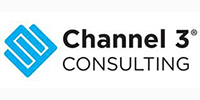 Client: Channel 3 Consulting
Sector: Consultancy
Channel 3 Consulting is a company specialising in digitisation and ICT implementation in healthcare and the public sector.
Channel 3 Consulting is an approved supplier to the NHS and the public sector, acting as partners for Guys and St. Thomas', Newcastle, and St. George's.
---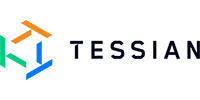 Client: Tessian
Sector: IT
Tessian is an information technology and services company based in the UK. The company provides solutions for email security, countering threats such as spear phishing, misaddressed emails, and unauthorised emails.
Tessian's machine intelligence solutions automatically identify threatening activity and notify users, with separate solutions for different types of threat.
---

New Partnership in Q3, 2018: Dell Boomi
Influential Software forged a partnership with Dell Boomi this quarter, adding another string to our integration bow.
With Dell Boomi's integration platform, our experts have created savings in time, cost, and effort for all sectors of the UK economy.
Are you interested in Dell Boomi integration? Feel free to explore our dedicated site.
---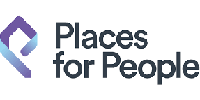 Client: Places for People Group
Sector: Property
Places for People is a property management, development, regeneration, and leisure company, managing over 182,500 homes in the UK.
The 20 companies within Places for People provide services such as building and managing homes, providing job and training opportunities, supporting new and existing businesses, financial products such as mortgages and loans, and care and support services.
---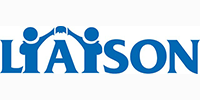 Client: Liaison
Sector: Business services
Founded in 1988, Liaison provides specialist financial management and workforce management services to over 300 NHS clients.
The company provides VAT advice, recovery, and compliance services to over 40 percent of NHS trusts and health boards. Liaison's workforce management services include direct engagement, weekly payroll, and support with developing staff banks.
---
Influential Software Steaming Towards Q4
Carrying forward the momentum from Q1 and through Q2, Influential Software has made transformative steps across all sizes and sectors. But one thing's for sure: there are many influential clients yet to come.
With hands-on projects across the financial services, publishing, manufacturing, healthcare, higher education, government, and public sectors, our team melds business experience with software expertise.
Find out how your organisation could benefit – talk to one of our advisors today.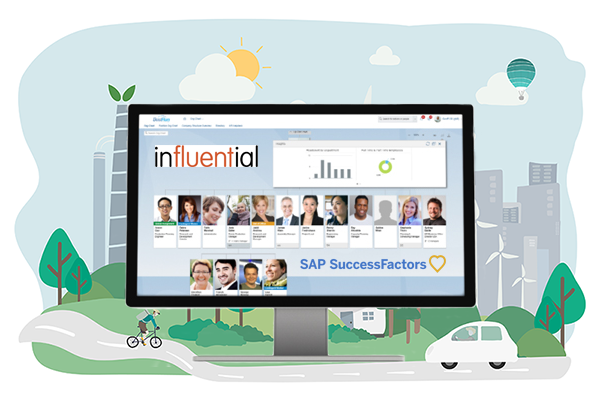 It's a universal truth that companies are only as strong as their people. Finding and keeping the right employees is a decisive factor in business success, and ultimately, survival. Now HR professionals have a smart, affordable way to manage all HR processes in the cloud: SAP SuccessFactors. As a long-term SAP Gold Partner, Influential Software offers consulting, licences, and value-added services for this premier human capital management (HCM) solution. And that's why we're promoting our services on a new SAP SuccessFactors website.
Modular HR
SAP SuccessFactors combines the agility of cloud with a modular format that expands with your needs. Starting with the Employee Central core, our clients can add modules for payroll, visa management, learning and development, performance and compensation, and more. Our team's real-life experience of these tools allows us to choose the most targeted option.
Flexible Integration
Being such an important aspect of your business, HR data has to be instantly available. Our team offers bespoke integration services for SAP SuccessFactors and CRM, marketing, ERP, e-commerce, analytics, and business intelligence solutions. Our expertise as both an SAP Gold Partner and a Dell Boomi Partner gives our clients a range of integration options.
Strategic Services
Our HR software consultancy is about matching your business and its goals to the best SAP SuccessFactors solution. From initial consulting through implementation and integration to upgrades, customisation and audits, Influential Software provides a start-to-finish service for SAP HR.
Best-Value Licences
Influential Software's best-value promise means our clients enjoy SAP SuccessFactors licences at an unrivalled price. Our team offers premade packages for uses such as Core HR and Payroll, Time and Attendance Management, and Recruiting and Onboarding. On top of these, we can create custom packages for any bespoke need.
An option particularly popular among clients is our combined licences and services package. This keeps costs low while ensuring long-term performance.
Human Skills, Software Advantages
SAP SuccessFactors brings the technology. Influential Software brings the technique. Put the two together and you have a recipe for HR transformation.
If you're interested in finding out more, why not visit our dedicated site?
At Influential, our UK-wide team of 80 are fluent in:
but above all; we are fluent in the digital transformation of business 
Our 100+ active UK clients are typically of FTSE-100/250 scale, from both private and public sector (for which we are authorised suppliers on G-Cloud10 and associated frameworks)
Over the past 5 years, we've identified, acquired and integrated several other well-aligned IT businesses, including the SAP Business Objects division of Redstone PLC (formerly Maxima PLC) and the IBM Cognos division of Intelligent Solutions (Midlands) Ltd.
If you need bespoke software developed, a BI solution implemented, CRM assistance, help in digital transformation, moving to the cloud or you want to get your existing systems talking better to each other, Influential can help you.
Since 1993, Influential has been driven by a mission to deliver top quality solutions to the world's leading publishers and other complex businesses – to help to improve client performance via a core set of objectives:
Drive revenue
Underpin growth
Reduce cost
Reduce risk
Our solution for you will deliver everything from premier-grade Business Intelligence realising past investment in systems and infrastructure and unlocking your business drivers to enterprise grade bespoke software to integrate, manage and streamline your processes, to expert consultancy – all beautifully packaged to suit your exact needs.
To view our privacy/cookie policy, in light of the ICO guidance on e-privacy, see our Privacy Policy.
If you would like to talk about a Digital Transformation, BI, CPM, Financial Planning or bespoke software project you need to deliver successfully, please contact us, pop in to the world famous Searcys rooftop bar at our landmark 30 St Mary Axe (City) site or visit us at our other offices in Kent and Glasgow.