How a remote intranet helps boost productivity working from home
Virtual teams were increasingly part of the norm even before the COVID-19 pandemic. However, many businesses are still unsure about this digital workplace strategy, wondering whether teams lose productivity working from home.
The pandemic has tested this theory globally, and in general we've seen that remote workers are actually more productive. Let's take a look at some of the recent remote work productivity evidence:
Enabling productivity working from home
Naturally, these remote work productivity benefits aren't achievable without the right infrastructure in place. Companies can struggle to find the right tools to maximise the engagement and productivity of remote workers. That's where a custom web portal or intranet comes to the fore.
While the word "intranet" might evoke images of bland document repositories, a modern intranet goes far beyond that. A well-designed intranet is your official communications channel, collaboration space, knowledge store, and engagement hub. These capabilities are valuable at any time, but especially when employees can't just turn around and ask their colleagues a question.
"Can't we just use Slack or Workplace?"
If an intranet is for company communication, then what's the advantage over apps like Slack? The answer is: an intranet is the foundation of your digital workplace strategy, combining communication with workflows, collaboration, and engagement.
Apps such as Slack or Workplace aren't designed as document repositories or workflow automation solutions. An intranet provides the foundation for all employees and processes, with the ability to integrate new functionalities as needed. Without that core platform you'll end up with a bunch of disparate applications.
So without further ado, here are the top ways a remote intranet helps boost productivity working from home.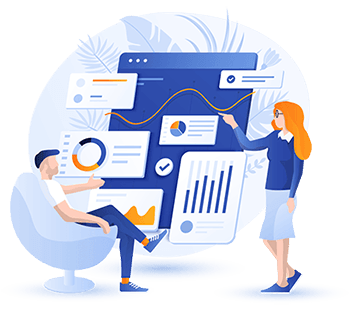 How an intranet boosts remote work productivity
1. Promote your company mission
Promoting your company mission is key to a successful employee engagement strategy. While many companies have a web page about the company purpose, that doesn't inspire employees in the long run.
A dedicated space on your intranet, showing how the company mission is progressing month by month, is much more effective. By encouraging employees to engage with this content you make them feel connected to a common cause.
Take a look at how we designed a new intranet to help an engineering company engage its remote workers.
2. Automate inefficient processes
While paper-based processes were already inefficient for office workers, they're impossible for distributed teams. Digitising those processes is a win-win: you maximise office efficiency and can benefit from a remote workforce. A remote intranet can include custom-built automations to replace all manner of paper-based processes.
For one example, see how we helped a global manufacturer improve efficiency by automating its invoicing process.
3. Enable strong collaboration
One way an intranet helps make remote workers more productive is through custom collaboration tools. Collaboration features enable working on documents together, sharing files, and managing projects. As well as helping streamline team work, collaboration tools can also provide insights into team performance. That's particularly important for measuring the productivity of remote workers.
4. Spread the good word
Larger companies often suffer from a lack of knowledge share between departments. It's hard to create a cohesive company spirit when each department doesn't know what's happening in the others. A remote intranet lets you drive a new synergy by sharing company successes from across departments.
5. Give employees a voice
An important part of your employee engagement strategy should be listening to employee feedback. You can use a remote intranet to provide blog, wiki, comment, and social tools that encourage openness and creativity. When remote workers and office workers have an equal voice, the whole company runs more smoothly.
6. Enable mobile working
A modern remote intranet provides the same features and experience on mobile as on desktop. Younger workers in particular prefer a company that provides the mobile connectivity they're used to outside work. This aspect of remote intranets will continue to grow as mobile becomes the norm.
7. Leverage the gig economy
Many companies hire specialists such as web designers or content writers for short-term projects. But the question arises of how to provide secure access to the information these freelancers need. You need to work collaboratively with them, but you also need to protect sensitive information.
One way of achieving this is by incorporating extranet functionality into your remote intranet. This allows your specialist freelances access to only the information you authorise, wherever they are in the world.