IBM Cognos (BI, OLAP, TM1, Impromptu)
Influential Software offers UK-based Cognos 11 BI consultancy across the entire product range, from a team of 80 developers and consultants. Our clients benefit from the longest-standing Cognos consultants in the UK, as we have been active in this area since 1993.
As a preferred IBM Cognos Advanced Business Partner, no-one will beat our prices or our service levels. We offer:
Licences – save money on your Cognos software licences, get a better deal on the support of your existing licences and want to utilise our 0% interest option on all licence purchases? Visit our licence sales website for indicative pricing
Licence referrals – are you a contractor working on-site and you know your client wants to save money on new licences / annual maintenance renewals? If so, let us help them and you'll earn a commission from the deal
Basic understanding – need a free discussion to talk about your requirements and to understand what Cognos can do for your business? We'll happily offer up to 1 day's free resource
Analysis – need some analysis around defining precise requirements and maybe a proof-of-concept built? We offer packages ranging from 4-10 days tailored for your initial requirements
Upgrade – you are moving to the latest version of Cognos and need assistance in this upgrade project, testing, report conversion etc.
Project – need an entire Cognos project partially or totally resourced from a trusted consultancy? We will provide a competitively priced, well resourced, professional solution
Our team is fully qualified across the IBM Cognos Business Analytics suite, with certifications in both the latest Cognos solutions and earlier releases:
COG-105 (IBM Cognos 8 BI Technical Specialist)
COG-612 (IBM Cognos 10 BI Author)
COG-622 (IBM Cognos 10 BI Administrator)
COG-632 (IBM Cognos 10 BI Metadata Model Developer)
COG-635 (IBM Cognos 10 BI OLAP Developer)
COG-645 (IBM Cognos 10 BI Multi-Dimensional Reports)
COG-701 (IBM Cognos TM1 10.1 Analyst)
COG-702 (IBM Cognos TM1 10.1 Developer)
IBM-639 (IBM Big Data Mastery)
IBM-645 (IBM Cognos Business Intelligence Sales Mastery)
00M-229 (IBM SPSS Predictive Analytics Solution Sales Mastery)
00M-620 (IBM Risk Analytics Sales Mastery)
00M-624 (IBM Risk Analytics for Governance Risk and Compliance Sales Mastery)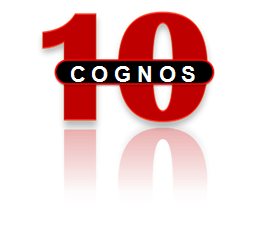 Cognos is a premium Business Intelligence software suite, with a history in corporate reporting solutions going right back to the early 1970s. Over the years Cognos has both continually developed its own offerings and acquired key emerging technologies along the way to develop a truly comprehensive BI offering. The 2009-10 acquisition by IBM for $5 billion is proof of its position at the top of the BI and financial planning tree.
Up until the Cognos 11 range, the heart of the Cognos product line-up was the Cognos 10 BI Suite a fully featured package, offering the following key components:
Report Studio – Pixel perfect enterprise grade reports and presentations
Query Studio – Easy browsing and querying of data for the casual user
Analysis Studio – Multi-dimensional (OLAP) querying, reporting and data-cubes
Metric Studio – Balanced score-carding and KPIs
Event Studio – Automated monitoring of data conditions and tolerances
Cognos Mobile – Rich BI on your Smartphone or PDA, real-time monitoring and GPS integration
In addition to the BI suite, Cognos also offer tools for financial planning and consolidation, Cognos Planning and Cognos TM1, both of which are available from Influential Software. Draw on our expertise to transform your planning and budgetary cycle into a consolidated workflow, freeing you from consolidating spreadsheets and manual overhead. Also find Cognos Controller, financial consolidation software that supports the complete close, consolidate, file and report process—all in one solution managed by finance.
To manage your enterprise data, Cognos offers the Framework Manager tool for mapping all your information sources into a format that can be easily understood, queried, and repackaged by users. All this is managed through a central portal, allowing simple searching and management of reports, dashboards, and RSS feeds in one consolidated location.
To leverage this BI firepower, you need expert management of data sources underneath and configuration of the user interface. Influential Software has proven methods for designing, configuring, and deploying Cognos Framework Manager across your data, which makes report writing and producing analyses second nature.
Some downloads around IBM Cognos Business Analytics:
Also view useful videos on IBM Cognos Business Intelligence:
Pricing is dependent on the size of your business and the specific tools, CPU, and roles required, with more information and examples on our primary licence sales website. Enjoy our interest-free pricing option on all Cognos licences.

If you would like to talk to us about a business intelligence solution, software solution, or any IT project you need to deliver successfully, please contact us, pop in to the world-famous Searcys rooftop bar of our landmark 30 St Mary Axe (City) site, or visit us at our Kent and Glasgow offices.
Call us on 0845 643 0592 or email contact@influentialsoftware.com.