Salesforce Pardot
Increase revenue with marketing automation
Salesforce Pardot gives you the tools to build data-driven programs that generate new leads and speed up your sales cycle.
Create a targeted customer experience with a flexible builder.
Use sales data to trigger marketing action based on CRM data.
Create dynamic and multifaceted campaigns with intuitive tools.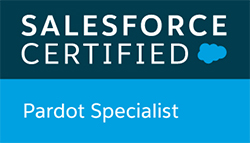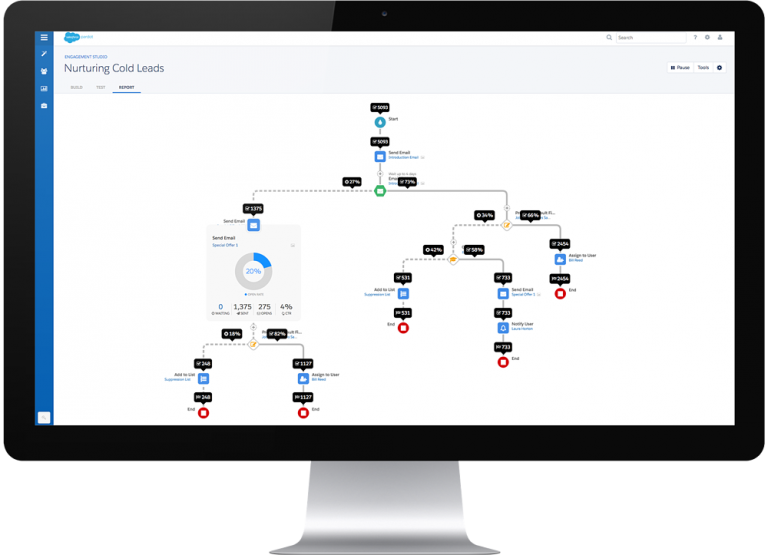 Lead Generation Tools
Accelerate your
marketing efforts
Salesforce Pardot marketing is a powerful platform for B2B email automation, targeted campaigns, and lead management. Pardot takes the manual labour out of lead qualification and nurturing, letting your team reach potential customers faster and smarter.
Streamline management

Increase engagement and sell faster by reaching customers at the ideal moment.
Align teams
Bring marketing and sales teams together around a single cloud platform.
Engage smarter

Use marketing AI to reach out to leads with the right message at the right time.
Pardot marketing automation solutions
Harness Pardot for your marketing goals
As a Salesforce Pardot implementation partner, we help companies of all sizes configure and customise Pardot to empower their digital transformation. From strategy to integration and development to training, we can support you every step of the way. And with 10 years of experience, you can trust our Pardot consultants to finish on time and on budget.
Consultancy
Learn how Salesforce can help you achieve your marketing goals with our Pardot consulting team.
Implementation
Save time and money by making sure your Pardot implementation lands perfectly the first time around.
Development
Build a highly customised marketing platform with the expertise of our Salesforce development team.
Integration
Gain more value from your systems by connecting Pardot to all your internal and third-party applications.
Support
Keep Pardot secure and high-performing at all times with a tailored support agreement that meets your commercial needs.
Training
Get a faster return on your Pardot marketing investment by training users and admins in our customised Salesforce classes.
Pardot Quick Start
Tailored Pardot system for your needs
Do you need to implement a tailored Pardot platform quickly and at a competitive price? If so, our Pardot Quick Start package will get you up and running in just eight to 10 days. Priced at £6,000 to £7,500 depending on the functionality you need, this package combines speed, customisation, and value.
Pardot Quick Start features:
business process workshop
Interviews with key stakeholders
Design and requirements documentation
Integration with Sales Cloud
Tracking code implementation
Email template setup
Form handler setup
Landing page setup
Grading and scoring
Engagement studio
Customer journeys
End user and admin training
Best practice guidance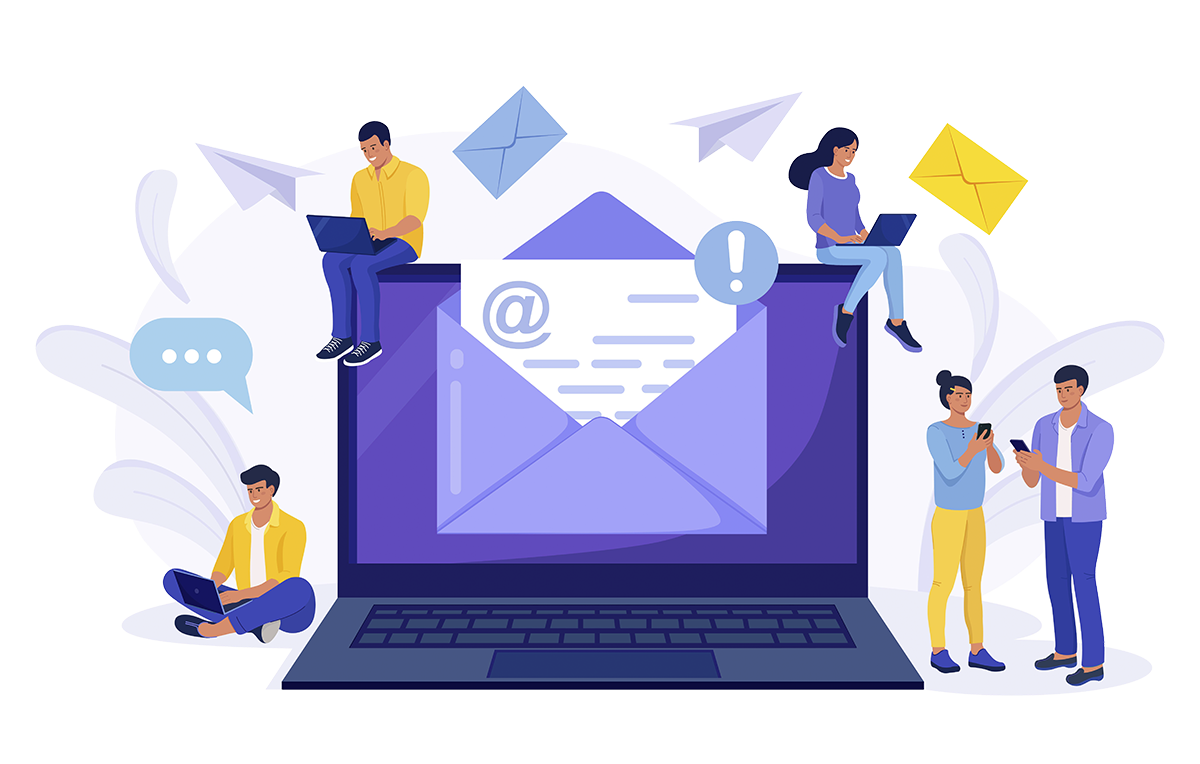 Pardot Quick Start package benefits:
Clarity about the project price, scope, and deliverables
A fast and definite delivery date for your new platform
High adoption rates with tailored admin and user training
A system designed around your business requirements
Interested in the Pardot Quick Start? Download our fact sheet to find out more.
Salesforce Products
Our Salesforce expertise
Find the features, skills, and strategy you need to maximise profitability and grow your business with our end-to-end Salesforce solutions. Get a custom system that turns leads into sales with our top Salesforce solutions.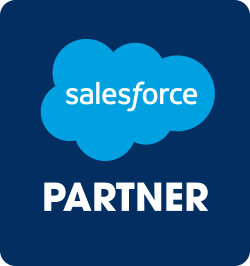 As a leading Salesforce Partner, we will transform your business with effective Salesforce services. Explore our Salesforce services to see how we can get started.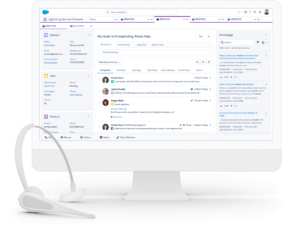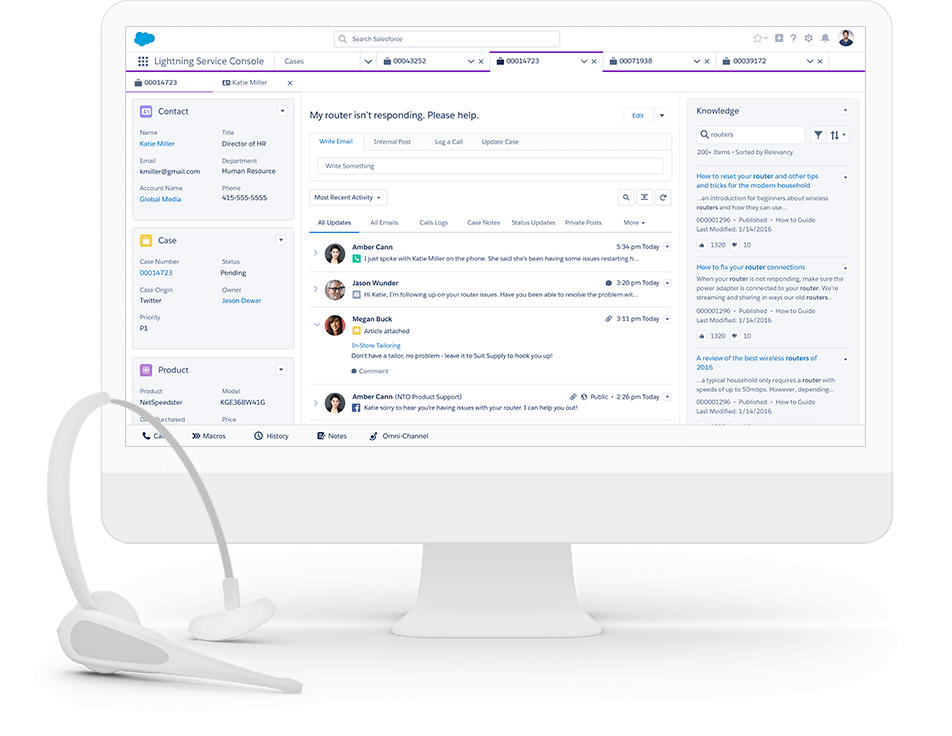 Give your customer service team next-level capabilities to serve customers faster and smarter. With all customer interactions at their fingertips, your team will be able to offer seamless service on any channel and device thanks to Service Cloud.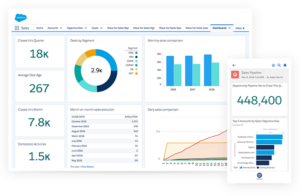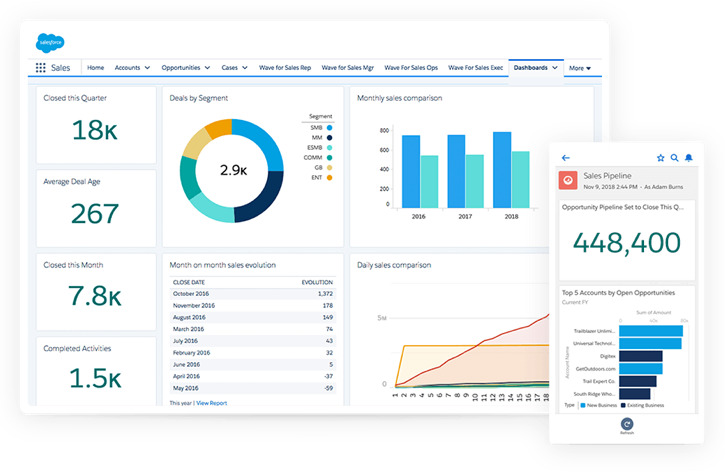 Whether B2B or B2C, Salesforce Sales Cloud provides end-to-end speed and efficiency for your sales team. Boost your opportunity-to-win ratio with tools that enable smarter and faster decision making.
Ask us about Salesforce Pardot
Book a call with our Pardot consultants to learn how we can boost your business today.
We're a Salesforce consulting partner with the experience to give you insights at your fingertips, helping you understand campaign performance and adapt quickly.
Prefer to speak to someone?
We'd be happy to discuss your business needs and how we can use Pardot to empower your teams to speed up your sales cycle.
Give us a call on 0203 507 1728
Our London office is open from 09:00 – 17:30