iPaaS cloud integration services
Integrate everything
in one cloud platform
From consultancy to implementation and development, we provide a fully tailored suite of iPaaS cloud integration services. Our decades of experience as cloud system integrators bring you:
fast and flawless adoption of iPaaS connectivity
the technical skills to beat any integration challenge
impartial advice on achieving best iPaaS value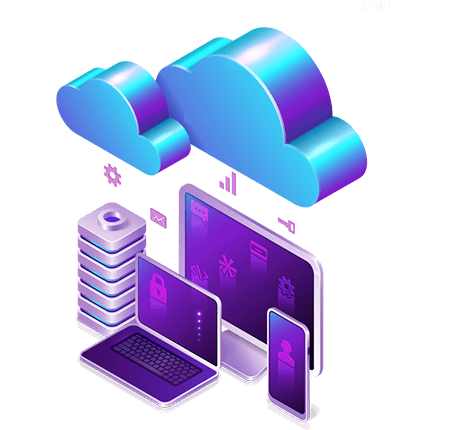 Cloud system integrators
Trust the iPaaS specialists
We are cloud system integrators with dozens of enterprise-grade iPaaS projects under our belts. Working with us brings you the experience, expertise, and insights needed to reap the full value of today's cloud integration solutions. These are the benefits you can expect from our iPaaS cloud integration services:
Increased value
The cost of integrating with a low-code iPaaS platform is much lower than hiring developers for manual coding.
Unified platform
An iPaaS can connect anything from public and private cloud data to on-premise software and apps in edge installations.
Accelerated development
Use pre-built templates and connectors to achieve the most common integrations without complex coding.
Improved IT usage
Empower business users to build integrations with intuitive tools, freeing your IT staff to focus on more valuable work.
Centralised data
By bringing all your data into an accessible cloud platform, you can quickly see and respond to any business challenge.
Guaranteed security
The leading iPaaS vendors employ world-class cyber security experts to ensure security for your business data.
Learn more about our iPaaS cloud integration services

Our cloud integration solutions
Transform your business with iPaaS
You need the freedom to adopt the best software for any task, without facing complex integration issues afterwards. Our iPaaS cloud integration services provide you with the tools and skills to make that a reality. Below are a few of the real-life business goals you can achieve with our cloud integration solutions.
Systems modernisation
Extract value from legacy software
With iPaaS, modernisation doesn't have to mean a costly replacement of your old business software. Instead you can quickly connect that software to the cloud — allowing your business to transform and grow on your terms. Once that connectivity is in place, you can:
control and report on on-premise systems from any other software, in any location

quickly plug in replacement software if one of your legacy systems fails

easily share data and resources between any number of systems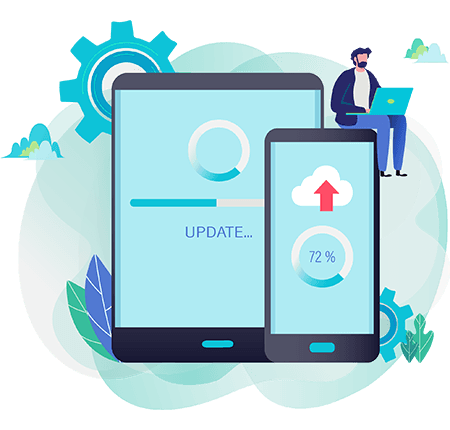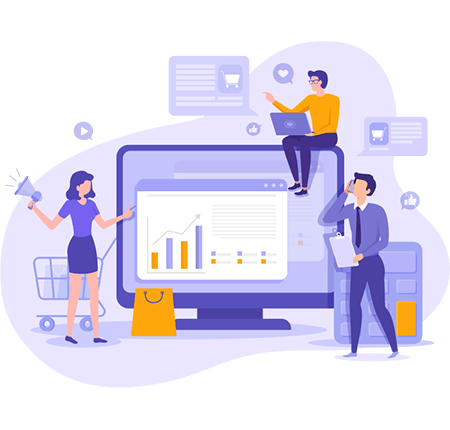 Business acceleration
Innovate and collaborate faster
A central iPaaS makes it easy to combine your data and applications in innovative new ways. With that flexibility you can create new customer experiences, automate manual business processes, and help your staff collaborate in real-time. Here are some of the ways a cloud-based integration platform enables innovation:
use the funds you would have spent on maintaining integrations to invest in market-leading tech

integrate your systems with business partners quickly and securely

cut the go-to-market time of new digital initiatives
Customer satisfaction
Create flawless experiences
Our cloud integration solutions empower you to serve customers in a secure, real-time manner across any number of channels. That's why iPaaS is a key driver of customer satisfaction in the digital-first marketplace. A few of the customer-related benefits of our iPaaS cloud integration services are:
create seamless customer journeys across all channels and devices

understand your customers better with a 360-degree customer data

identify and target the most profitable customers by connected BI and analytics

quickly adopt the latest service technologies to stand out from the competition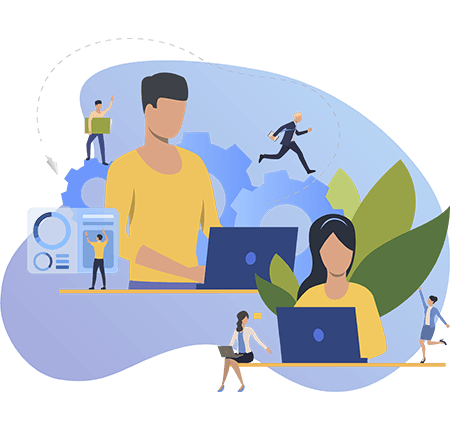 We're eager to help achieve your business goals with iPaaS.
Our iPaaS cloud integration services
End-to-end iPaaS assistance
From full-scale projects to ad hoc advice, we offer a flexible range of iPaaS cloud integration services. Whether you need one consultant or a full contingent of developers, project managers, testers, and support engineers, we will provide.
iPaaS consultancy
Our iPaaS consultancy solves many challenges, from specific technical issues to identifying the optimal iPaaS configuration. As a partner to the leading iPaaS vendors, we offer impartial insight into their pros and cons. Some of the challenges clients typically engage our iPaaS consultants to solve include:
impartial iPaaS comparison and assessment

iPaaS cost savings identification

iPaaS performance analysis and optimisation

iPaaS health checks and audits

iPaaS security testing and strengthening
iPaaS implementation
iPaaS implementation is the art of getting your cloud-based integration platform working perfectly from day one. As experienced cloud system integrators, we have the hands-on skills to make sure that happens. This ensures your integration projects are achieved on time and on budget. We'll help you leverage the built-in connectors, tools, and templates in your iPaaS, and provide a clear roadmap to avoid any unpleasant surprises.
iPaaS development
A cloud-based integration platform is built to meet your most frequently encountered integration needs. But there are still cases when a pre-built connector or template won't do the job – and that's where a skilled integration developer shows their value. Our 80-strong development team specialises in: 
custom API development

Java development

.NET development

PHP development
iPaaS training
The best cloud integration solutions use a graphical interface that's easy for non-technical staff to learn. But of course there are always best practices, shortcuts, and custom features to take advantage of. Whether you want to empower business users or upskill your developers, we offer training for the leading cloud-based integration platforms.
Microsoft Azure iPaaS training

Dell Boomi iPaaS training

MuleSoft Anypoint iPaaS training
Cloud-based integration platforms
Master the leading iPaaS
Our success as cloud system integrators comes from being independent experts who place the client's interests above all. While partnering with the leading iPaaS vendors, we use our impartial expertise to ensure the best value for money.

Azure Integration Services
Azure iPaaS is a set of application integration services within the wider Microsoft Azure cloud offering. Overall, Azure iPaaS is a highly cost-effective, powerful, and scalable platform.
See Azure features
Azure iPaaS has four key capabilities:
Logic Apps: for designing workflows and business processes that connect cloud and on-premises software
Service Bus: for secure messaging workflows between on-premises and cloud-based apps and services
API Management: for publishing APIs that internal and external developers can use when connecting to back-end systems
Event Grid: for routing events and event-based app development between Azure and third-party services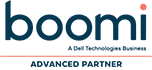 Dell Boomi Platform
Dell Boomi has been a recognised leader in Gartner's Enterprise iPaaS Magic Quadrant for six years running. With a customer renewal rate of 97 percent, Boomi is also one of the most popular iPaaS.
See Boomi features
The Boomi Atomsphere platform comprises five key elements:
Integration: integrating applications and data across the cloud and on-premises

Master data management: synchronising and enriching trusted data

API management: designing, securing, and scaling APIs

B2B integration: providing secure data interchange with partners through B2B and EDI protocols 

Workflow and app development: low-code tools for automating workflows and developing business applications
Get clarity about the best iPaaS for your business.
Frequently asked questions
Answers from cloud system integrators
These are a few of the queries we most often encounter as cloud system integrators. If you have any other questions, or simply want to know more about our iPaaS cloud integration services, please get in touch.