Business portal development
Accelerate your
business processes
Need to automate manual processes, streamline reporting, or manage enterprise data? Our 80-strong team of business portal development experts designs solutions that:
achieve business tasks at the speed of digital
connect any number of processes, applications, or data
are cost-effective, scalable, compliant, and secure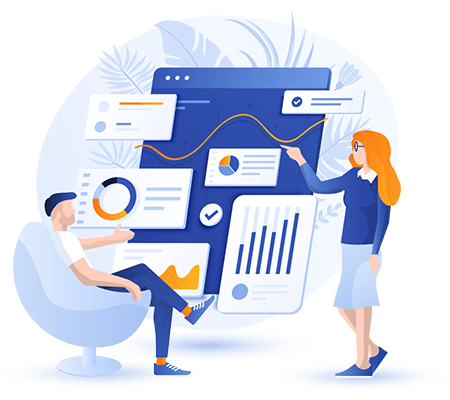 Enterprise portal development services
Driving better business
We specialise in developing feature-rich and intuitive portals that help you complete business tasks faster and more efficiently. While prioritising value for money, we work to understand your business requirements and deliver a fully custom solution.
Consolidate systems
Tired of switching between multiple applications? Roll those tasks into a custom portal with only one sign-on required.
Gain valuable insights
Go further than standard BI software. Get a dashboard that's tailored to your users, your data, and your objectives.
Leverage trusted data
Overcome the problems of data duplication and corruption. Create trust through a custom data management portal.
Improve communication
Collaborate quickly and securely with instant messaging, email, document search, and customer service tools.
Eliminate manual error
Cut the time spent keying in information and fixing manual mistakes. Automate repetitive tasks to make every hour count.
Standardise interactions
Create automated ways of sending and processing forms for authorisation, reimbursement, and enrolment.
Learn more about our enterprise portal development services

Business portal solutions
Our portal offerings
From energy dashboards to data cleansing, from registration solutions to climate reporting, our developers solve all kinds of business challenges. Overall, our business portal development services cover three domains: data visualisation, data management, and process automation.
Custom reporting solutions
Act on your data
Whether it's for reporting, performance tracking, big data, or analytics, our business portal development specialists will design a solution. We design custom reporting solutions with usability, performance, and flexibility at the forefront.
Data visualisation portal features
real-time visualisations, synced across devices

cloud-based dashboards for high scalability

integration with cloud or on-premise data

role-based access and functionality

intuitive design for better understanding
Data visualisation portal benefits
measure progress towards your business objectives

identify areas where improvement is needed

get insights into the best business decisions to take

gain an advantage by predicting future trends 

base your strategy on clear facts and figures
Master data management solutions
Refine business data
Is your business struggling with the risks of insecure and disorganised data? We provide bespoke master data management solutions that ensure best value by meeting your exact business needs.
MDM portal features
automated data deduplication (matching and linking)

implementation of custom business rules for data

location-specific data management processes

security-based policies and rules for data access

extract, transform, and load (ETL) data integration
MDM portal benefits
eliminating manual clean-up of duplicate data

automating compliance with GDPR legislation

ensuring availability of accurate and timely data

compiling trusted data before cloud migration

reducing the chance of data security breaches
Process automation solutions
Streamline workflows
Tired of scanning documents, entering data manually, and reading handwritten forms? Our business portal development team excels at building solutions to automate repetitive tasks and save your time and money.
Process automation solutions features
form submission, receipt, and data processing

instant communication, external and internal

secure document search and collaboration

automated data exchange with business partners

storage of business data for real-time reporting
Process automation solutions benefits
improve customer service response times

notify staff only when action is required

eliminate the risks of manual data entry

set up custom reminders and calendars

boost employee satisfaction and retention
Business portal development services
End-to-end portal expertise
Having specialised in business portal development for 30 years, we're equipped to support any stage of your journey. From initial consultation through to maintenance, brand-new designs to bug fixes, we've got you covered.
Development and customisation
Features and options within our enterprise portal development services include:
greenfield projects: planning, design, and development

extension and customisation of existing portal software

technologies: .NET, Java, PHP, SharePoint, and Microsoft Azure

team augmentation or a full team with project management

agile development to accelerate our work for best value

competitive day rates across languages and technologies

a high ratio of senior to junior developers for superb quality
Business portal consultancy
Whether you need help determining your requirements, identifying a solution, or solving a technical problem, our consultants will assist. Each of our consultants has decades of experience across multiple industries and technologies.
Portal maintenance and support
Keep your business-critical portal running smoothly with a tailored and cost-effective support agreement. Options include:
ITIL-compliant help desk

Server provisioning

Root cause analysis

Legacy project recovery

Database administration

Health check reviews
Business portal project rescue
If you're stuck with an outdated, flawed, or unfinished portal, our project rescue team will get you back on track. From health checks and audits to total rebuilds, we provide the functionality, speed, and performance you need.
Portal migration and upgrade
One of our specialisms is migrating portals to the cloud for reduced cost of ownership and improved performance.
Or if your portal is suffering due to an outdated platform or language, we will solve your maintenance and security issues with a swift upgrade.
Looking for something else? This isn't an exhaustive list of our portal development services.
Frequently asked questions
Answers from portal development experts
These are a few of the queries we often receive about business portal development. If you have any other questions, or simply want to know more about our enterprise portal development services, please get in touch.
What credentials do you have as business portal developers?
From Kent County Council to Pret a Manger, NewDay to John Lewis, our developers serve well-known names across the UK and abroad. The reason these clients choose us is our 30-year track record of high-value solutions.
What technologies do you use for business portal development?
Our development team's core skill set includes .NET, Java, PHP, SharePoint, and Microsoft Azure. These technologies are ideal for fast development of secure, cost-effective, and high-performing portal solutions.
Depending on each client's requirements, we can develop software for use in the cloud, on-premises, or a hybrid of both.
If there is an integration requirement, we typically use an integration platform as a service (iPaaS) such as Azure Integration Services or Dell Boomi Atomsphere.
What are the advantages of having a bespoke portal developed?
A portal is a reflection of your business processes. If there is a mismatch between your processes and the software, your staff will struggle and the portal will lose effectiveness.
A bespoke portal, on the other hand, is built precisely to your requirements. The first step in our enterprise portal development services is to understand your concerns, including:
software performance

ease of use for staff

personalised branding

task-specific functionality

industry-specific terminology

integration with other systems

single sign-on capability

user roles and permissions

data security and compliance

portal cost of ownership
By answering all of these issues (and more) perfectly, a bespoke portal brings the maximum value for your business.